When you make purchases through links on this site, The Track Ahead may earn an affiliate commission. Also, these posts are based off my own experiences. I am not responsible for any action you take as a result of reading this. Learn More
---
Scion T10015 Head Unit Upgrade
I recently tested out various Scion head units in my 4th generation Toyota 4Runner and explained how and why I used these OEM options. It all dwindled down to 3 factors: direct plug-and-play, lower cost, and great sound. I finally ended up with my final and current setup: a Scion T10015 touchscreen head unit that to this day, I am incredibly happy with.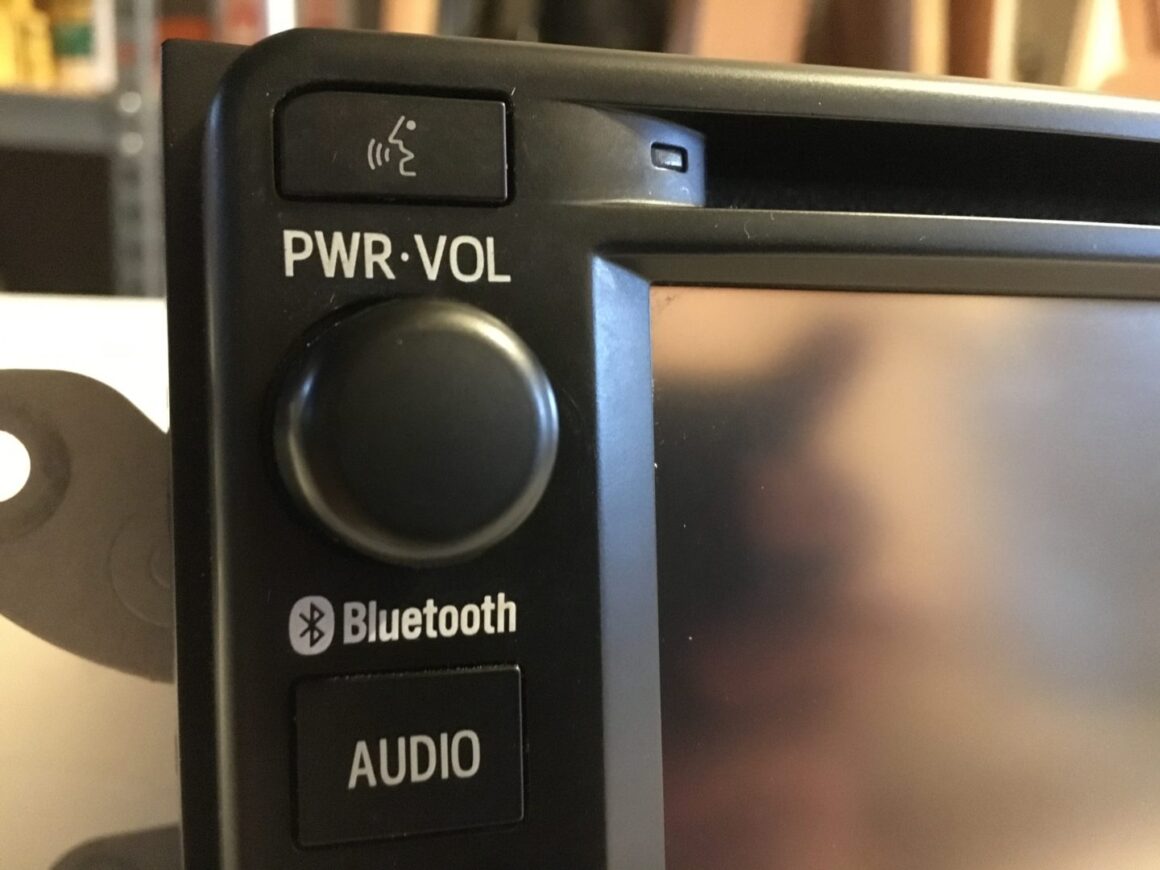 Some notable upgrades on this head unit include:
Bluetooth Audio & Phone
USB & AUX Connectivity
Rear View Camera Capability
If you have the additional GPS/Navigation module, you have additional upgrades available:
GPS Navigation
BeSpoke
HD Satellite Radio
Because I only purchased the standalone T10015 head unit, it did not include the GPS/Navigation module. I didn't care much for GPS since I used my phone for this purpose. I also did not need the satellite radio nor the Bespoke interface. What I did need however, was the ability to use my phone via Bluetooth, play my music through my iPhone, and a screen to output my rear view camera to.
One of the downsides to the additional features on the T10015 head unit is the need procure additional wire harnesses and connectors in order to make it all work. The T10015 head unit is very capable, however it needs those additional connectors to utilize its potential. Luckily these extra parts are coded by Toyota and therefore easy to look for on Ebay by its part numbers. I took my time searching for and buying these parts so that I could get the best possible price for each item.
Scion T10015 Head Unit
At the time of my purchase, the going rate of this unit was about $150. My patience searching on Ebay for this unit and utilizing the tips below allowed me to find one that was in near mint condition for $90.
Find on Ebay.com: T10015 Scion Head Unit
If you are looking for a newer version of this touchscreen Scion head unit, you can see my upgrade to the T10017 here.
Some tips for finding a deal on OEM head units:

– The name of the head unit you're looking for my be called a Scion T10015, but find out what the model number is called. Since it's made by Pioneer, you can identify the model number and use that in your search.

– Almost every part in a car has a part number; the same goes for the head unit. The Scion T10015 (or equivalent Pioneer model number AXCP-Q14U) also has an OEM Toyota part number PT546-00140. More useful search terms to use.

– Do some online research to find out what years and model vehicle the T10015 head unit was used in (this one was used in the Scion FR-S). These can also be searched for to further expand your search to find hidden deals.
Connectors and Harnesses Required
20 to 28 Pin Harness: PT546-00120-CH (needed to connect T10015 head unit to existing 4Runner wiring harness; can be purchased as part of a bundle *see below PT546-00142)
Buy on Amazon.com
Find on Ebay.com
Antenna Adapter: PT546-00120-AD (needed to connect T10015 head unit to existing 4Runner antenna cable; can be purchased as part of a bundle *see below PT546-00142)
Find on Ebay.com
USB Conversion Cable: PT546-00120-US (needed if USB functionality is desired; can be purchased as part of a bundle *see below PT546-00142)
Buy on Amazon.com
Find on Ebay.com
Base Audio Wiring Harness: PT546-00142 (the 3 wire harnesses above are all packaged utilizing this part number)
Buy on Amazon.com
Find on Ebay.com
This kit contains three wire harnesses:
USB conversion cable (PT546-00120-US)
Antenna conversion cable (PT546-00120-AD)
20 to 28 Pin conversion cable (PT546-00120-CH)
Microphone Kit: PT546-74120-MC (needed if you want Bluetooth phone capability)
Buy on Amazon.com
Find on Ebay.com
Bespoke Navigation Module: PT296-00142 (needed if you want navigation/Bespoke, however I did not opt for this add-on)
Find on Ebay.com
Rear View Camera Adapter: CAM-TY11 (makes it easier if you want to hook up a rear view camera to the screen *compatible with only several models of rear view cameras)
Buy on Amazon.com
Line Output Converter with Remote Turn On: PAC LP7-2 L.O.C. PRO Series 2 (because the T10015 head unit only has digital line inputs, this is needed to convert analog to digital outputs if you have an amp or subwoofer)
Buy on Amazon.com
Take your time and gather all the necessary materials and parts for your needs. I took a long time finding deals on the parts I used; eventually I had everything I needed for this installation. I referenced this post on T4R.org in identifying most of the parts I would need to buy prior to the installation.
Small-to-Large Antenna Jack & 2-to-1 Y Antenna Adapter (since the OEM head unit has two antenna connections—one small and one larger, you will need a 2-to-1 jack to convert the small antenna to a large antenna jack, and then a Y-adapter to take those two antenna jacks and combine them into one; this will plug into the T10015 head unit)
Small-to-Large Antenna Jack
2-to-1 Y Antenna Adapter
Wiring
After getting all the necessary wiring and connectors, it's important to know what they should be connected to. Not everything is a direct plug-and-play with this setup. Sometimes you may need to splice in your own wires into connectors, and other times you can get away with purchasing one already made up for you.
Below are the labels for the various connections on the back of the Scion T10015 head unit (#PT546-00140). A lot of useful diagrams and information to help you with the various connections on this radio unit can be found in this PDF.
I also made the below diagram to help understand how the connectors and harnesses are supposed to be hooked up. The diagram shows the back of the OEM head unit and the Scion T10015 head unit. Keep in mind that some of the connectors/harnesses you need to get for this upgrade, have several connectors that are tied to one another. As a result, you might have for example, the antenna adapter, which plugs into your existing antenna wiring and the new head unit, but it also ties into the 10-pin power/speakers connector as well.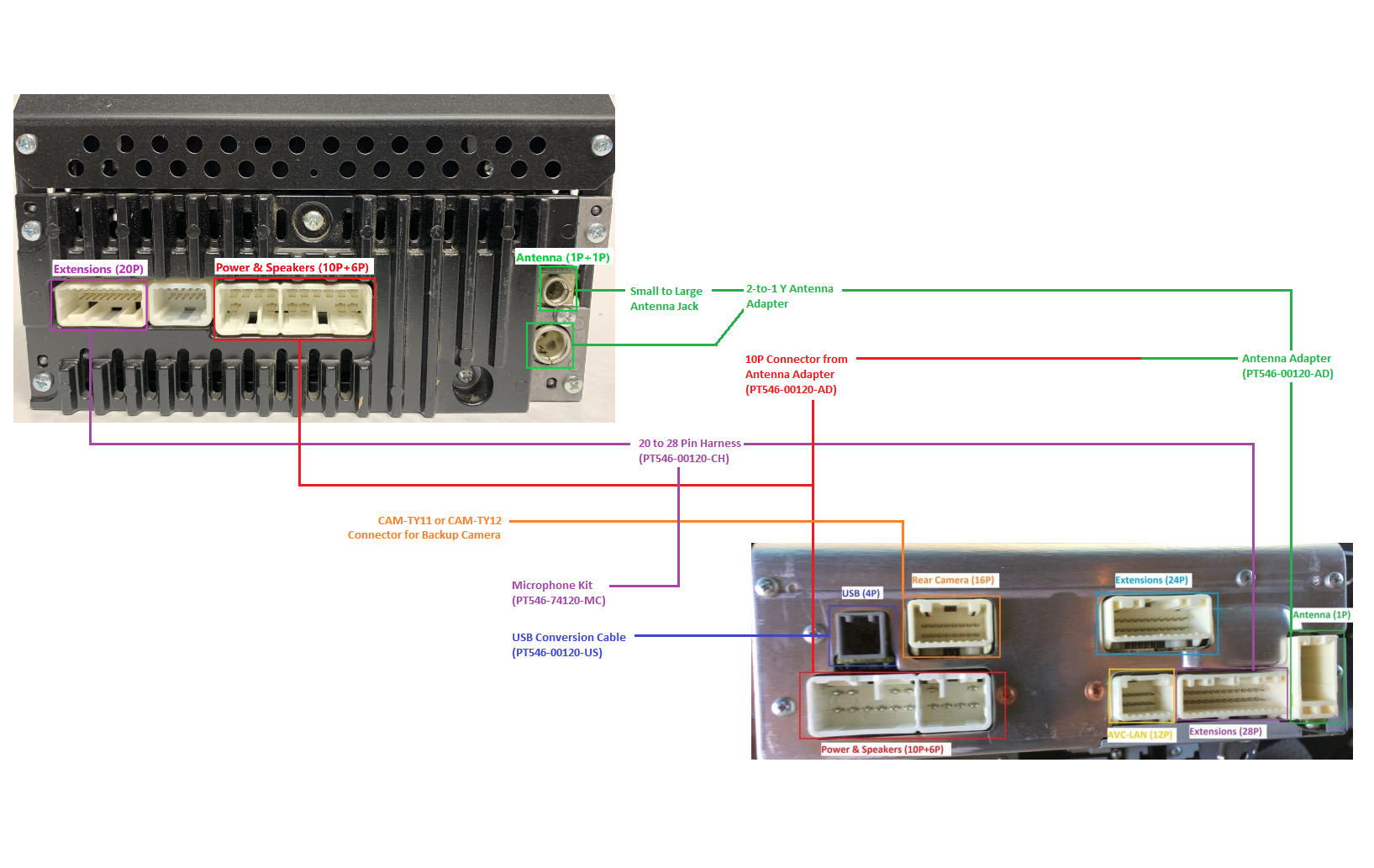 Installation
I went through several Scion head units in the past with the most recent being the T1814. So the photos below will reflect the upgrade from a T1814 to a T10015, which might be slightly different from upgrading an OEM radio. This procedure is for a non-JBL 4th generation Toyota 4Runner.
This is what I started out with after removing the center trim:
I removed this head unit by undoing the four bolts holding it in (two front bottom, two recessed on near the back on each side).
The existing connectors are removed from the rear of the Scion T1814 head unit.
Remove the brackets with the 3 screws on each side of the existing radio. I'd recommend using a socket wrench rather than a Philips screwdriver to avoid stripping the bolts. So don't do what I did in the above photo and you can save yourself a headache of having to find a replacement bolt.
I attached the brackets to the new Scion T10015 radio — the bolts line up exactly. If the T10015 radio came with brackets already, they likely won't fit on your 4th generation 4Runner, so you'll need to swap the brackets with the ones you already have on your car.
After connecting everything up to the new unit; take your time with the connections. I ended up not using the USB connector in the end because I didn't have a use for it. Also the USB connector is not a direct attachment to a blank switch location; FYI if you desire to wire it up that way, it will take a bit more work to make that possible.
Notes on Subwoofer and Line Out Converter
I added in the line-out converter that includes a remote turn-on wire. This is mainly needed for the two analog cables that come from my subwoofer. It converts the analog signal to a digital one, which is needed for the Scion T10015 unit. Make sure to follow the instructions with your line-out converter as it provides details on how to splice the power wires into your existing speaker wires to get power.
The option for remote wire turn-on with this LOC (line-out converter) can be used to power on the unit when the ignition is switched on. Unfortunately, the subwoofer will still have that loud thump/pop when your turn on the ignition. If you hook up the remote turn-on wire using this unit (or hook up the power for your head unit directly to the ignition wire), the line-out converter will get its power whenever the key is turned to the ignition position. I found no way around this to get the sub to turn on only when the head unit turned on, unless you used an aftermarket head unit that actually has a connection for a remote wire turn-on. However you decide to power your sub, ensure power is off when the car is in the off position to avoid a constant electrical drain leading to a dead battery.
About the Microphone and Antenna
I installed the microphone kit and ran the wiring through the center console to the steering wheel area. This is one part that disappointed me. I expected something that is marketed as a microphone kit would sound really good compared to the aftermarket ones you can buy for cheap. Unfortunately after testing out a few calls, I came to the conclusion that my phone calls sounded about the same to the person on the other end of the call as if I were talking on speaker phone. Expect the person you're calling to hear a ton of road noise along with your voice, especially if you are driving on the freeway. But it still does work to get me hands-free while driving; and it works better if you are talking during non-highway driving.
The 4Runner antenna from the factory comes with two wires, one smaller and one larger. I found a 2-to-1 adapter that connected the two Toyota factory antenna wires to one, which then connected to the antenna connector. I have read that your antenna will still work perfectly fine if you taped off the smaller one and hooked up only the larger antenna wire, but I can't confirm this. If you want to be safe, you can always look for that adapter like I did.
I'm constantly attaching the microphone to areas nearby my steering wheel to get the best possible position in order to pick up my voice. It currently sits right behind my steering wheel on the steering column.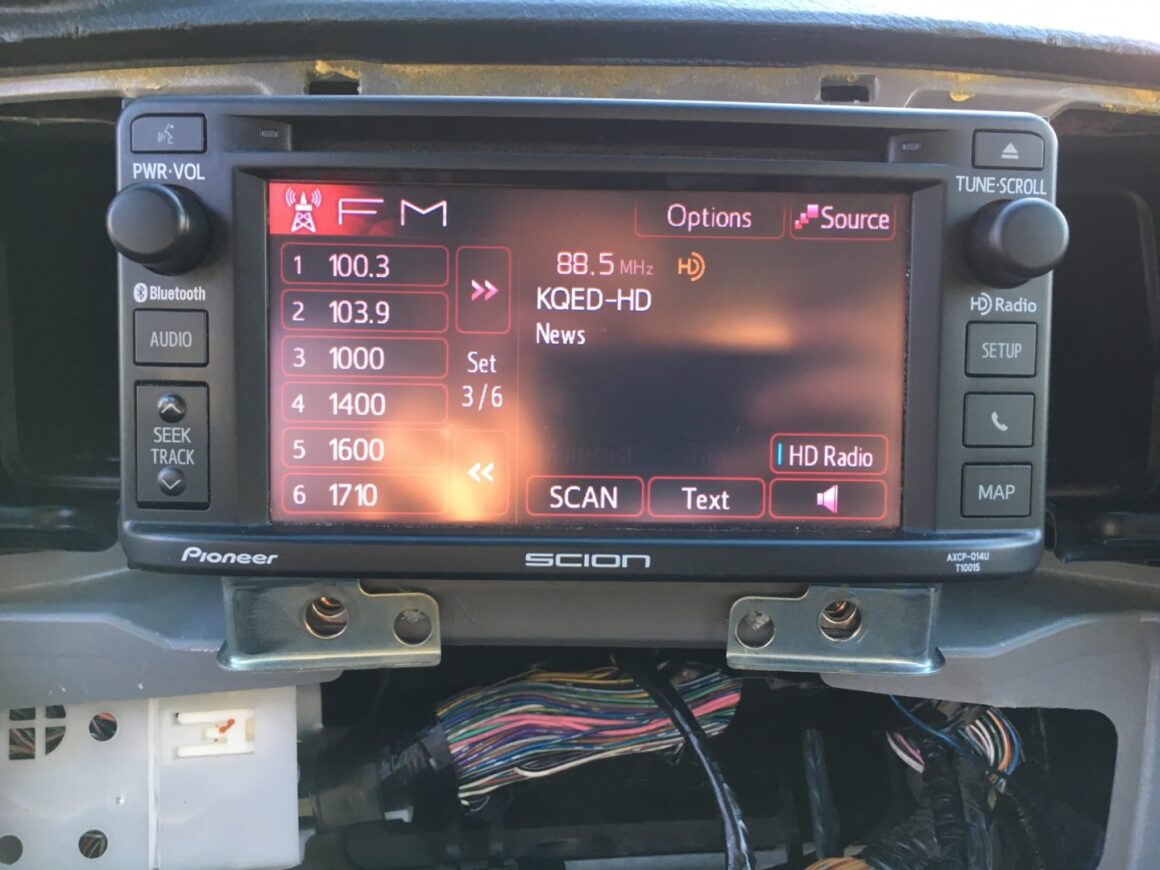 In my opinion, this is the best Scion head unit out there that is a direct plug-and-play for the 4th generation 4Runner. Although this unit is technically plug-and-play, there are still a few custom things that need to be done such as buying additional connectors/adapters and splicing a few wires as needed. However, the additional effort is truly minimal as most of the replacement is a direct fit.
I am finally content with the setup I have with the Scion T10015 head unit in my '03 Toyota 4Runner: it sounds great, hooks up to my subwoofer, allows me to output my backup camera to the screen, plays music from my iPhone via Bluetooth, handles Bluetooth phone calls, and looks fantastic. This is certainly, the ultimate Scion head unit upgrade for the Toyota 4Runner.