If you've ever been to the Island of Maui, you'll know that the only way to get around the island is by car. In preparation for our 8-day trip, I initially booked a minivan through Turo. If you're not familiar with Turo, it is a car sharing app that allows you to rent vehicles from other users—think of it like Airbnb for cars. As we got closer to the trip, I shopped around a bit and found that I could get a minivan through Hertz Car Rental for almost half the price of what I booked on Turo.
That's kind of the problem with Turo sometimes (as a renter), especially in high demand areas such as Maui,; the prices can be very competitive. The prices can be even higher with all the added fees. All-in-all, my Turo reservation for 8 days ended up being just over $1,000. Since my entire family was going, I needed a minivan or at least a 3-row SUV, both command a higher rate due to the vehicle type.
Another issue that I've been having with Turo, is the same kind of problem you experience when you rent and Airbnb. And that is the condition of the car depending on who you rent from. Some cars are taken cared of (usually the higher-end or ones that don't have a ton of reservations), but for those that get rented a lot, they tend to be neglected in one way or another.
So back to my Hertz car rental, I cancelled my Turo reservation and went with the Hertz rental simply because of the drastic price difference. The delta was about $400-$500, enough for me to ditch the Turo rental. I also haven't used a car rental in a long time, so I wanted to see how the rental car experience was compared to the peer-to-peer type of rentals that we have today. While the price was half the cost, there were other issues with using Hertz Car Rental, which I'll go into detail in this post. Still, I think my experience with Hertz was overall more pleasant than my experience with Turo rentals in the past.
The Hertz Rental Lot at Kahului Airport in Maui
After arriving at the Kahului Airport (OGG) in Maui, you take a short walk (or short tram ride) over to the car rental center. I checked in at the Hertz counter with my reservation and they instructed me to wait as I would be getting the next car available. I sat here with my family for about 20-25 minutes until finally two Chrysler Pacificas pulled up.
One looked like it was in good shape and went to the people waiting in front of me, and the second one that looked a bit more broken in, which went to us. After indulging the eccentric and chatty Hertz employee who supposedly just washed our car, I got the keys and then loaded everyone and the luggage in the car.
As we drove out of the car rental center, we waited in this incredibly long line just to get out of the parking garage area. This was the only exit out for all of the renters leaving the rental center.
When we got to the exit gate, I asked them about a liability form as I wasn't given one by the Hertz employee earlier. The person at the gate told me to simply pull to the side and take a bunch of photos, which will act as proof in case Hertz claims I damaged the vehicle. They also said I need to take the photos here on the lot because if I drive off the lot and did not take photos for proof, then I'm essentially SOL.
So you better believe I took a load of photos and I confirmed how truly "worn" it was. So it's a 2018 Chrysler Pacifica, so it's got five years under its belt. There was plenty of clear coat damage and lots of scratches and dings everywhere. I guess it's to be expected for a car that takes a beating from us car renters on the daily for so many years. But what was annoying to see was that the car was obviously washed (water was still dripping off the car when they handed it over to me), yet there was still lots of bird poo still stuck all around the vehicle.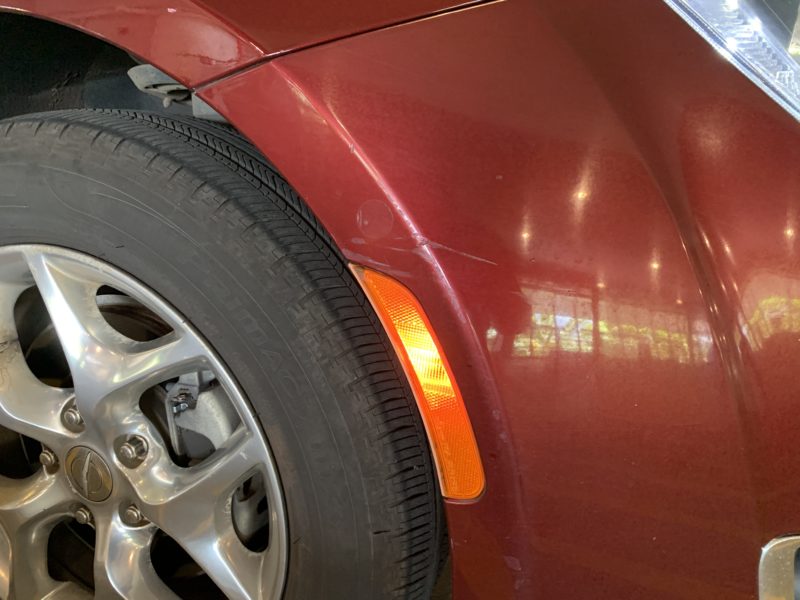 To me, the most important thing was the cleanliness of the interior (specifically having no signs of pests.) I had a nightmare of a time with cockroaches the last time we rented a car with Turo in Kauai, so this time I made sure that there were no signs of roaches when I inspected the interior.
The rest of the trip was great and I really enjoyed this much-needed vacation with my family. Another annoying thing that I noticed was that there was a bunch of clunking noises coming from the front driver's side of the vehicle. I knew it wasn't going to cause us to break down or anything, but it just reminds me of the condition of cars that you get into when you use Uber or Lyft.
Finally, it was time to return the vehicle…it was pretty easy to drop off my family at the terminal and then drop the vehicle off at the return area of the rental car center. I'm not sure what was going on here when I dropped off the car, but there was almost no one bringing in the cars. There were a couple of employees scanning us in, so I was able to at least drop the vehicle off.
Overall, my experience with Hertz was good as most of my complaints were relatively minor. It's just going to be the luck of the draw with what car you end up getting based on what is available and where your destination is. My guess is that the Hertz at Kahului Airport is extremely busy so there is a high turnover of vehicles and I just happened to get stuck with this older, more tired vehicle.
I'm guessing if it wasn't so busy and they had spare vehicles, they could offer you another one if you weren't happy with the one you got. My brother rented from them at a different location and they ended up not having their regular sedan available; as an alternative they got to drive a Tesla Model 3 instead.
Still, I'm content with paying 50% less than what I would have had to if I rented a minivan through Turo. The other thing is that a car rental company will at least wash and clean the inside of the vehicle after every rental. Even if it isn't a 100% clean wash like our situation, I still know that someone went through inside and out and made an attempt to clean. I can't say the same for Turo as you don't know what your host is willing and able to do prior to your reservation.
---
If you're planning to rent a car through Hertz, I'd appreciate if you could use my referral link to book as it might earn me a commission. Thanks!