When BMW introduced the 1-series back in 2004, I always thought small footprint of the car was a bit odd. However with time, the quite compact car's styling had grown on me. Still, I've always felt it was just too small of a car. BMW ended up replacing the 1-series with the 2-series range, increasing the size just a tad. Now, the 2-series is falling within my idea of the perfect-sized enthusiast's compact car.
The BMW 228i is the entry-level model in the 2-series (F22) line-up. Boasting 240 horses and 255 lb-ft of torque, this quasi-heavy 3,470 pound machine has some serious oomph under the bonnet. The weight of the 228i makes it feel as if the car is larger than it is, albeit being classified as a subcompact car.
Even though the car isn't very light for its size, it does feel pretty nimble when you're taking it around corners. Nonetheless, the feeling that you get while driving is that of being secure. I never felt the car getting away from me; it was very well planted with the brisk driving I was doing.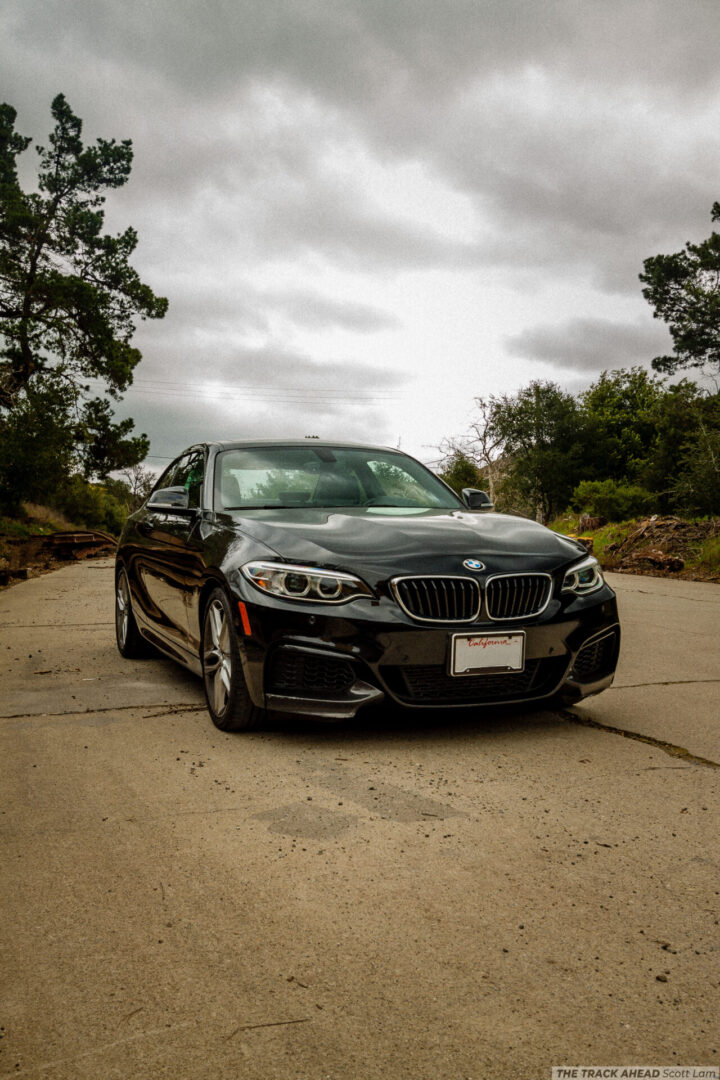 The whole picture looks quite nice: the engine performance, poise and composure of the vehicle, and very enticing price tag (starting at $33k). This 228i came equipped with the 8-speed automatic which was surprisingly on-point. I imagine the 6-speed manual would complete the whole package of an enthusiast's performance car.
A lot of automotive fanboys will tout the superiority of the M235 and especially the more recently available M2, but those upgraded models come with a significant price hike. The M235i starts at $45k and the M2 at $52k. When you think about what you're getting with the base model 228i, you really have to wonder if it's worth forking over the extra $12k or $19k respectively for these upgraded models. For me, I'd be perfectly content with the base model 228i. The good news of owning a 228i? Loads of potential upgrades available to you with the existence of the M235i/M2 models. It's paradise for the kind of person who loves to do upgrade mods.
Let's talk about the performance of the 2.0L four-cylinder turbocharged engine. It's worth discussing because there's always the comparison made between this engine and that of the 3.0L six-cylinder engine of the M235i/M2. But, let's stay focused on 2.0L inline four turbo.
Let me say the numbers again: 240 horses and 255 lb-ft of torque from a 2.0L four-cylinder turbocharged engine. This base configuration is just wondrous. The inline four cylinder plenty of power, even for car enthusiasts who demand the extra power. This N20 engine is even considered to be a replacement to the previous N52/N53 inline-six engines due to the amount of power it's able to make. If you need even more power, you can go for a quick-and-dirty ecu tune for about $200-$300 and net an additional 30hp/40lbs-ft of torque.
More importantly though, it's not solely the amount of power you can get out of this car, but the amazing balance of the 228i. Everything works in sync with one another. You also still get that poised and beefy BMW-feel with the car due to its weight and suspension. There are some very lightweight cars with a lot of power, but there is no balance. In this case, the balance of the power and driving feel is just sublime.
With the 8-speed automatic, it's a bit challenging to get the exact gear you're looking for since it's constantly moving into another one of the available eight gears. Going into the manual shift mode somewhat alleviates this issue. But if you want to get the best shifting experience, you'll need to spring for manual transmission.
Bringing the car to a stop are four disc brakes. The brakes do feel uninspired, but they still do a good job of stopping when you do a hard stop. Some folks upgrade their 1-piston sliding calipers to the M235i/M2 fixed 4-piston calipers to further increase braking power.
Now on to the exhaust: I never expect there to be much on an exhaust note with a four cylinder—even if it's turbocharged. In fact, I prefer forced induction cars to have as little exhaust noise as possible so I can take in all of that audible intake and turbo spool goodness. The 228i utilizes Active Sound; something many will quibble over. Yes, there is additional simulated exhaust noise played over the sound system in the cabin. Is it noticeable? Sure it is, but it is only a slight annoyance that pales in comparison with the rest of the driving experience.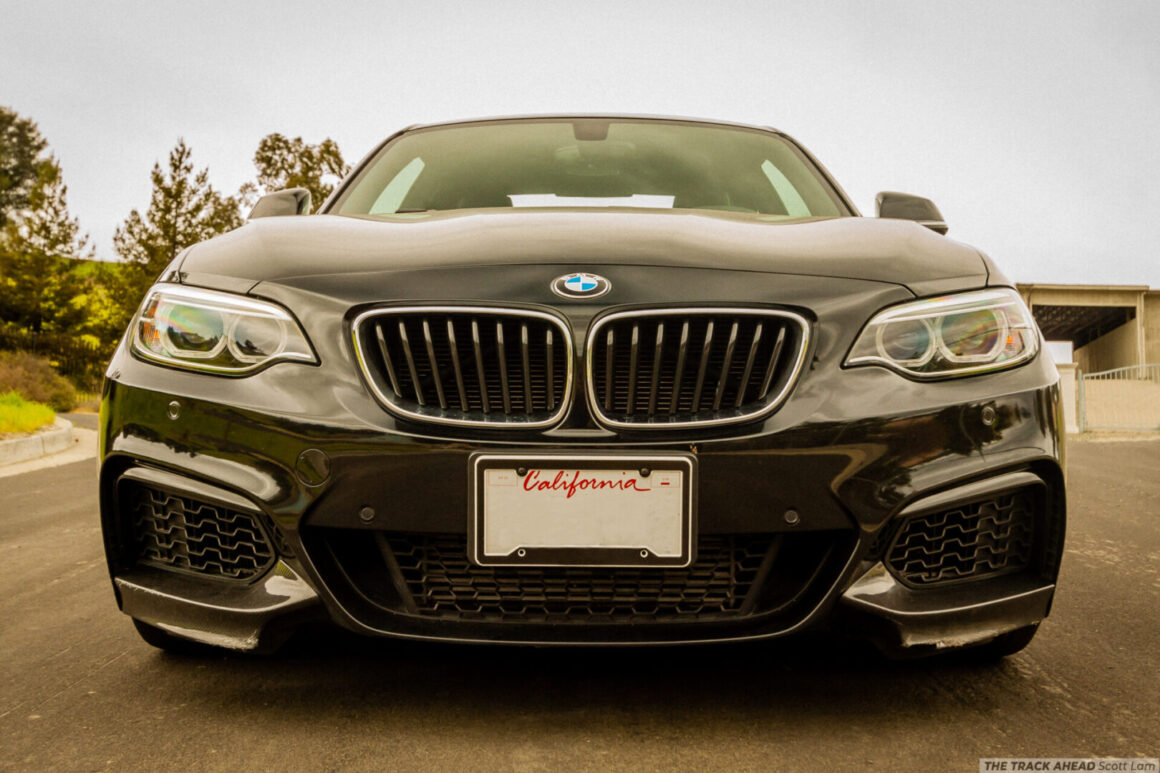 The interior shouldn't disappoint those who are used to BMW interiors, as the materials used in the cabin are upscale. I was slightly disappointed about the seats though. Sitting in the 228i's leather seats feels like you're sitting in a decade-old car's leather seats. They are pretty stiff; no lush leather feel here. The 228i is not supposed to be a full-on race car, but more of an everyday driver. So in my opinion, the seats should still maintain that excellent support that it already has, but make the leather a little more plush.
On the other hand, the seats are highly customizable. Once you get dialed in; there is certainly a feeling of being situated in a cockpit. There is plenty of room in the front seat, but the rear seats are a bit cramped for taller folks. Storage space is also a bit lacking, but at least the trunk space plenty large (as long as you can get your stuff through the space between the tail lights).
There are four driving modes can be selected on the BMW 228i: Sport+, Sport, Comfort, and Eco Pro. Here are the differences with these each one of these driving modes:
SPORT+: Aggressive throttle response, increased steering weight, dynamic traction control (in-between full traction control and no traction control), firm suspension, aggressive exhaust note.
SPORT: Aggressive throttle response, increased steering weight, firm suspension, aggressive exhaust note.
COMFORT (Default): Normal throttle response, light steering weight, soft suspension, normal exhaust note.
ECO PRO: Mild throttle response, light steering weight, soft suspension, mild exhaust note, auto on/off feature enabled.
The BMW 228i has Comfort Mode set by default, and I felt this was best for typical driving conditions (e.g. commuting). By using Eco Pro Mode, you can conserve gas mileage (up to 20% according to BMW) due to the reduced throttle response and activation of brake-regeneration. However, the car feels much too sluggish; I'd reserve this mode for the times you absolutely need those extra miles. The Eco Pro Mode will probably get you closer to the 228i's 23/35 mpg rating.
Crossing the barrier between Comfort Mode and Sport Mode is where the real fun begins. Throttle response instantly jumps, and there is a sudden presence of exhaust burble. This makes for a much more enjoyable experience. Also with Sport Mode is an increased weight to the steering, which allows for a more confident driving feel.
With Sport+ Mode, the traction control is not turned off completely (you'll have to do that by pressing and holding down the 'DSC OFF' button for 5 seconds). Sport+ actually utilizes Dynamic Traction Control (DTC), which is essentially somewhere between traction control being on, and traction control being turned off. Even with the most aggressive driving, DTC barely interferes with stability braking; it seems to be closer to traction control being off than to traction control being on.
The center console looks pretty basic, but is very functional indeed. The large 8.8″ screen was a bit too garish for me at first. I'm a big believer of having less distractions in a car, but I have to keep reminding myself that the 228i is not an all-out track car. It needs to cater to the people who drive this car on an everyday basis. It wasn't until I drove the car some more before I realize how nice it is to have a larger screen to show you maps and other important control information. In fact, one can argue that the display is less distracting because you don't have to squint at a small display; everything is large enough to see and read so that it doesn't detract you from the act of driving.
It's wonderful to see BMW still using physical buttons for frequently used controls such as the radio and climate control settings. But, they also employ the use of a large touchscreen with the puck-style iDrive controller on the center console for navigation, multimedia, phone information, etc. This is an excellent example of blending older and newer styles of controls that maintains a simplistic and beautiful aesthetic.
If I could make one change to the car, I'd do away with all the different modes so I don't have to fidget around with these settings every time I get in the car. I found myself constantly changing the mode to Sport Mode. As far as I understand, there is no way at this time to change the default mode to a different mode other than Comfort Mode.
In terms of options, I'd stick with as little options as possible and go with the 6-speed manual transmission. This will give you the control of selecting your own gears in order to avoid the computer from shifting through the eight available gears.
The BMW 228i is simply put, a very good car that looks great and excels across a wide range of driving conditions. The base model is incredibly affordable and even without all the costly add-ons, it is still a very capable machine. The 228i is exactly what I expect from a BMW: solid engine performance and a beautiful blend of form and function. It is this, combined with the harmonious combination of suspension and steering feel that makes driving this car so great.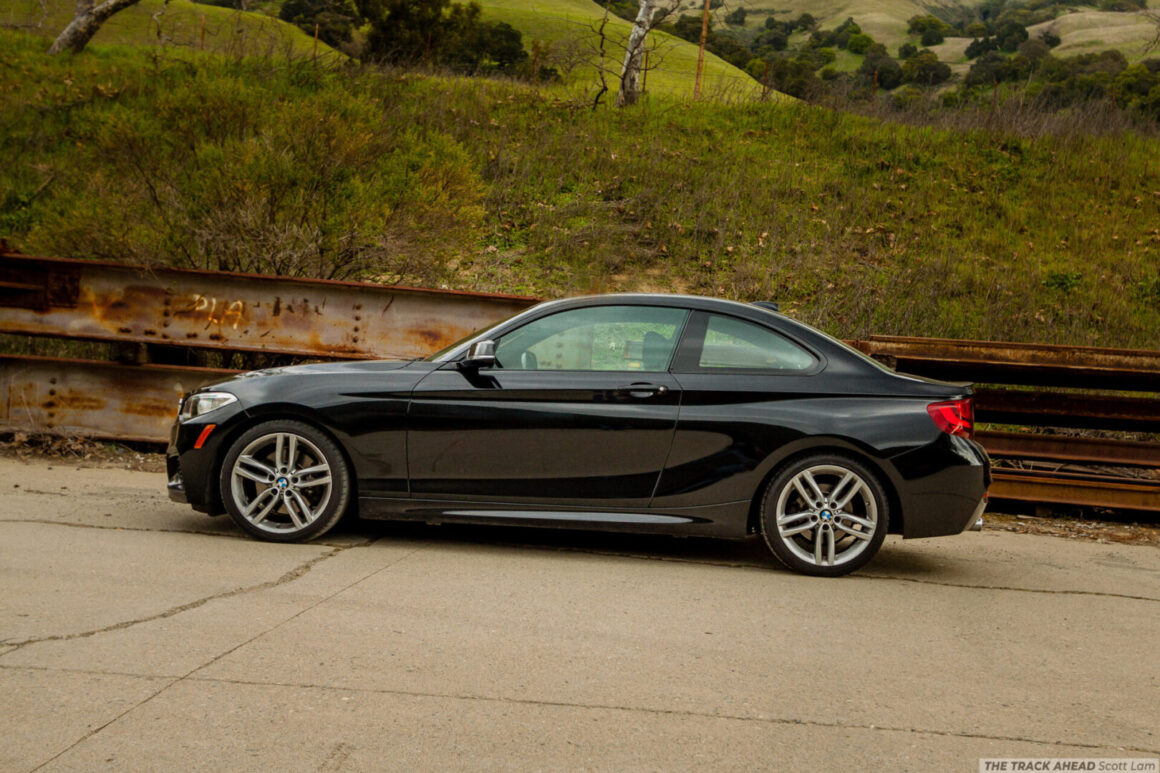 2014 BMW 228i Specifications
Vehicle Type
Front-engine, RWD, 4-passenger, 2-door coupe
Engine
2.0 Liter Turbo DOHC 16V I4
Transmission
8-speed automatic
Output
240 hp @ 5000 rpm, 255 lb-ft @ 1450 rpm
0-60 mph
5.0 sec. (Motor Trend)
1/4 mile
13.8 sec. (Motor Trend)
Curb Weight
3334 lb.
Wheelbase
105.9 in.
Turning Radius
35.8 ft.
Length x Width x Height
174.5 x 69.8 x 55.8 in
Tires
225/40R18 Front
245/35R18 Rear
Brakes
4-Wheel Disc
Fuel Economy (EPA City/Hwy)
23/35 mpg
Fuel Type
Gasoline: Unleaded Premium
Fuel Capacity
Fuel Tank: 13.7 gal.
---
POPULAR FORUMS
2Addicts
Babybmw.net
Bimmerfest