An ongoing issue that can be found on the more recent models of the Honda Odyssey, Honda Passport, and Honda Pilot is a problem where the audio system prematurely malfunctions. These problems will surface only after a few years after purchasing the vehicle new. In fact, there are owners who have experienced this issue immediately right after purchasing their brand new vehicle.
With the audio system issues, you might hear no sound or intermittent, popping, and/or crackling noises coming from the speakers. You may also have problems with the infotainment screen going blank or displaying a warning message. These messages may include:
Network Connection Lost.
No Audio Connection.
Camera System Problem, Image cannot be displayed.
At the time of this writing in 2023, this known issue affects the 2018-2023 Honda Odyssey, 2019-2023 Honda Passport, and 2019-2022 Honda Pilot. Luckily for owners of these vehicles, a safety recall has been issued that addresses this issue. As of June of 2023, Honda has received about 275,000 warranty claims related to this problem.
What Exactly is Causing This Problem?
The main reason for this issue is that a coaxial cable called a FAKRA cable made by TE Connectivity, wasn't manufactured to the proper specifications. These FAKRA cables have special type of connections made throughout the vehicle. You will experience many of the issues described earlier if there is not a good connection in these cables. The FAKRA connectors can be found in various places inside the vehicle such as behind the gauge cluster, behind the center display unit, and at the amplifier.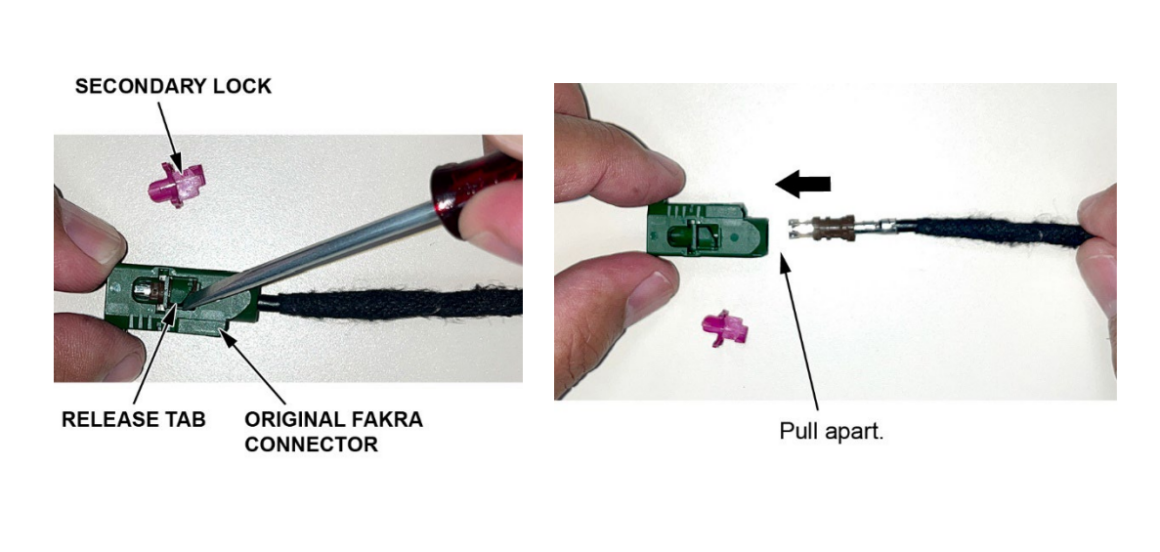 Although Honda has attempted to make repairs to the FAKRA cable connections under warranty extensions in the past, they did not fully address the issue. Luckily for us Honda owners of these affected models, the most recent safety recall completely fixes the problem by replacing FAKRA cables and connections, as well as installing a straightening splice cover of these connections.
What Vehicles Does this Safety Recall Affect?
In June of 2023, Honda officially issued a safety recall for this problem for various year Honda Passports, Pilots, and Odysseys. You do still need to enter your VIN number into the Honda website to verify eligibility for the safety recall: https://owners.honda.com/service-maintenance/recalls
You should have also received a recall notice in the mail if your vehicle is eligible for this safety recall. If it is eligible, you can bring your vehicle in to your local authorized Honda dealer and schedule an appointment for them to take care of this recall. The entire repair technically takes about 1.5-2 hours, however depending on the service department you're going to, the estimated timeframe they give you can vary greatly.
I've read about some time estimates of 2-3 hours, 6-7 hours, even 2-3 days. Obviously because service departments need to take into account other vehicles that are being worked on and to allow for some extra time to work on your vehicle, these ETA's can vary.
Something to be aware of is that recalls don't usually expire. However, if you decide to hold off on getting the recall done, you might have a problem getting the recall done later down the line if say, the manufacturer of the recalled parts ends up going out of business. The dealerships may be equipped to do the recall, but without the parts being available, you might be out of luck.
Which Years and Models are Affected by this Issue?
On June 16, 2023, Safety Recall 23V-431 was issued for the FAKRA service cables at the MOST Bus Network. This safety recall affects the following vehicles:
2018-2023 Honda Odyssey
2019-2022 Honda Pilot
2019-2023 Honda Passport
To be absolutely sure if your own vehicle is affected by this recall, enter your VIN on the Honda Owner's Website to check. If you want to see more details on the specific repairs pertaining to this recall, you can find them on the publicly available Service Bulletins on the NHTSA website:
Service Bulletin 23-046 for the 2018-2023 Honda Odyssey
Service Bulletin 23-047 for the 2019-2022 Honda Pilot & 2019-2023 Honda Passport
Should I get this Recall Done on my Honda?
One big issue with the earlier days of this issue was that Honda initially offered a fix for their techs to make adjustments to the FAKRA cables and connections, however it didn't exactly take care of the issue. Thankfully, there is now an official safety recall that completely fixes the issue.
The thing is though, that these cars are still relatively new so Honda technicians are only just getting some experience under their belt doing these types of repairs. This is why you might hear on various Honda forums and Facebook Groups complaining about repairs being done on their car and yet they still experience issues on their vehicles. They might even develop new problems on their car that they never had before the recall work was done.
There are many of us who would rather these techs do more of these repairs and get more experience working with the FAKRA cables and connections before deciding to bring our vehicle in to get the safety recall done. The MOST FAKRA Safety Recall states that about 50% of the vehicles are potentially affected, so there are still a number of us (including myself) that haven't experienced any issues so far.
For those of you who are experiencing these issues, I would advise to wait a while for the Honda techs to familiarize themselves with performing this safety recall on other vehicles before taking yours in for the recall. I wouldn't wait too long however (for the reasons stated earlier about potential part supply issues in the future.) If you can't stand it any longer and just want to get it fixed ASAP, then by all means go ahead and schedule for it to get repaired immediately.
And if you haven't had any issues yet like me, you may consider not getting it done (at least for now) because "if it ain't broke, don't fix it." Now, I would still be cautious about the possible supply issues in the future because it is very possible you could still experience the issues with the MOST FAKRA cables/connections in the future.
My main concern with any time your interior is taken apart is that you have a higher chance of interior plastic bits breaking and techs forgetting to plug things back in during reinstallation. Connectors and various components can always be plugged back in, but it's just yet another inconvenience where you have to bring your vehicle in for them to diagnose and fix. As for a rattling interior, it may be difficult to get your service department to pinpoint and fix.
I hope this article has been informative to you and has helped you understand a bit more about the issue behind the MOST FAKRA Safety Recall. In the earlier years when these problems began to surface, many of Honda owners were experiencing these audio, infotainment, and rear camera issues without any resolution in sight. Thankfully at the time of this writing, Honda has worked through all of the kinks and pinpointed the issue. We also now have the assurance that Honda has issued the safety recall, and is taking action to replace these parts free-of-charge.