When you make purchases through links on this site, The Track Ahead may earn an affiliate commission. Also, these posts are based off my own experiences. I am not responsible for any action you take as a result of reading this. Learn More
---
After washing and detailing cars for 20-odd years, I've tried wearing all kinds of footwear over this time. When we didn't have many options in the beginning, people would just wear sandals, regular sneakers, work boots, or even go barefoot! Heck, even today people still use these options. But in the past decade, we've seen so many more options come into the playing field, so there's much more of a selection to choose from if you are looking for footwear to use when you're washing your car.
Today, you have a variety of hiking shoes, athletic shoes, and even casual shoes that employ the use of waterproof membranes (e.g. Gore-tex) to keep your feet dry. This gives you a lot more selection depending on what type of shoe you like to wear. Therefore, I wanted to put this list together to highlight some of the best waterproof shoes that you can get today that will keep your feet dry when washing your car.
Why Waterproof Shoes Over Other Options
Personally, I prefer to wear sneakers when washing our cars as it's the most comfortable for me. The main issue however is that your shoes get soaked, and subsequently your socks get soaked. Then you're walking around in soggy socks– turning what started as a pleasant experience of washing your car, into a dreadful affair where you're just hurrying to finish so you can take wet socks and shoes off. With the availability of so many waterproof shoe options out there today, the problem of having wet feet is eliminated.
Sandals and Crocs
Of course, you could go sock-less and use sandals, Crocs, or god-forbid go barefoot. In fact, a ton of people use sandals, and probably even more use Crocs. In my personal experience, wearing sandals or Crocs tend to be uncomfortable because your bare feet rub against the rubber sandal material. Adding water to this situation adds to the discomfort. Plus, if you're doing this in the colder months of the year, your feet are going to be freezing.
I think Crocs are super popular because you can always go from "relaxed mode" with the heel strap down, to "sports mode" with the heel strap up. Jokes aside, this at least gives you a bit more maneuverability while washing your car without the worry of the sandals coming off your feet.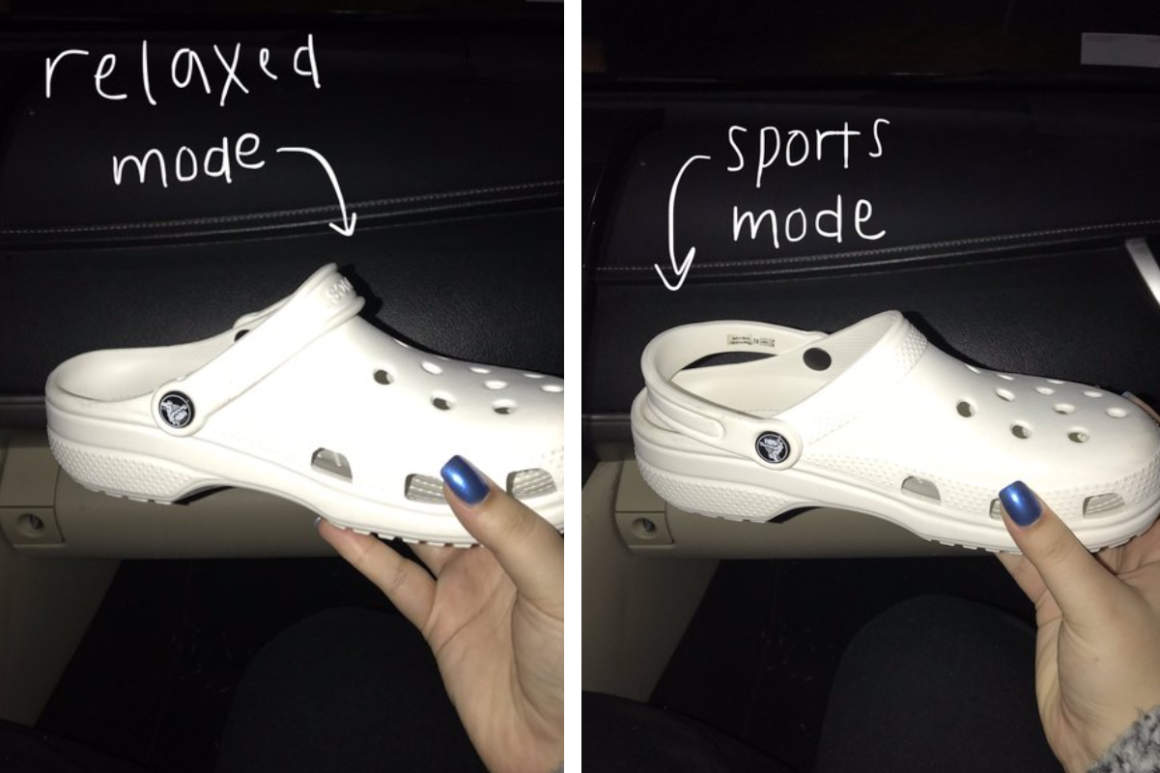 Between Crocs and sandals, I'd probably go with Crocs because it offers more protection for your feet and has the additional heel strap.
The downsides to wearing Crocs would be that your feet will still be cold in the winter, and no one wants to be caught dead wearing these things. They are just not a very fashionable shoe. Contrast that with the waterproof shoes mentioned later down this post, and you'll find some really good looking shoes that still manage to keep your socks dry.
And if you're thinking of going barefoot, please don't. I know a lot of people still do it (maybe because they're washing their cars on the grass?) but you don't want to accidentally step on something that could hurt you. So keep yourself safe and wear something on your feet for protection.
Waterproof Boots
And what about boots? There's different kinds of boots out there such as bulky and unwieldly work boots, to lightweight rubber boots. Both of these options have waterproof features and can be quite good for keeping your feet dry. They also gives you more protection for your feet (helpful for situations like using a pressure washer.)
Some of most recommended "workboot-style" boots are made by Red Wing and Carhartt. Keep in mind that these are true work boots– the kind you'd expect people who work in construction would wear, which might not be for everyone. There are some lower cut ones as well (e.g. the Carhartt Force 6-in Work Boot pictured on the right) which may be more manageable than the ones with a higher boot shaft. But, in terms of protection, you won't get any better than these types of boots.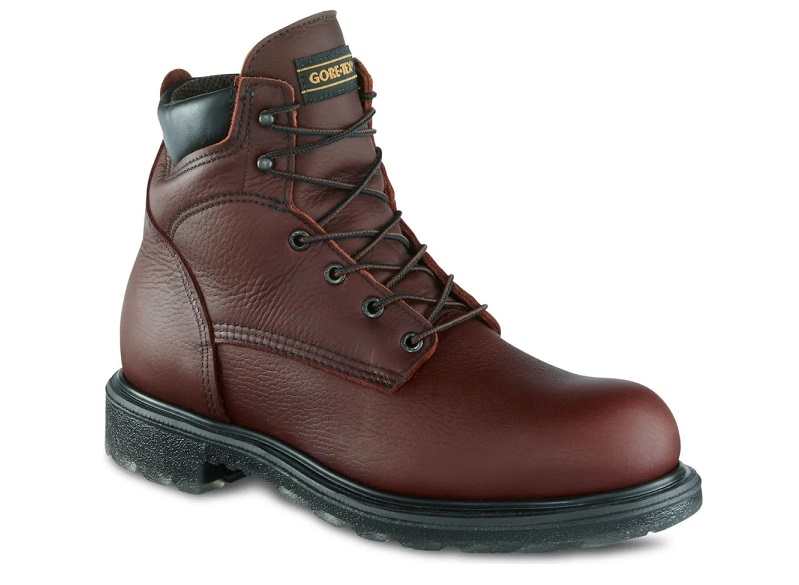 Another type of waterproof boot that is great for washing cars is what is best known as a fishing boot. It's a slip-on boot that is made of rubber and can keep your feet fully dry when washing your car. It's easy to slip on and take off, so it's not going to be as tedious as say lacing up a work boot. The best known and most recommended ones in the car detailing community are Huk Boots.
These are actually quite nice-looking for a fishing boot as they have a nice modern look to it. You'll get very good grip with these boots and they have pull straps for your convenience. I think this is a great option if you want something a little more casual and is easier to put on than a full-on work boot.
Search for Huk Waterproof Boots on Amazon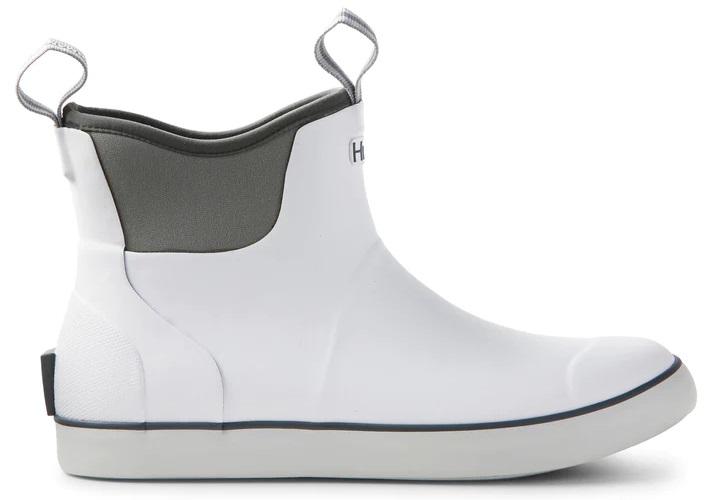 Waterproof Shoes Versus Water Resistant Shoes
I wanted to quickly differentiate between these two types of shoes as it's easy to mix them up if you're not careful. To add to the confusion, some shoes are marketed as waterproof shoes, when in reality they are only water resistant.
The difference between the two is that water resistant shoes can repel some water, such as water drops from light drizzle. The drops of water may not penetrate the shoe, so it will likely keep your feet dry in this type of scenario. However, if you were to take these same water-resistant shoes and step into a large puddle, the water will likely soak through the shoe. By contrast, if you stepped into this large puddle with waterproof shoes, the shoes would keep your feet (and socks) dry.
Typically, the way waterproof shoes prevent your feet from getting wet is by using waterproof technology (Gore-Tex is most commonly known but it is not the only one), which is constructed as a membrane surrounding your entire foot. This prevents water intrusion through this waterproof membrane, in order to keep your feet dry. So if you're looking for a waterproof shoe, read the product description very carefully to ensure that it is truly waterproof and not just water-resistant.
How this List was Compiled
With so many options for footwear, I've placed my focus on waterproof shoes as there's so much to choose from within this category. And because these shoes have other uses (i.e. running, walking, hiking, etc.), you can use it for those purposes as your main shoe, yet also be able to use them for the occasional car wash as well.
I want to note that for any particular brand, there may be other shoes that they offer that are also waterproof. After looking into and researching each of these waterproof shoes, I found that there's even more options out there that I originally thought. So even if the shoe on this list isn't exactly to your liking, there may be other capable waterproof shoes available from that specific brand that are not on this list.
This "Best Of" List was compiled by first taking the most commonly recommended footwear from car enthusiasts and car detailers on online car forums, car care forums, and Facebook Groups. This gives a good mix of tried-and-true footwear used over more than a decade, and accounting for how well they perform.
Next, the reviews for each of these waterproof shoes were perused and recommendations that actually had significant shortcomings were weeded out or downgraded significantly. Products with better reviews were upgraded accordingly as well. How these shoes look also played a factor in its ranking on this list. The competition is fierce in this aspect as we now have hiking and running shoes that look pretty darn stunning and modern compared to the unsightly ones of the past.
Finally, price was taken into account. I did this because shoes that are waterproof can be expensive. Sometimes, it's a fashion shoe that commands this kind of price point. Other times, it's due to its capabilities as the shoe may be intended for a particular activity or sport. But, being that the average price of the waterproof shoes on this list is $150, it's quite a lot of money to spend on a shoe in my opinion. Therefore, I not only account for the original price of the shoe, but also the availability of the shoe to be purchased at discounts from either their main website or from major third party vendors (e.g. REI, Amazon, Zappos, etc.) Many of these shoes may be offered from their parent website at regular cost, but can be found on sale if you look around.
Taking into account all of these things, I've arrived at what I believe to be the best waterproof shoes you can wear to wash your car with. Everyone will have a different take on this as each person has their own needs, design tastes, and budget. So, I've tried my best to not only provide my ranking for these waterproof shoes below, but to give as much insight as I can on each shoe listed here. Finally, I've based my assessment of these waterproof shoes on Men's shoes, but most of these also have separate Men's and Women's versions available.
The Best Waterproof Shoes for Washing Cars List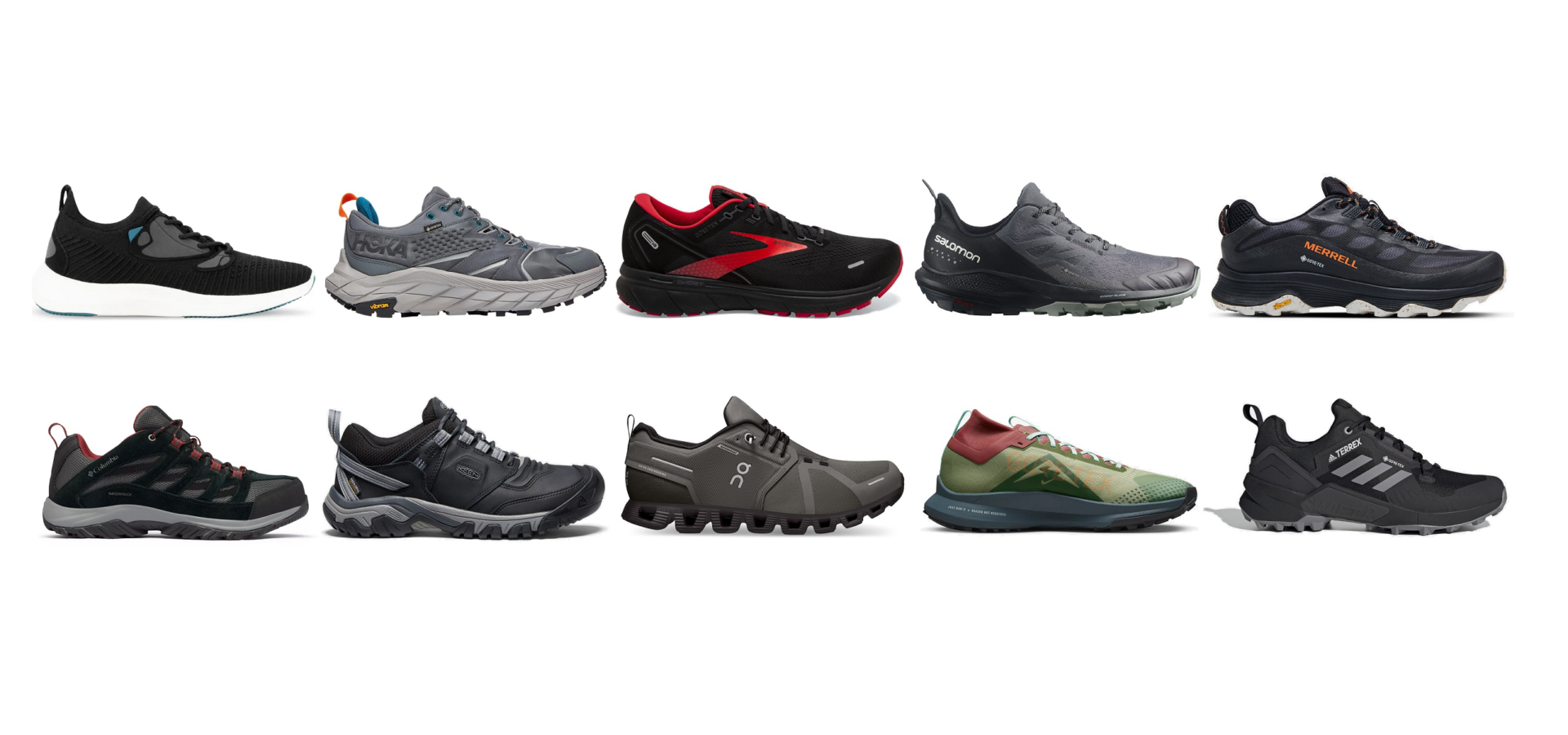 Details on Each Waterproof Shoe
Final Words on Waterproof Shoes for Washing Cars
I hope this list gives you a good sense of what the best waterproof shoes are for washing your car with. This 'Best Of' List can be a bit more subjective than other types of products simply because everybody's feet are different. So your fit will very much differ from that of another person's. To add to that, everyone has their own preferences for how the shoe looks, how it feels, and what purpose it's used for.
I've used a couple pairs of shoes from this list and love that I can still wear shoes with socks and still keep my feet completely dry. It just puts me in a better mood to be able to wear some nice looking and comfortable sneakers and not have to worry about getting my feet wet.
But let's be real about one thing: the price. The cost of these waterproof shoes can be a bit pricey, being the average of the shoes on this list hovering around $150. Depending on how much this feature is worth it to you, the benefit may justify the cost. Other times, the cost is not worth it and you may be perfectly happy washing your car wearing your trusty 'ol flip flops or Crocs. But if you are willing to shell out some extra dough, you can have yourself a nice pair of shoes that will make your car washing experience a much more pleasant one.