When you make purchases through links on this site, The Track Ahead may earn an affiliate commission. Also, these posts are based off my own experiences. I am not responsible for any action you take as a result of reading this. Learn More
---
Although car cleaning kits can be used by most anyone, the vast majority of starter kits are catered towards the general public. These car cleaning kits will usually consist of the bare essentials (i.e. car soap, interior cleaner, tire protectant, etc.), however they may be a bit more comprehensive and provide you with extra products to get you introduced into the car cleaning world.
The number of pieces in each car cleaning kit is not that very important. Obviously, it does indicate how many different products are offered in the kit, but you'll find that after a certain number of basic items, these additional pieces tend to be "nice-to-have" items that just add to the total cost. Furthermore, the count could include products like microfiber towels; for example if you had 3 microfiber towels in a kit, the manufacturer could add a count of 3 to the number of pieces in the kit. As you can see from this example, the extra pieces doesn't matter much. I've included the number of pieces in the kits listed here simply to distinguish one kit from another.
The number of different car cleaning kits available is so vast since a car cleaning kit can be bundled with an endless combination or products and chemicals. To make matters more confusing, the amount of different products and chemicals available in the current car care market is overwhelming. So, I've put this list together to not only make it easier to understand why one kit may be better than the other, but to also help you understand why any particular kit is best for you.
How this Car Cleaning Kit List was Compiled
I normally create these "best of" lists based on a manual compilation of reliable sources online. However, I've had some experience with many of these products as standalone items in order to determine what does or doesn't work.
Again, because of the unlimited combination of products that can be bundled together in these starter kits, it's common to find a kit that has good and mediocre products mixed together. Because these kits are generally marketed towards the general public, they will still sell well. They'll also get good reviews because these folks may not know any better.
I'm not trying to knock anyone for using these kits. In fact, I could take many of these kits and put them to good use. The good thing about these kits is that they offer a nice variety of products and they do get the job done. To some people, a car wash is a car wash and using a certain type of product may not matter as much to them compared to others. To that end, I've explained why I've ranked these car cleaning kits in the way that I have below. I hope this helps you in your search to find the best car cleaning kit.
Best Car Cleaning Kit List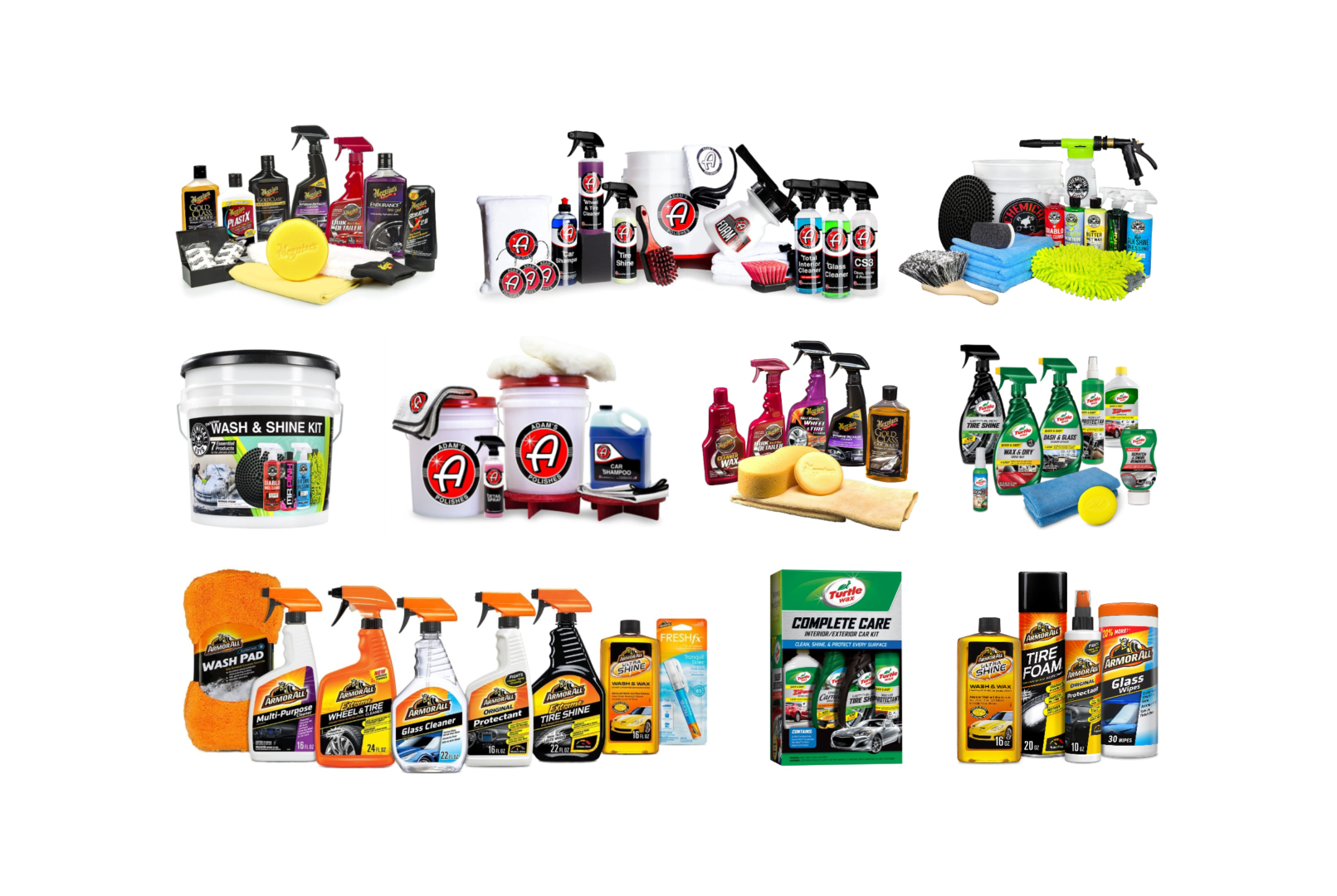 Details on Each Car Cleaning Kit
Car Cleaning Kit FAQ (Frequently Asked Questions)
What should I be looking for a car cleaning kit?
As I mentioned earlier in this post, there are an unlimited number of combinations of kits when it comes to car cleaning kits. At the minimum, I recommend the following basic items for a car wash (which to me, is a wash of the exterior paint, cleaning of the wheels/tires, and an interior cleaning):
Car wash bucket
Grit guard
Wash mitt
Car soap
Drying towel
Wheel brush
Wheel cleaner
Interior cleaner
Glass cleaner
Microfiber towels
These are items that I'd consider must-haves in order to perform a car wash, but these items are strictly for cleaning of the car's paint, wheels, and interior. There aren't any protection products like wax, interior protectant, etc. Also products that can be used for more thorough cleaning are not included.
This is what makes a ready-to-buy car cleaning kit so attractive as most everything is already bundled together for you. You don't need to think about what you need or don't need, you just use what is provided to you in the starter kit. If you need additional products, you can always purchase those separately on an as-needed basis. Sometimes, you just don't know what you'll need until you start using these products.
How many pieces in a starter kit do I need?
The number of pieces in a kit does not matter a whole lot. It does give you an idea of how comprehensive the kit may be, but the count can include other non-essential items. I listed the number of pieces in each car cleaning kit here because it helps to identify each kit, as some manufacturers have a large number of different kits available.
What I've noticed is that these smaller 4-piece kits have the main chemicals you'll need and nothing else. This will generally work if you just want your car clean; it just won't be a "proper wash" which would allow you to wash a car thoroughly. Other kits range between 7-10 pieces for a more extensive car wash. Kits larger than 10 pieces will include some minor paint correction and/or extra car wash accessories like foam guns/cannons, buckets, and wash mitts.
If you don't care much about the car cleaning process and just want your clean, then you can go with a smaller 4-piece kit and use whatever rags/towels you have around the house to wash your car. If you want to wash your car effectively and safely and you already have the buckets, wash mitts, and drying towel, a 7-10 piece kit will work great for you. And if you want the whole package with everything you'll need to minimize scratching of your car's paint, then you'll want to go with the larger arsenal builder kit.
How much should I spend for a car cleaning kit?
If you want the bare chemicals, the smaller 4pc kits will be very cheap, somewhere around $10-$20. For the average car cleaning kit, you're looking at around $40-70 which should provide you with a good range of cleaning products, although it may not have the extra car cleaning accessories like car wash buckets, grit guards, wash mitts, etc. When you get into the $100 and up range, you should be getting a full line of cleaning chemicals, the car wash accessories (buckets, grit guards, wash mitts, drying towel), and a pre-soak accessory like a foam gun or foam cannon.
Although some of the pricier car cleaning kits appear to be expensive, it would cost even more if you pieced the kit together yourself with the same products. In that regard, if you can find a starter kit with most products you like or want, then it is probably worth it to go with a kit rather than piecemealing it together yourself.
What is a good car cleaning kit to give as a gift?
I think the most important part of this question is who you are giving the gift to. If the person you are gifting isn't really into car care or isn't that particular with their car wash, maybe any of the Turtle Wax or Armor All kits will be a good option. If the receiver is someone who really appreciates their car and wants to take good care of it themselves, but doesn't have any experience with car care products, any of the other products should be great gifts.
I'd only note that if the receiver is someone who already has used car care products before, I wouldn't gift a basic kit or a Chemical Guys kit. Since the gift receiver has already used some car care products in the past, not only do they likely still have some of these products that they haven't fully used up yet, but they will they likely already have those basic or Chemical Guys products in their arsenal.
Also, Chemical Guys may be well-known by everyone, but they don't have the best reputation within the detailing community. One of the common things you hear is that their products are watered-down and overpriced. I'm not saying that all of their products are bad; I enjoy using certain ones, but their kits don't always include their best products. In this case, I'd suggest the Adam's or Meguiar's car cleaning kits for someone who has some experience with car washing/detailing.
And finally, if you're planning on gifting a car cleaning kit to someone who is a detailer or a car care fanatic, I wouldn't recommend a car cleaning kit at all. Since these kits are marketed mostly towards beginners/amateurs, it's likely not going to fulfill their wants/needs. I'd recommend going with standalone products that are highly recommended in the detailing community. Check out more of our Best Of Lists if you're looking for ideas.
Does the brand of the car cleaning kit matter?
The brand for the most part does not matter, as it is the products themselves that are most important. Each brand will have their own good and mediocre products. I'll just provide some of my very subjective thoughts on each of these brands.
Chemical Guys: They get a bad rap around the detailing community, but I've found some products work well and some do not. Their impressive marketing leads to both their notoriety and their disdain in the car detailing community.
Adam's: I like their simplicity product-naming. It makes it simple to understand the purpose of each product— a nice contrast from the obnoxious nomenclature of other manufacturers. I don't have a lot of experience with their products, but for the ones I have used they seem to work just fine.
Meguiar's: One of my favorite brands as they've been around for a long time and they offer up a large selection of great products. For almost every product I've used, they've worked wonderfully. I appreciate the fact that they offer high quality products in their car cleaning kits.
Armor All & Turtle Wax: I lump these two together because they are similar in that they are generally aimed at the general public with regards to these car cleaning kits. They both will get the job done and are priced very affordably compared to the other brands.