Stumbling Across an Audi S4
Maybe I was lucky that day back in 2009. I came across a listing on Craigslist for a silver 2001 Audi S4 sedan. This is the V6 2.7L twin turbo, AWD, 250hp, 258ft-lbs of torque beast of a car that was going for half the going price.
The seller was based in San Jose and gave me the back story: The car has been sitting for a year or two with a PNO (planned non-operation) status. It does run, but the seller has concerns about the tie-rod ends (I never figured out what his concern was exactly) and warns me that they need to be replaced ASAP. Because of this and that fact that the car hasn't been used, he strongly urges me to have it towed. He also indicated that the tires were in bad shape and needed to be replaced as soon as possible.
Perhaps these were tell-tale signs of hidden issues that the seller didn't want to disclose, but come on… a B5 Audi S4 with under 100k miles for half the going price? I was single, had loads of free time on my hands, and a two-car garage just yearning for another project car to house.
I inspected the car and test drove it a short distance. Everything worked well: the engine, transmission, heck even the car inside and out was super clean. I had AAA tow the car back to my place.
I was giddy with excitement the whole drive home. The car was dropped off back at my place in the parking lot.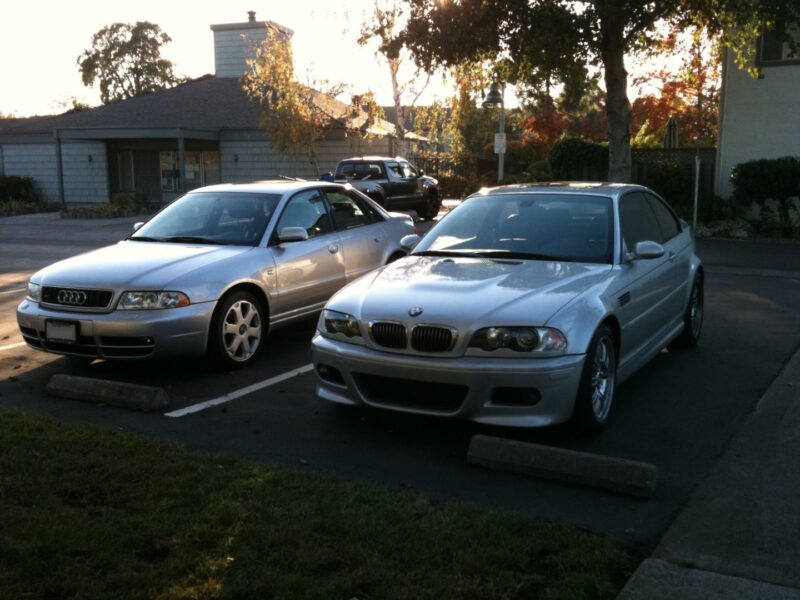 A petrolhead's dream… owning an E46 M3 and a B5 S4 at the same time.
A Closer Look at the Audi B5 S4
Let's get that M3 moved aside– it's the Audi's time to shine! A 360 view of the newly purchased car below:
As you can see from the outside, the car is in practically pristine condition body-wise. No dents or major scratches could be found. The tires were balding and would need to be replaced very soon.
Really clean instrument cluster looking crazy slick at night time.
Some interior shots of the car. All black interior with unassuming wood trim? Yes please.
Next Plans for the Car
After owning the car for about a year, I did some significant work to address the issues that the car already had when I purchased it. I also performed maintenance on the vehicle as well as did some preventative maintenance on parts that are more prone to failure on these S4's. Furthermore, the car developed quite a few small problems that I also fixed. All of this work will be detailed more in other posts in the future.
In the end, I restored this car back to the way it should be running and threw tons of money while at it. When I sold the car a year after I bought the car, I only sold it for a little more than I bought it and probably came out even after all the money I spent on the car.
I sometimes cringe when I think about this car the most out of any car I've sold. I put so much love and care into this car, and for some reason I got rid of it so easily. When I sold the car, I knew that the person I sold it to was getting the most incredible deal. This car should have stayed in my possession and I wish I had it to this day.
If I got the chance again to score a B5 Audi S4, I'd jump on it. However this time, it would have to be in Nogaro Blue and an Avant!