A little over a year ago, I picked up a 2003 Acura CL Type-S as I was looking for a new project car to work on. I honestly wasn't even looking for a CL Type-S specifically, but I spotted this one on Craigslist with a 6-speed manual transmission. For those who are familiar with the Acura CL, and the Type-S model in particular, you will know how rare it is to find a CL-S in a manual transmission. It is estimated that there were about 2700 Acura CL Type-S cars ever produced in a 6-speed manual transmission.
I found the listing for this car with about 135k miles, which is relatively low for the age. I believe I called the seller about 15-30 minutes after the listing was posted. I spoke to the seller over the phone and we set up an appointment for me to meet the seller the next morning.
The next morning, I drove about an hour and half to meet with the seller. The seller was a woman who had been the original owner of the vehicle, showed me around the vehicle. The body of the car was in rough shape as it used to live on the streets of Berkeley, CA, but mechanically the car was in good shape. There were a few issues with the power steering pump that I was made aware of, but for the most part the car was in decent shape minus the many scratches and dings on the bumpers.
I was ready to pay for the vehicle, but the seller realized that the pink slip was in the bank and since it was the weekend, but bank was closed. Since I would have to leave empty handed, the seller assured me that she would hold it for me because of her faux pas. We agreed that I would hand over half the agreed upon amount as a deposit and we would meet during the week nearby my workplace.
We met the next Monday in Berkeley, CA where I signed the pink slip and arranged for a tow truck to tow the vehicle back to my house.
Although there was a bit of a hiccup in the beginning of the transaction, I was glad that the seller made good on her word to deliver the vehicle as promised and for the price that we agreed upon. I know that with a rarer car like this, there was likely a good amount of interest. Some sellers may be tempted by other offers and will turn a typical buyer/seller transaction into an auction. I've been burned by many of these types of sellers in the past, and it was refreshing to be able to deal with a more honorable seller like this one.
I really enjoyed working with the seller as I felt she was honest. She really cared for her car and I honestly think she cared that her baby went to someone who would continue to take care of her car. I believe that is why she was willing to work on the price with me and to follow through with the transaction from beginning to the end. I also felt very good working with someone who wasn't just trying to make as much of a profit as possible, but ensuring that her baby would go to a good home. She even kept a crystal in the ash tray, which she showed me and told me it was a sort of good luck charm for the car.
Something that I didn't notice was that the seller had accidentally posted her address on her listing. She told me that after I had left after meeting her the first time, someone had showed up on her front doorstep that night asking about the car. She said that sorta spooked her as she found it strange that someone would just show up randomly like that. I know why though, this is a pretty rare car to find and this prospective buyer really wanted the car.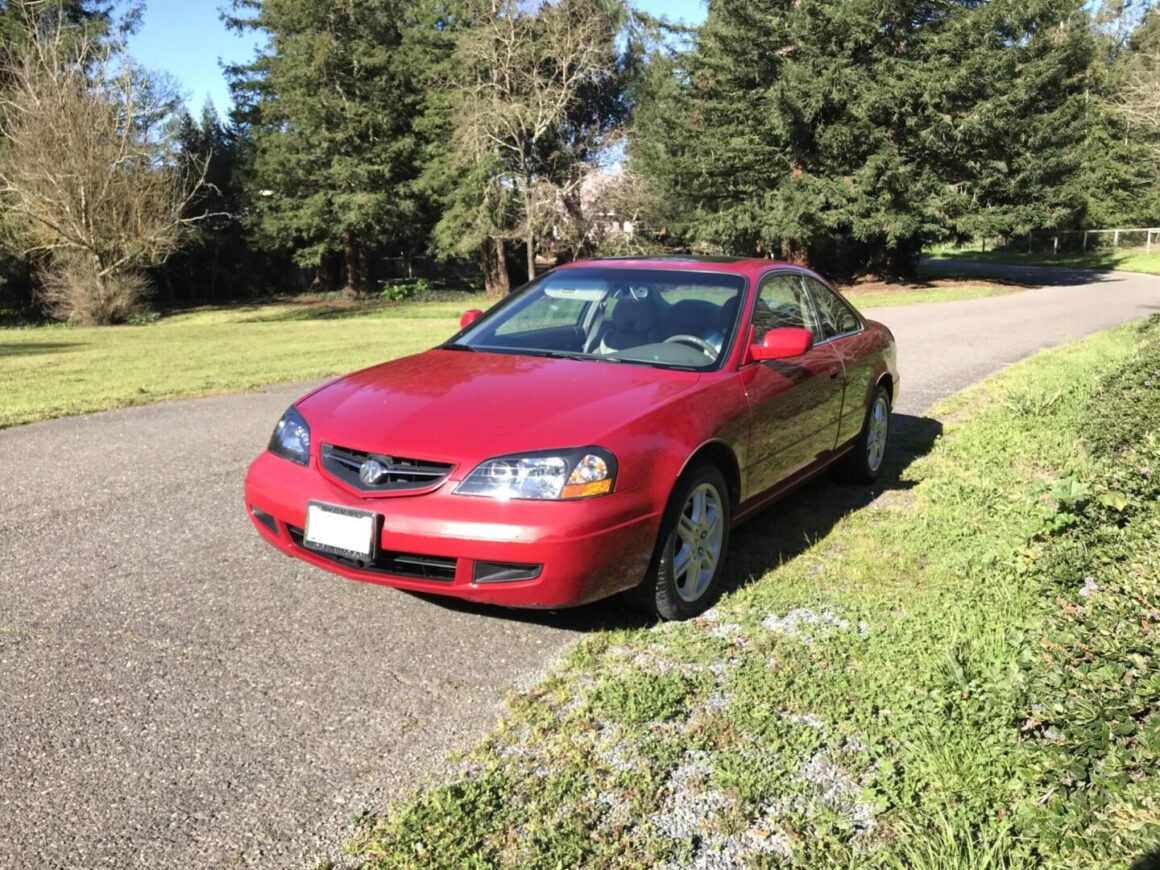 An interesting topic surrounding this car specifically is the rarity of this car. For Acura CL-S 6-speed owners, it's almost a rite-of-passage to take your car's info: exterior color, interior color, and whether it has navigation or not, and seeing how rare your specific configuration is out of the already rare 6-speed CL Type-S. There are several users on Acurazine (notably users Slimey, GreenMonster, and Hohlake) who have provided vital data related to the 6-speed production numbers. I've essentially placed the table found on his thread here for your reference:
| EXTERIOR/INTERIOR COLOR | NON-NAVI | WITH NAVIGATION | TOTAL |
| --- | --- | --- | --- |
| Aegean Blue Pearl | | | |
| Ebony | 230 | 68 | 298 |
| Anthracite Metallic | | | |
| Ebony | 443 | 137 | 580 |
| Satin Silver Metallic | | | |
| Ebony | 763 | 223 | 986 |
| Night Hawk Black Pearl | | | |
| Ebony | 480 | 185 | 665 |
| Parchment | 258 | 52 | 310 |
| All | 738 | 237 | 975 |
| San Marino Red | | | |
| Ebony | 122 | 25 | 147 |
| Parchment | 217 | 61 | 278 |
| All | 339 | 86 | 425 |
| Taffetta White | | | |
| Ebony | 43 | 15 | 58 |
| Parchment | 135 | 54 | 189 |
| All | 178 | 69 | 247 |
| | | | |
| Grand Totals | 2691 | 820 | 3511 |
My Acura CL Type-S 6-speed has the San Marino Red exterior, Parchment interior, and a navigation unit. This makes my car 1/61 ever produced in this exact configuration, 1/425 ever produced in San Marino Red, and 1/2700 Acura CL-S 6-speeds ever made. I think this is car is pretty special and I intend to restore it back to its deserved condition.