Looking for an Affordable Sports Car
I was living at home at the age of 20 while I was attending some community colleges in Southern California. Before I bought my 1993 Mazda Mx-6 (also known as the second generation Mazda Mx6), I commuted with my 94 Mazda Protege to and from school everyday. The car was reliable sure, but I really wanted a car that I could have fun with. Keep in mind I was dead broke and living at home. So, what I did next was in hindsight just plain foolish.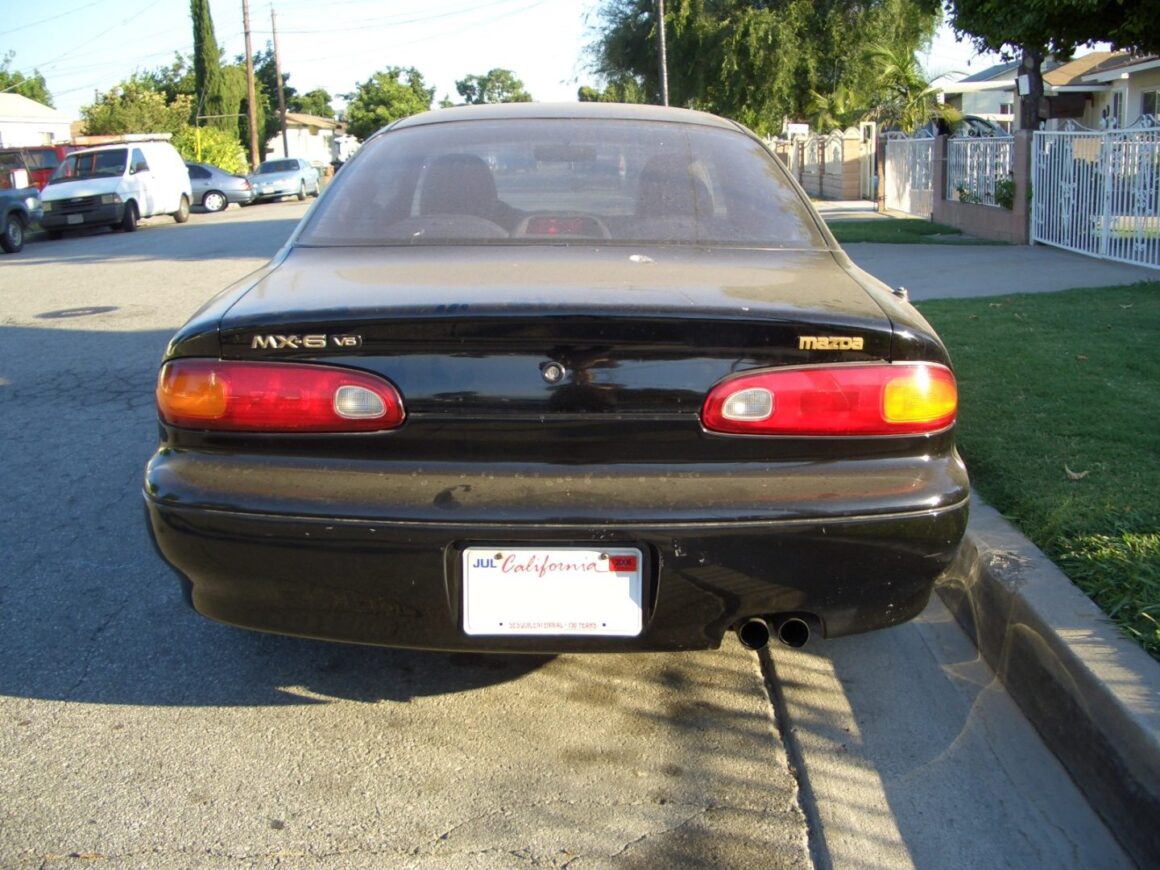 A Mechanic Special in Oxnard, CA – 93 Mazda Mx-6 LS
I saw a listing on Craigslist for a black '93 Mazda Mx-6 LS in a manual transmission. It was listed for $800 and was not running. The seller indicated that the car was running, but could not get it into gear.
So, I set up a time to meet the seller and then made an hour drive out to Oxnard, CA to go check the car out. I looked at the car (I had no idea what I was looking for at the time to be quite honest) and decided I wanted it. There probably wasn't going to be anything that would have stopped me from buying it at the time.
So, I had AAA tow the car back to my home. But I had a bigger problem to deal with… what would I tell my parents? I thought about it long and hard and finally came up with a decision that any reasonable person would make. I decided to hide the car from them.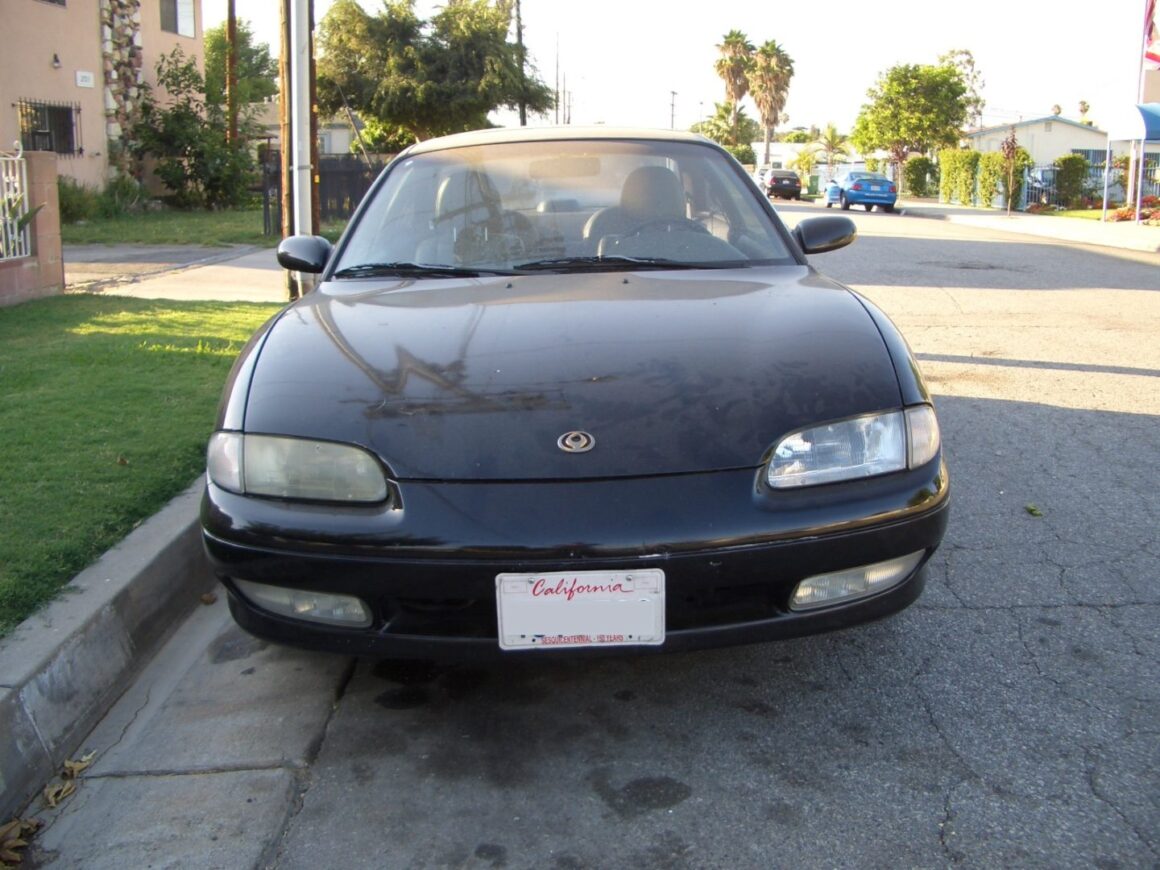 How I Hid my Car from my Parents
There's this scene at the beginning of Back to the Future where Marty McFly leaves Doc Brown's lab, gets on his skateboard, and then hitches a ride from this blue truck. This scene actually took place in this parking lot a few houses down from mine. I couldn't figure out how I was going to keep this car that I just bought, that cannot get into gear, hidden away from my parents. My solution was to just keep the car in this parking lot and walk over to work on the car whenever I had time.
The first photo is of the facade that was used in the movie, but in actuality it looked like the photo on the right. I parked the Mx-6 where that white car is parked in the center of the photo, and I would move it (literally pushing it) to various spots so it didn't get towed.
Help from a Great Friend
I had a friend in one of my Engineering classes at that time who offered to help me out. His name was Jesus we've studied together a few times, but I was just floored when he offered to help me get my car running properly. We had my car towed to his house to where he helped me take out the transmission and replace the clutch.
After replacing the clutch and putting the transmission back into place, we realized that the transmission was stuck in first gear. So, I brought it into my friend's workplace (he worked at a car dealership) and he helped me replace the transmission there. Normally it would have taken me 20-30 minutes to get there on the freeway, but it ended up taking me something like 3 hours driving… by street… in 1st gear.
Continuing Maintenance at Home
After replacing the transmission, the car finally is drivable and I get it home. I start doing regular maintenance items (still in the commercial parking lot nearby my house.) At one point, I just needed a real spot to keep the car so I could continue doing some more involved repairs on the car. That was when I told my parents.
Suprisingly, they weren't pissed and were in fact somewhat impressed at what I've done so far. And so, I continued working on the car at home by taking part-by-part out and replacing them as necessary and continuing with maintenance.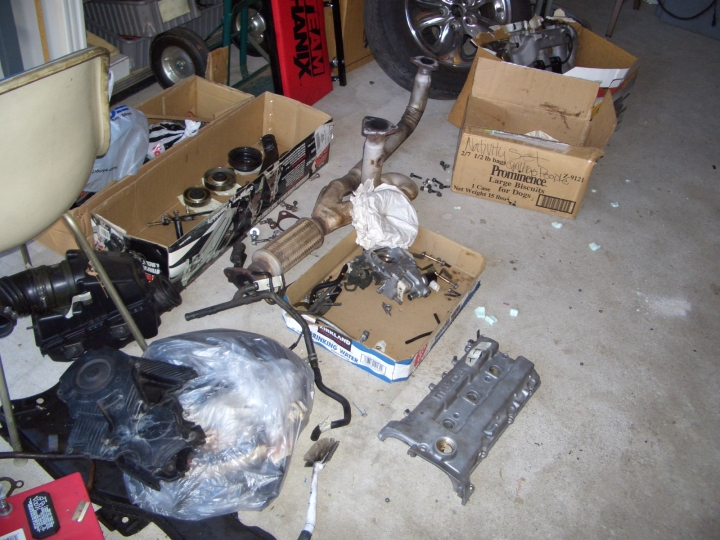 More Transmission and Engine Troubles
A couple years later, I moved to the San Francisco Bay Area to start a new job. I lived with my brother who helped me as I made the transition to a new home. He put up with me and my car troubles, and there were for sure a lot of car troubles.
My transmission ended up locking up as I was getting home one day and I had to take it into a shop to get replaced. After that, the transmission was working perfectly but shortly after I started experiencing white smoke coming out of my tailpipe. After dealing with the embarrassment of people staring out of their vehicles to see where the smoke was coming from, as well as receiving several air health board notices through the mail, I decided to swap out the engine with a Japanese version of the MX-6 engine. This was a direct swap that provided a 36 horsepower boost.
| Engine Code: | KLZE (Japanese "j-spec" motor) | KLDE (American "a-spec") motor |
| --- | --- | --- |
| Horsepower | 200 @ 6500 rpm | 164 @ 6000 rpm |
| Torque (ft-lbs) | 165 @ 5500 rpm | 156 @ 4000 rpm |
| Compression Ratio | 10:1 | 9:2:1 |
| Stock RPM Limit | 7500 rpm | 7000 rpm |
| Intake Manifold | Long Neck | Short Neck |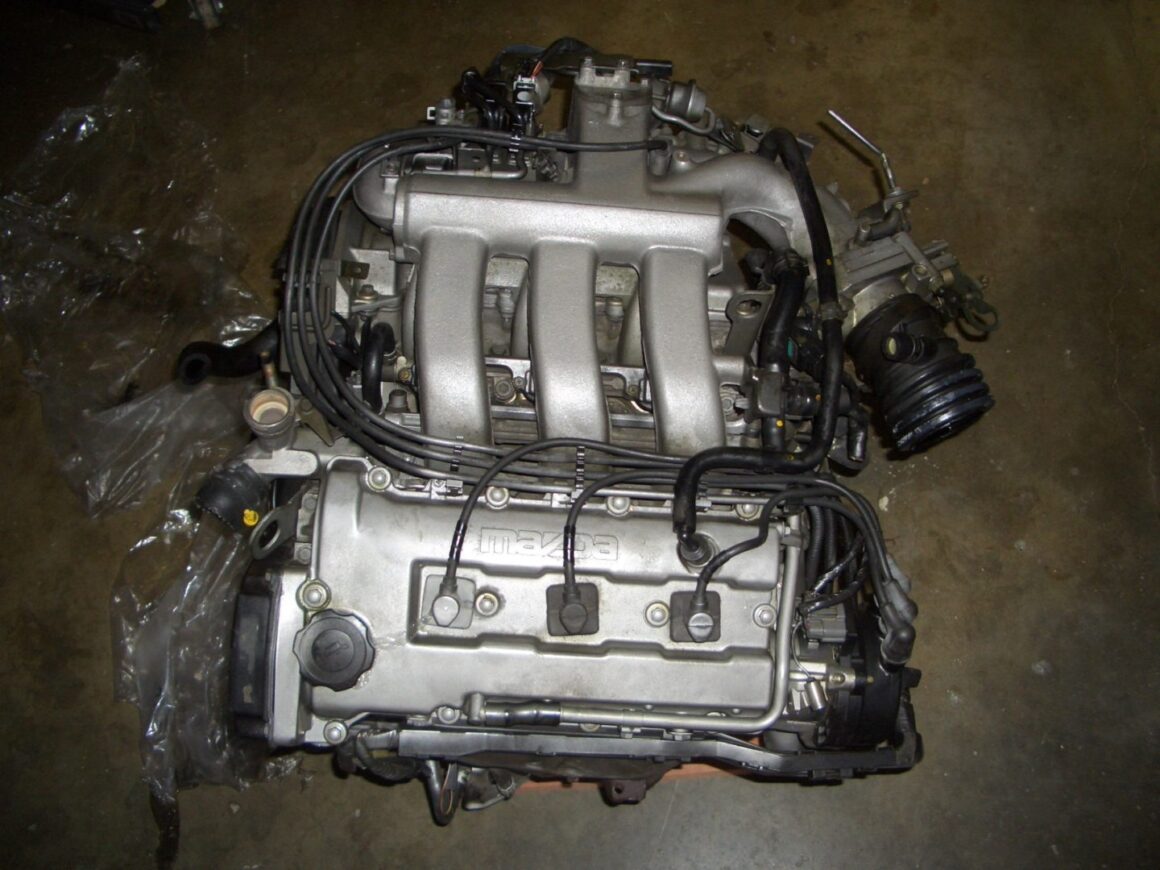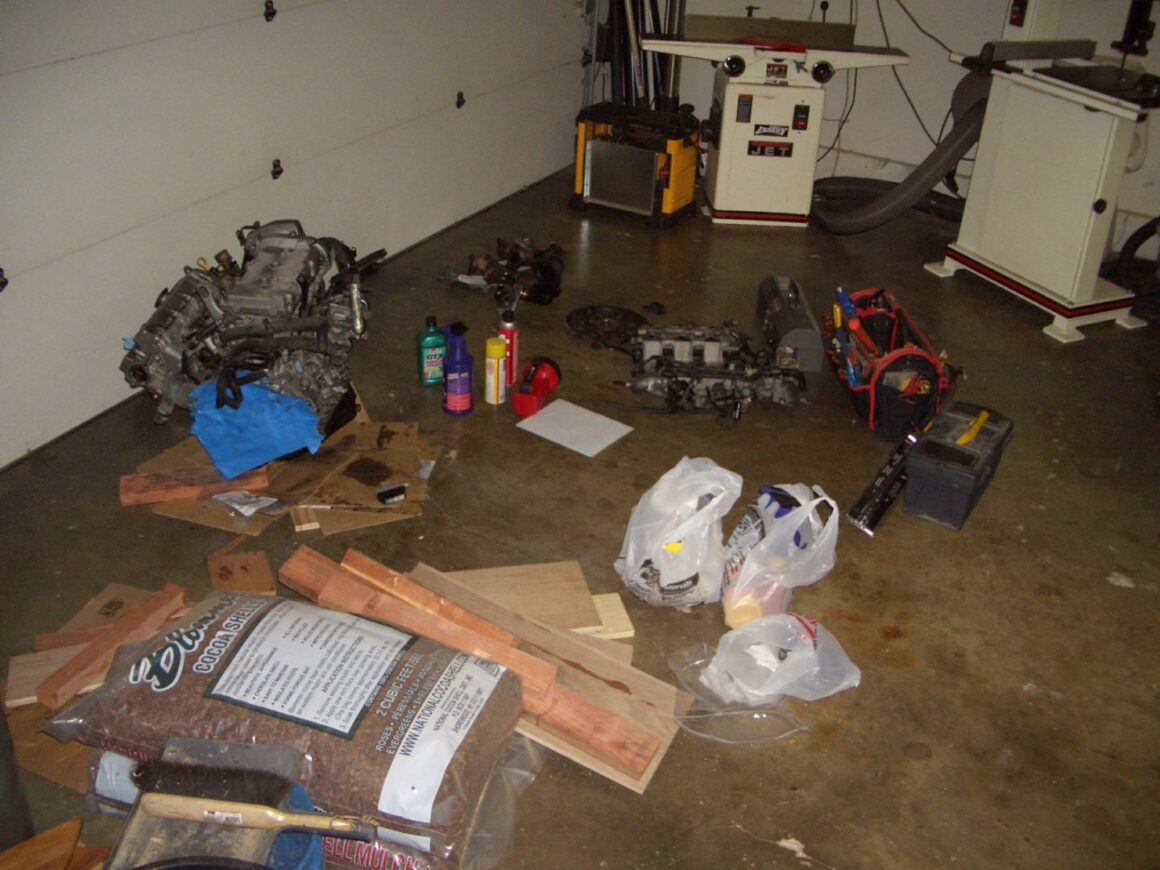 The engine swap went fairly well with few modifications needed to accommodate for the longer intake manifold neck, the lack of an EGR valve, and a handful of electrical connector differences, but everything else matched up well. My brother and I also replaced other seals while the engine and transmission were out of the car.
New Wheels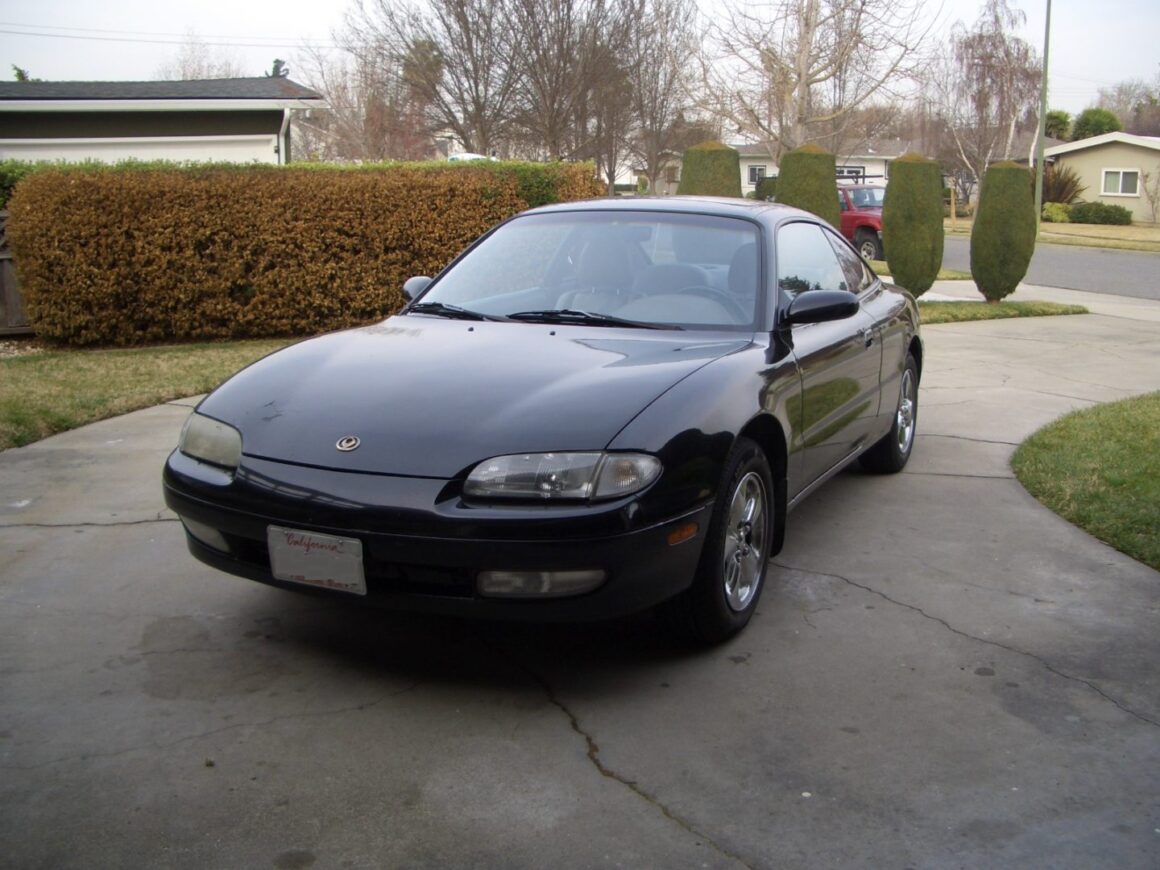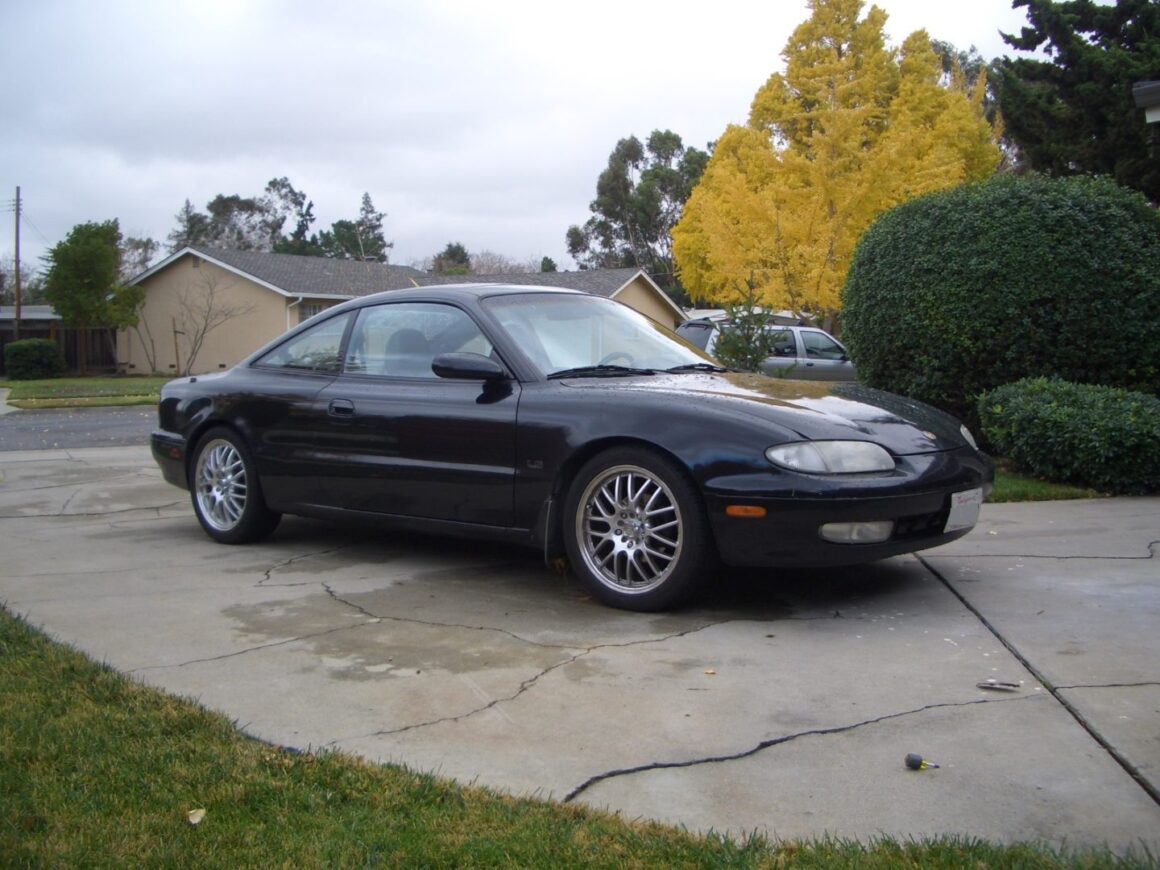 The car drove great after all that and I continued to learn more and more working on this car. I found an old post I had on a Mazda MX-6 forum I was on: mx6.com where I had listed most of the work was done on the car. The forum had an awesome community and I had referred to it many times to get help and inspiration. It was really cool to post my car on the forum after all those years with my "finished" car. There are some very veteran forum members that I looked up to who commented and gave me kudos.
The End of my Mx-6
In the end, I drove the car to 220,000 miles with it being on its 3rd engine and 3rd transmission. I sold the car to a friend of a friend for a grand, but told him I would get the car smogged first. I took it to a smog technician that said it had failed smog, but then made some adjustments to get it to pass.
However, the person I sold the car to started having problems with the car. I guess the smog tech made some adjustments that screwed with the engine. The guy that I sold the car to was a student and I felt bad for selling the car to him, so I returned the money to him and took the car back.
To this day, I don't know what that smog tech did to my car because the engine was running well before he passed it for smog. I ended up posting the car up on Craigslist and sold it for $800 (the same price I initially bought the car for) in AS-IS condition. Unfortunately, I had to bid the car farewell, and I never saw it again.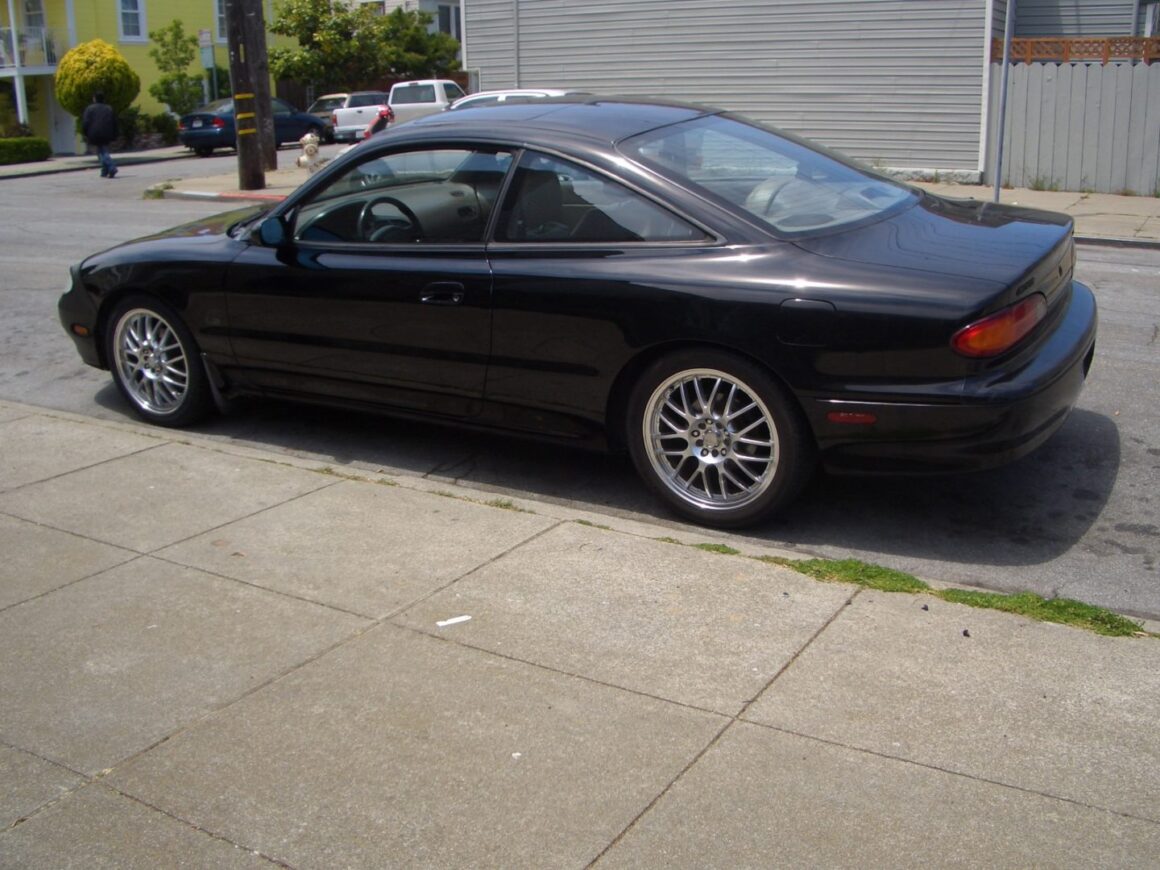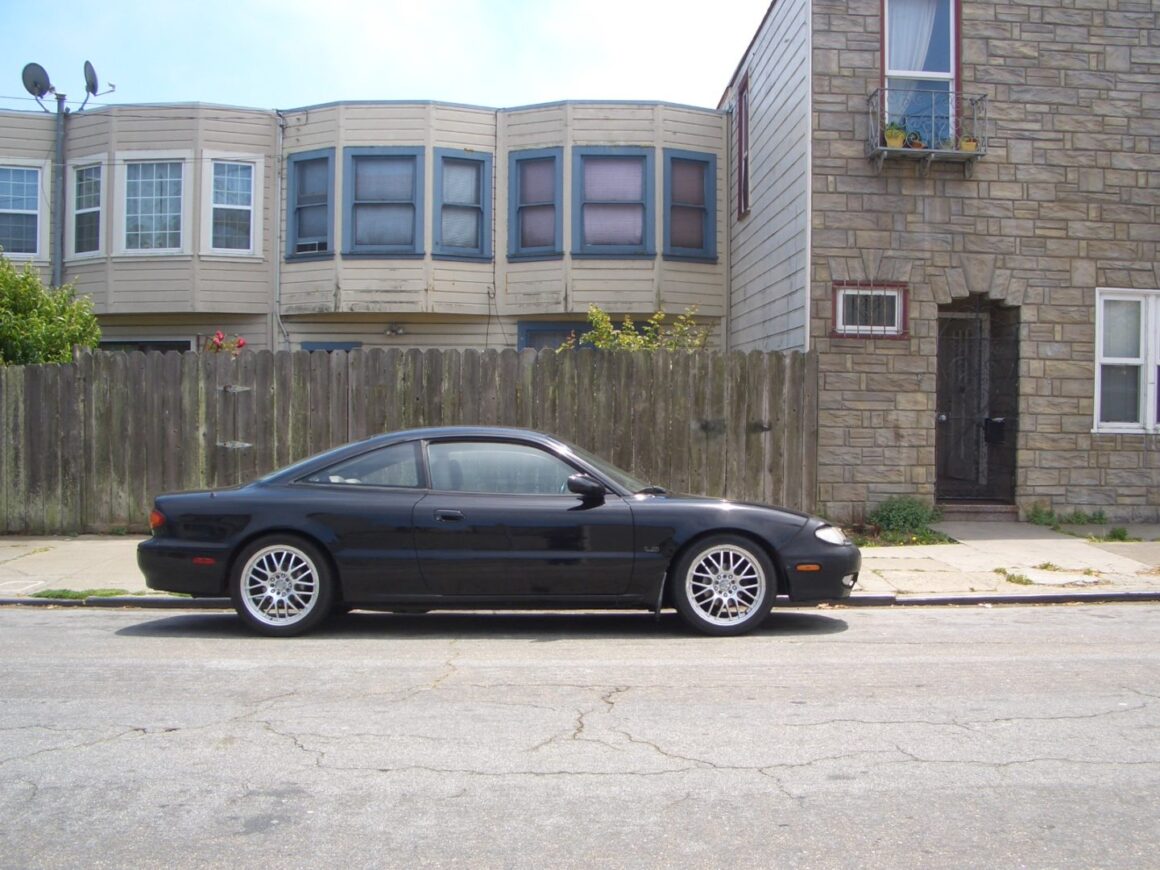 A ton of work was done on the car but I forgot what exactly. But, I was happy to have found my post still live on the Mx-6 forum with a list of the work I did. Even through all the headaches with owning this car, I had a lot of fun owning the car and I will never forget all the great memories.
Clutch replaced
Clutch pilot bearing replaced
Front transmission mount replaced
Clutch slave cylinder replaced
Transmission replaced
Radiator breather tank replaced

Spark plugs

replaced

Spark plug

wires replaced
Distributor cap and rotor replaced
Water pump replaced
Timing belt and components replaced
Replaced tensioner arm
Fuel filter replaced
New Crank pulley/harmonic balancer installed
Oil pressure sending unit replaced
Thermostat replaced
Practically all vacuum tubing replaced
Most heater hoses, coolant hoses, fuel hoses, and oil cooler hoses replaced
Power steering/water pump belt replaced
Alternator/air conditioning belt replaced
Passenger side engine mount replaced
Brass battery terminals installed
New battery installed
Replaced distributor
Short throw shifter installed
Stabilizer bar bushings installed
Reverse light switch replaced
Rear motor mount replaced
Heavy-duty catalytic converter installed
6.5″ component speakers and 2 rear co-axial speakers replaced
Radiator replaced
PCV valve replaced
NGK V-power spark plugs installed
Tokico Blue struts and springs installed

Floor

and trunk all covered with 1 layer of B-quiet sound-deadening material
Front strut mounts replaced
Left & right outer tie-rods replaced
Sacchi 17″ rims
KLZE engine installed
Mx-3 flywheel installed
Exedy OEM clutch kit installed
Front & rear valve cover gaskets replaced
Camshaft, crankshaft, and driveshaft seals replaced
Oil cooler o-ring replaced
Front and rear motor mount inserts installed
Throttle body gasket replaced
2.5L Millenia intake manifold gaskets installed
AEM cone intake installed
Left & right lower control arms replaced
2 front endlinks replaced
Windshield replaced
Claybar done
Replaced rear endlinks
16mm 626 rear sway bar and bushings installed
Ebay rear strut bar installed
Front & rear ceramic

brake pads

installed
Front and rear rotors replaced
Rear

brake

calipers replaced with Protege5 remanufactured calipers
Wheel alignment completed
Right & left CV axles/halfshafts replaced
Left & right steering gear boots replaced