Unless I have free maintenance that is done by the local Honda Dealership, I prefer to do my own oil changes on my 2019 Honda Odyssey. Oil changes are one of the easiest jobs you can do and if you're doing it on your own car, it'll become easier and easier as you are become more familiar with your vehicle.
You might be used to the standard recommendation of changing your oil every 3000-5000 miles if you're using conventional oil, or a longer interval if you're using a synthetic blend or a full synthetic motor oil. However, with the 2018-2023 Honda Odyssey, the maintenance interval is primarily determined by the car's computer, which will remind you through the Maintenance Minder system.
The Maintenance Due Soon reminder will come up if you're at 15% engine oil life remaining, the Maintenance Due Now message will display if you're at 5%, and Maintenance Past Due will show up if you're past 0%. Under regular driving conditions, the oil change interval is approximately 7,500 miles. The owner's manual states that regardless of the Maintenance Minder reminders, you should change your motor oil every year.
Changing the oil and oil filter is relatively simple on the 5th Generation Honda Odyssey (years 2018-2023). You do need to lift the car (I recommend driving up onto ramps) in order to access the oil drain plug and the oil filter. It is also slightly challenging filling the engine with oil without making a mess, unless you have a taller funnel or you come up with a more creative way to pour motor oil into the engine fill port.
Tools & Materials
0W-20 Motor Oil
Honda recommends the use of a Genuine Honda Motor Oil or another premium grade 0W-20 motor oil with an API Certification Seal on the container. If you go with any of the major motor oil manufacturers with a 0W-20 viscosity, you will likely meet this criteria. The Honda Dealership typically uses a full synthetic motor oil when doing the oil changes on these Honda Odysseys, so it makes sense to continue using full synthetic. The owner's manual also states that a full synthetic motor oil may be used.
The 2018-2023 Honda Odyssey has an engine oil capacity of 5.7 US qt (5.4 L). So you will need a 5-quart jug (best value) plus another 1-quart container, in order to have enough oil for your oil change. Or, if you plan to do oil changes on your vehicle from here on out, buy the 5-quart jugs to keep on-hand for the most bang-for-your-buck.
Mobil 1 0W-20 Advanced Fuel Economy Full Synthetic Motor Oil: 5-qt / 1-qt
Castrol Edge 0W-20 Advanced Full Synthetic Motor Oil: 5-qt / 1-qt
Valvoline Advanced Full Synthetic SAE 0W-20 Motor Oil: 5-qt / 1-qt
Pennzoil Platinum Full Synthetic 0W-20 Motor Oil: 5-qt / 1-qt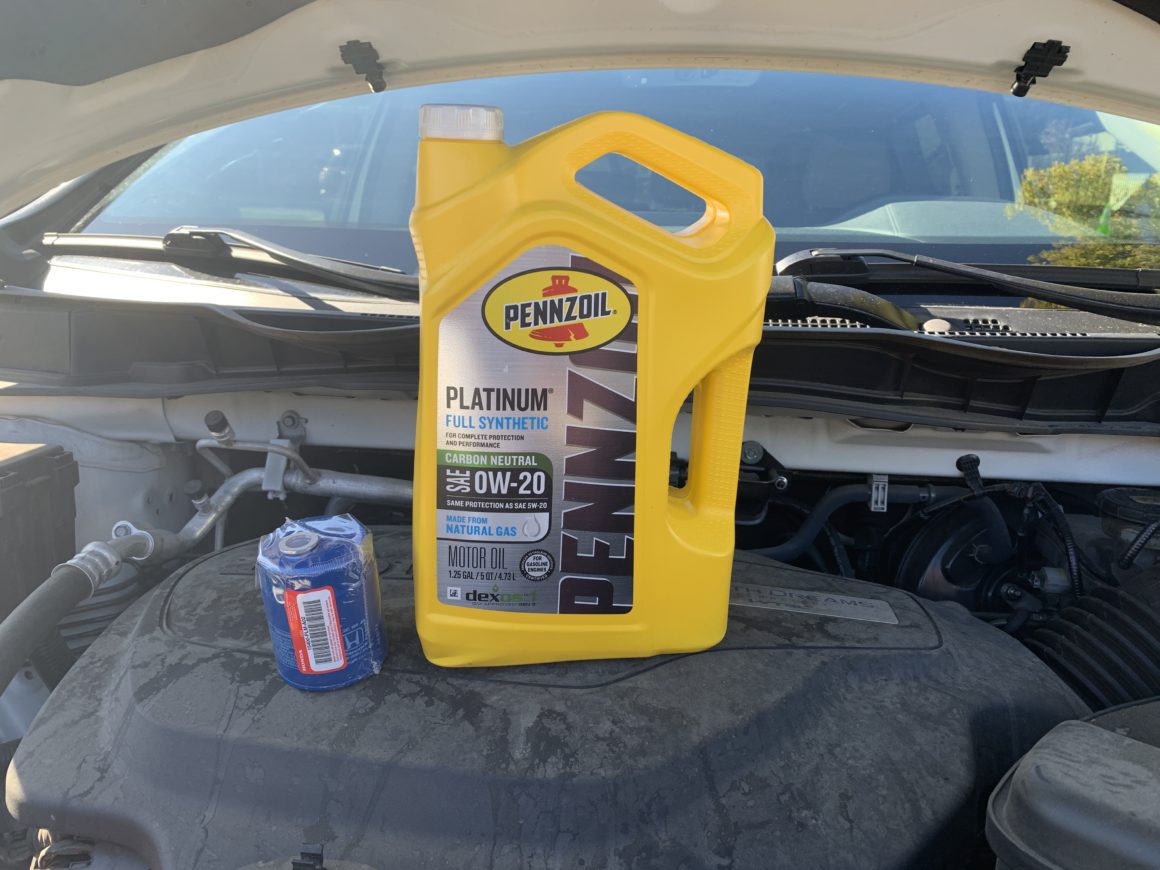 Oil Filter
The original OEM oil filter for these vehicles is Honda Part No: 15400-PLM-A02. Like the motor oil, you can't go wrong with other compatible oil filters made by major oil filter manufacturers such as the ones listed below. The nice thing about buying the OEM oil filters is that sometimes the drain plug gasket is included (as you should replace the drain plug gasket at every oil change), otherwise you'll need to buy them separately.
Honda Genuine OEM Oil Filter (Part #: 15400-PLM-A02): 1-pk / 3-pk / 5-pk
Other Compatible Oil Filters
FRAM Ultra Synthetic XG7317 Oil Filter
Mobil 1 Extended Performance M1-110A Oil Filter
Purolator PurolatorONE PL14610 Oil Filter
WIX 57356XP Oil Filter
BOSCH 3323 Oil Filter
Drain Plug Gasket
As mentioned above, if your oil filter doesn't come with a drain plug gasket for the oil drain plug, then you must purchase them separately. These are crush-type washers that are designed to be replaced at every oil change.
Honda OEM 94109-14000 Oil Crush Washers/Drain Plug Gasket (10 qty)
Oil Filter Wrench
Depending on how tight the oil filter was tightened from the last oil change, you might be able to loosen it by hand. But most times, you'll need an oil filter wrench to make it easier to loosen. If you have large Channelocks or a large enough pipe wrench, you could use this as well.
WORKPRO 12″ Adjustable Oil Filter Pliers
Mechanics Tool Set or Socket Set
For the oil change, you only need a 17mm socket to remove the oil drain plug. If you don't have a mechanics tool set, here's a nice starter set that I recommend: DEWALT Mechanics Tool Set, 84-Piece.
If you want to do a bit of research before getting a mechanics tool set, this is an article that I wrote that goes into more detail on what to consider when choosing one.
Breaker Bar
Depending on who changed the oil last, you might have a hard time breaking the oil drain plug free with just a regular ratchet. When I took over the oil changes from the dealership when my Honda Care warranty ended, I was not able to loosen the drain plug without a breaker bar.
Neiko 3/8-Inch-Drive Breaker Bar: 12-inch Long / 15-inch Long
Torque Wrench
Many folks don't use a torque wrench when tightening the oil drain plug, but if you wish to torque it to spec (30 ft-lbs), then you'll need a torque wrench.
TEKTON 3/8 Inch Drive Micrometer Torque Wrench (10-80 ft.-lb.)
Oil Drain Pan
NEIKO Oil Drain Pan | Black Plastic Anti Splash | 2 Gallon (8L)
Oil Funnels
Many funnel sets come in a a set of 3: small, medium, and large. But I recommend the set below because it has two regular sizes plus a long-neck funnel that makes it easy to refill the oil on the 5th generation Honda Odyssey.
Hopkins FloTool Super Funnel Trio, Red
Nitrile Gloves
MedPride Nitrile Exam Gloves, Powder-Free Box/100 – Small | Medium | Large
Shop Towels
Scott Shop Towels Original, Blue, 12 Rolls/Case, 660 Towels/Case
Vehicle Ramps, Wheel Chocks, & Jack Stands
Since the 5th generation Honda Odyssey is located lower to the ground, it's difficult to gain access to the oil drain plug and oil filter without raising the vehicle. My preference is to drive the vehicle up on vehicle ramps. Make sure to also chock the wheels and support the vehicle on jack stands for safety.
BISupply Vehicle Ramps – 6.3in Lift – 2 Ton Heavy Duty Truck Ramps (2 qty)
MAXXHAUL Heavy Duty Black Wheel Chock 2-Pack, 8″ x 4″ x 6″
BIG RED Torin Steel Jack Stands: 3 Ton (6,000 lb) Capacity, Red, 1 Pair
How to Change Oil and Oil Filter: 5th Gen Honda Odyssey (2018-2023)
First, lift your Honda Odyssey using the proper lift points and support it on jack stands. There are some important things to know when raising the 5th generation Honda Odyssey that you should know about; you can read more about here. Personally, I like to drive the front wheels up onto vehicle ramps and then support the sides on jack stands. Also, make sure to chock the rear wheels to prevent it from rolling forward or backward.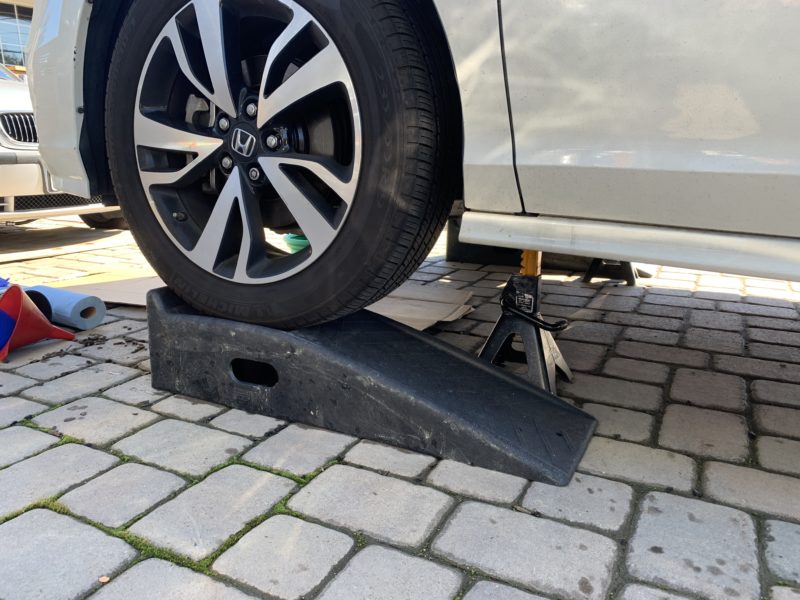 Next, position an oil drain pan underneath the oil pan and use a 17mm socket (preferably with a breaker bar) to break the 17mm drain plug loose.
Then loosen the rest by hand and place the drain plug and crush washer aside.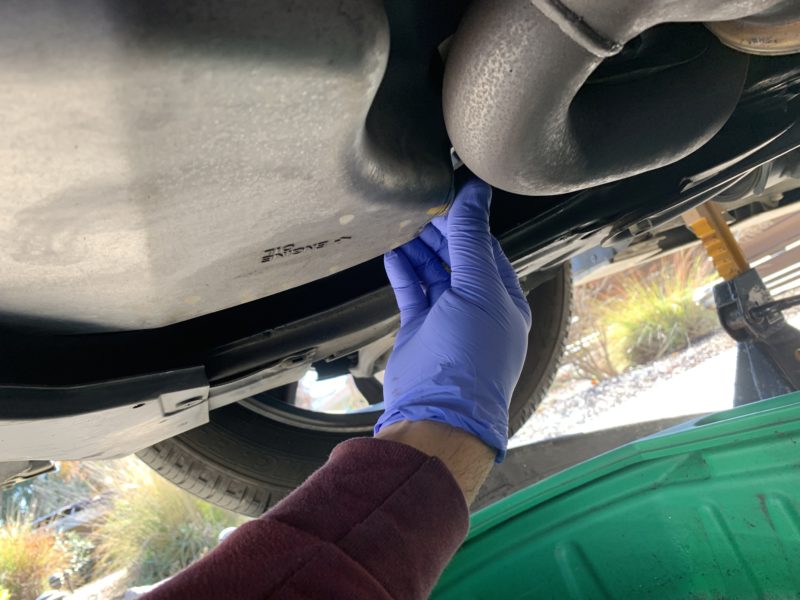 While the oil is draining out of the oil pan, move onto the oil filter. The oil filter is located in the passenger side wheel well. There's a cut-out for access to the oil filter. If you want to wait until the oil is fully drained so that you move the drain pan over to underneath the oil filter, you can replace the oil drain plug with a new crush washer now.
Because of the oil filter's location, the oil will drain onto the frame and the lower control arm when you remove the oil filter. Rather than letting the oil drain all over, you should use something to catch the oil. Even if you let it spill all over the frame and lower control arm and wipe it clean, you may still have residual oil that may be dripping off of these components over time.
Currently my go-to method for removing the oil filter without making a mess is the bag method. You use a plastic bag or a Ziploc bag to wrap around the oil filter before loosening and removing it by hand (this is after you've broken it loose with a wrench.) As the oil drains out, it is contained within the bag and you take the bag with oil filter and oil to be recycled/disposed of.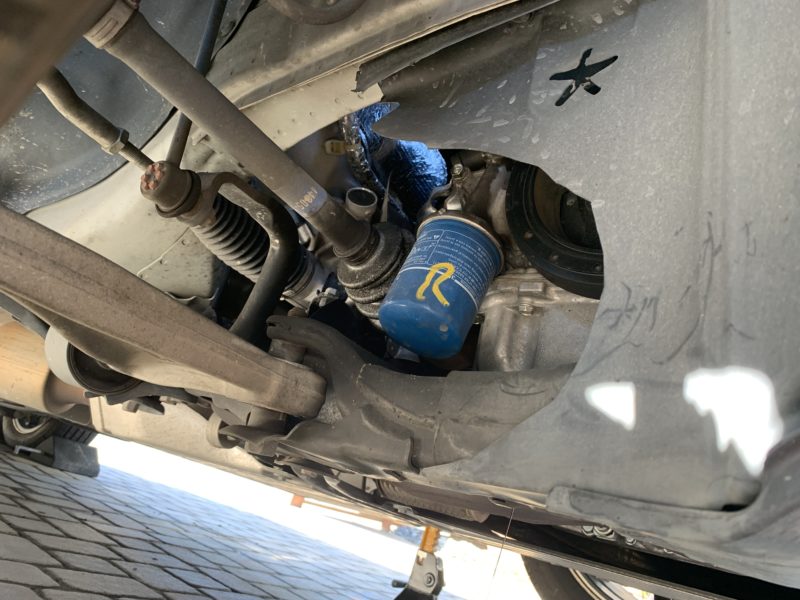 Prime the new oil filter by applying a layer of new motor oil to the gasket seal. Also, clean the oil filter housing location.
At this point, I'll get a new set of gloves on so that I have a good grip for installation of the new oil filter. Re-install the new oil filter, and then tighten snug by hand.
Re-install the drain plug with a new drain plug gasket/washer. Many people tighten the drain plug snug by hand, but if you choose to tighten it with a torque wrench, the torque is 30 ft-lbs.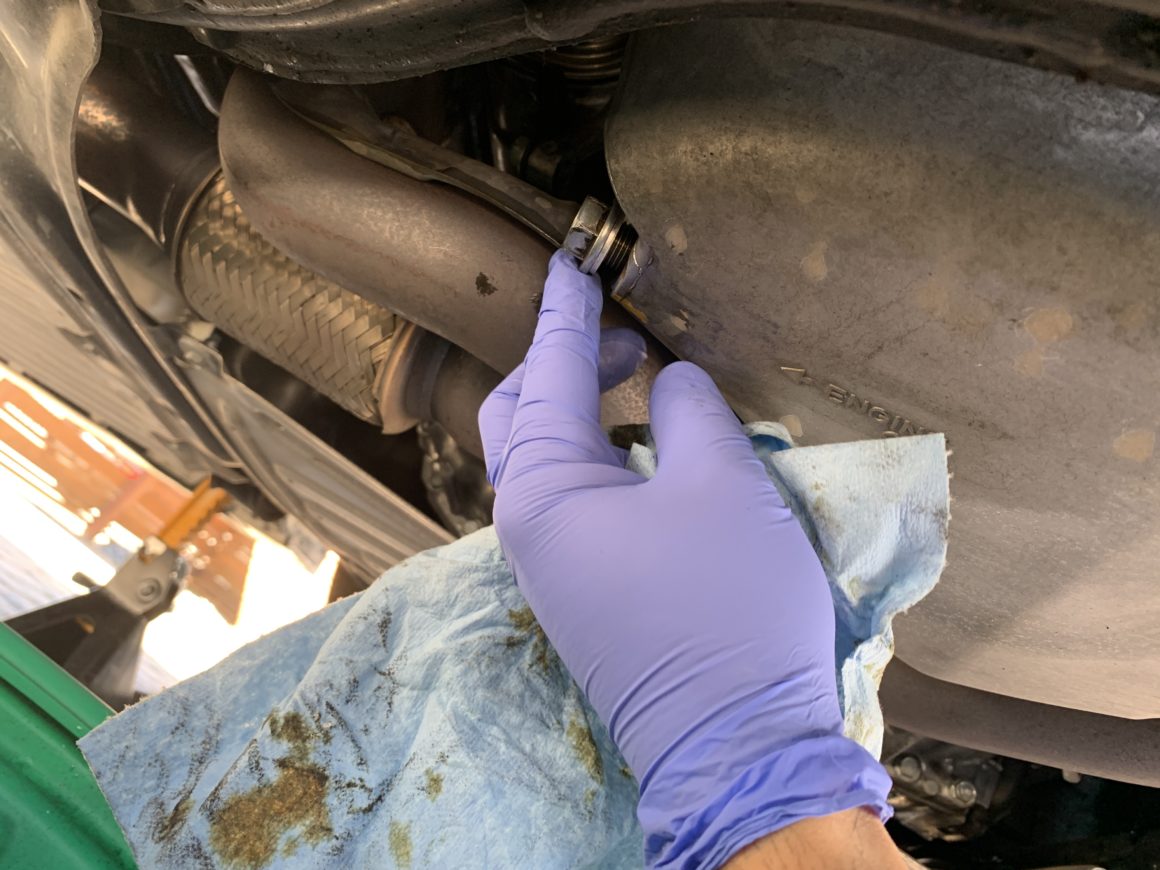 It's not totally straight-forward to refill the oil on the 2018-2023 Honda Odyssey as there are a couple things you have to be aware of: (1) you have to remove a front trim piece to get access to the oil fill location, and (2) you'll need a long-neck funnel or be creative if you only have regular neck funnels.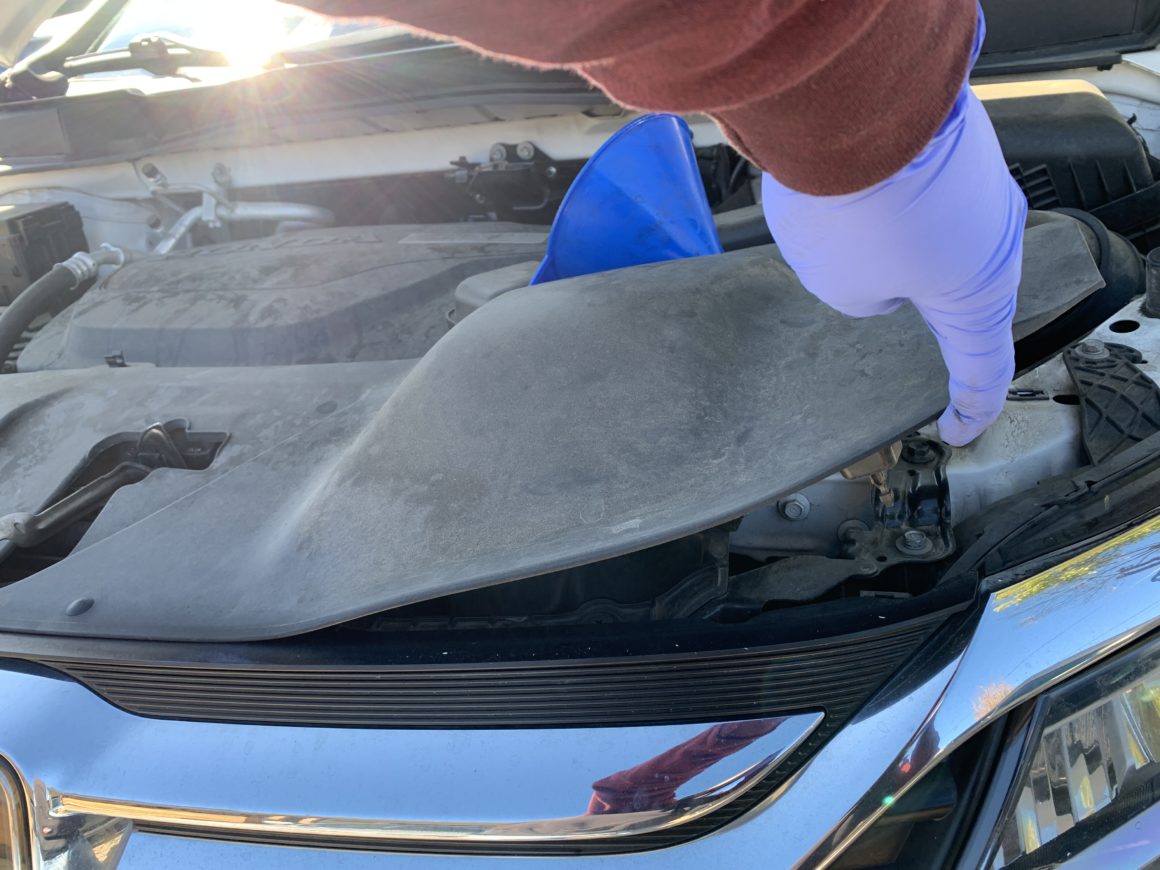 The best way to refill the oil is to simply go with a long-neck funnel. Otherwise, you'll need to get creative with your regular-neck funnels as shown below.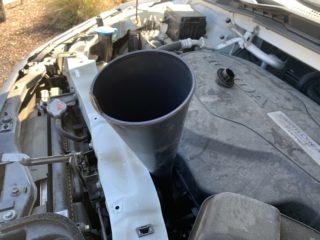 The oil capacity is 5.7 US qt (5.4 L) on the 3.5L engine of these 2018-2023 Honda Odysseys. I like to refill around 5-1/2 quarts, re-cap the oil filler cap, run the engine for a couple minutes, allow the oil to settle, and then recheck the oil level. The difference between the top and bottom lines on the dipstick should be about 1 quart of oil. Add oil as needed and you are all finished.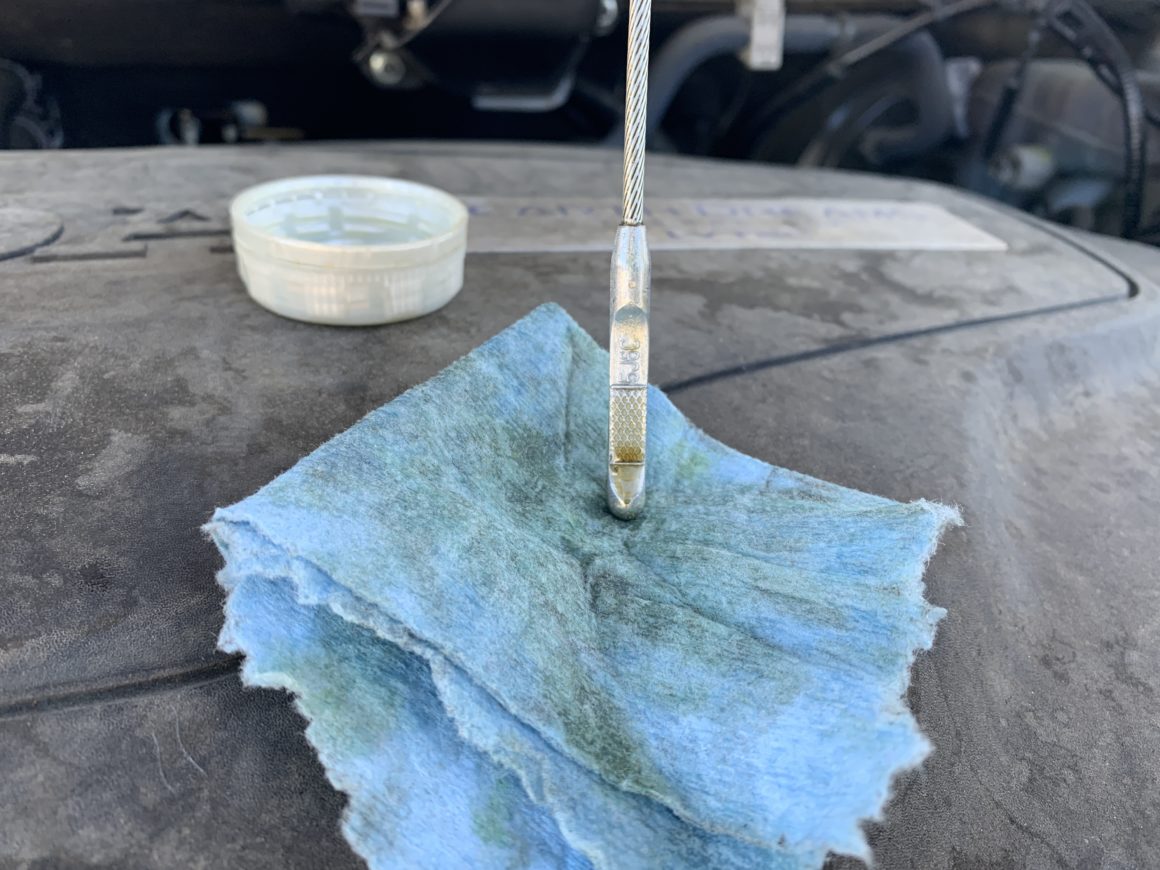 Finally, you need to reset your oil life on your car's Maintenance Minder. You can either reset it using the steering wheel controls to go through the options through your instrument cluster, or you can reset it using the infotainment screen (for EX and higher trims). You can follow the on-screen instructions, but the step-by-step procedure for using for either method is shown here: How to Reset the Maintenance Minder