When you make purchases through links on this site, The Track Ahead may earn an affiliate commission. Also, these posts are based off my own experiences. I am not responsible for any action you take as a result of reading this. Learn More
---
After purchasing a used Honda Odyssey recently, one of the things that the seller told me about was that the vehicle had a Honda Care extended warranty on it. This warranty is the one that is offered by Honda when you purchase a brand new vehicle. New Honda vehicles already come with a 3-year/36,000 Mile New-Car Limited Warranty, however you may opt to purchase a Honda Care Service Contract (a.k.a. extended warranty). Honda Care offers many plans ranging up to an 8-year/120,000 Mile warranty.
The Honda Odyssey that we purchased from the original owner had a 4-year/48,000 Mile extended warranty from Honda Care. At the time of the sale, it was three years later and the odometer was at about 36,000 miles. Therefore, if we were able to transfer the extended warranty over, we would have another year, or 12,000 miles of coverage.
Unfortunately, the Honda Care extended warranty does not automatically transfer over to the new owner of the vehicle when the vehicle is sold. You must manually submit a request directly to Honda in order to process the transfer of the extended warranty. This must be done within 20 days of the vehicle being sold to a new owner. It also only can be transferred one time, and cannot be transferred to subsequent owners of the vehicle.
How to Transfer a Honda Care Extended Warranty to a New Owner
In this modern day-and-age, you'd expect this process to be something you can do online. Heck, even the DMV offers online services for many DMV-related tasks. However, this is not the case with transferring a Honda Care Extended Warranty.
Essentially what you have to do is send in a filled out paper form, which includes information related to: the vehicle, the previous owner (including their wet signature), and the new owner. You also need to include a $50 check (made payable to: American Honda Motor Company), as well as a copy of the Bill of Sale or the Title in order to show the proof of the sale.
After you send this all in by mail, you'll need to wait for a few days for processing on top of the time it takes for the mail to get to its destination in Torrance, California. You may contact Honda Care at 1-800-999-5901 to confirm whether or not they have received and processed your request. Once the request has been processed, the Honda Care extended warranty will now be in your name. At this point, if you go into any Honda Dealership for service, they will have you on their system. From what I was told, the transfer request needs to be completed within 20 days of the sale of the vehicle, although I am not sure if this is a hard-and-fast rule.
This is the form that Honda Care Customer Service sent to me to fill out for the Honda Care transfer of ownership. Also note that the form says '49 State Transfer of Contract Instructions', so you may want to contact Honda Care to ensure that it applies for your state. There are other transfer conditions at the bottom of the form, including a note that states you can only transfer from the original owner to a new owner, and not to subsequent owners of the vehicle thereafter.
Finally, I would recommend contacting Honda Care (800-999-5901) and speaking to them about this process. They will be able to provide you with the exact date that the service contract (extended warranty) expires. They can also validate the information I've provided in this post and inform you of any changes in case they have altered their policy of transfer of the Honda Care extended warranty.
Once Honda completes the transfer, you should receive an updated Honda Care Service Contract in the mail. It will be updated to reflect the new owner (I'm assuming you) and provide you with the contract terms including the date that the contract ends. Now, you will be able to go to any Honda Dealership for service and they will have you in their system as the new Honda Care service contract owner.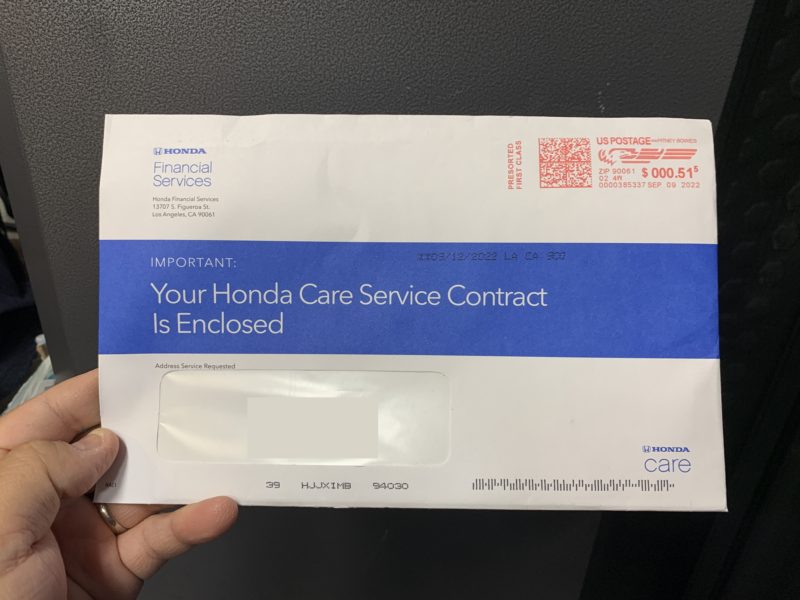 I hope this information helps you if you've purchased a Honda vehicle second-hand where the original owner has purchased a Honda Care extended warranty. When I got the Honda Care warranty transferred to my name, I was able to immediately schedule some needed-maintenance through the local Honda dealership. I'm glad that I took these steps to transfer the Honda Care extended warranty over to me so that I could reap some of the benefits of this plan before the service contract expires.