When you make purchases through links on this site, The Track Ahead may earn an affiliate commission. Also, these posts are based off my own experiences. I am not responsible for any action you take as a result of reading this. Learn More
---
I've had the same socket set for the past 14 years; it has been there through almost all of the cars I've owned. It was a Neiko set in a red plastic box with one broken latch. It had pretty much everything I needed and I ended up misplacing it somehow.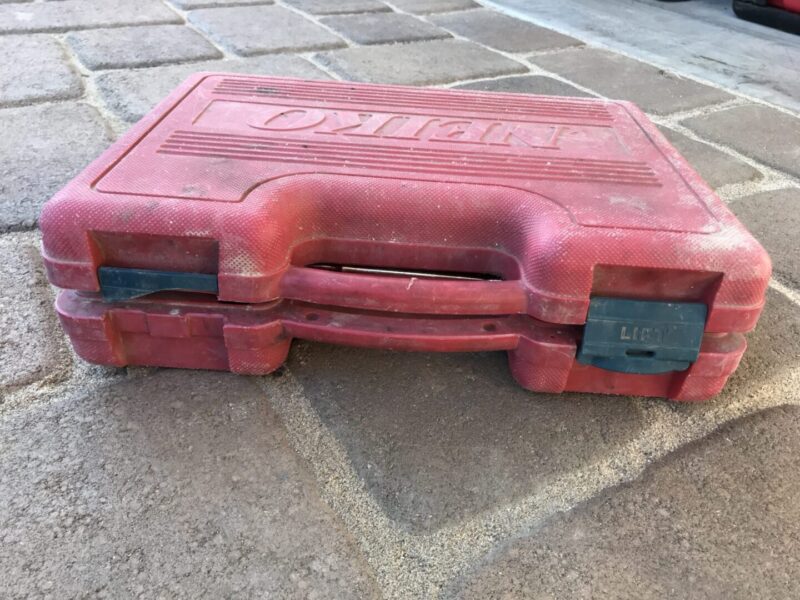 I started to do some research in preparation to purchase a new mechanics tool set and was astounded by the wide variety of choices for mechanics tool sets. These sets range from smaller 20-some odd piece sets, all the way up to 200, 300, and greater-piece sets. And with each of these individual tool sets, there are different sizes, number of specific type of tools, and varying range of sizes of tools available.
I realized that almost all of the tools in my tool chest are piece-mealed from different purchases over the years, and so since I was in the market for a new mechanic tool set, I wanted to treat myself to a nice larger mechanics tool set with a nice assortment of tools in a mobile tool chest.
What is in a Mechanic's Tool Set?
A mechanics tool set generally consists of the most essential tools you might use. This might be the main arsenal of tools that you might use for wrenching on cars, fixing things around the house, or for working on any other small projects. Some tools that you'll generally see in these mechanics tool sets are ratchets, sockets, and wrenches. Depending on which tool set you get, you might get more options such as allen wrenches, hex wrenches, and some other bits. Even some kits lean more on the home improvement side and will offer tools such as hammers, adjustable wrenches, pliers, and screwdrivers.
Typically though, mechanics tool sets do tend to include tools that are used for working on cars and trucks. The fact that you'll see spark plug sockets included in these sets reinforces the fact that mechanic tool sets are generally meant for the average home mechanic.
What to Look out for in a Mechanics Tool Set?
Number of pieces
If you simply just need a socket set; you might only need a small 20 or 30-piece set which is just that. However, if you're looking for more variety of tools or if you're interested having a larger range of tools, then go with a larger piece set. Keep in mind that just because there are more pieces in a set, doesn't necessarily mean it's a better set. In fact, sometimes more pieces means less. In an effort to market a larger piece set, more pieces (that may be of less use to you) may be included. Therefore, look at the actual tools in the set and don't focus so much on the number of pieces.
Tool Variety
Sockets and ratchets are the bread and butter of the mechanic tool set. Sometimes combination wrenches as well. Usually standard sockets are included, but included deep sockets are starting to become the norm. Other tools like allen wrenches and hex bits are also pretty common if you go to a larger piece set. Other specialty tools start becoming available as you go with even larger piece sets.
Range and Increments of Sizes
Look carefully at the exact sizes of the tools available. Most sets come in both SAE and Metric, but pay attention specifically at the increments of sizes. Depending on the tool set, you might have smaller or larger increments. Also look at the smallest size and the largest size. I've found kits that only go down to 10mm, and sometimes jumps increments of 2mm rather than by 1mm. For my purposes, I've had the need for 6mm and 8mm sockets. I also have needed 7mm or 9mm sockets, so having smaller increments in the sizes matters a lot to me.
Tool Box
Some mechanics tool sets come with a handy tool box for all the tools. This is pretty useful, but mind the build. Is it made out of metal or plastic? Many of the included tool sets that come with boxes are plastic, unfortunately.
Are the hinges metal or plastic? This can affect the durability of the tool box as a whole as plastic hinges are less durable than the metal ones. I had one plastic hinge break on my socket set, but I also had the other plastic hinge stay intact. So durability is questionable, but metal hinges on a tool box is always a plus.
Features
One feature I've seen is the increased number of teeth in ratchets. The standard 72-tooth ratchet offers a 5 degree swing arc per tooth, but some higher tooth ratchets such as 120-tooth ratchets offer 3 degrees or swing arc. The higher tooth ratchets may offer more accessibility when trying to ratchet in tight spaces, but there may be more potential for breaking under stress.
Another feature are easy-to-read markings on the tools that allow the user to easily spot the tools. Kobalt uses blue and red markings on their tools to separate SAE and Metric tools, which is a nice touch.
There are likely many other features that each manufacturer offers, so see what they offer and determine if that is something that will be of use to you.
Form Factor
Each manufacturer has their own style and form factor for their tools. The look of the tools will differ from one to the other and this will simply depend on your preference. My opinion is that no matter what you get, if you use it long enough, you will get used to the form and it will become the new norm for you.
Warranty
Lifetime warranties is always comforting to have. But these tools are typically made out of steel alloys, so they are generally pretty durable. Perhaps if you're worried about certain parts such as the ratcheting system, that can break, it might be worth to have. Also think about where you might get a replacement. In the past, Craftsman tools were readily available at Sears (and now Lowe's) so you would be able to just walk into the store, and walk out with a replacement; no questions asked. Regardless, lifetime warranties are pretty common with most of the common mechanic tool set manufacturers, but be sure to validate that before buying if that's important to you.
Manufacturer
Each manufacturer has their own offering and styling with their tools. I'd stay away from the lesser known manufacturers (as there's no vouching for them), but across the spectrum of common companies you'll find, you should be generally safe. Ultimately it comes down to what matters most to you. Cost can change depending on which brand you go with. Brands such as Husky and Kobalt may be the more economical option, and others like DeWalt and Craftsman may cost more. I've stayed completely away from super-premium brands such as Snap-on because I can never justify spending so much on tools when even the most economical tools will serve you perfectly well.
What Mechanics Tool Set Did I Buy and Why?
I did a lot of research on mechanic tool sets and navigated through the various brands and different offerings. The Kobalt tool sets looked appealing and offered some nicely marked blue and red tools that made it easy to find certain tools. The thing that I did not like was that the range of tool sizes were quite limited (e.g. the lowest socket size on the sets I looked at were 8mm). Husky makes some tool sets appeared to be a decent offering. I have some Husky tools already and they worked just fine for me. I just wish the larger sets they offer included a tool case as well.
Some of the more premium mechanic tool sets at Home Depot and Lowe's are made by Craftsman and DeWalt, respectively. It's hard to go wrong with Craftsman as they still offer a lifetime warranty as they always have and everyone knows who they are. The offer a ridiculous amount of different piece sets to cater to whatever the buyer is looking for. DeWalt is a premium brand that also offers a lifetime warranty and really nice quality tools. The case they offer with their mechanic tool sets are second-to-none. Their cases are extremely durable and the hinges are metal instead of plastic.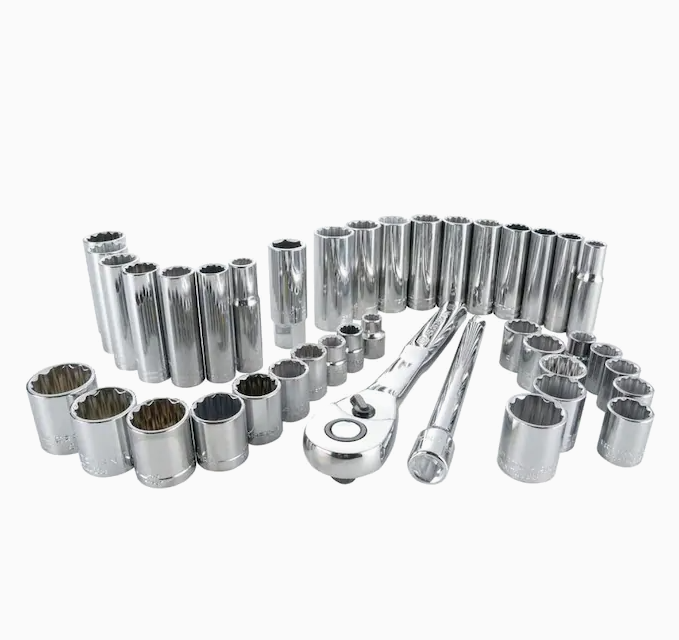 Some looking around online will provide you with some brands such as Stanley, Crescent, and various others. Stanley seems to have a decent range of sockets and wrenches, however I simply didn't like the look of the ones I saw (black chrome). Crescent is a nice set, but looks more like a set for home improvement work. This is one of the few that includes a hammer and adjustable wrenches in the set.
In the end, I realized that there were three things that was of utmost importance to me: size/range of sockets/wrenches, inclusion of a tool box, and was a brand that I could trust. If I could find a great deal on one, even better. The manufacturer that seemed to fit all of these criteria for me were the Craftsman mechanic tool sets.
Size and range of sockets and wrenches: I wanted a vast range of socket and wrench sizes that would help avoid the need for me to get additional sockets/wrenches in the future. This set seemed to have almost all the sizes from the smallest to the largest that I would need. I found that many other mechanics tool sets did not have the range of combination wrenches as this one had (this set has 25!) There were also small increments in sizes, so I would have almost every size tool I might need.
Tool box: The tool box that this set came with is the kind where the top opens up with pull-out drawers. Since about 85% of the time I use the ratchet and sockets, I wanted the drawer-style tool box as I find it easier to open the drawers than to open up the entire box every time I needed a particular socket. I wish the tool box came with metal hinges, but I'm just hoping these plastic hinges last.
Brand that I trust: Craftsman tools have always been around my entire life. My dad has had Craftsman tools, and I've had and used them as well. I've had my fair share of tools made by other manufacturers and I really don't have a particular preference. But, when it came down to it, there was a sale at Sears and I am most comfortable with this brand. Sure we know that several years ago, Craftsman shifted their tool production from the US to China, but honestly I don't really see a significant difference in the tool durability and quality (at least in the short term.)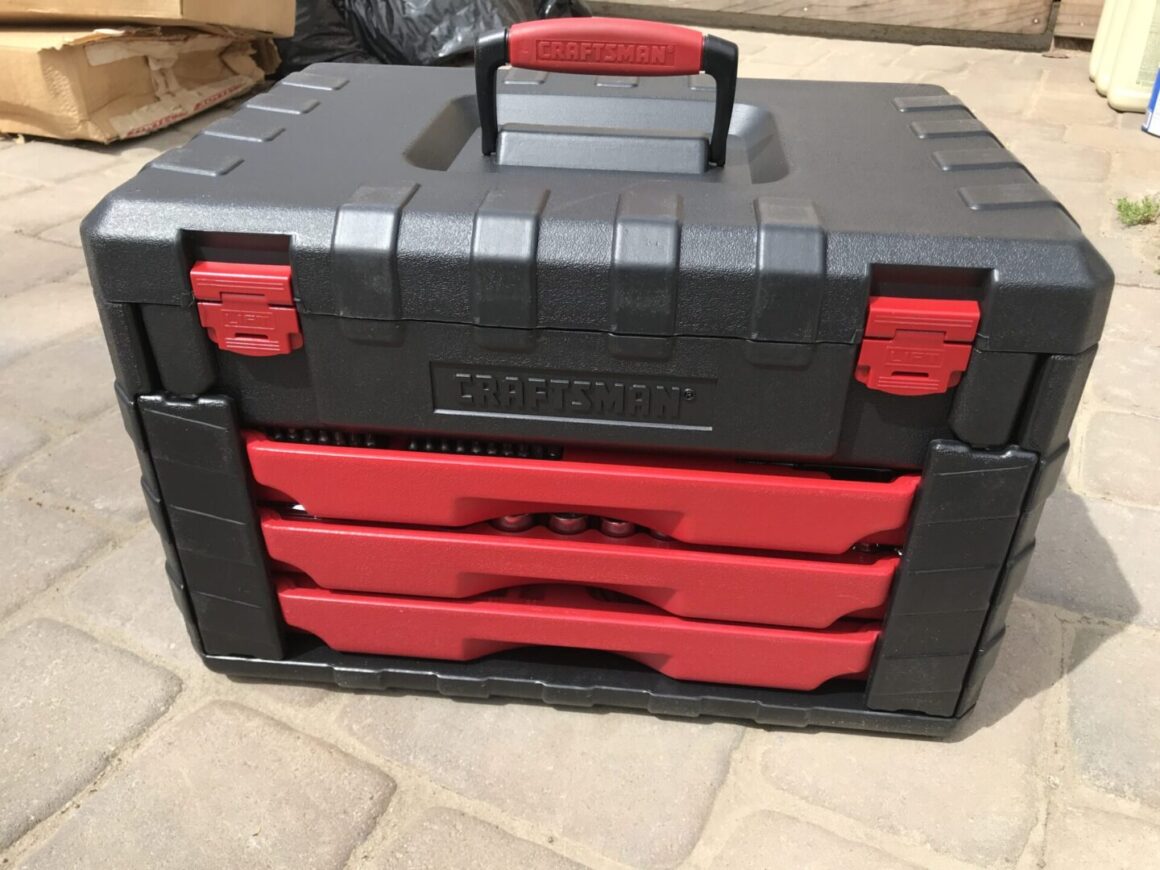 And after all the research and buying my new Craftsman 276-piece mechanics tool set, I found my old Neiko socket set in my Acura CL-S. I remembered that I was working on something and left it in the backseat of the car. Oh well, you can never have enough tools!