The BMW E46 has a lot of parts that tend to degrade and break over time. For those older E46's (practically all of them at the time of this writing) will have some common problems on a majority of all E46's. Some examples of this include a cracked windshield cowl, pixelated and/or volume button breaking on the stock radio, faded emblems, and the one that we will be addressing in this post: loose or broken kidney grilles.
In most cases, the kidney grille on the front of the hood will be loose because one or more of the clips on the back of the grille has broken off. In other more severe cases, enough of those clips have broken off, causing the grille to no longer have anything to grab onto the hood with, and as a result completely falls out.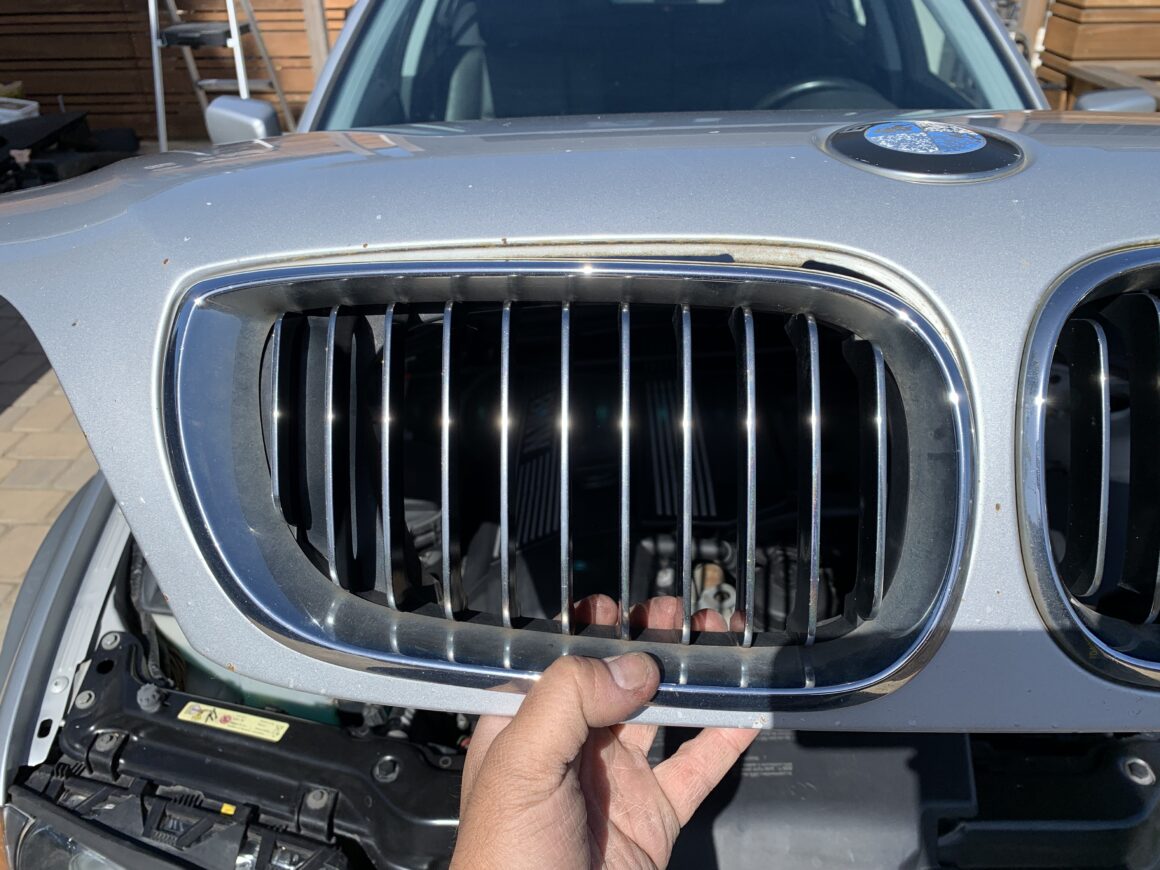 If you look behind the kidney grilles of the BMW E46, this is what you will probably see. These plastic clips end up breaking off and they no longer hold onto the tabs of the hood.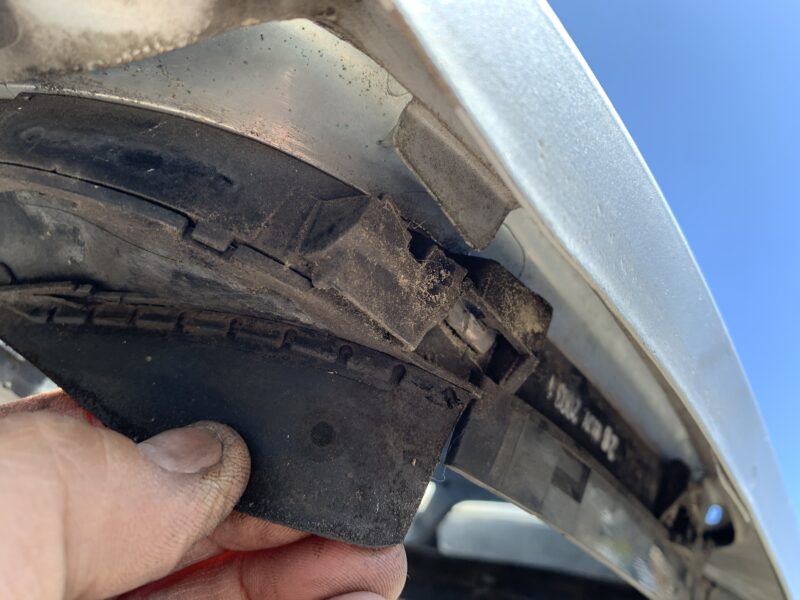 Here is a clearer view from the back of the grille that shows what the plastic clip should look like if it is still intact. Each clip is made up of two separate tabs that are each twisted upwards into this permanent position. This ends up clipping and grabbing hold onto the grille opening of the hood.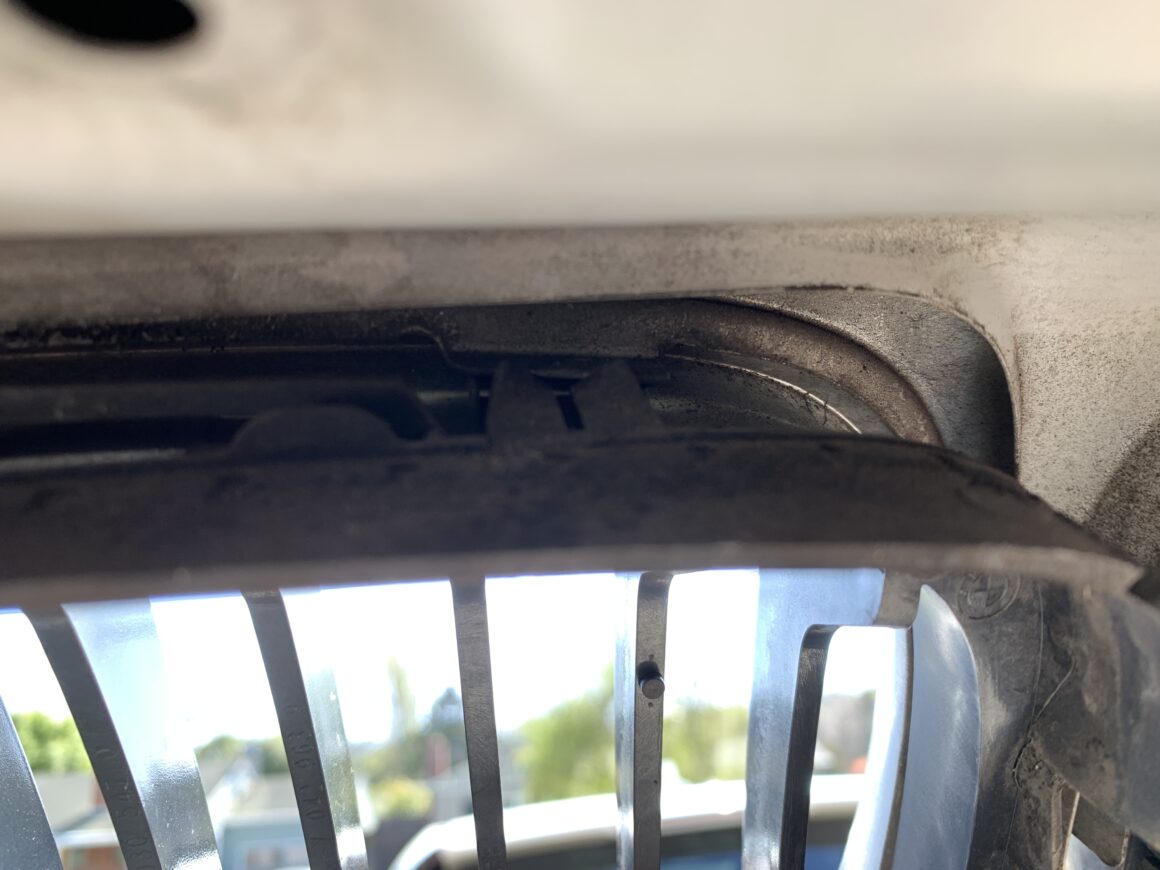 Replacing the kidney grilles on the BMW E46 is extremely easy and should be on your to-do if your kidney grilles are in bad shape. If your grille is visibly loose, it doesn't look very good and it is an annoyance whenever you hear and feel the rattling of the loose grille when you open and close the hood. It takes a bit of prodding to figure out where you need to push on in order to remove the grilles, but when you install the new ones they simply pop right into place.
Tools & Materials
You pretty just need the new kidney grilles and a flat head screwdriver for this job.
BMW E46 Kidney Grilles
With regards to options, you can replace your old ones with brand new Genuine BMW kidney grilles which can be costly. There are also many, many aftermarket options at a lower price point. The Genuine BMW ones are slightly better looking, but they are still made of plastic and as we've all experienced, can still break on their own over time.
The main concern with aftermarket kidney grilles would be with quality and fitment. First with fitment, most of them will fit just fine. They might take a bit of forcing in to get into the grille opening of the hood, but once they snap into place, they're not going anywhere after that. So personally I don't think fitment is as much of an issue especially if the part says it fits your specific vehicle. Keep in mind that the kidney grilles for the sedan and for the coupe are different, so always check fitment for your specific vehicle before you purchase.
And as for quality, they're all essentially made of some type of molded plastic. They' are probably quite sturdy for being a grille, but you may want to check reviews to ensure that it doesn't look super-cheap in person. Sometimes the seller's photos will look great, but when you get them in the mail, they look awful.
In addition to quality and fitment, you'll need to decide what color you want on your kidney grilles. You have all kinds of options with colors such as blacked out grilles, grilles with the BMW signature colors on them, or even several versions of the OEM looking grille (all chrome or black grille with chrome outer ring.) Determine what look you want and choose a product with good reviews and you should be fine.
Genuine BMW E46 kidney grilles with part numbers
Left/right designations are assuming you are sitting in the car facing forward
There are a lot of different aftermarket kidney grilles for the BMW E46 out there. For some reason, it seems more common to find them for the sedan/wagon versus the coupe/convertible (the grilles are different between the two.) Furthermore, you should be aware that there are differences between the pre-facelift (1999-2001) and post-facelift (2002-2005) 2-door E46's. Make sure to enter your vehicle information on the website you're purchasing from to ensure you get the right fitting part.
On my E46, I purchased an aftermarket set of kidney grilles off Ebay from seller Autosdepo. They have lots of good reviews and I had a great experience with them and their product. I included a list of their aftermarket grilles for the E46 below in case you are interested in using the same brand that I used; they seem to only offer aftermarket grilles for the 4-door E46. I've only included links to the full left & right set below.
| Manufacturer | Model Years | Body Type | Color | Link |
| --- | --- | --- | --- | --- |
| Autosdepo (aftermarket) | 1999-2001 | Sedan/wagon | Chrome outer/black slats | Ebay |
| Autosdepo (aftermarket) | 2002-2005 | Sedan/wagon | Chrome outer/black slats | Ebay |
| Autosdepo (aftermarket) | 1999-2001 | Sedan/wagon | All chrome | Ebay |
| Autosdepo (aftermarket) | 2002-2005 | Sedan/wagon | All chrome | Ebay |
Autodepos kidney grille offerings for the BMW E46 sedans/wagons
How to Replace Loose/Broken Kidney Grilles: BMW E46
The kidney grilles are held into the opening of the front of the hood with these twisted clips. To release them, open the hood and then use flat head screwdriver to release these clips. These clips are located all around the grille so you'll need to apply some outward pressure on the grille while pressing all of these clips in with a flat head screwdriver.
The hardest part of this job is to removing the kidney grilles, so once you get them out, the rest of it is easy peasy.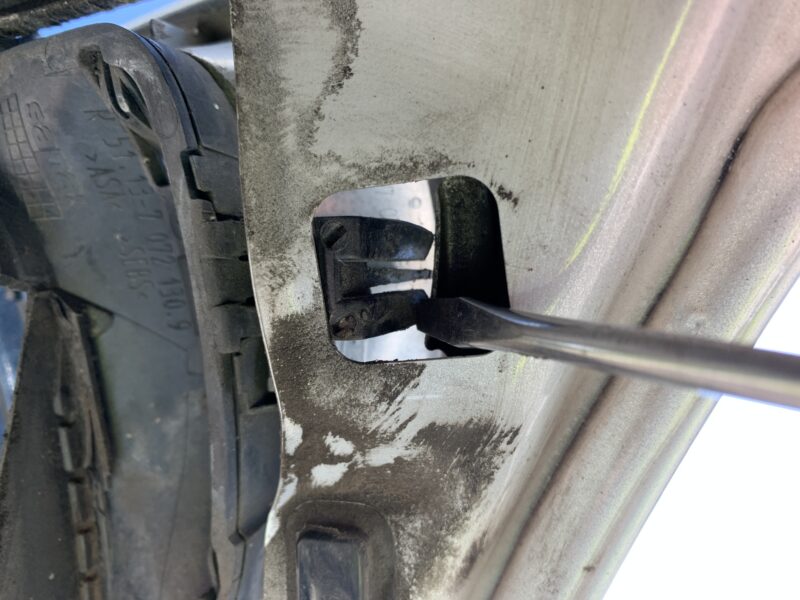 Once the kidney grilles are out, you have the ability to clean this area of the hood. I suggest doing this because it looks better with it cleaned and with new kidney grilles installed.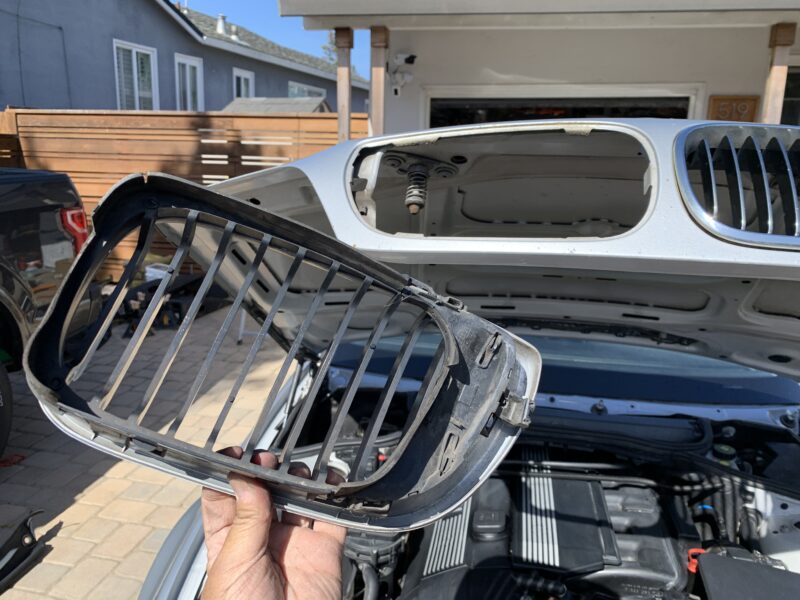 Here are some comparison pictures between the old and new kidney grilles. You can see how the old clips have broken off on the old ones, compared to new ones and how they should look when they're intact.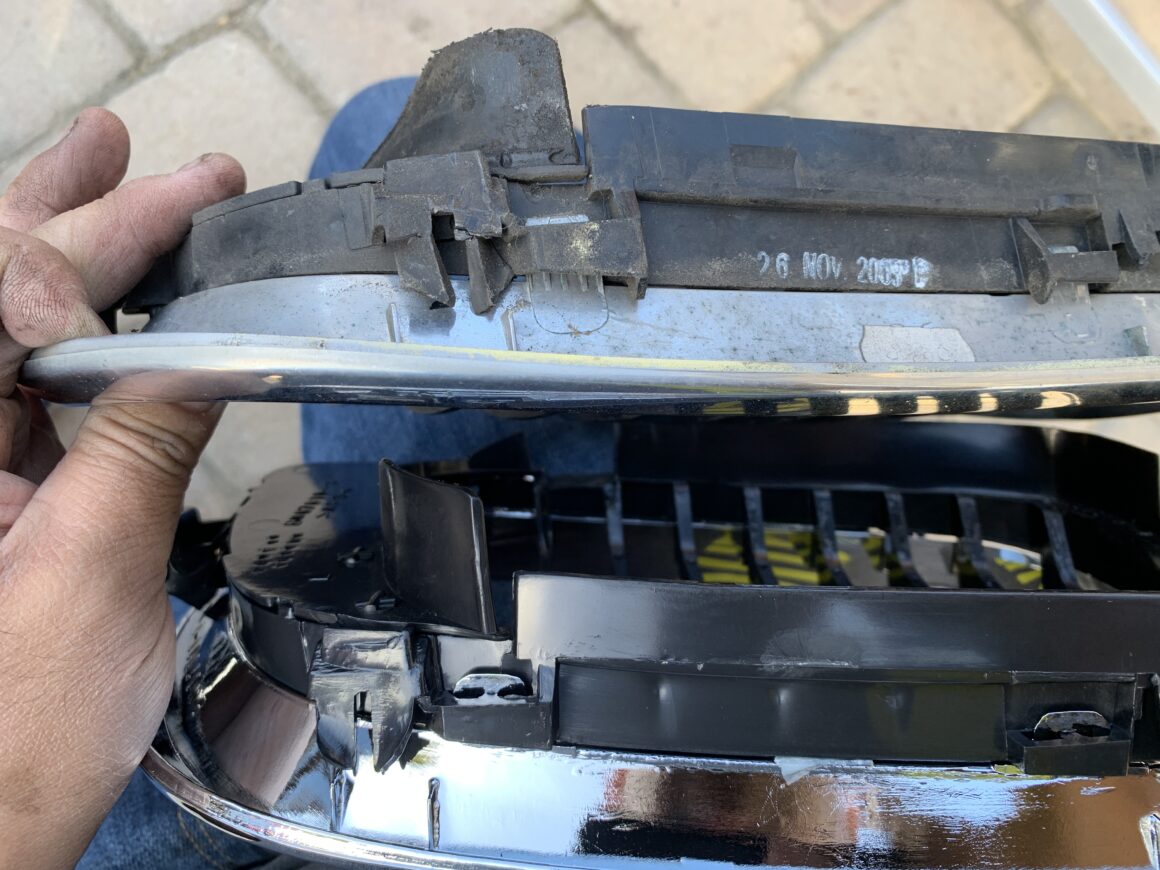 I found the easiest way to get the new kidney grilles in is to first position the grilles in place (making sure the left and right ones are in the correct spot.) Then rather than trying to push the clips in one-by-one, just simply smack the front of the grille into the opening with your fist. The grille will just pop into place.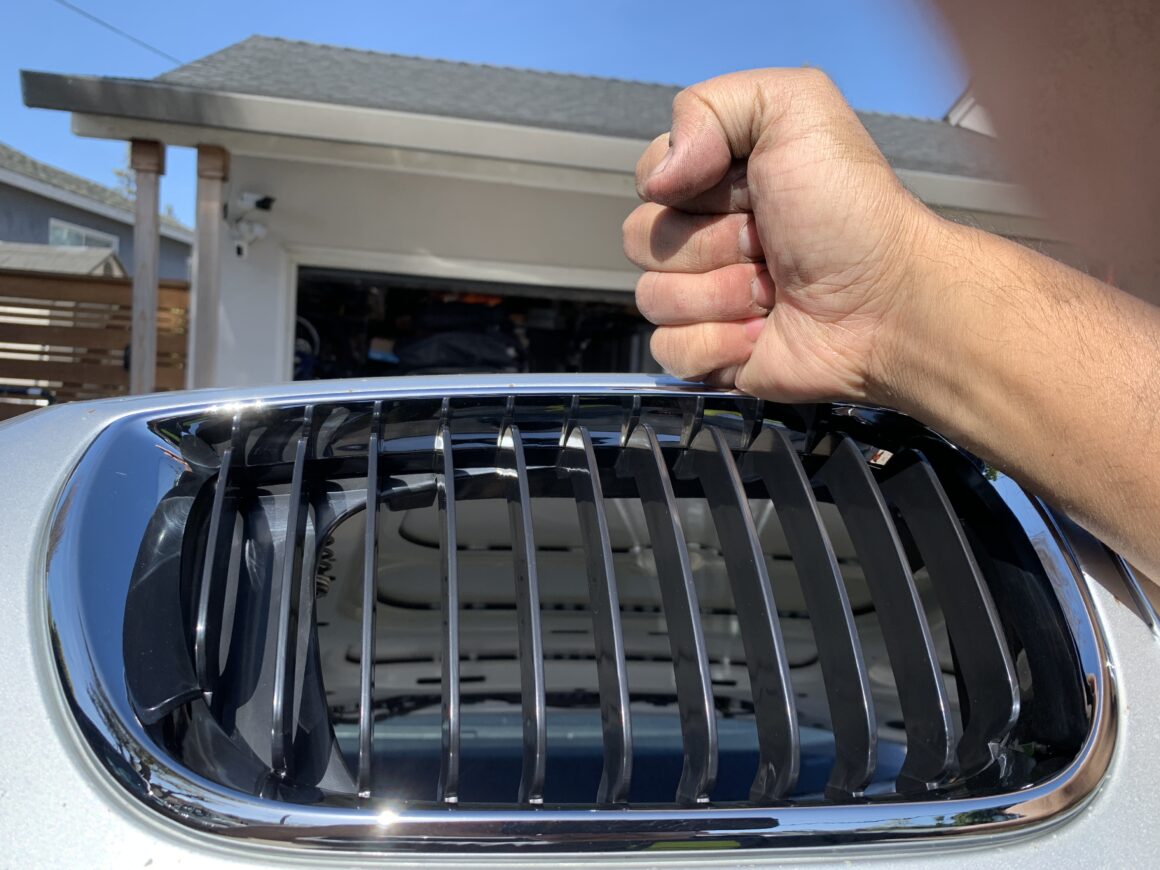 Even if your kidney grilles weren't originally falling off but were just old, a new set of kidney grilles can refresh the appearance of your BMW. It's a great aesthetic bang-for-your-buck job that you can easily do yourself very quickly.