When you make purchases through links on this site, The Track Ahead may earn an affiliate commission. Also, these posts are based off my own experiences. I am not responsible for any action you take as a result of reading this. Learn More
---
If you own a 4th generation Toyota 4Runner and are still running OEM wheels, you may be looking into upgrading your wheels. One of the common things that people look to do is to upgrade to wheels that have more negative offset. This effectively pushes your wheels out towards the outside of the vehicle for a more aggressive stance. A popular option and one that I'm a big fan of is using 5th generation Toyota 4Runner OEM wheels to replace the stock 4th generation ones.
Since the 4th gen Toyota 4Runner already has 6-lug wheels, it is a perfect match for the OEM 5th gen wheels, which also use a 6-lug wheel pattern. Depending on your trim (SR5, Sport Edition, Limited), you may have a different OEM wheel which can be a different size and offer a different look. If you own an SR5 like I do, you may have OEM wheels that can look a bit drab.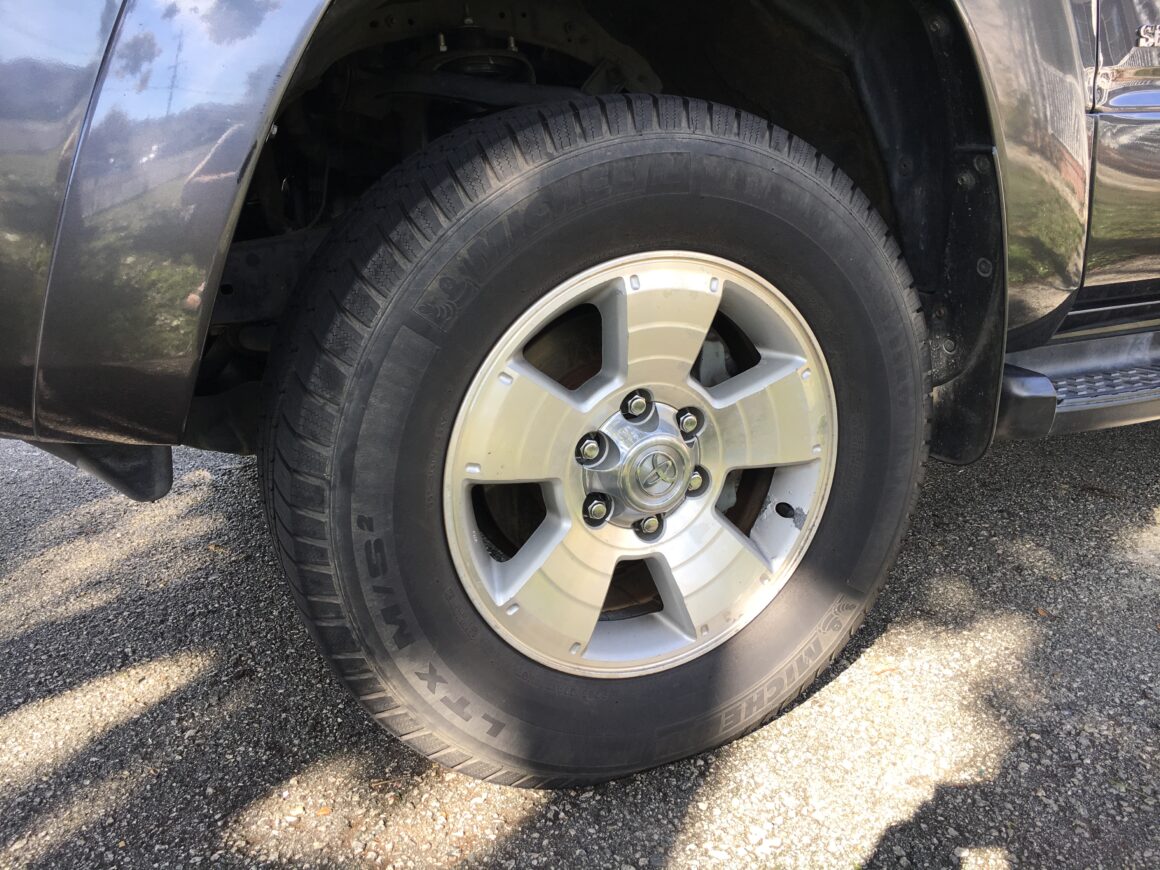 The great thing about replacing your wheels with 5th gen OEM wheels is that you can usually find take-offs from owners who upgrade their wheels and sell their OEM ones. A lot of times, newer tires come along with their OEM wheels, so if you don't mind the original Dunlop Grandtrek AT20 or Bridgestone Dueller D684 tires then you may be able to score a nice deal. These OEM tires don't get the best reviews, but if you mainly drive paved roads like me, they work just fine. After looking through the various OEM 5th gen wheel options, I decided I liked the Trail Edition (TE) wheels in silver the best.
Wheel Offset and Backspacing
With the endless number of combinations with wheels, tires, suspension, and other factors, it can be really difficult to find out what differences you might see by upgrading from your OEM 4th generation wheels to 5th gen wheels. I certainly found it difficult to figure this out as the back-spacing and offset information was scattered all over the T4R.org forums and various other Toyota forums. I've done my best to compile this information and fill in the blanks by calculation.
Personally, I wanted my wheels to be pushed outwards to give a better appearance; ideally being more flush with the fenders rather than tucked in behind them. I was concerned with how much distance I would get going from a 4th gen OEM wheel to a 5th gen OEM wheel. Looking at the diagram below, you can see that I would want less backspacing so that the wheel would be mounted further away from the wheel hub.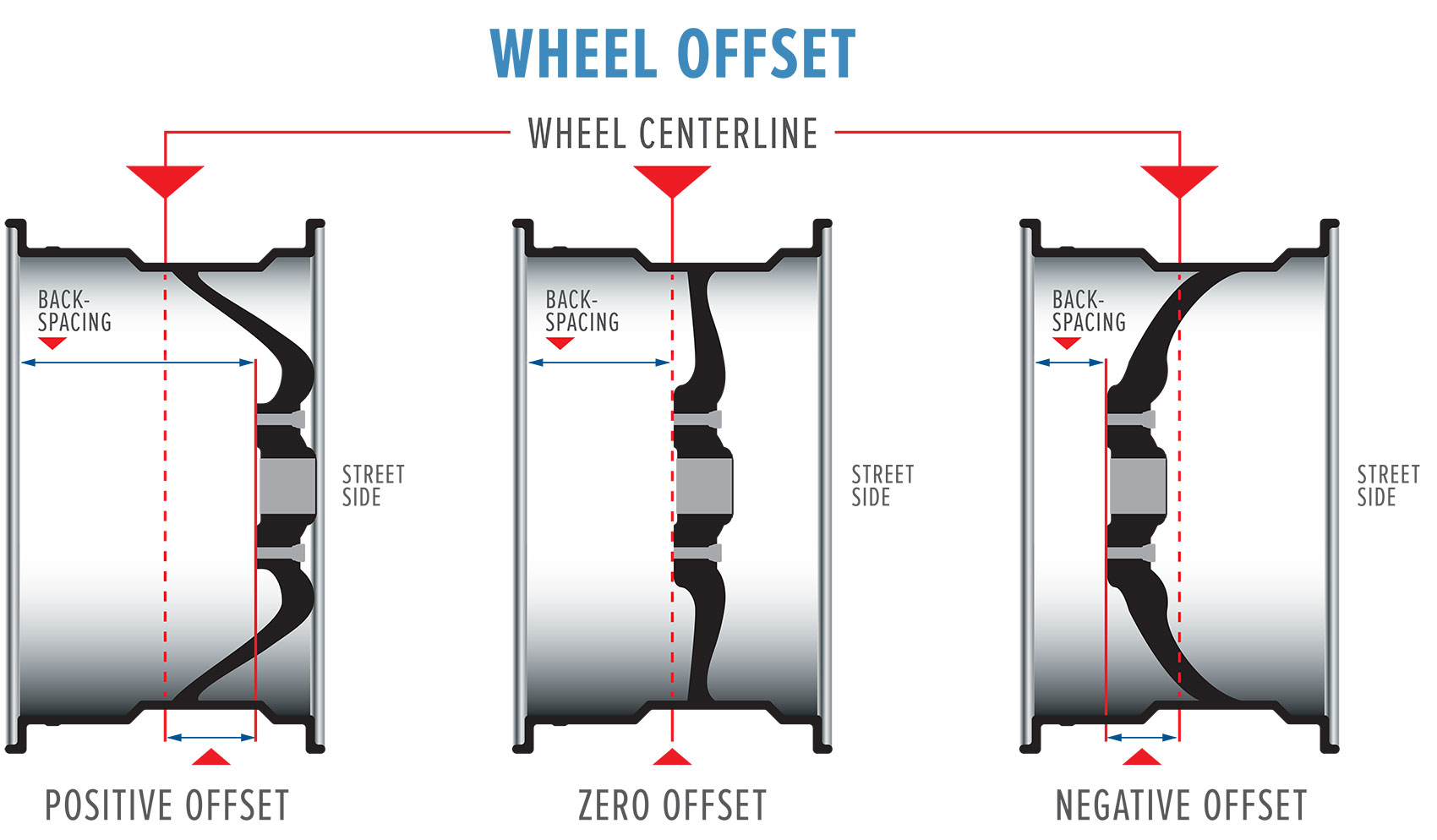 The frustrating thing with finding backspacing and offset information online is that some people think in backspacing (in inches) and others think in offset (in positive/negative millimeters). Since there is a direct correlation between the offset and the backspacing, I piecemealed the information I sourced online and filled in the blanks by calculating out the differences. I hope the information below is helpful to you in identifying the difference in appearance if you are upgrading from 4th gen OEM wheels to 5th gen wheels. For the purposes of this table below, I am comparing the differences to a 17 inch 4th gen OEM SR5 wheel.
Wheel
Diameter
Width
Offset
Backspacing
How much wheel is pushed outwards
4th Gen SR5
17″
7″
+30 mm
5.1 in. (approx.)
N/A
5th Gen SR5
17″
7″
+15 mm
4.5 in.
0.6″ (15mm)
5th Gen TE
(Trail Edition)
17″
7.5″
+24.5 mm (calc.)
4.875 in.
0.23″ (5.5mm) + 0.5″ (12.7mm) additional wheel width =
Total: 0.73″ (18.2mm)
5th Gen TRD
Off Road
17″
7″
-4 mm
3.75 in. (calc.)
1.35″ (34mm)
Values with (calc.) are calculated from known offset or backspacing values
Based on the information above, I would've been happy with any of the 5th gen options as they address my goal of getting the wheels mounted further outside of the wheel wells. The TRD Off Road wheels was what I wanted to go with as it would have pushed the wheels an extra 1-3/8″ out. However, these wheels are quite expensive and there aren't too many affordable take-offs available. I decided to keep an eye out for the 5th gen Trail Edition wheels are they not only pushed the wheels out a bit, but they offered a slightly wider wheel as well. The Trail Edition wheels come in two variations: one with a black outline and one with a silver outline.
4th Gen OEM Wheels on the 4th Gen Toyota 4Runner
The 17in. OEM SR5 4th gen wheels come from the factory tucked inside the wheel wells as you can see below. Although they don't look too bad when the vehicle has stock suspension, it begins to look worse when you start lifting your vehicle.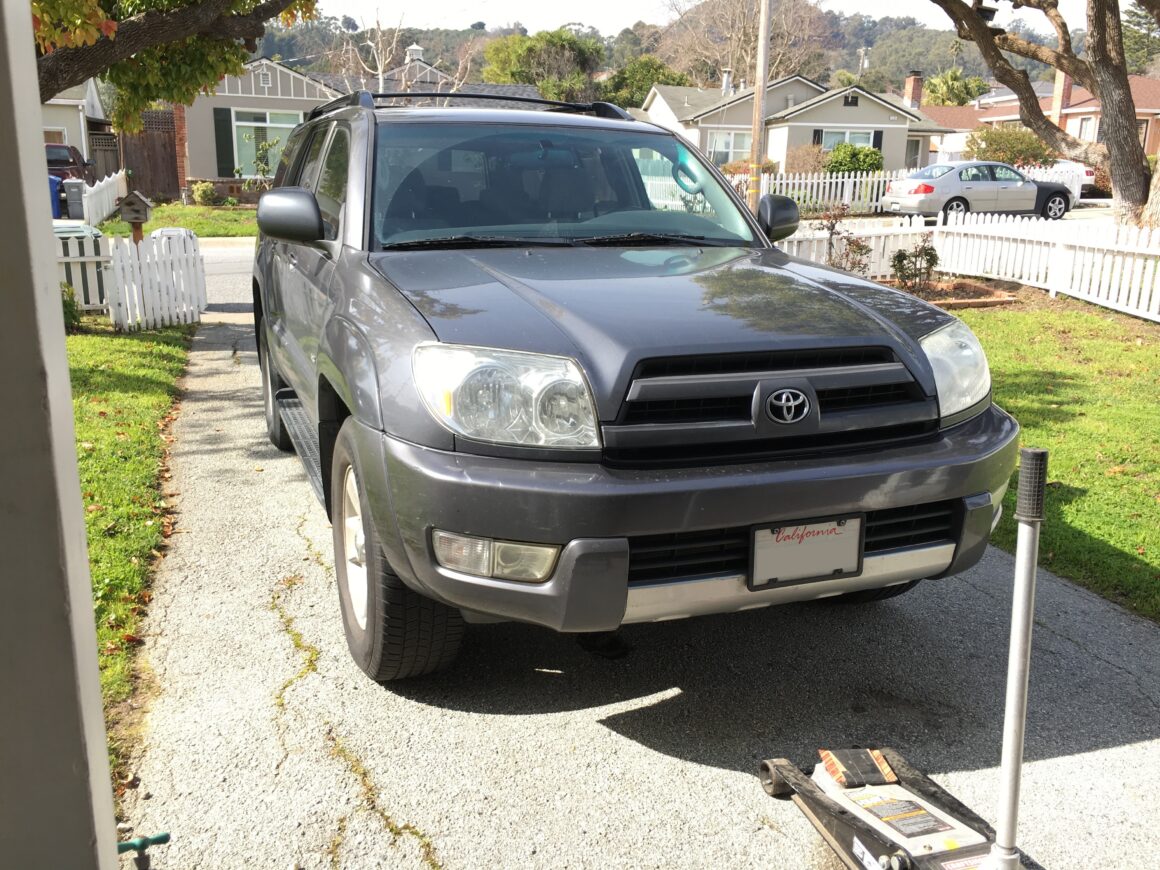 Initially, I didn't mind my OEM wheels. However, I knew that the eventual goal would be to lift the 4Runner and a wider stance would be a better fit. I kept an eye open on Craigslist and Ebay for local 5th gen wheel takeoffs. I found a set of almost new Trail Edition wheels with tires with less than a thousand miles on them.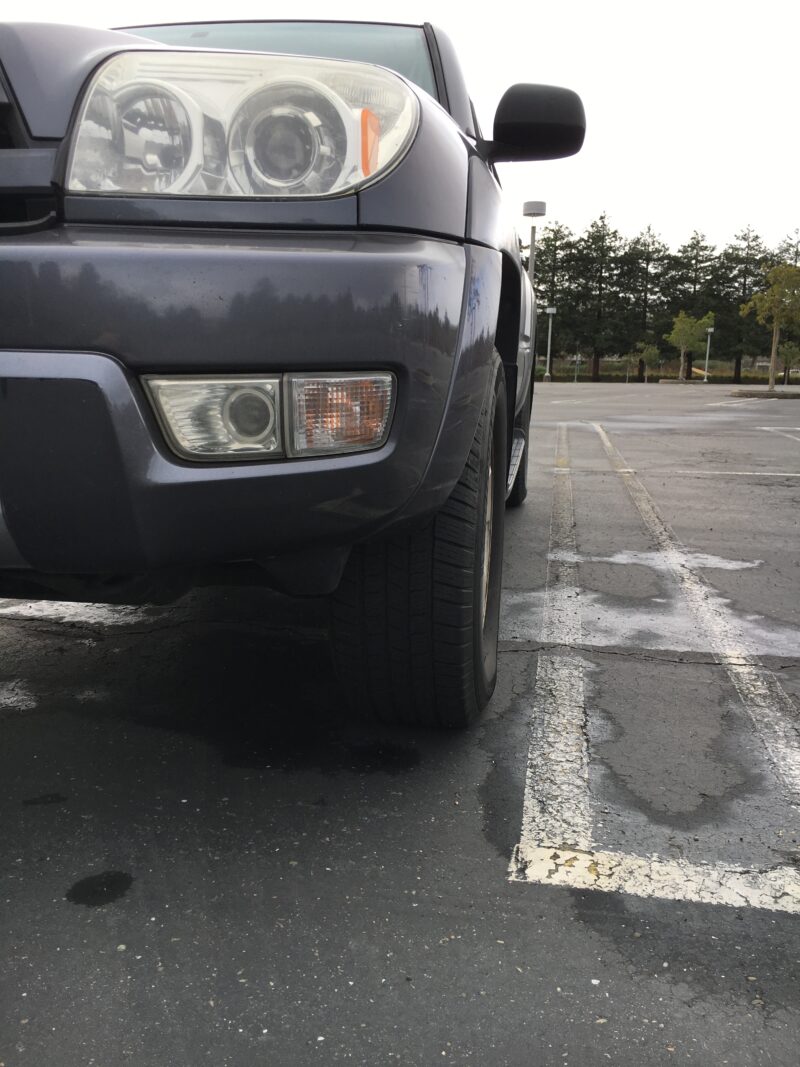 5th Gen Trail Edition Wheels on the 4th Gen Toyota 4Runner
Changing out the OEM wheels to 5th gen wheels is as simple as jacking up the vehicle and swapping out the wheels. They all use a 6-lug pattern and are a direct fit for the 4th gen 4Runner.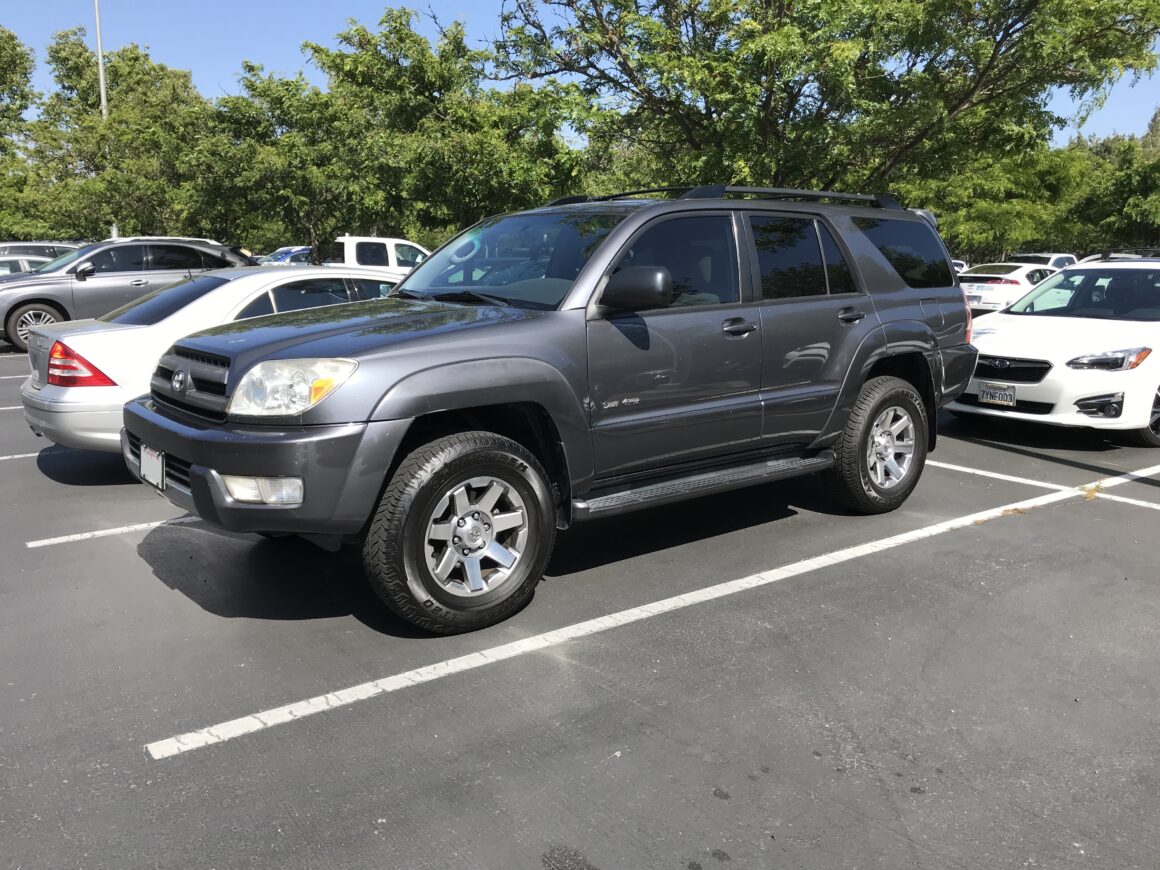 In my experience, the stock 5th gen Trail Edition wheels with 265/70R17 Dunlop Grandtrek AT20 tires will fit without rubbing on a 4th gen 4Runner that is lifted 2-3 inches. I cannot say for sure if 5th gen Trail Edition wheels will rub or not on a non-lifted 4th gen 4Runner since I installed my wheels after my lift.
After driving many miles and several years later, I had my tires replaced with Toyo Open Country AT3 tires in a 265/70R17. Although the tire size is the same as the stock Dunlop tires, they are an all-terrain tire so they are a bit beefier. As a result, there was some front tire rub on the fender liner when turning full lock. I ended up having to do a fender liner mod later on to address this.
As you can see below, the wheels are slightly wider and fit within the wheel well much better. The wheel fits a bit more flush with the fender and gives it a much better overall look. I'm incredibly happy with the 5th gen Trail Edition wheels and think it matches the look of the 4th gen Toyota 4Runner really well.