When you make purchases through links on this site, The Track Ahead may earn an affiliate commission. Also, these posts are based off my own experiences. I am not responsible for any action you take as a result of reading this. Learn More
---
The look of original radio antenna on my F-150 doesn't bother me much, but I know that a ton of other F-150 owners out there have switched their antennas out for shorter ones. At first I thought it was done just for looks, but it seems that there's a functional reason for it as well.
After driving my truck through several different low-clearance parking garages, I quickly realized that the long antenna extends past the height of the roof and therefore would scrape along the beams of these parking garages. It's incredibly annoying to have to hear it, hence the reason why I decided to replace mine.
Switching out the stock antenna with a short one is an incredibly easy job. In addition to going through this install, I also wanted to point out some differences between the especially popular Rydonair short antenna sold on Amazon with one of the cheap Ebay ones you can easily find for half the price.
Rydonair Antenna v. Cheap Ebay Antenna
Rydonair appears to be the most popular one you can get on Amazon for the 13th generation Ford F-150. They offer two different lengths: a 7-in antenna and a 13-in antenna. The 7-in one is the more popular one that I see most people using, although you can find the slightly longer one occasionally being used too. At the time of this writing, either length antenna costs between $26-$28.
If you look around on Ebay, there's an endless supply of short antennas available to buy for these trucks. Most are very similar to one another with some small variances in design. I purchased this one on Ebay: 7″ Short Antenna Replacement Ford F150 which looked similar to the Rydonair one.
Below, you'll find some comparison photos of the two. They look identical from afar, but the Rydonair is a bit smaller in diameter and just slightly shorter (also doesn't have holes like the cheaper Ebay one). Overall in material, it appears to be made up of very similar, if not the same type of materials: rubber, plastic, and a metal inner-core.
Overall, it looks practically the same to me. From what I've read, if you're switching from an OEM long antenna to a short one, you will experience a small decline in radio reception. I don't usually listen to the radio, as I normally listen to streaming services instead. However, I have tried the local radio station with the short antenna and I only noticed a small drop in quality with certain stations.
Stubby Antenna Install on the 13th Gen Ford F-150
Replacing the stock antenna on your F-150 is super easy. You can use a set of pliers, adjustable wrench, or a 3/8″ combination wrench to remove the stock antenna. Once you remove it, you will see the threads that the antenna uses to screw into side of the truck.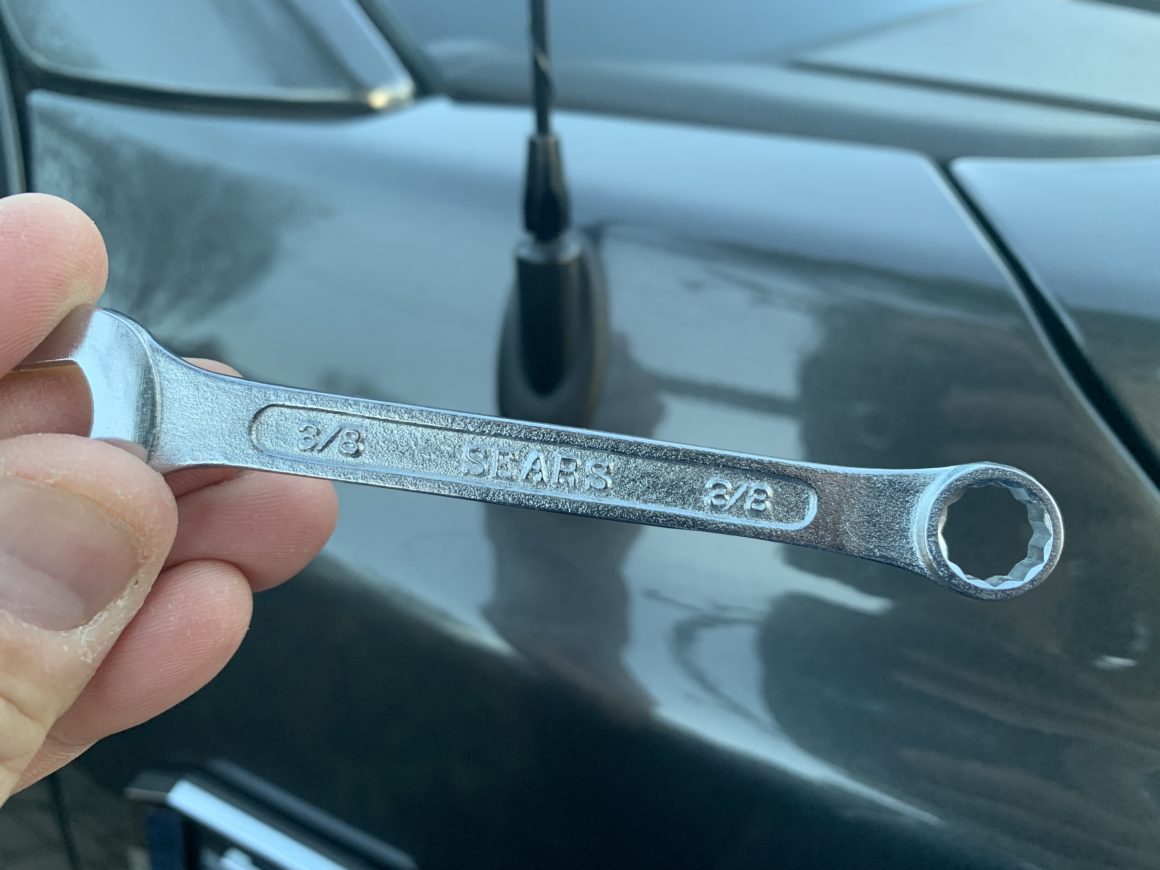 Simply take your aftermarket antenna (which will come with a set of thread adapters), and match up the proper sized thread for the antenna side, as well as the side where it threads into. After that, simply screw it in by hand and tighten.
Like I said before, it's a super easy job and I'm glad I finally got around to doing it. No more scraping when I'm driving through these parking garages and icing on top: it looks nice and clean on my truck.