Meguiar's Hybrid Ceramic Wash & Wax: Amazon / Walmart / Ebay
I've been detailing cars for more than a decade, so I've gone through my fair share of car care products. One thing that I have yet to try is a "wash and wax" product. I've never been a fan of 2-in-1 products as they tend to underperform as a combined formula; rather it's almost always more effective to use two separate products.
First off, this product was provided to me by Meguiar's for testing. This product is Meguiar's Hybrid Ceramic Wash and Wax. This product is a bit different from your typical "wash and wax" product as it has two separate chambers: one larger one with the car soap, and another with a smaller one that contains the SiO2 boost "wax". If you want to see a full How-To on using this specific product, check out this post.
The product is intended to be used with Meguiar's Hybrid Wash Mitt, which is a wash mitt that on one side has piles for washing, and on the other side has a smoother texture that is made for applying the SiO2 product. The interesting thing about this product is that the product is used to wash and apply SiO2 at the same time. If using the hybrid wash mitt, you could dunk your mitt into the wash bucket once, and both clean and apply SiO2 on a section of the vehicle before re-dunking the mitt to work the next section.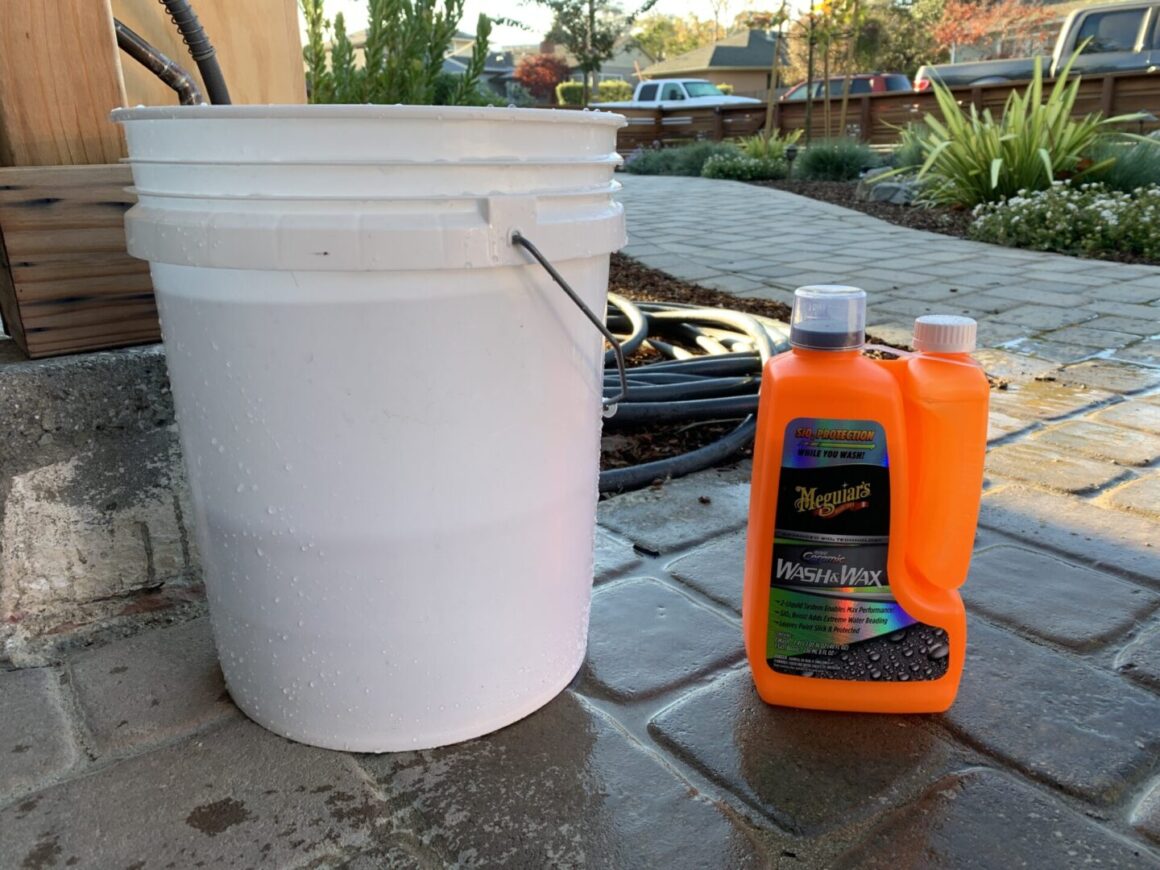 Wash and wax products are generally catered to those who want the convenience of washing and protecting their vehicles in one step, rather than spending the time and effort to do these in separate steps. The result of a wash and wax is usually less effective than washing and waxing separately, but this product actually does a decent job with protection.
The product comes with a 0.5oz/1oz. plastic measuring cup. Since I usually use the glug-glue method of pouring freehand, I thought this cup was unnecessary. I also figured this cup would be a pain to store and keep tabs on. I quickly realized how simple it was to use the measuring cup to take the guess work out of measuring; it also guarantees you use the proper amounts of soap and SiO2 boost so that you don't run out of one before the other. As an added convenience, the cup snaps back onto the cap of the bottle so you never lose it.
I have a Toyota 4Runner that wasn't washed too long ago, so I opted to go with one bucket rather than doing the Two Bucket Wash Method. The instructions on the product instructs to add 3oz. of car soap to a bucket, add water, and then 0.5oz. of SiO2 boost into the bucket. The soap has a goopy texture, meanwhile the SiO2 boost is like oily water.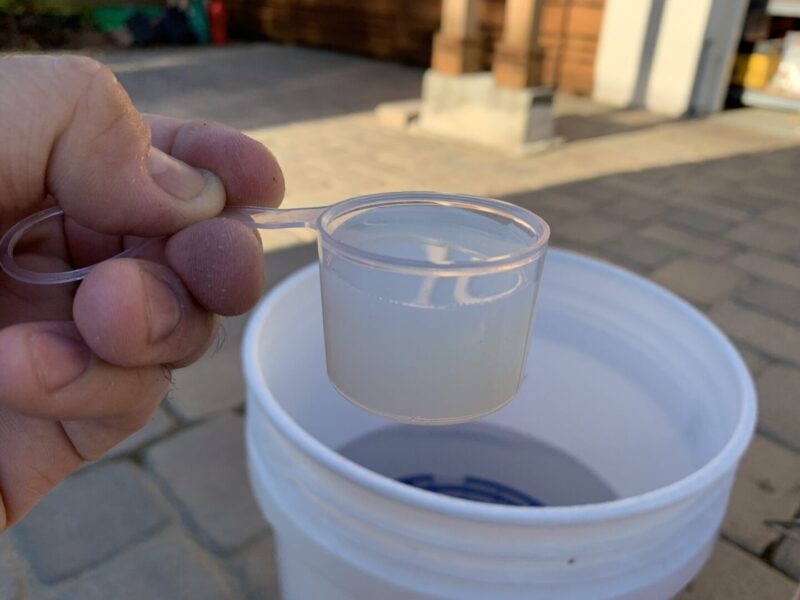 I did not have a hybrid wash mitt, so I used a normal wash mitt. Meguiar's says you can use any wash mitt, but it is recommended to use a hybrid wash mitt so you can adequately apply the SiO2 Boost.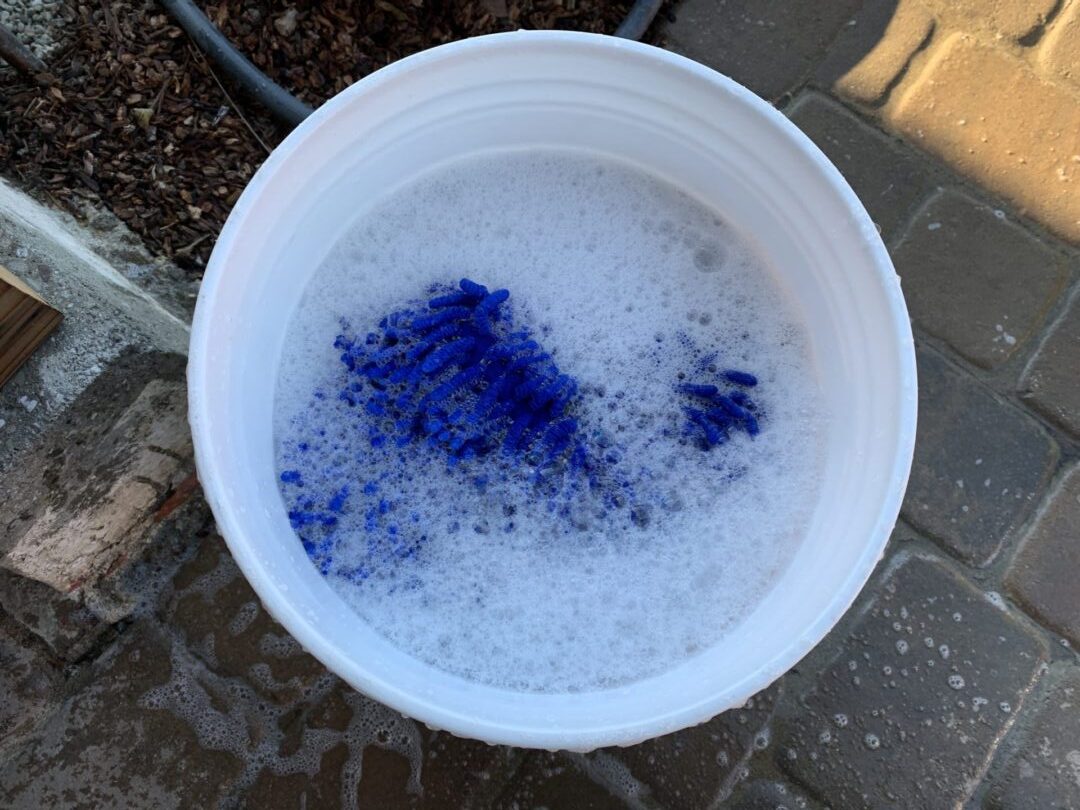 Use the wash mitt and thoroughly wash the entire outside surface of the vehicle (including windows). I found that the application was not a very enjoyable experience to me. Other dedicated car wash soaps tend to produce a lot of suds and offer a nice lubricious application. Wiping the vehicle with a wash mitt with this soap and the SiO2 boost, feels like you've got oil mixed in with your soap. It does lather up a bit, but not as much as I'd like in a car soap.
As you wipe the product across the vehicle, you'll notice that it leaves traces of the SiO2 product behind. This took getting used to as it always felt like you weren't getting the vehicle clean because of this stuff getting left behind. I felt it would be better to apply the car soap by itself first to thoroughly wash the car, then apply the SiO2 with some car soap (as a medium) to apply the protection. This however would obviously defeat the purpose of a 2-in-1 product.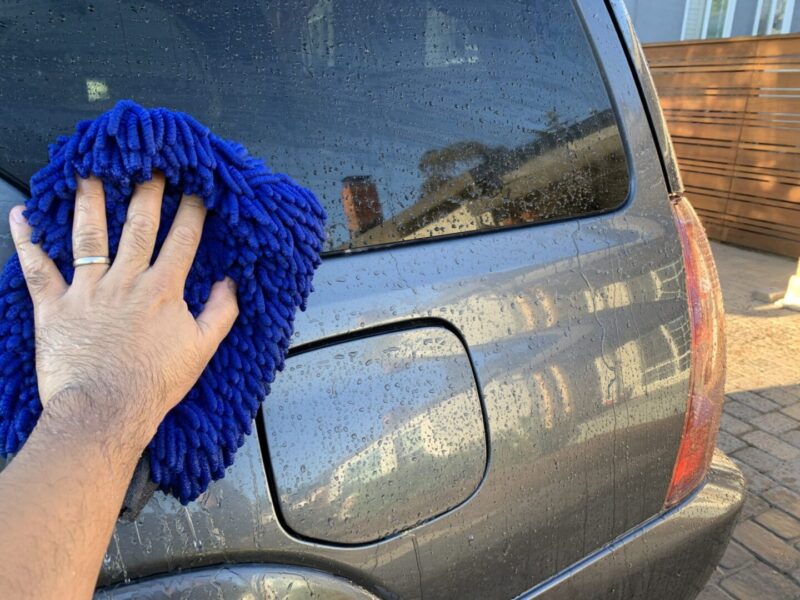 The intended use of Meguiar's Hybrid Ceramic Wash and Wax is to wash with the piles of a wash mitt, and then using the flatter, more plush microfiber surface to spread the SiO2 over the surface. This helps to apply a more even application of the SiO2 product for a more effective hydrophobic surface.
Now, the beading action from the SiO2 is something very noticeable right away. As soon as you've washed the vehicle, you'll already notice lots of water beading. I used only a chenille wash mitt with piles to wash and wax, and you can see that it still does a great job at applying the SiO2 over the surface of the vehicle. Using a low-pile microfiber mitt or towel should net you a better performing result.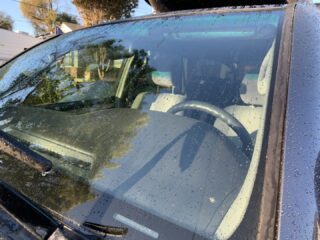 I wanted to see just how well the product performs hydrophobically; to test that I tried using a leaf blower to dry the vehicle and see how much of the water could be dried from blowing air alone. On a vehicle that has been ceramic coated, sealed, or waxed, a powerful leaf blower can get about 95% of the water off of the vehicle alone. On a vehicle that had spray wax applied, it isn't as effective. And with a vehicle that has not had any protection applied at all, the leaf blower is practically useless as it barely gets the water off of the paint surface.
Using a WORX leaf blower, I was able to blow off about 70-80% of the water off of the vehicle. It certainly isn't enough to dry the whole vehicle off alone, but it does get most of the water off of the surface to make it easier drying with a drying towel after. And that is what I did: blowing the vehicle took about 5 minutes and wiping down with a drying towel took another 5-10 minutes.
Coming from someone who always washed their cars with a dedicated car soap and applying a separate protection, I can see how using a wash and wax product might be appealing. You save a lot of time and effort by taking two separate steps and combining it into one. Although I did not enjoy the cleaning action of the car soap portion of Meguiar's Hybrid Ceramic Wash and Wax, it's hard to deny the incredible hydrophobic properties left behind.
Meguiar's Hybrid Ceramic Wash and Wax