Microfiber Xtra Cut Discs: Amazon (5 in | 6 in) / Ebay (5 in | 6 in)
Microfiber Cutting Discs: Amazon (3 in | 5 in | 6 in) / Ebay (3 in | 5 in | 6 in)
Microfiber Finishing Discs: Amazon (3 in | 5 in | 6 in) / Ebay (3 in | 5 in | 6 in)
For most general paint corrections, you may be using foam pads on your machine DA polisher to get those mild-to-moderate imperfections out of the paint. However, once you start dealing with more severe paint imperfections or are polishing down orange peel after the sanding stage, you'll need to step up the aggressiveness of your polishing pad.
In the past, you'd need to rely on the power from a rotary polisher and a wool pad to get the compounding polish to work out those major defects in the paint. However, manufacturers have now developed special microfiber discs that can be used in conjunction with a DA polisher to yield similar results.
Meguiar's offers a line-up of microfiber cutting and finishing discs that attaches to your typical hook-and-loop backing plate. Meguiar's provided these products for the purpose of this review. Meguiar's offers two types of cutting discs and one finishing disc. The first cutting disc is the Microfiber Xtra Cut Disc, which is shown below. This disc is the thinnest of them all and is used for most aggressive cut.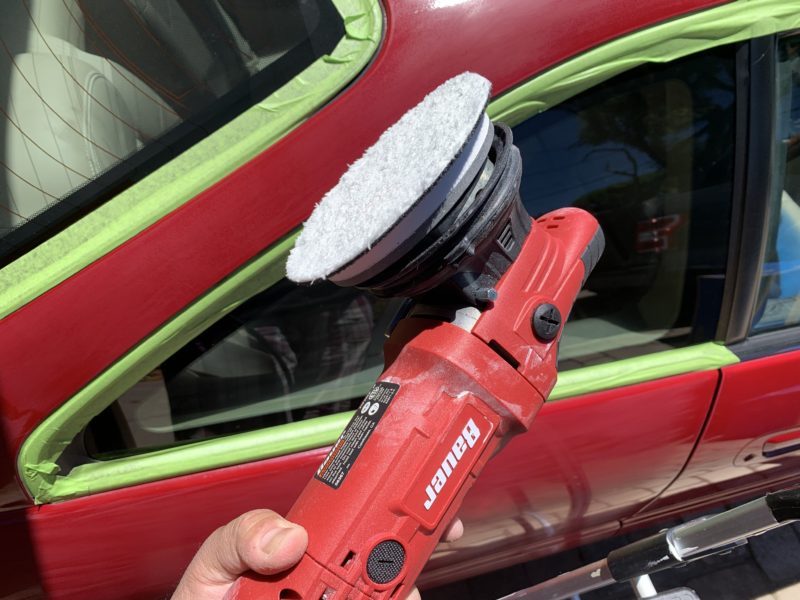 The next cutting disc that Meguiar's offers is called the Microfiber Cutting Disc, which is also used for removal of moderate-to-severe defects in the paint. This disc has a red foam padding sandwiched between the microfiber polishing surface and the hook-and-loop backing.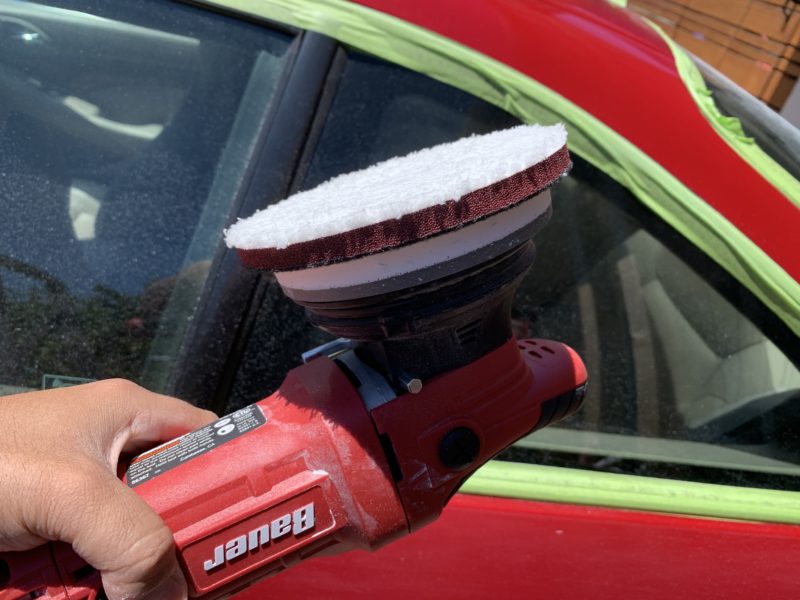 Finally, Meguiar's finishing pad is the thickest microfiber pad and is called the Microfiber Finishing Disc. This foam on this pad is even thicker than the Microfiber Cutting Disc and is colored black. This finishing pad differs from the other two cutting pads in that it is used for applying say, a wax or paint sealant.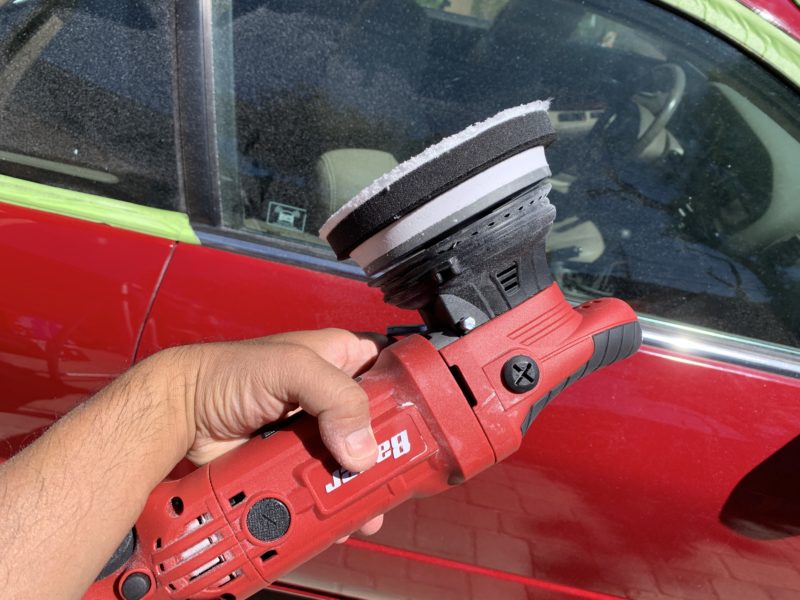 Meguiar's offers these discs in 6-inch or 5-inch form. Personally, I prefer with using a 5 inch pad for the majority of the paint corrections I do. I tested these microfiber discs out using a Bauer Long Throw Polisher from Harbor Freight and a Rupes 5″ Backing Plate.
Just like with foam pads, it's best to first prime the microfiber disc with product before using. Priming these microfiber discs is easy to do. I also like that you get less sling using these discs than you would with foam pads.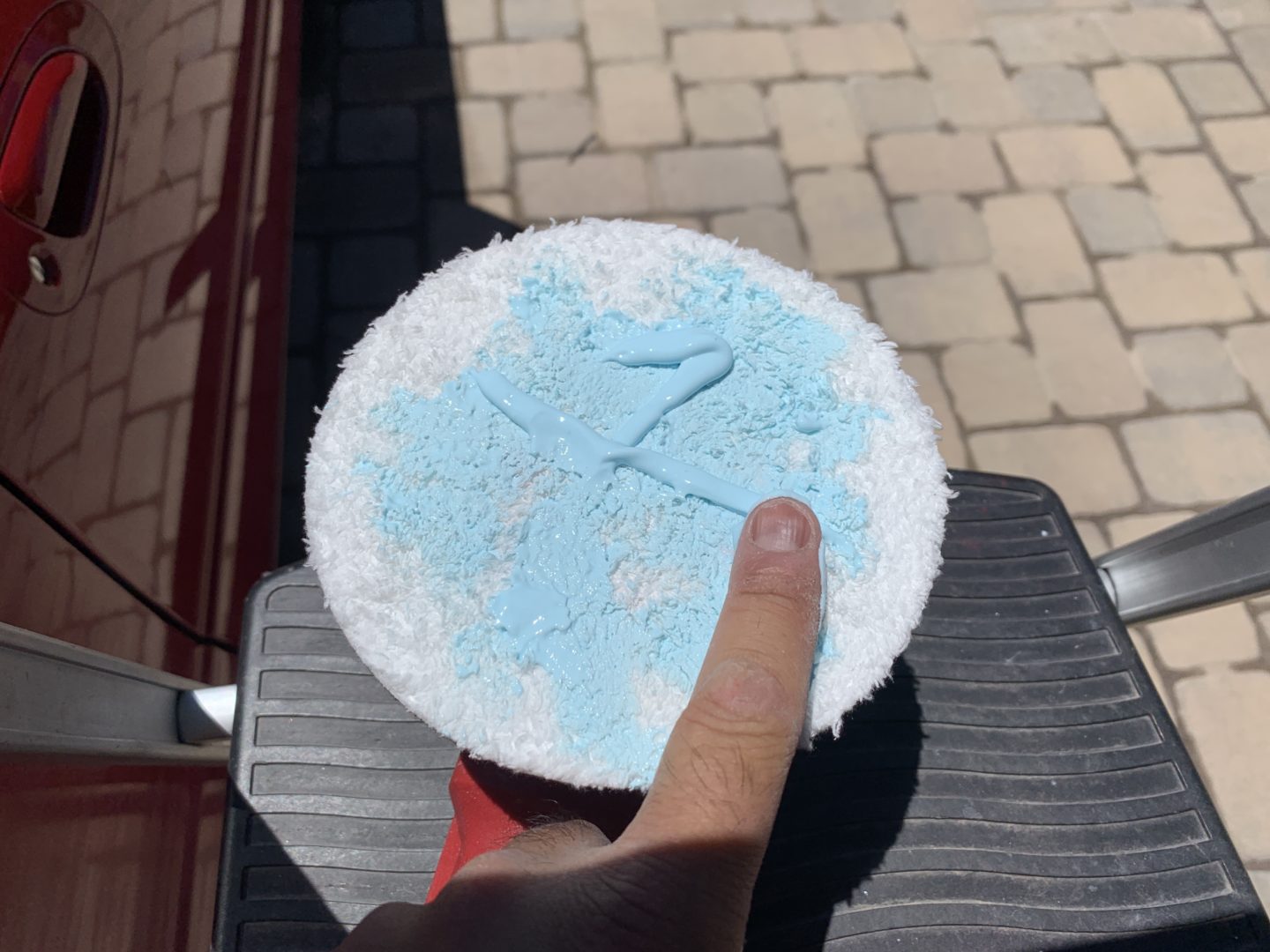 I tried out each of these pads with various compounds and polishes and am impressed with its ability to do more aggressive paint corrections with just a dual-action machine polisher and the microfiber disc. It's convenient to not have to own a separate rotary polisher just to attack more severe paint defects. Furthermore, using a DA polisher is more user-friendly especially for those who have less experience with using a machine polisher. The chance of damaging your paint is minimized when you use a dual-action machine polisher compared to a rotary polisher.
From my experience, the Xtra Cut Disc cuts slightly faster than the Cutting Disc. For example, you would be able to get moderate defects out of a panel with 2-3 passes of the Xtra Cut Disc, or 3-4 passes of the Cutting Disc. However, since the Xtra Cut Disc is so thin, the compound/polish easily gets caked into the microfiber material. From my experience, I found that the Xtra Cut Disc to not be as effective after a working several passes. By comparison, you can probably polish with the Cutting Pad about 2-3 times longer than with the Xtra Cut Pad before having to set it aside to wash.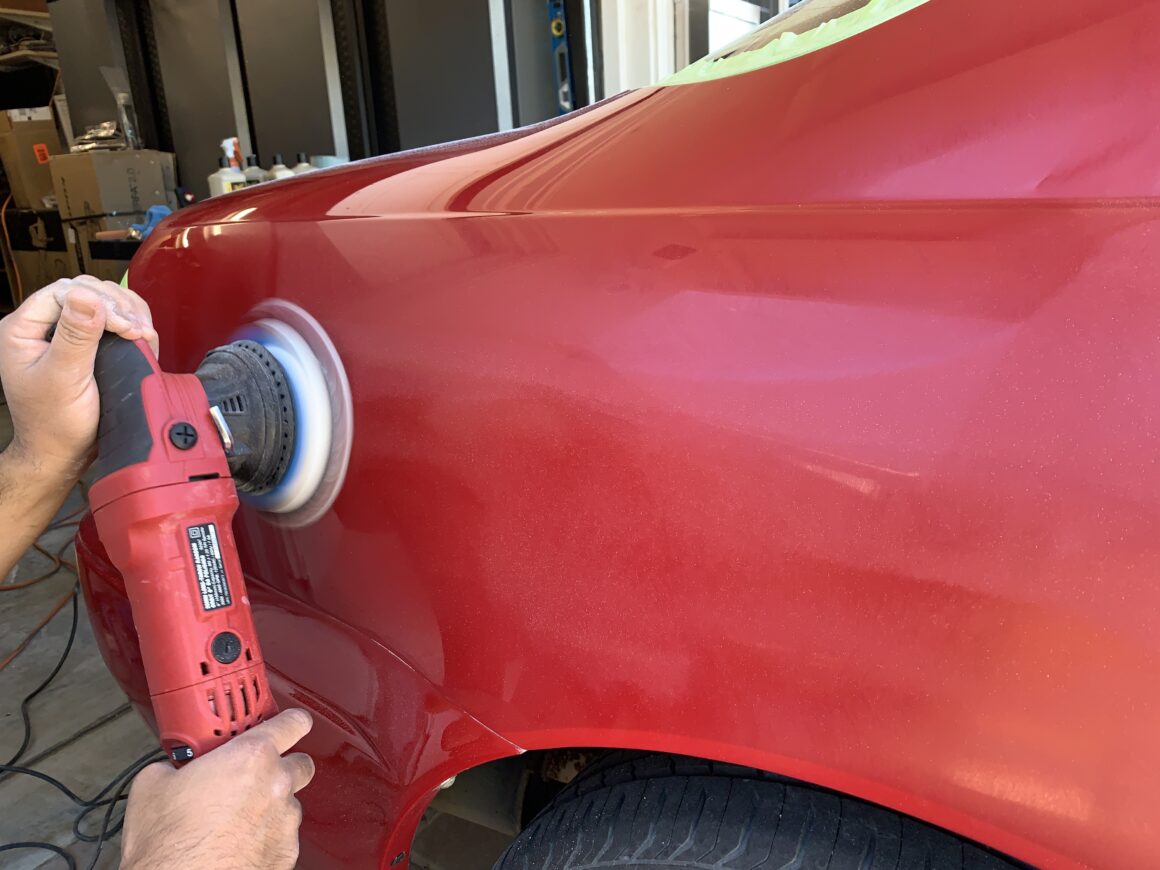 On this recently painted panel, heavy orange peel was left behind. I was able to wet sand down to 1500 grit, followed by 2000 and 3000-grit sanding. The rest of the sanding scratches were able to be removed with the Microfiber Xtra Cut Discs and Cutting Discs used along with Meguiar's M100 Compound. As you can see below, you can get it down to a mirror finish with just a long throw dual-action polisher and these microfiber cutting discs!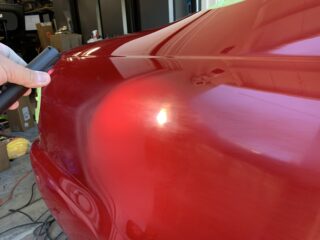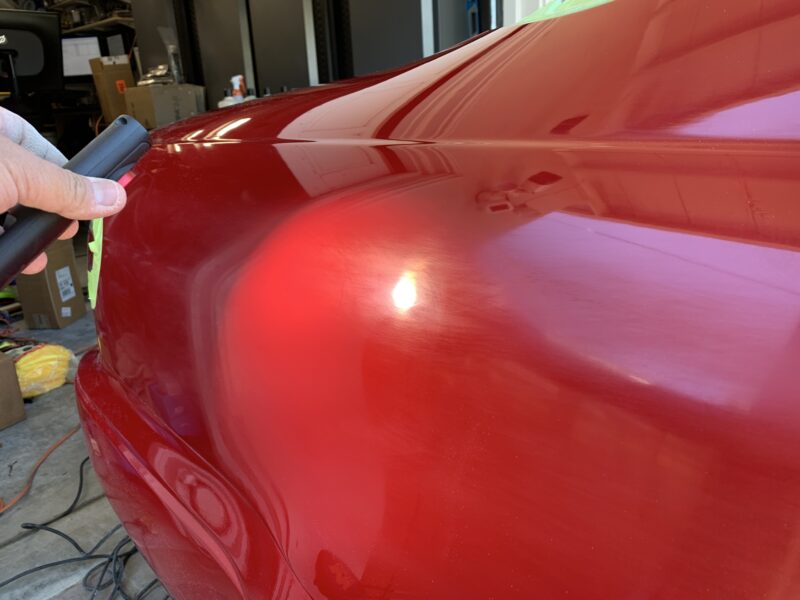 As for the Microfiber Finishing Disc, you would use this with a wax or a polishing wax. With applying ones of these waxes, you'll need to keep the polisher at a lower speed. I had no issues and found it easy to apply wax with this disc. I have yet to try this out with a polishing wax, but I look forward to doing so because it has worked great so far.
There are a couple things that I recommend you avoid when using these pads. For the Finish Disc, ensure that you keep the speed of the polisher at a low-to-medium speed. If you run it at a higher speed like I did, you run the risk of the foam portion deforming and looking like the photo on the left below.
The other thing that I had an issue with was the Xtra Cut Disc curling up after drying. Meguiar's says you can machine wash these pads as they are reusable, which I did with a gentle cycle. I then followed up with a low-heat drying cycle, but apparently your Xtra Cut Discs will look like taquitos when you take them out of the dryer. So I recommend just air drying them or putting them on the air-dry setting on the dryer.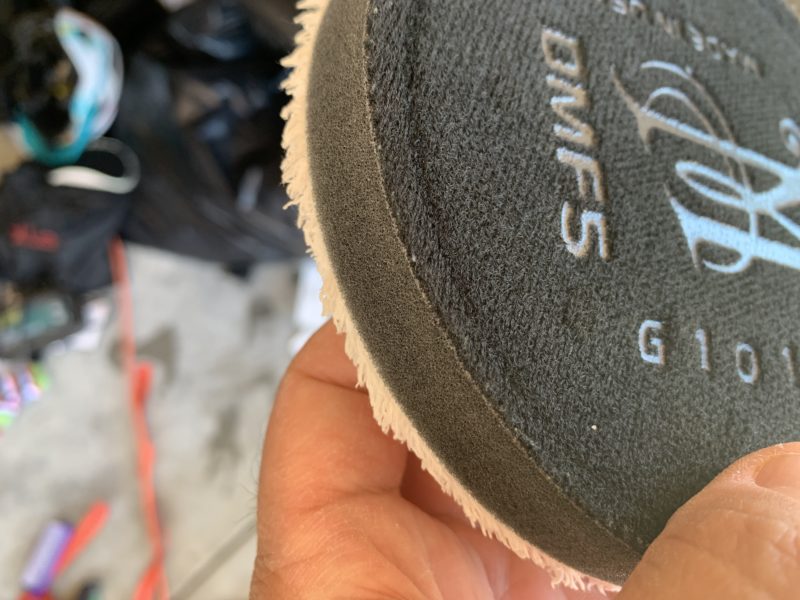 In terms of discs for paint corrections, the Xtra Cut Discs just don't perform as well as the Cutting Discs because they cake up easily, have more potential for curling up after washing, and don't move around the curves of a vehicle as well as the Cutting Discs. For these reason, I probably wouldn't use the Xtra Cut Discs again.
But certainly what I would keep in my detailing arsenal are the Microfiber Cutting Discs. They are incredibly effective at what they do and I really like that they don't sling product around as much as foam pads do. I still own foam pads (more so because I already own a lot of them), but I will usually grab the Microfiber Cutting Disc first for more severe paint defects.
Microfiber Xtra Cut Discs: Amazon (5 in | 6 in) / Ebay (5 in | 6 in)
Microfiber Cutting Discs: Amazon (3 in | 5 in | 6 in) / Ebay (3 in | 5 in | 6 in)
Microfiber Finishing Discs: Amazon (3 in | 5 in | 6 in) / Ebay (3 in | 5 in | 6 in)