Meguiar's MT103 Sunlight 3+ Paint Inspection Light: Amazon / Walmart
When I'm inspecting the paint while I'm outside, I can usually rely on the sun if it is sunny out and it is shining down on the panel I'm looking at. But it's unrealistic to use the sun as a source of light for inspections as there are plenty of scenarios in which you need the light source from a dedicated inspection light. Some of the most common reasons would be if you're inspecting the paint in a shop or garage or even if you're outdoors but are in the shade or under a covering.
Since I work with Meguiar's quite a bit, I wanted to review the MT103 Sunlight 3+ Paint Inspection Light that they supplied me. If you already know about inspection lights, then you are probably familiar with the ScanGrip line of LED inspection lights. These are the industry-standard for inspecting of paint for car detailing and for the painting industry.
The Meguiar's MT103 Sunlight 3+ is a co-branded with ScanGrip to offer you everything you'd expect from a high quality paint inspection light. The Meguiar's MT103 is similar to ScanGrip's SunMatch 3, having a similar look and feel to it, yet still differing in some design features. The fold-out hook doubles as a secure stand as it is magnetized and allows you to place it on different surfaces of a panel for a close-up inspection when you need it.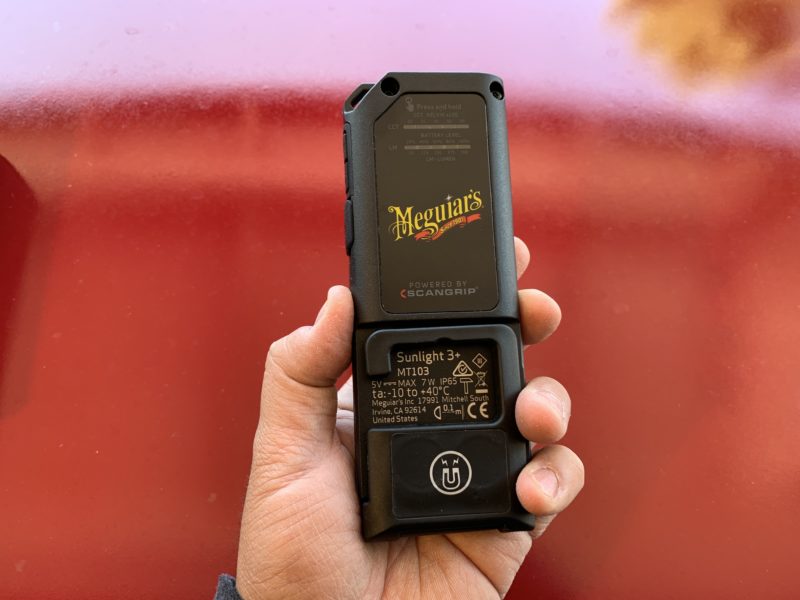 The side of the inspection light features the power on/off button, CCT (correlated color temperature) button, and charging port. On the back of the unit is a display that shows what temperature the light is set at and what intensity you have it set at. Holding the CCT button will cycle through the various color temperatures (5 settings) and holding the power button cycles through the light intensity (between 50 to 500 lumens).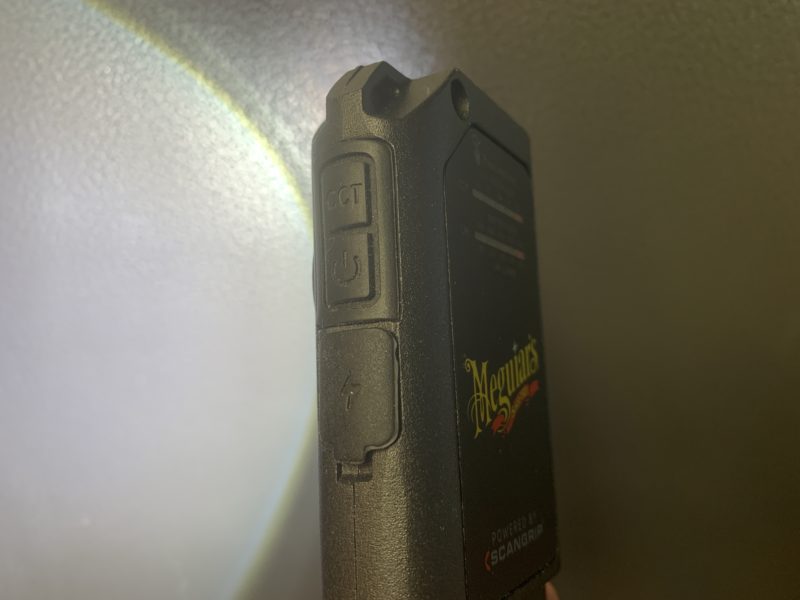 With the capability of shining light at 500 lumens, it is plenty bright and gives you a superb beam of light that is instrumental for closely inspecting car paint.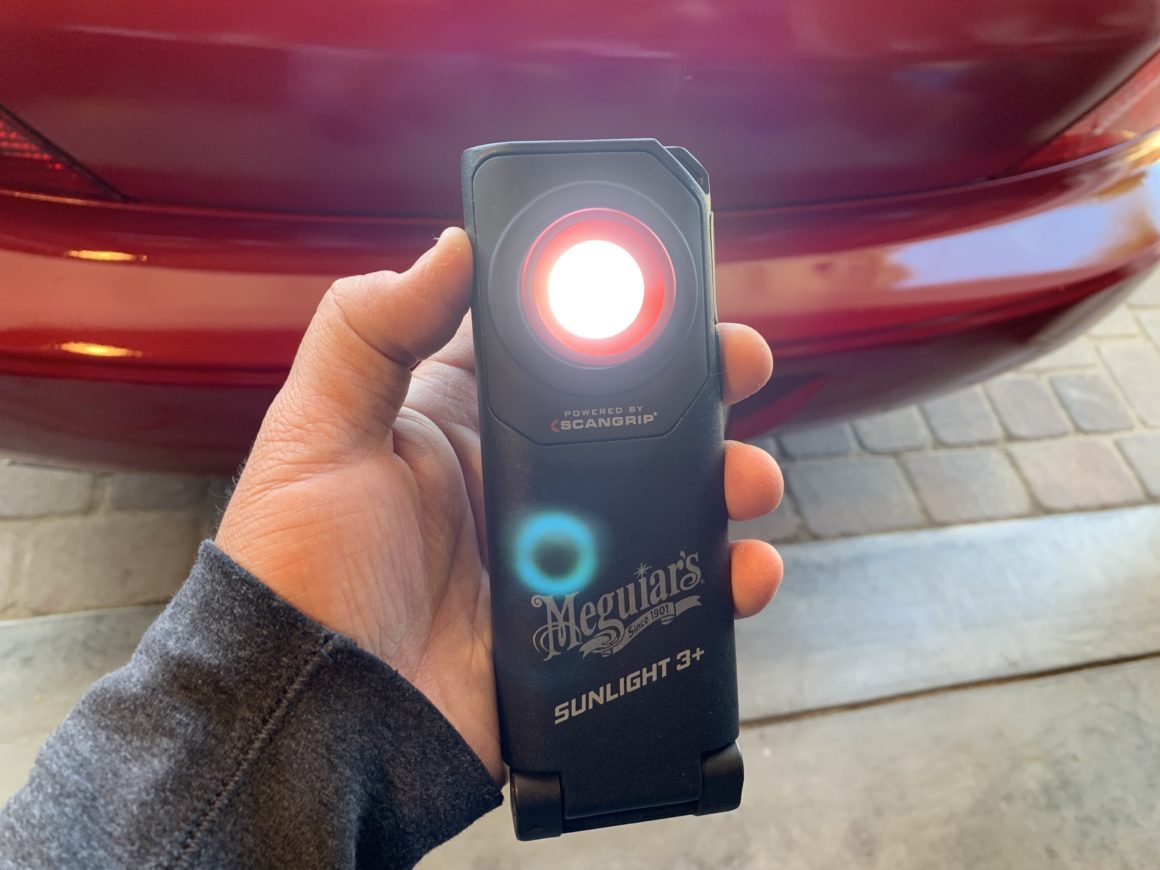 The ability to change the color temperatures between bright white and on the opposite side of the spectrum, a more yellow "sunlight" color, offers you a lot of options to yield the most effective light source depending on your environment. Some color lights show up better in certain color paint and certain environments, so it's great to have the ability to make this change in color frequency.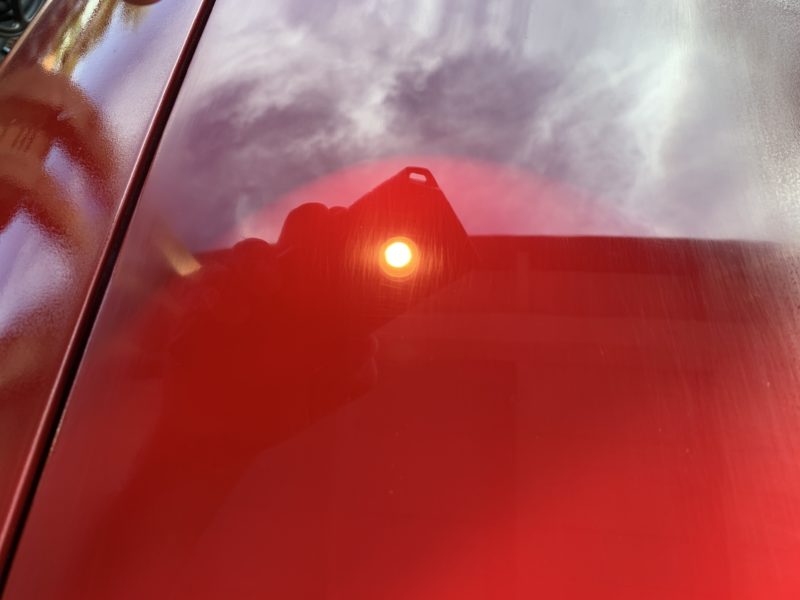 Finally, the MT103 saves your last setting in memory so when you turn it on again, it will turn on to the latest settings. This is convenient especially if you're trying to use the inspection light occasionally during a paint correction (i.e. constantly turning on and off the power) and want to save battery.
If you're someone who does paint corrections, even if it's the occasional one, this tool is an amazing device to have. It covers you whenever you don't have that optimal lighting such as direct sunlight or good shop lighting to check the paint condition. I am really impressed by the high build quality of this paint inspection light and highly recommend it because of its incredible light output and color temperature customization that guarantees you get a good close-up look at the car's paint condition.
Meguiar's MT103 Sunlight 3+ Paint Inspection Light: Amazon / Walmart