When you make purchases through links on this site, The Track Ahead may earn an affiliate commission. Also, these posts are based off my own experiences. I am not responsible for any action you take as a result of reading this. Learn More
---
The 13th generation Ford F-150 SuperCrew and SuperCab trucks have a 60/40 rear seat setup where the entire seat bottom folds up to allow for extra storage space. In addition, the 40-side has a latch pull to bring the seat down to access the jack and tire iron, however there is no latch pull available on the 60-side.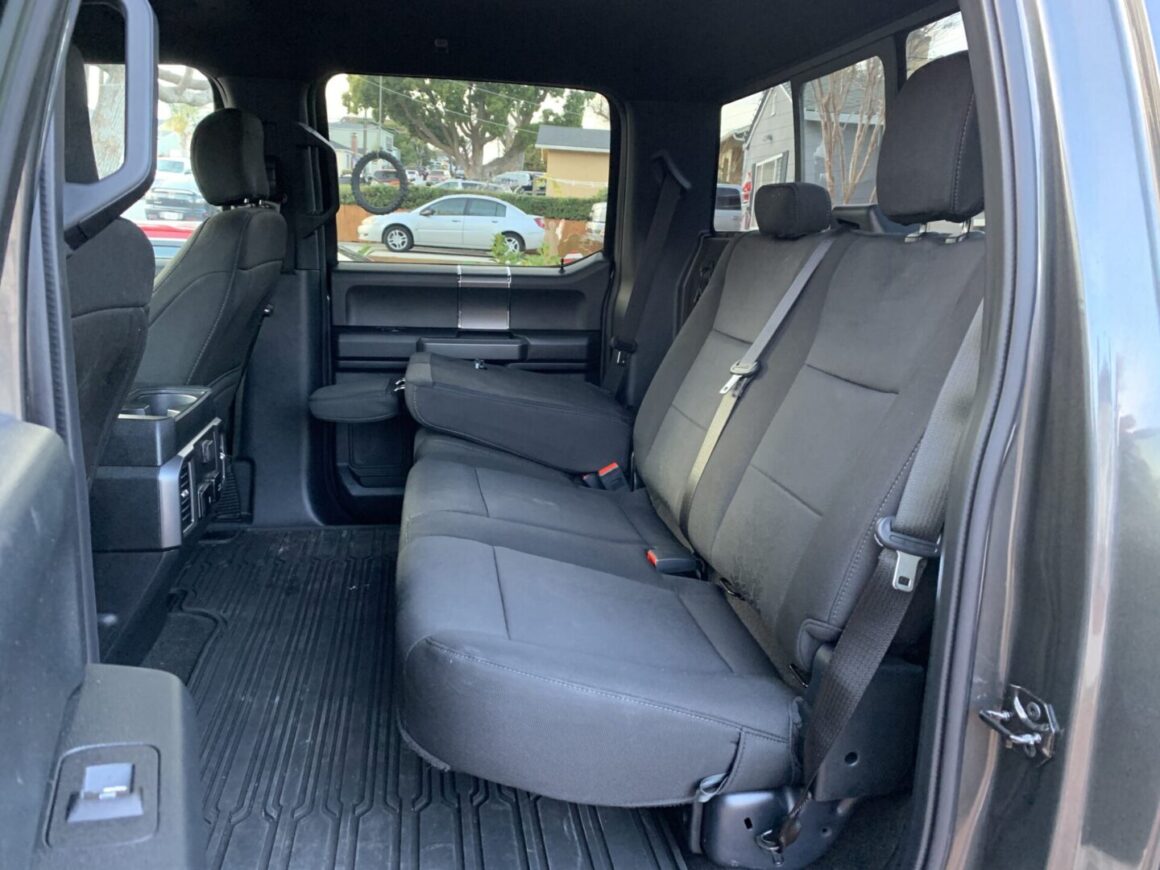 That doesn't mean that it isn't possible to fold it down however. In fact, you can manually unlatch the rear seat backing on the 60-side so that it folds down, however there is no dedicated pull to do so. So if you were to do this manually each time, it would be really difficult to do so, without installing a permanent rear seat release.
To solve this problem, I purchased a rear seat release kit from Amazon, however there are plenty of other kits to choose from, all of which do the same thing. It provides a dedicated seat release for the 60-side of the 60/40 rear seats allowing for utility of the extra storage space behind it.
Tools & Materials
Seven Sparta Rear Seat Release Kit
This is the kit that I purchased and it works just fine. There are plenty of other options (such as BuiltRight and iFJF) and they will practically do the same thing. The kit is made up of a metal latch bracket, and a nylon strap pull assembly.
Seven Sparta Rear Seat Release Kit for Ford F-150 SuperCrew 2009-2018, Ford F-150 SuperCab 2015 – 2018
Torx Bits
A regular T-30 torx bit is needed to remove the existing rear seat latch bracket and to reinstall it. If you don't have a T-30 bit, then you can either get a torx bit socket set to use with your existing socket wrench set, or a standalone torx screwdriver set.
Torx Socket Set: Craftsman 7 Piece Evolv Torx Bit Socket Set
Torx Screwdriver Set: Amartisan 12-Piece Magnetic Torx Screwdrivers Set, T5 – T40
Installation of Seven Sparta Rear Seat Release Kit
The rear seat release kit comes in a small box with a metal latch bracket, a latch pull assembly, and a set of poorly written instructions. The instructions have dimly-lit photos and are a bit hard to follow. I hope this write-up supplements those instructions to help you with your install.
In order to be able to gain access to the rear seat latch, you'll first need to bring up the rear seat bottom up first. Make sure you're on the driver's side so that you're working on the 60-side of the 60/40 rear seats.
When you pull on bottom seat release and then begin to pull up on the seat bottom, the rear seat backing slightly pulls forward. This allows a bit of room to get your hand behind to get to the 60-side rear seat latch mechanism.
Look directly behind the 60-side rear seat closest to the door. There should be a latch such as the one shown below. The latch might be covered by some fabric material, just pull it to the side and you should be able to see it.
The latch where I am pointing to with my finger above is the one you need to pull up on. This will unlock the latch and allow for the rear seat to fold down. If you can't get your hand behind the rear seat to unlock the latch mechanism, you can always use a combination wrench with the closed side down in order to pull up on the latch.
Now you have access to the factory latch located on the back of the rear seat. Fold the 60-side rear seat all the way down. You'll need to use a T-30 torx bit to remove the two torx screws.
Get the nylon strap and slide it through the Seven Sparta strap retainer. Then slide the entire assembly into the factory bracket as shown below. While doing that, make sure to slide the red latch pull over the round pin (the one you pulled up on earlier to unlatch the rear seat) of the factory latch.
Once you have this all assembled, you can pull on the nylon latch and see how the whole thing operates. As you pull on the nylon strap, it pulls on the round pin, which allows the whole mechanism to unlatch. Re-install and re-tighten the two T-30 Torx screws.
That wraps up the install and it's now time to test. You should be able to press the rear seat back and lock it into place (make sure you have the nylon strap held up to keep it from getting locked behind the seat.) Some people use a string of some sort to tie it to the back of the headrest in order to keep this from happening.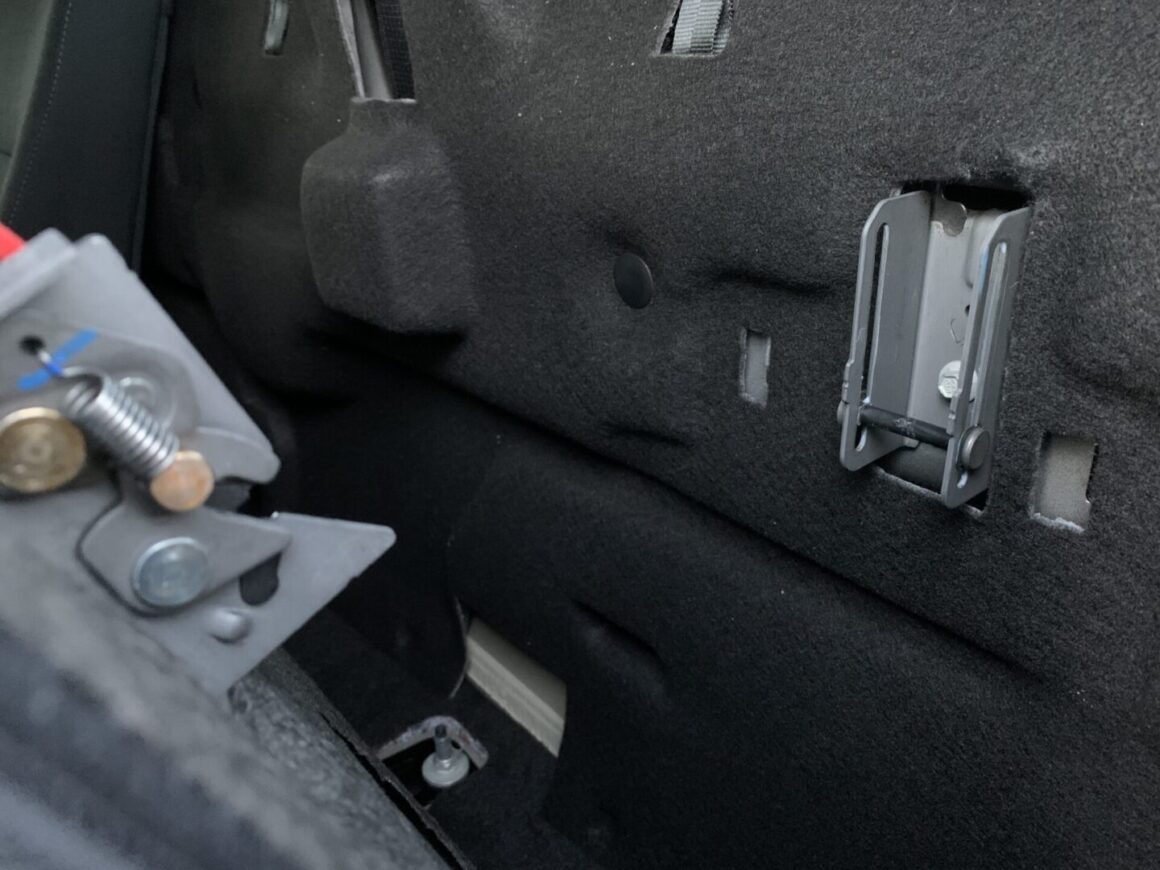 Once the rear seat is locked back into place, all you need to do to pull down the 60-side of the rear seats is a simple pull of this release now. As you can see, there's a good amount of room back here that you can store plenty of things. Personally I have a first aid kit, some jumper cables, and some umbrellas back here.
I'm glad I installed this rear seat release because I like that I have this extra storage space for things that I don't typically need access to on a regular basis. I like to keep the cabin clear as much as possible, so having this extra room is nice.
Note: I personally have always had some issues getting the rear seat to push back and lock in place on my 2020 Ford F-150. For some reason the pin is just never in the right position to press into the latch mechanism, but eventually after multiple tries it finally locks. However, as for unlocking the rear seat latch with the new rear seat release, it pulls every time without a hitch. It just takes a bit more effort to get it to lock back in place.