When you make purchases through links on this site, The Track Ahead may earn an affiliate commission. Also, these posts are based off my own experiences. I am not responsible for any action you take as a result of reading this. Learn More
---
After playing around with numerous aftermarket remotes and aftermarket key fobs for my 4th generation Toyota 4Runner, I wondered if there were any options out there that combined both the key and keyless entry remote into one remote key. There in fact are a couple options out there that allows you to use a 2-in-1 remote key for the 4th gen 4Runner.
The best part of all is that you only need to buy a specific remote key for about $20, get the key cut for about $10, and then program the remote and program the key all by yourself for free.
Choosing a 2-in-1 Remote Key Fob
I found two versions of the aftermarket 2-in-1 combination key fobs that offer a 4D-67 chip (for the keyless entry remote that is compatible with the 4th generation 4Runner.) The first option is a flip key remote and the second option is a remote key that is similar to the one you might find on the 5th generation Toyota 4Runner.
With either one, you need to make sure it has the 4D-67 chip for the transponder key, and the same code for your remote (in my case it was HYQ12BAN).
Flip Remote Key: Amazon / Ebay
Non-Flip Remote Key: Amazon / Ebay
I ended up purchasing the second option as I liked that design better. The key looks pretty nice, although it does feel a bit hollow and lightweight. However, the quality of the remote key itself looks pretty decent.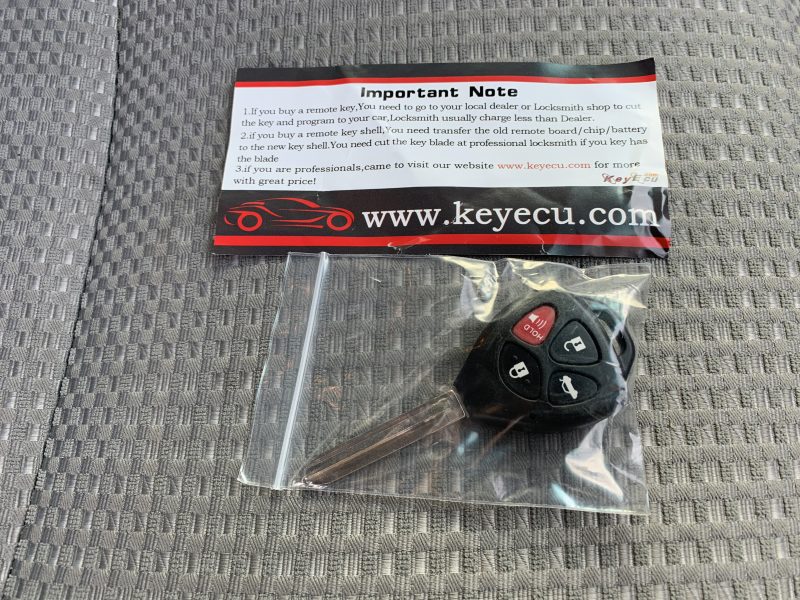 Getting the 2-in-1 Remote Key Fob Cut
I called about 5-6 different locksmiths in my area letting them know that I had a key blank that I'd like them to cut. I explained to them all that I could program the transponder myself, so I would simply just need a key cut. Some of them told me they don't do that (likely because they wanted to sell me their own key in addition to the labor of the key cutting.) Others were willing to do it, but for one reason or another wouldn't return my calls or couldn't make themselves available. I found one place nearby that was willing to do it without any difficulty; they simply took me in, duplicated the key, and sent me on my way.
Basically, you'll need to call around to find a locksmith willing to cut a blank transponder key. Since you're providing a key to them, they'll need a key to copy from (I used my original 4Runner master key). You'll want to make sure you use the black master key and not the grey one. The grey key is a valet key, so it still can run the vehicle, but it won't unlock your glove compartment. Cost of getting a key cut is very cheap; mine cost $10 to duplicate.
The locksmith did tell me that the key did not cut perfectly because my original key was slightly bent. This caused the newly cut remote key to be slightly more difficult to insert and remove, as well as turn in the ignition. If possible, find a key that is as straight as possible to copy off of.
Programming the 2-in-1 Remote Key Fob
Now is the part where you can program everything yourself. There is no need to be overcharged by a Toyota Dealership to get your remote and your key fob programmed. I've provided the tutorials below. Each procedure involves a sequence of opening/closing the driver's side door, and inserting/turning/removing the key from the ignition. It may seem silly when you are preforming what seems like a cheat code for your 4th gen 4Runner, but it actually works.
If you're looking to program a keyless entry remote, you can follow the guide here.
If you need to program your newly cut key fob, I have a guide for that here.
After programming your remote and the key fob, your 2-in-1 remote key fob is fully programmed and ready for use in your 4th generation Toyota 4Runner. I love the simplicity of the combined remote and key in one easy-to-use key fob.