Vessi Everyday Move Waterproof Shoes: Vessi.com
Whenever I wash my car, I have to go through the mental exercise of figuring out what footwear I should wear. Obviously, water gets everywhere when you wash your car. So, that typically leaves me with three main options for footwear:
Waterproof boots: Although waterproof boots will certainly keep my socks dry, it's not very comfortable to wear especially when you're washing your car. Also, if you're going inside the car to vacuum or clean the interior, you have more chance of the boots tracking dirt/mud into the vehicle and marking up the interior finish.
Sandals: Most of the time, I will go with this option simply because I absolutely hate the feeling of wet socks. If you wear sandals, you'll simply just have wet feet which is bearable to me. The downside to wearing sandals is that it's less stable to wear when you're washing your car. It also leaves you with unsightly tan lines. Finally, it's simply just uncomfortable (sometimes painful) to wear wet sandals especially when you're moving around the vehicle.
Sneakers: For comfort and maneuverability, sneakers would be the best option. However, once your shoes get wet and the water soaks through to your socks, suddenly it ruins the car washing experience because it feels so gross and uncomfortable.
My preference is to go with shoes because it feels the most comfortable to me and offers the best support. However I just absolutely hate it when the water soaks through and gets your socks and feet wet. An option is to go with a waterproof shoe, though traditionally, waterproof shoes don't always look that great. I've always found waterproof shoes to look like trail or hiking shoes.
For me, I just want a nice looking pair of sneakers that can be worn casually and have the ability to keep my socks and feet from getting wet when I wash cars. Luckily as of late, there are more options if you're looking for something like this. Vessi provided me these Everyday Move waterproof shoes for me to test out and I'd like to share my experience with them.
Vessi's Everyday Move Shoes look modern and have a really nice look to them. I'm a big fan of the colors—the contrasting black and grey colors with teal accents. I'm usually not used to wearing sneakers that have such a wide sole, but that seems to be a popular look these days.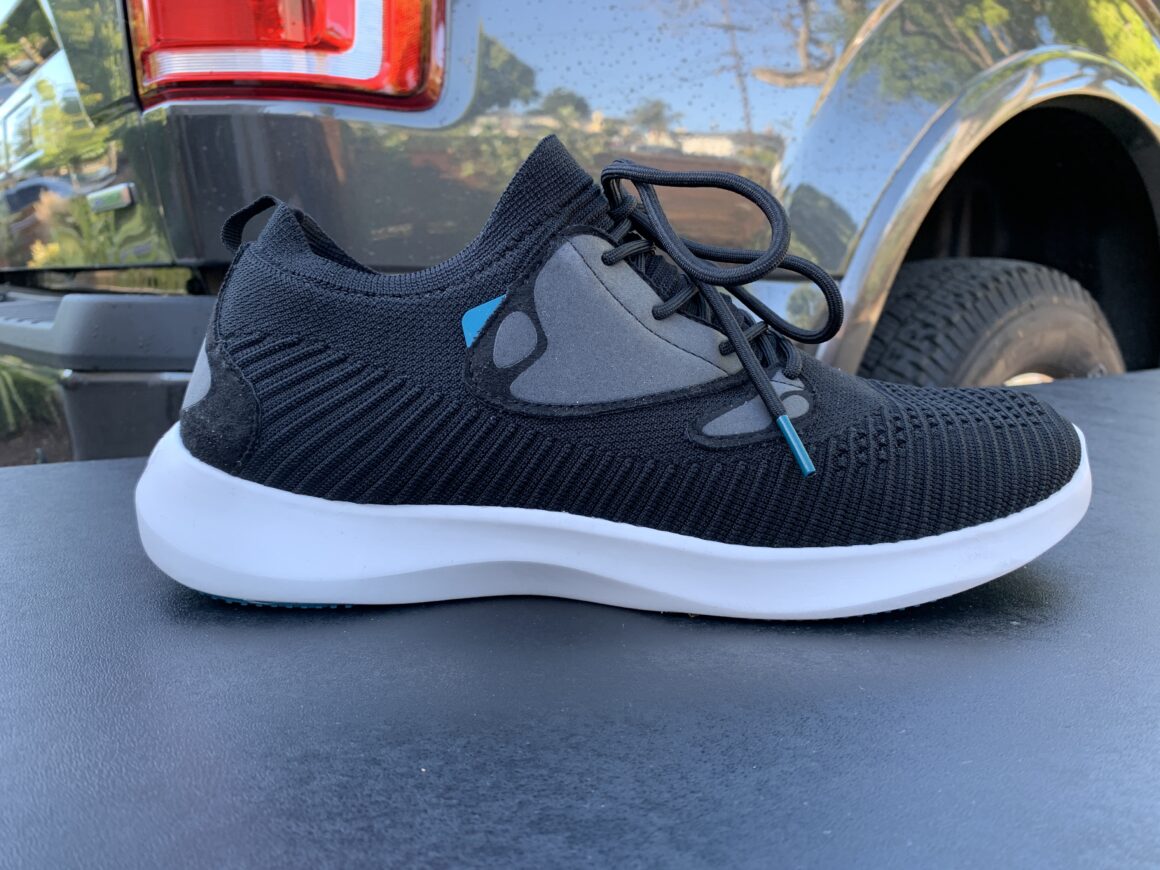 Vessi also sells the original Everyday Classic, which is also 100% waterproof. However from my research online, the Classic does not have as much support and does not look as good from certain angles. I have to say that on the Everyday Move, there is pretty good support around the bottom and sides of my foot and it looks pretty darn slick too. I wouldn't say there is much ankle support as it has an elastic ankle collar. This makes it easy to slip on and off, but it doesn't give much support for your ankles.
The sizes offered by Vessi are only whole sizes, so if you're a half-size, you'll need to size up for the Everyday Move. I'm a Men's size 10.5 US, but I opted for a size 11 which did feel slightly big at first, but with socks feels totally fine. I was also concerned with the width of the sole, simply because I don't want the shoe to look like a clown shoe. But after wearing and looking at the Everyday Move for several weeks now, I can say that it looks great and it's not as wide as I thought it might be.
Now, the moment of truth: are the Vessi Everyday Move Waterproof Shoes actually 100% waterproof? I went and washed my Ford F-150 to test out how well they performed. After I washed the truck, some soap splashed onto the shoes, but they just sat on the surface and eventually evaporated off.
After that, I cleaned out the truck bed, which normally really gets your shoes wet. After cleaning out the bed of the truck, my shoes were fairly soaked. However, still there was no sign of water intrusion and wetting of my socks. So far, so good!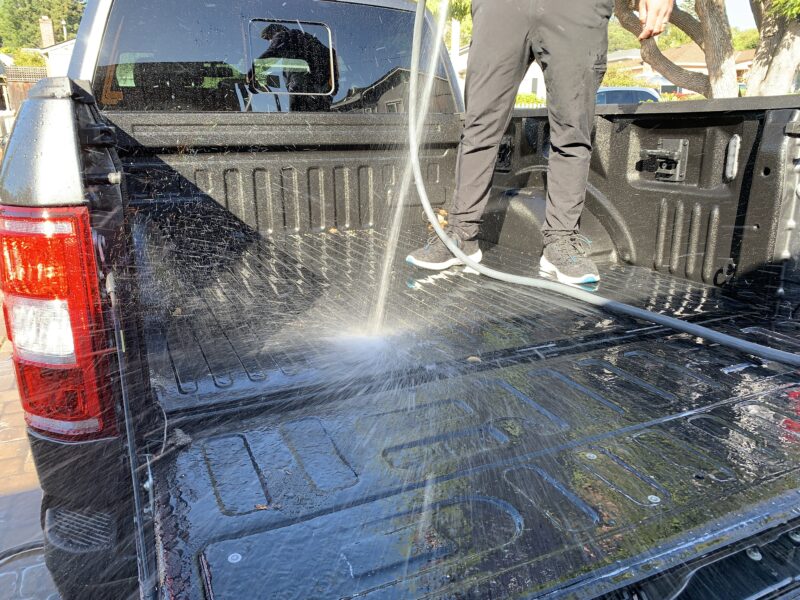 Finally, I decided to purposely and thoroughly soak the shoes by first wringing out a wash mitt over them. Then, I took a hose and sprayed the shoes all around with plenty of water. Even still, I did not feel any water inside of the shoe. However, let's remove the shoes and check out how my socks look.
As you can see, the Vessi Everyday Move waterproof shoes truly are 100% waterproof. My socks that were protected by the shoe was completely dry. There was a portion of my socks that were wet right above the ankles, but that was due to water dripping down from my pants and wetting the socks above the shoe. It's apparent that these shoes really are waterproof and are an excellent candidate for use when washing your car.
After this, I've done more car washes wearing these shoes and they continue to keep my feet completely dry. It's convenient to wear these shoes on a daily basis and not have to change them out whenever I need to wash the car with the worry that I might get my feet wet.
At the time of this writing, the price of Vessi's Everyday Move shoes is $140. Personally, I feel it is a bit pricey. However to me, there's just nothing worse than walking around in soggy wet socks when you're trying to enjoy a nice time washing your car. So I'd happily spend extra to get the waterproof feature to ensure my feet stay dry.
Vessi Everyday Move Shoes