Purchase on Amazon: NOCO Boost Jump Starters
I remember lugging a "portable" jump starter around in my garage that was the size of a boombox and probably weighed at least 50 lbs. It was so heavy and inconvenient that I don't think I ever pulled it out of its box to use when I needed it; it was just easier to get some jumper cables to jump start my car whenever the battery died. Fast forward to many years later and we now have portable jump starters that really are that, portable.
We purchased this NOCO Boost XL GB50 jump starter as we were experiencing many dead batteries in the wake of the coronavirus pandemic. With us luckily being able to work from home, we were rarely driving our vehicles and as a result, the car batteries would go dead after 2-3 weeks of not driving. With the help of the NOCO Boost jump starter, we are able to jump start our cars whenever the battery died. We'd then drive the vehicles where we needed to and on a longer drive it would charge up the battery again.
NOCO Boost Jump Starter Comparison
NOCO offers a variety of jump starters with each having its own purpose. Below I've provided a table to list out a comparison of all the NOCO Boost jump starters that are available. For the average user, you may be totally satisfied with the base level GB20 for the occasional jump start. As you start moving up in engine size, you will need to bump up to the greater capacity models.
Name
Model
Voltage
Amperage
# of Jump Starts
Engine Size
Approx. Price
Lighting Brightness
Other Features
NOCO Boost Sport
GB20
12V
500A
20
Gas: up to 4.0L
$80
100 Lumen
USB in/out
NOCO Boost Plus
GB40
12V
1000A
20
Gas: up to 6.0L
Diesel: up to 3.0L
$100
100 Lumen
USB in/out
NOCO Boost XL
GB50
12V
1500A
30
Gas: up to 7.0L
Diesel: up to 4.5L
$150
200 Lumen
USB in/out
NOCO Boost HD
GB70
12V
2000A
40
Gas: up to 8.0L
Diesel: up to 6.0L
$200
400 Lumen
USB in/out
12V Supply
36W Fast Charge
NOCO Boost Pro
GB150
12V
3000A
80
Gas: up to 9.0L
Diesel: up to 7.0L
$300
500 Lumen
USB in/out
12V Supply
56W Fast Charge
Voltmeter Display
NOCO Boost Max
GB500
12V/24V
20000A
400
Gas/Diesel:
up to Class 8+/CE
$1800
2200 Lumen
USB in/out
12V Supply
56W Fast Charge
Voltmeter Display
Review of the NOCO Boost Jump Starter
This review is specific to the NOCO Boost XL GB50 model, however a majority of the NOCO jump starts have similarities in operation and function.
The NOCO Boost XL GB50 jump starter pictured here includes a set of positive and negative jumper cables that plug directly into the NOCO unit. There is also an included USB cable 12V charger for the car (no wall charger, you'll have to use your own.) The unit does not come fully charged when you get it new, so you'll need to charge it prior to first use.
Time to full charge can vary depending on your unit and whether it has rapid charging capability or not. The smaller units (GB20 and GB40) take about 3 hours to charge, meanwhile the larger units such as the GB50 and GB70 will take 5 and 6 hours to charge, respectively. After the NOCO jump starter is fully charged, you can store it away so that it is ready to use the next time you need it.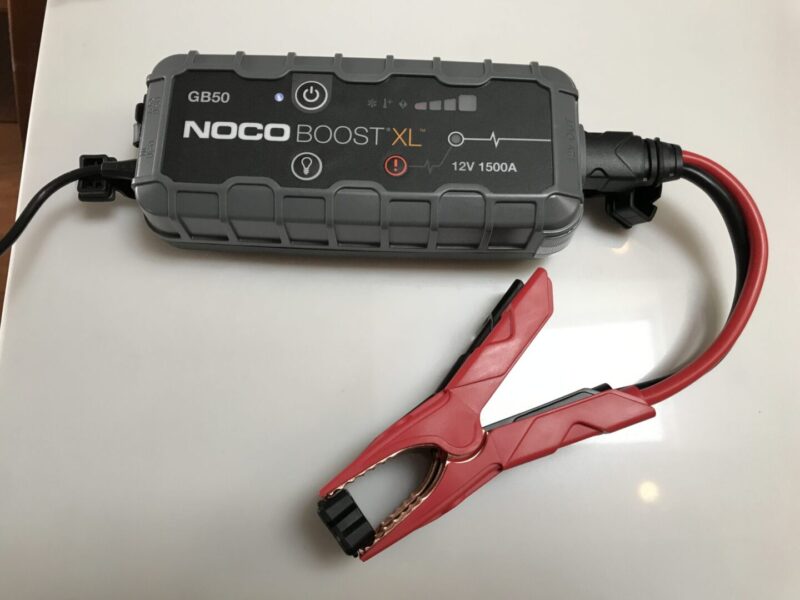 When you're in need of a jump start, take the NOCO Boost jump starter out, and plug in the jumper cable leads. Attach the positive (red) clamp to the positive terminal of the battery, and the negative (black) clamp to the negative terminal of the battery. The NOCO Boost jump starter is only for use on 12V lead acid batteries.
When you press the power button, the lights on the charge indicator will light up and cycle through the colored LED's. If everything has been hooked up and the car is ready to jump start, the white Boost LED will come on. If the white Boost LED comes on, that means that the jump starter is delivering power to the battery. The car can then be started using the additional power from the jump starter.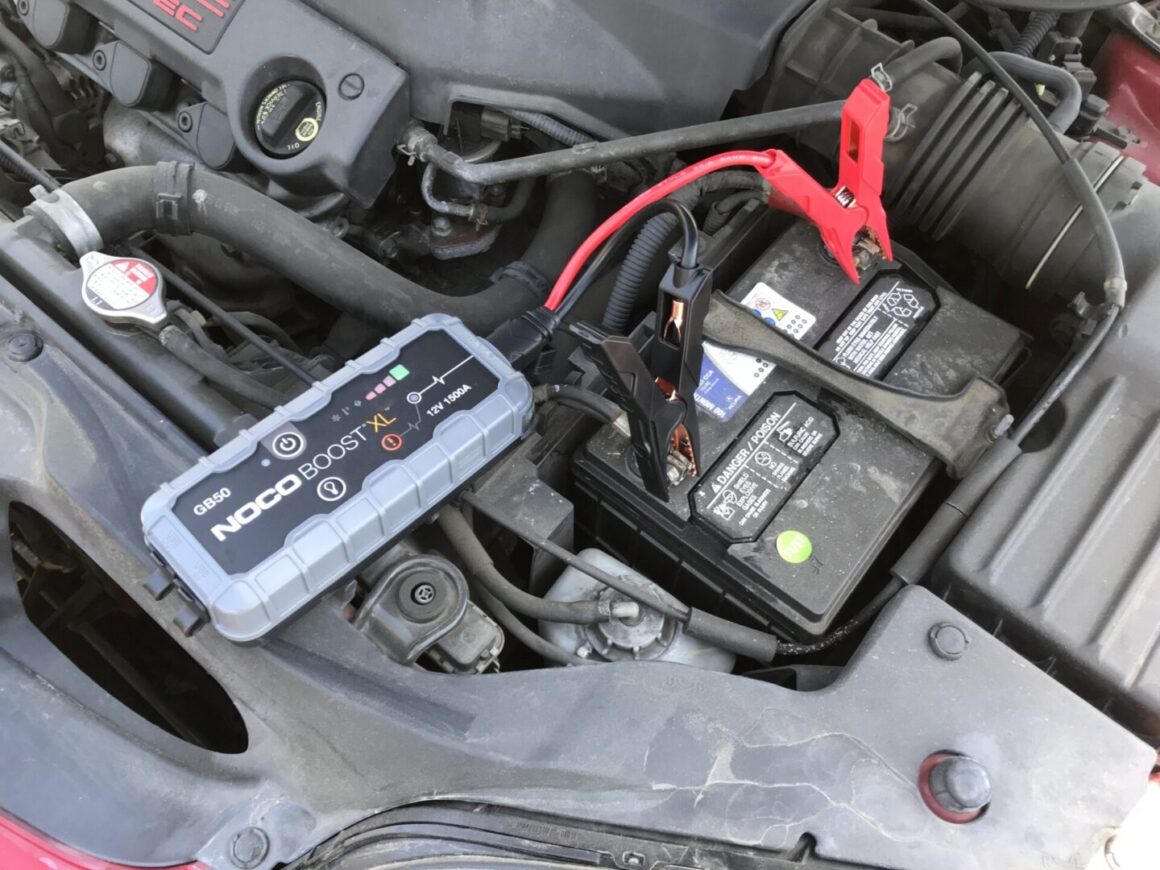 Now, if the vehicle's battery is completely drained, then this white Boost LED will not come on. You will need to press and hold the red exclamation mark button to jump start. This manual override button disables the safety features of the jump starter (such as preventing damage from crossing the positive and terminal leads, or from touching the two leads together.)
In my experience, I've had to use the manual override button several times because occasionally, my battery was completely drained. From my use of the jump starter over the past year, I would be able to crank the engine about 6-8 times (using manual override) before the jump starter was completely drained. However, in the case of the battery not being completely depleted, the jump starter should hold up to its advertised number of battery jump starts.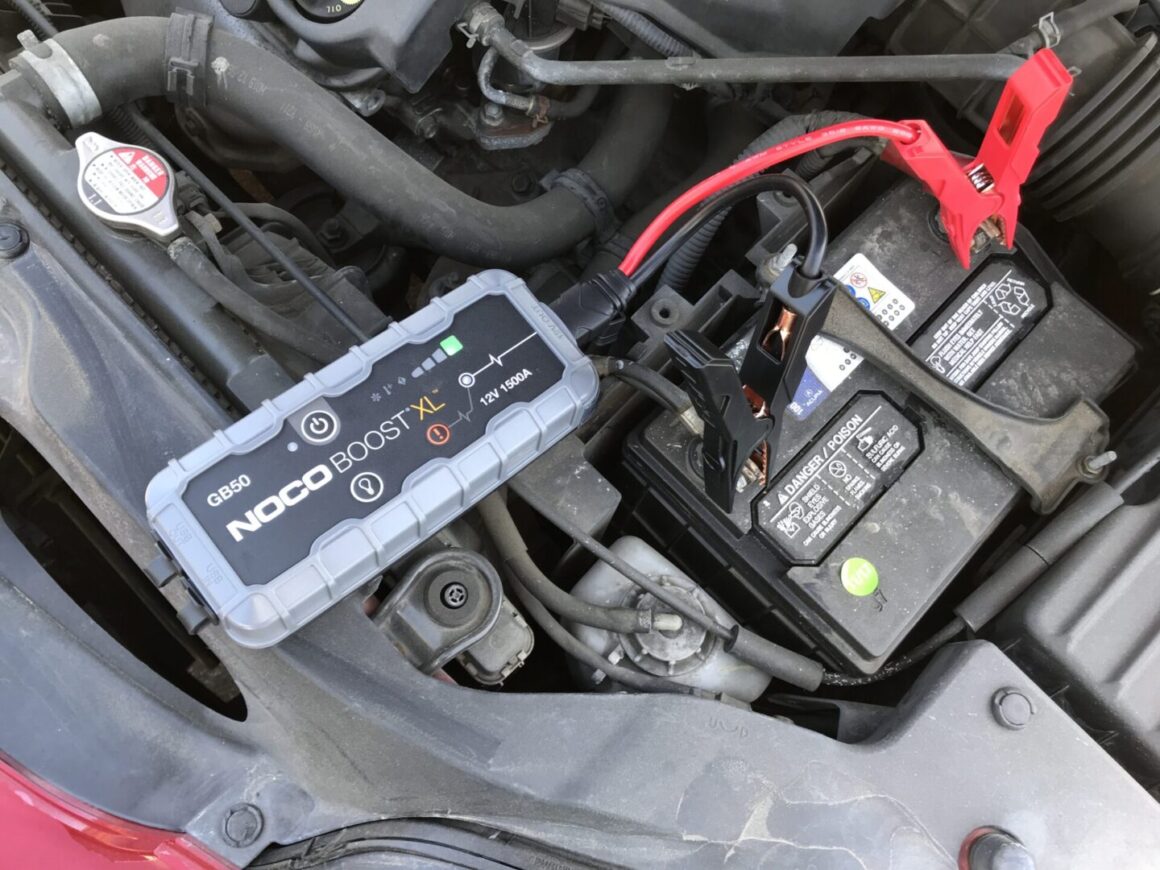 The NOCO Boost jump starter may not be the kind of tool you use on a regular basis on your vehicle, but it is an incredibly important one to have when you really need it. Since I've had the jump starter, I've been able to get my car started without having to go through the hassle of having jumper cables on hand and finding a donor car to help me get jump started. The convenience of the portable form factor and the potent capabilities of this jump starter makes this a must-have for your emergency dead-battery needs.
Purchase on Amazon: NOCO Boost Jump Starters