GOOLOO GP Warrior : GOOLOO
Portable jump starters these days are one of the important emergency items to have for your vehicle. Long gone are the days of being stranded on the side of the road with a set of jumper cables looking for someone willing to stop and help you jump start your car. Because these portable jump starters fit in the palm of your hand, you're not lugging around the incredibly heavy and bulky jump starters of the past.
Because of the convenience of the size and power of these small portable units, it's almost a must-have for anyone who owns a car. Most of these jump starters also double up as a power bank and flashlight, which is essential in the case of a power outage or other emergency.
I was really excited to test out the GOOLOO GP Warrior jump starter, which GOOLOO provided to me for review. Although most portable jump starters are very small compared to the past, they are still at least a couple inches thick. The GOOLOO GP Warrior is the thinnest portable jump starter I've come across, measuring at just over one inch thick. Aside from the sleeker profile, the jump starter works great and really fits the term, portable.
GOOLOO GP Warrior Jump Starter Review
Upon opening the packaging, you'll find the GOOLOO GP Warrior Jump Starter, along with the jumper cable attachments, a micro-USB charging cable, instruction manual, and a carrying case. Although the jump starter is similar in size to some of the other portable jump starters you see these days, you'll find that it's relatively thin for a jump starter. The case also feels durable and I really like the turquoise-green color.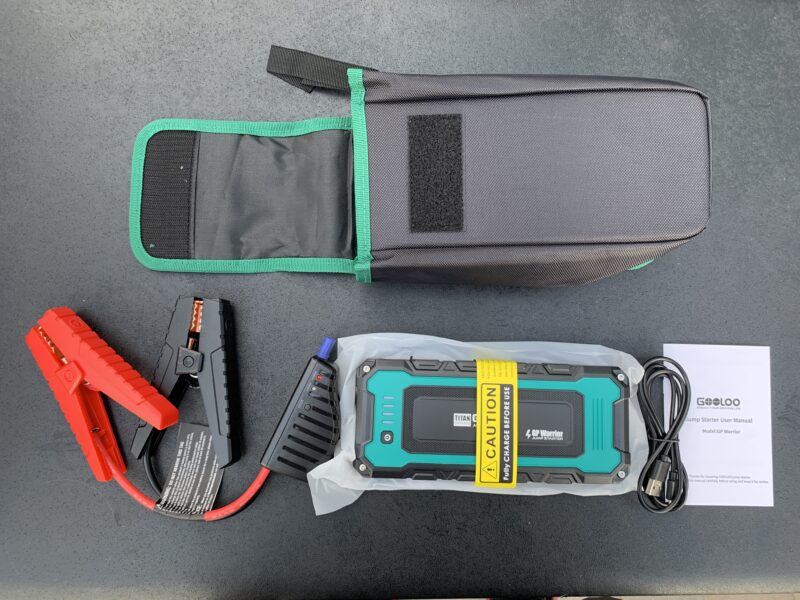 The GOOLOO GP Warrior is a 2000A jump starter that offers a 76.96 watt-hours of battery capacity. It weighs only 1.39 lbs and 1.12 inches thick, which is the thinnest jump starter that GOOLOO offers. Even the smallest NOCO Boost jump starter, the GB20 is still 1.7 inches thick. The GP Warrior is remarkably thin.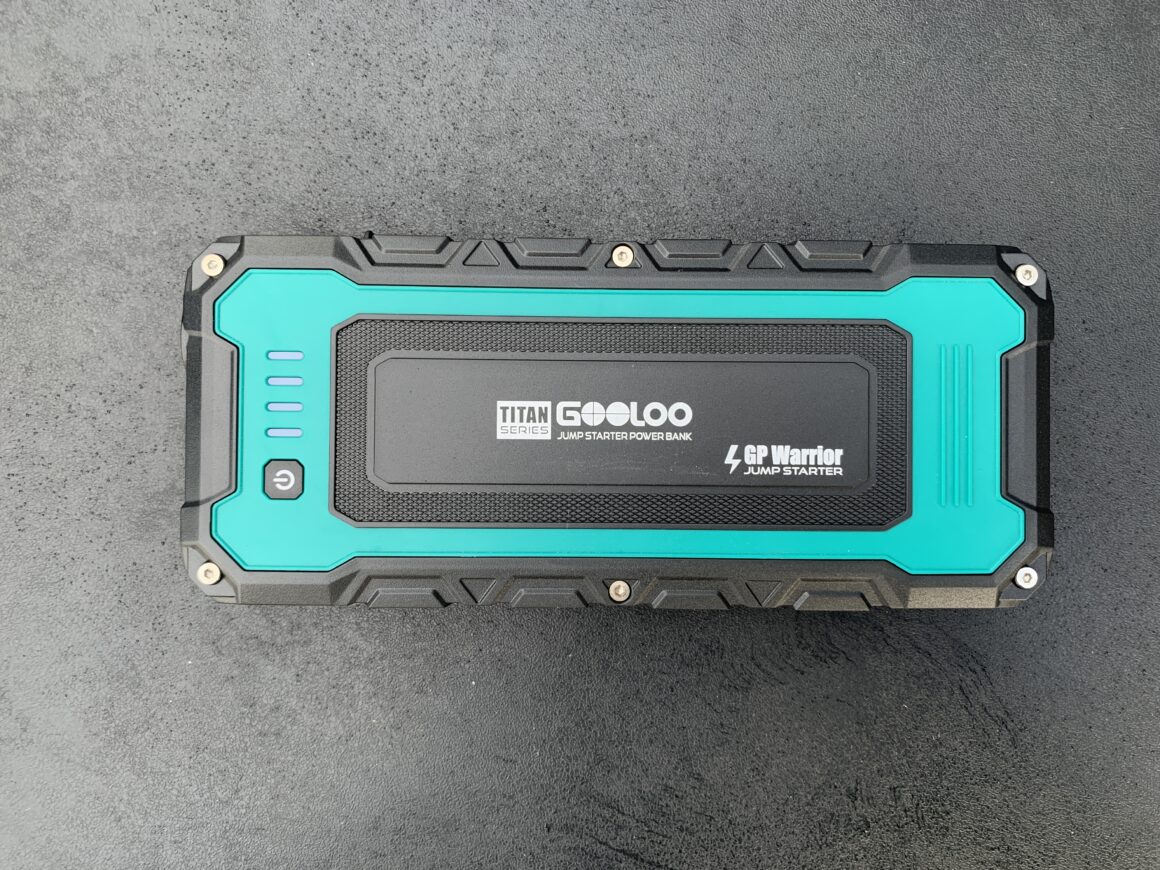 The first thing that the instruction manual says to do is to charge the jump starter with the included micro-USB cable before using it. It does not come with a charging brick, so you will have to use an existing one.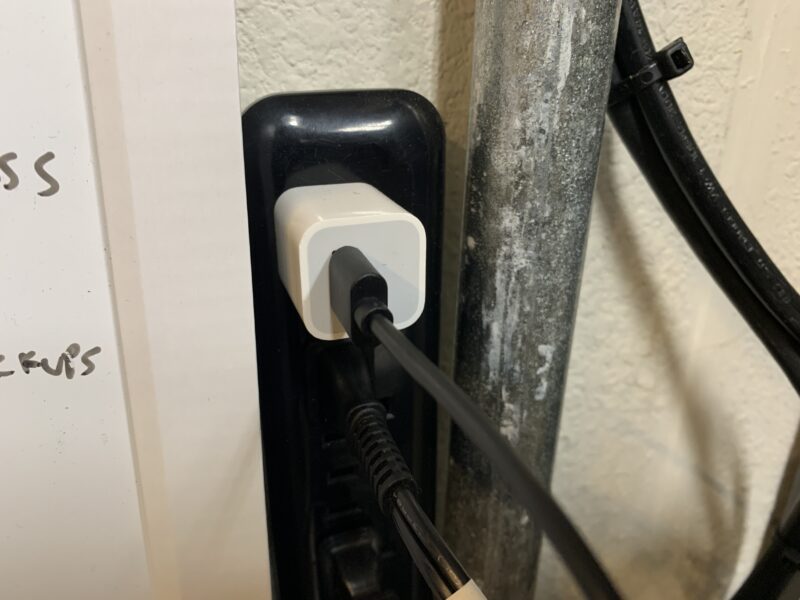 The smart jumper cable plugs into the unit as shown below. The port on the jump starter has a rubber dust cap that moves just out of the way for the jumper cable to plug into. The plug only fits one way, so there is no way to plug it in incorrectly.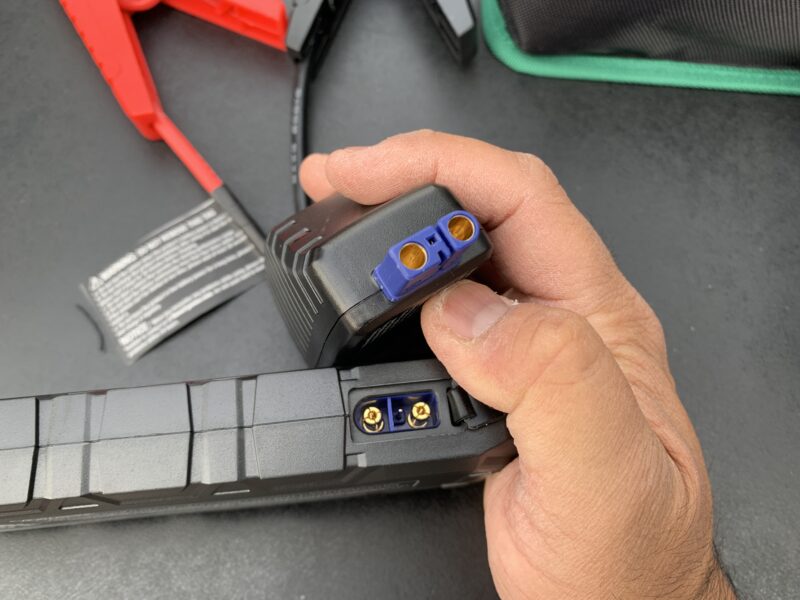 One feature of the smart jumper cables is the ability to tell you if you've accidentally crossed the positive and negative wires. If they are connected properly, you'll have a green light indicating the connection is 'correct'. If the wires are accidentally crossed, then you will hear an audible alarm buzz and a red light will light up above the words 'reverse'. Basically, this thing is fool-proof with no way of letting you mix up the wires.
If your battery is so far gone—meaning that it has such low voltage that a normal jump start won't work, you can press the 'boost' button which will up the voltage so that you have a higher chance of a successful jump start. I've found that pressing the 'boost' button bumps up the battery voltage about 3 volts.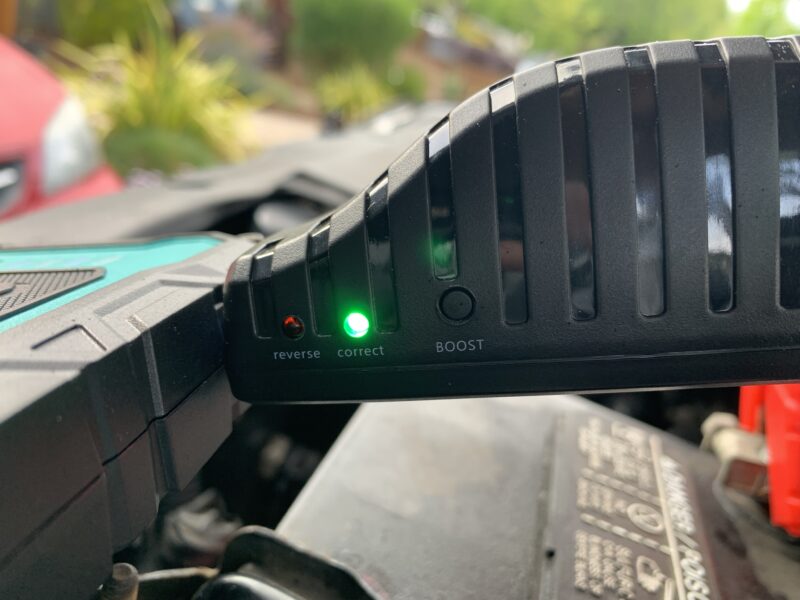 To turn on the jump starter, you simply press the power button and the battery indicator will light up to show how much battery life is left. Unfortunately if you are outside using this unit, it's really hard to see the battery indicator, so you'll have to use your hand to cover up the sun and ambient light in order to see the battery level on the indicator.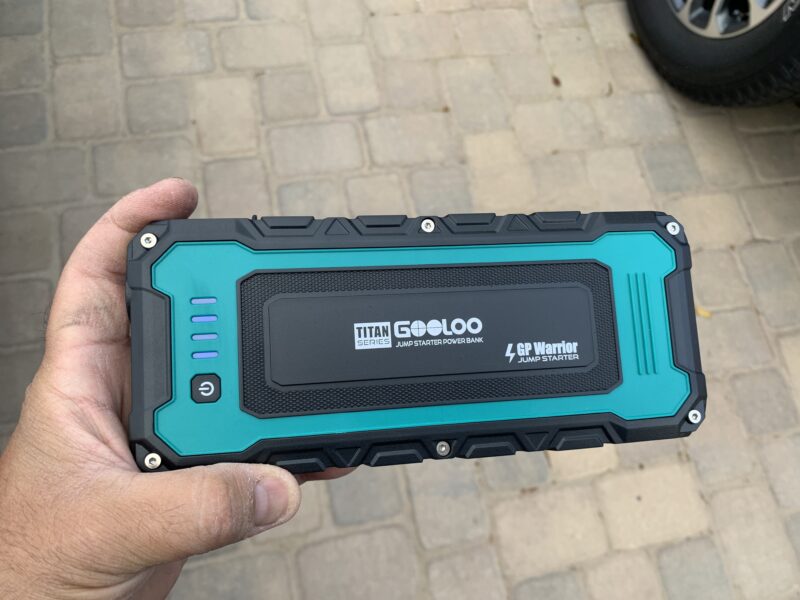 Once you have the GOOLOO GP Warrior jump starter connected to the battery and have it powered on, you can simply crank the engine and it will should your dead battery right up. With a dead battery that has been neglected for prolonged periods of time, pressing the 'boost' button will help with turning over the engine. I do wish the jump cables were just slightly longer just from a convenience point-of-view, but in terms of usability it will usually be long enough to reach both terminals of your typical car battery.
GOOLOO provides a case with the GP Warrior, which fits everything adequately. This is a simple case that you can conveniently put your jump starter and cables into, and lug around with you easily in a compact form. This easily fits into my glove box or center console.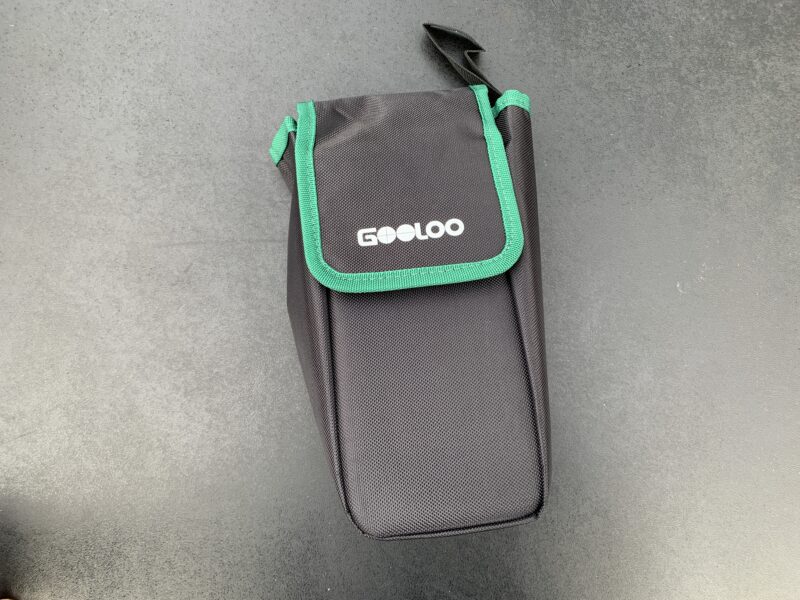 If you prefer a more secure case with more protection, but don't need the portability of storing in the glove box, GOOLOO also sells this EVA Storage Box, which fits this unit as well as other units like the GE1200, GT1500, GP2000, and GP4000.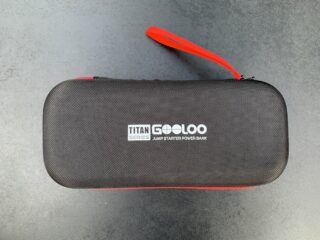 Most of the time, I don't have a need for a jump starter as it is only occasionally or during an emergency that I need to jump start my car. When it's not being used, it's an excellent thing to have around when for example, the power goes out. Not only does it offer a very bright LED flashlight, it also offers two USB ports to charge your devices when you have no electricity.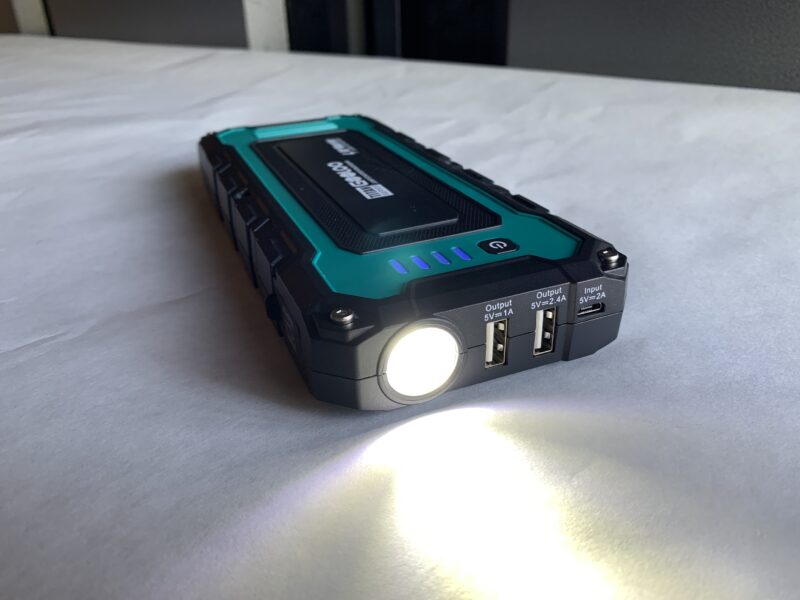 It amazes me to continue to see these portable jump starters get smaller and smaller, yet be powerful enough to jump start your car multiple times. The GOOLOO GP Warrior is one of the thinnest jump starters I've found and it looks great as well. It's so portable that you can keep it with you in your car in case your car battery dies, and immensely useful in the case of an emergency like a power outage.
GOOLOO GP Warrior : GOOLOO