TOPDON TC004 Thermal Imaging Camera: Amazon / Ebay / Walmart
I've had a thermal imaging camera (a FLIR one to be specific) for some time now and it is the one where it plugs into your phone. I've only used it for the purpose of checking our home for air drafts and leaks, however thermal imaging cameras can also be useful in automotive diagnostics as well.
TOPDON sent me their TC004 thermal imaging camera to review, so I wanted to run through some of the features and use cases for diagnosing automotive issues on your car. Unlike the FLIR camera which is just the camera itself (which requires you to plug into your smartphone to use), this is a standalone handheld unit that makes it easy to operate without having to sync it with your phone or other device. In the box, you have the thermal imaging camera, charging cable and brick, manual, 16gb micro SD card, and carrying case.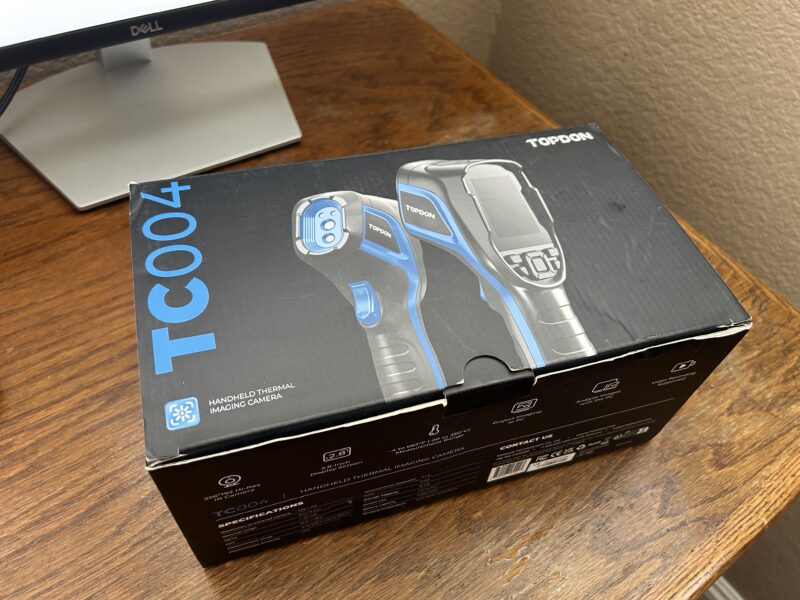 The TOPDON TC004 looks similar to other handheld thermal imaging cameras, but sports its signature blue and black casing. The rugged build on the exterior feels comfortable when you grip it in your hand and the buttons have great feedback to them.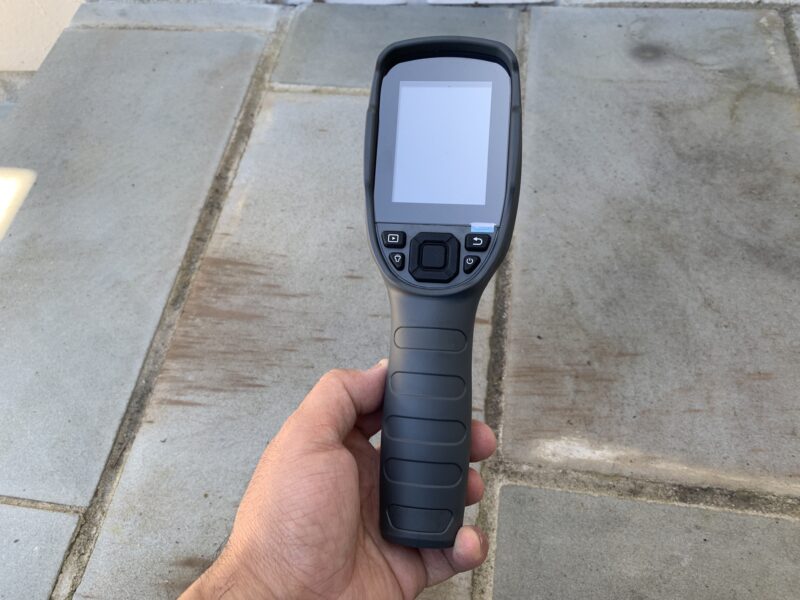 So what would you use this device for, you might ask? A thermal imaging camera can be used for diagnosing issues on your car. Because it measures temperature, and can give you a thermal image based on where you point the device at, you can pinpoint locations that have a relative higher or lower temperature from the surrounding areas.
The TOPDON TC004 measures a range of temperatures from-20°C to 350°C (-4°F to +662°F). It also offers a 12-hour runtime on a full charge. The 2.8 inch display offers 256×192 pixels of resolution, which works well although I feel the display could be wider and the resolution could be better.
If you want a bigger viewing display, you could always use a unit that attaches to your smartphone, which TOPDON sells as well. Doing so allows you to use the larger screen and higher resolution of your smartphone to view the thermal image. The downside with the one that connects to your smartphone is that it isn't as quick-and-easy to use as one of these standalone units such as the the TC004 from TOPDON.
What Hot Spots Can Tell You
Hot spots can give you valuable information on where you have an abnormal amount of heat coming from the electrical system. This hot spot can be an indicator of a malfunctioning part during operation; it can also tell you if you have a source of a parasitic drain when the vehicle is cold.
Using the TOPDON TC004 on the under-hood fuse box, you can see the main fuse that has current running through it when the car is off. When you're checking to see if there are sources of parasitic drain that may be causing a dead battery, you can use use this device. Simply using the TC004 to check if there are any heat sources while the car is off and identifying sources of heat can give you hints as to components that are draining your battery.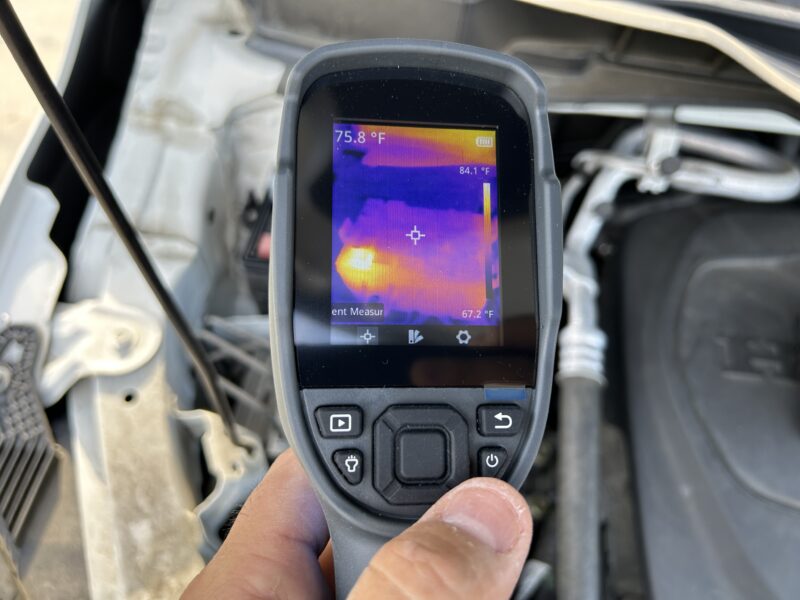 What Cold Spots Can Tell You
On the contrary, if your vehicle has certain spots that are cold relative to its surrounding area, it may be telling you where the source of an air leak may be. For example, if you suspect that your window seals are no longer providing a good seal (like if you hear wind noise at the window while you're driving), you could try this test:
Turn on your vehicle and let it idle. Run the heater on full blast with all windows closed. Do this for about five minutes until the cabin of your vehicle is hot. Then, use the thermal imaging camera to see if there are any spots around the seals that is letting hot air out. This helps you identify areas where the window seals may be weak or broken.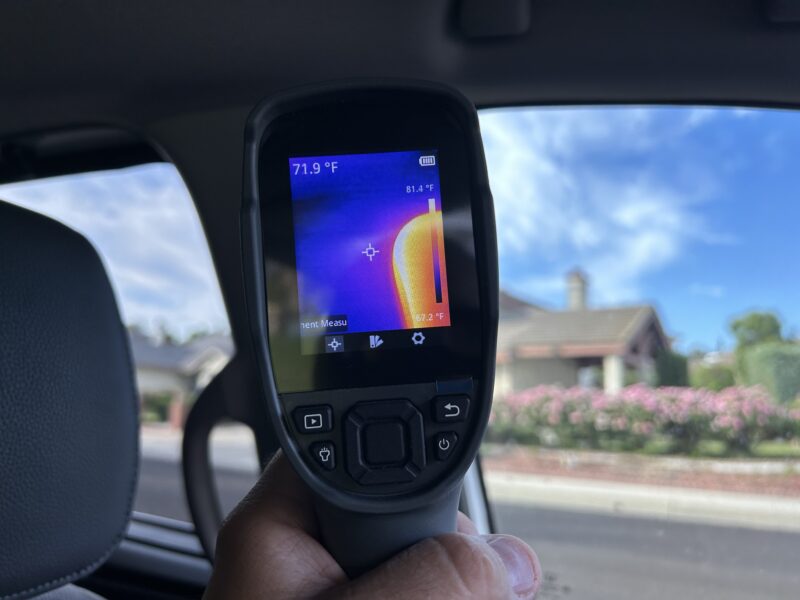 You could also use it to read a specific temperature, such as checking the temperature of the cold air coming out of the vents when you run your air conditioner. Not only is this useful when you check to see if your A/C system is working, but it is extremely useful when you are recharging your A/C using a recharge kit. When you refill your air conditioning system with Freon, you normally need a device to check he temperature of the air that comes out of the vents to confirm if you've fully charged your A/C system.
Summary of the TOPDON TC004 Thermal Imaging Camera
The TOPDON TC004 is a handy thermal imaging camera that is immensely useful for certain troubleshooting and diagnosing needs. I'm not sure if the average car owner will seek one of these out especially if they don't have anything wrong with their car, but if you do own one, it will come in handy should any issues arise.
As opposed to a thermal imaging camera that connects to your phone, which will likely give you a better display image (utilizing your phone's display), it won't be as easy to use as a handheld one like this TOPDON unit. The TC004 has a great build quality that is easy to use and handle, and it has many useful features especially for the car DIY'er.
TOPDON TC004 Thermal Imaging Camera: Amazon / Ebay / Walmart