Ridgid 4-Gallon Wet/Dry Shop Vacuum: Amazon / Ebay
I've used a number of different shop vac's over the years and although all of them have performed more than adequately for all my interior detailing needs, I've always found that the typical round shape of a shop vac and high profile always seemed to be awkward. I prefer something more square with a lower profile so that it can be stored in the garage easily and even brought along with me for mobile car details.
Every time I'm at Home Depot, I see this medium-sized Ridgid wet/dry vacuum at Home Depot that has a boxier shape and has a lower profile than the typical ones I see. I like how the wheels are flush with the body of the vacuum. The standard shop vacuum tends to have casters on the bottom of the unit, making the whole vacuum much taller than I prefer it to be.
Aside from the more compact form factor of this particular Ridgid wet/dry vac, the fact that it has an easy to carry handle on top and is compatible with a convenient and useful auto derailing kit makes this an attractive buy. I've also found this particular vacuum to be quite popular amongst mobile car detailers, illlet for these very reasons.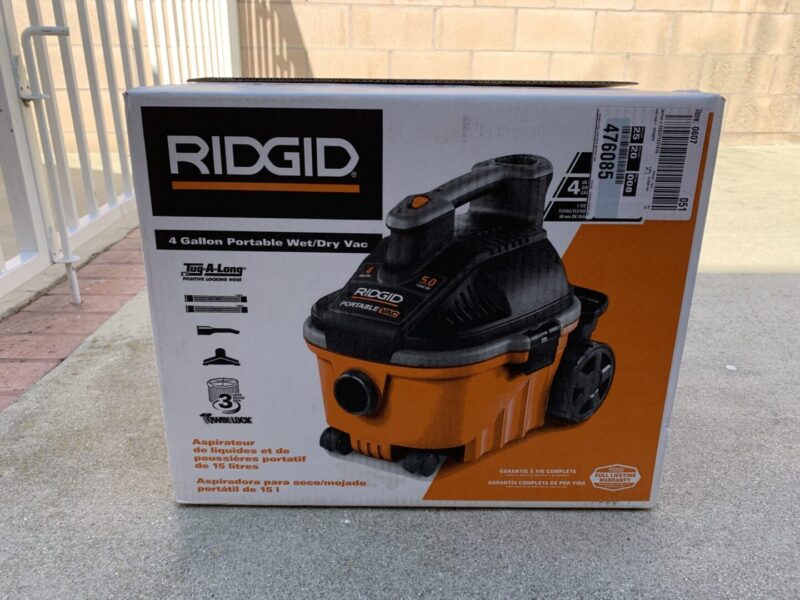 There are actually two versions of this Ridgid 4 gallon wet/dry shop vacuum (Model #50313): an orange/black-colored version that is offered through Home Depot, and a red/black-colored offering that can be found on Amazon. These two units are the exact same shop vac; the only difference is the color. The shop vac that I purchased and reviewed here was purchased from Home Depot.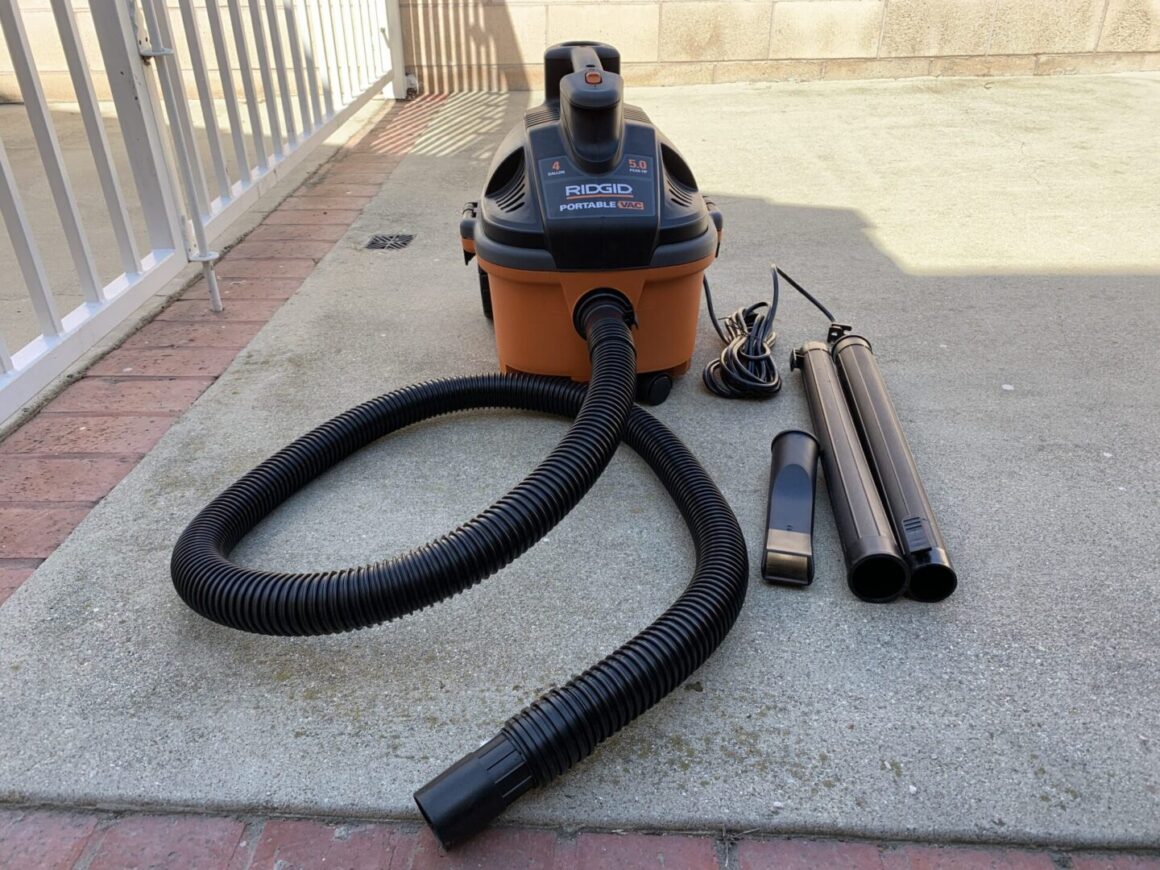 The product links I've provided here are for the shop vac which includes the car cleaning kit. If you wish to purchase the shop vac separately, it is possible to purchase the Ridgid 4-Gal shop vac separately from the car cleaning kit:
Ridgid 4-Gal Shop Vac Only: Ebay / Amazon
Car Cleaning Kit: Ebay / Amazon
The Ridgid car cleaning kit includes an upgraded hose (much more durable than the black one that originally comes with the shop vac) and a number of car-specific hose attachments that make detailing your car much easier. I've found this kit to be vital if you use this shop vac for cleaning out your car. The attachments have smaller diameter openings, which makes for better suction, but more importantly the attachments are skinny enough to get in tight spots around the car's interior.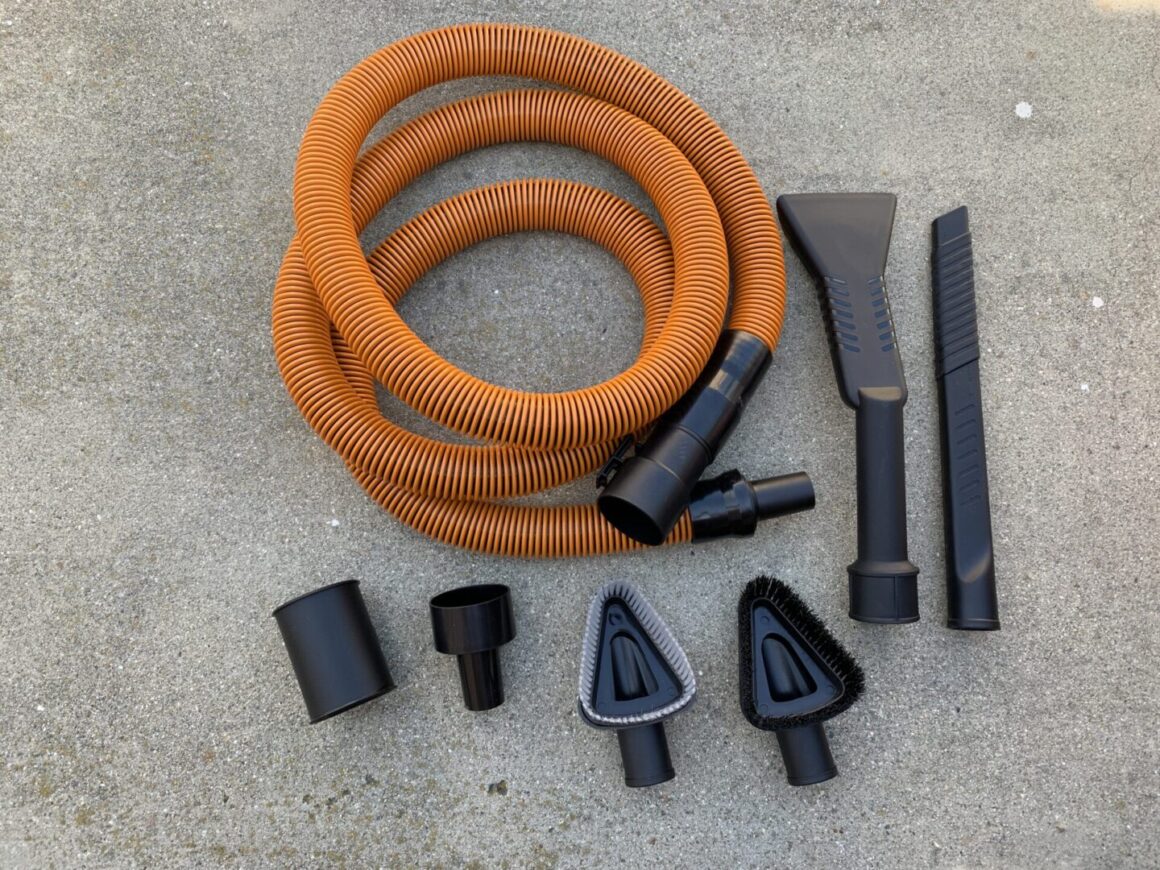 When putting your Ridgid shop vac together, install your dust bag according the instructions provided with the vacuum. If you're using the the car cleaning kit, it's up to you if you want to use the hose from the original vacuum, or the attachments too. I personally found the hose attachments and hose that came with the vacuum to be inadequate for my car detailing needs, so I stored them away in the original box.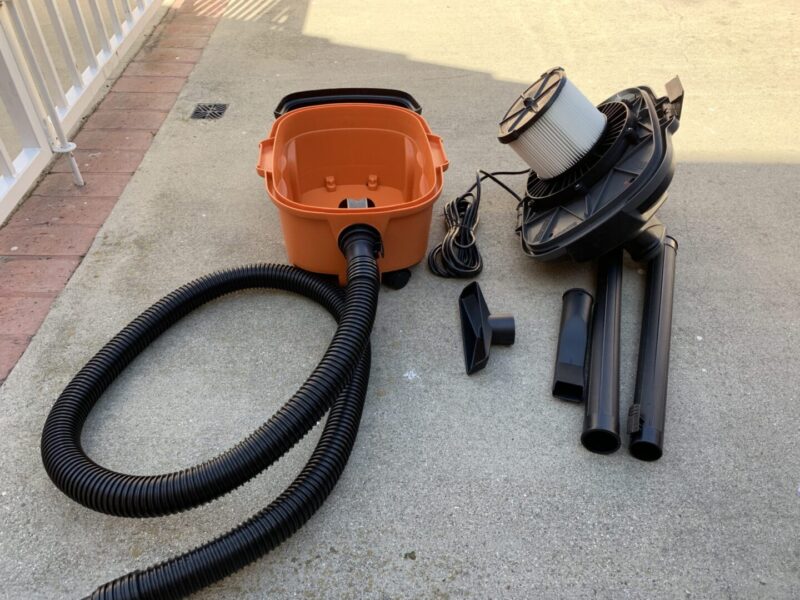 As I mentioned previously, the attachments from the car cleaning kit was very useful for vacuuming different parts of the car interior.
Stiff bristle brush (black bristles): Great for carpet floors, brushes out dust and debris well.
Soft bristle brush (white bristles): Perfect for dusting interior plastic trim and delicate fabric areas that won't damage like the stiff bristles might.
Crevice tool: This skinny tool helps in hard-to-reach areas such as the areas next to the seats.
Claw tool: Good all-around tool if you don't want to use a brush attachment.
Overall, this shop vac is more than powerful enough for vacuuming the interior of your car, while offering useful attachments (if you are using the car cleaning kit). I did not find the attachments that came with the original shop vacuum to be of much use for car detailing. The unit has a low-profile and a squared-off shape, which makes it fit better in the garage or car than its other larger more clunky-shaped brethren. The handle on the top and the two wheels make carrying and wheeling the vacuum around a breeze.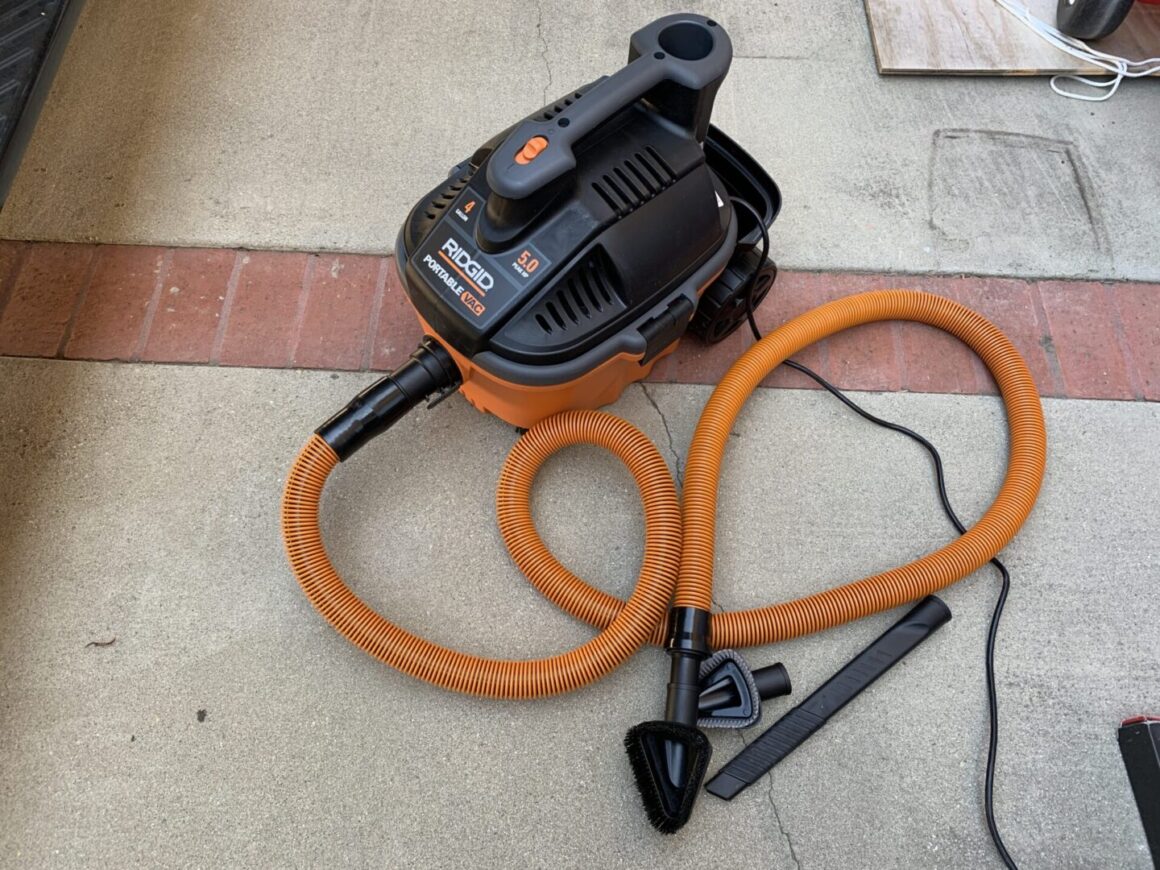 Whether you're a weekend warrior cleaning up the interior of your personal vehicle, or a mobile car detailer working several cars a day, I truly believe that this is the perfect shop vac for car detailing. Not only does it have enough power for vacuuming most things you'll encounter in the cabin of a car, it also offers an invaluable car cleaning kit with all the right attachments.
The shop vac tucks away nicely when stored in a garage, but it can also be easily stowed away compactly in a mobile car detailer's vehicle too. I'd recommend this Ridgid 4-Gal portable shop vac to anyone looking for a shop vac that has it all: good suction power, medium-sized capacity, portability, and versatility.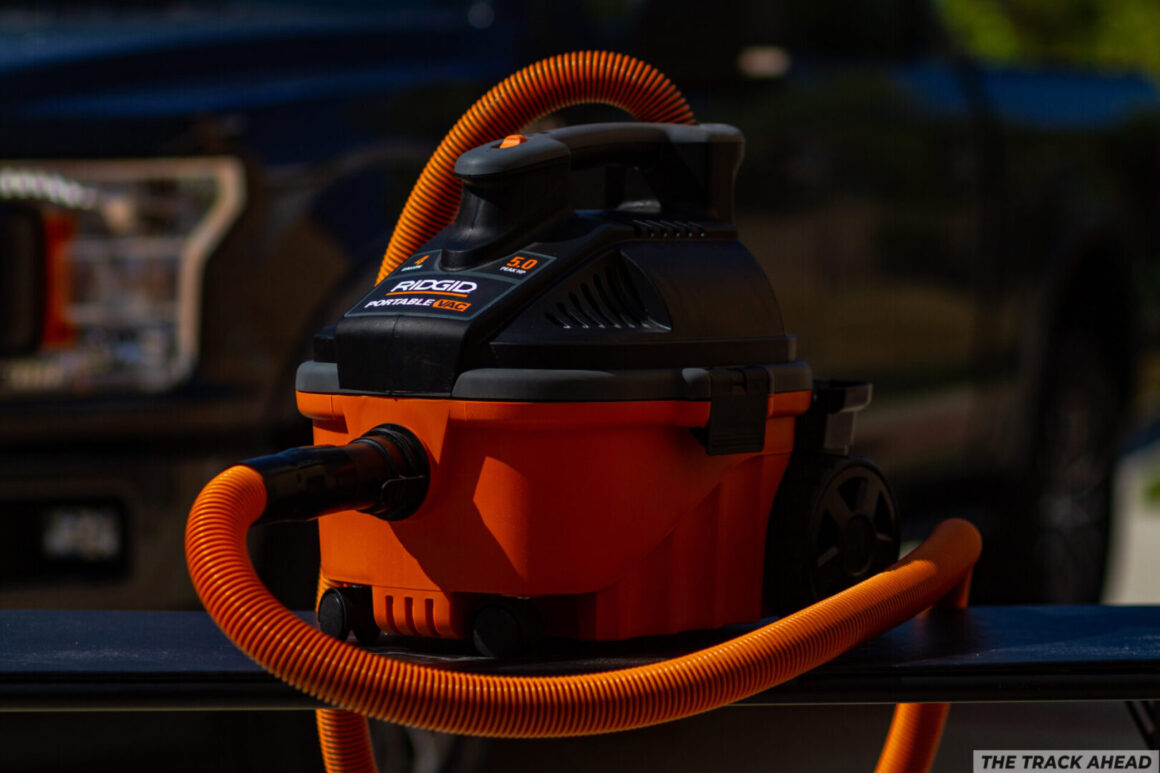 Ridgid 4-Gallon Wet/Dry Shop Vacuum