When you make purchases through links on this site, The Track Ahead may earn an affiliate commission. Also, these posts are based off my own experiences. I am not responsible for any action you take as a result of reading this. Learn More
---
It's not the question of if your Lexus IS350 remote key will eventually go out, but when. After some time the small coin battery inside of your remote key will eventually go dead and you'll need to replace it. It usually comes at the most inopportune time, but luckily the IS350 key is easy to take apart even without the use of any tools; all you need is a replacement battery.
Parts Needed
The 2nd generation Lexus IS350 ('06-'13) remote uses a CR1632 battery in the remote key fob. These things are easily purchased and are not expensive. It's always a good idea to purchase a pack of multiple batteries and having extras in case you need them. I've always purchased Sony and Energizer batteries as they are a more reputable brand versus some of the other ones I see online.
Sony CR1632 3 Volt Lithium Coin Cell Battery (5 qty)
Energizer CR1632 3V Lithium Coin Cell Battery (5 qty)
Getting Locked Out with A Dead Battery
If you find yourself locked out of your Lexus IS when the battery is dead, you can manually open your doors with your key fob. Just squeeze the release handle on the key fob and remove the L-shaped key. This is intended to be used to unlock your driver's side door in an emergency, however the key hole has a cover on it. Use the end of the key to insert into the access hole on the underside of the cover and pop the cover off by pulling away from the car. Now you can use the L-shaped key into the lock to manually unlock the door.
Keep in mind that even if the battery in your key fob dies, it doesn't mean that you're stranded because the car won't be able to start. If you ever find yourself with a dead remote battery, you can still hold your key fob right up to the start button, push the start button, and the car will still start up.
How to Replace Remote Key Battery on a Lexus IS350
First, press the release handle and pull the L-shaped key out. You will be using this key as the tool to remove the cover of the remote. You'll need to insert the key into the slot shown on the photo below right. Then, turn the key which will in-turn pry the cover apart into two pieces.
With the cover pulled apart, you can see the internals as well as the coin battery.
Once again, you can use your key as a tool to pry the CR1632 battery out of the remote.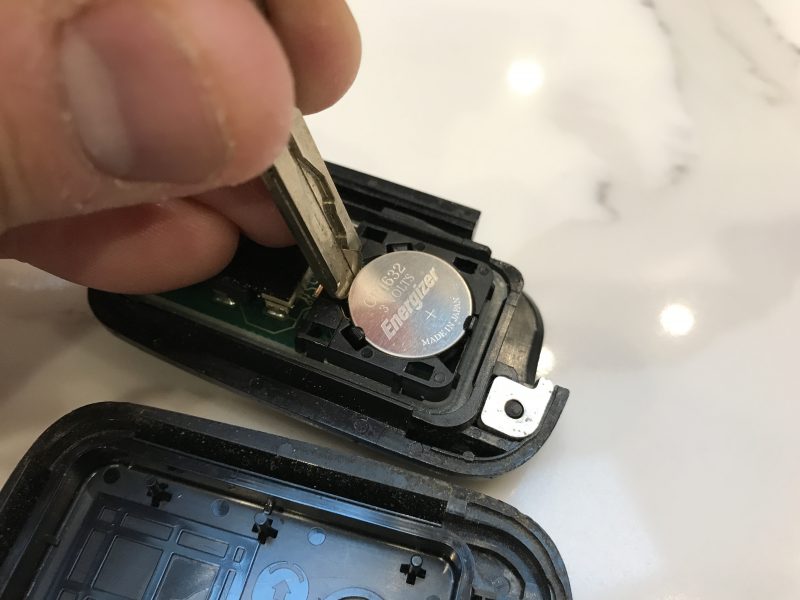 Replace the old battery with a new CR1632, and then re-install everything in reverse of the removal. Make sure that the internal circuit board and buttons all match up with the shell. After putting the remote fob back together, the functions should now be back to working again.