What to Rent
In December of 2016, my wife and I took a trip to Maui, HI to attend my friend's wedding. Since we were going there, we figured that we'd make it a vacation by staying there for a week. We booked an Airbnb for our stay, but we still needed to find a way to get around the island. Obviously with the Hawaiian Islands, cars are going to be your best bet for getting around.
The options we looked at were either go the conventional route and rent a car through one of the typical car rental companies, or rent a car through Turo. Turo is not the average car rental as you're renting other people's vehicles. The interesting thing about Turo is that you can rent vehicles that you may not normally be able to rent through car rental companies. This includes super cars, older sports cars, and vehicles with manual transmissions.
This time around, we decided that we'd try out an electric car, a Nissan Leaf. We did some research and found out that you could get free electric charging at Nissan Dealerships, as well as select charging stations throughout the island. So free fuel AND you're doing your part to reduce the use of fossil fuels? Nice!
First Impressions
The owner of the car greeted us at the airport exit and then walked us over to the parking area where the Nissan Leaf was at. He showed us some of the features of the vehicle and how to re-charge. The EV definitely had some pep with instantaneous torque right off the line all the while being super quiet.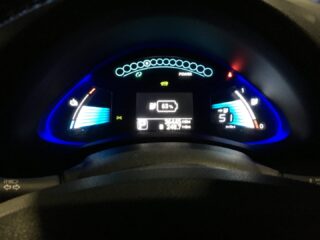 Honestly, I didn't miss driving a gas-powered car at that point. We had a really smooth and quiet ride and that really made the relaxing Hawaiian vacation that much more calm and chill. I kept looking at the remaining mileage on the vehicle as it would provide the up-to-date miles that could be driven with the car given the current driving condition.
I'd feel anxiety build up though as I pressed down on the accelerator since the mileage would dip down a few miles. Then that anxiety would get worse as we went uphill and the mileage dropped even more. I decided to press the ECO switch to save some serious miles, but what I discovered instead was an increase of 1 or 2 mpg per the computer with a drop in throttle response.
As we continued driving, our mileage started getting to the point where we felt we needed to find a charging station. Even if we had a decent amount of remaining mileage left, we didn't want to be stuck somewhere without a charging station. So we tried filling up whenever we passed a Nissan Dealership for free fill-ups.
The Struggle with Filling Up
When you own a gasoline-powered vehicle, you drive right up to any gas station and with no thinking whatsoever, you pay and fill up. But with an electric car, a lot more thought must be put forth planning your trip. Throwing in another wrench was the fact that there are slow and fast chargers to deal with.
Fast Chargers normally take about 10-15 minutes to recharge 90% of your battery; these were rare on the island. The majority of chargers available are the slow chargers, which can take about 8 hours to get a full charge. The only free fast chargers that we knew about was the one at the Nissan Dealership near our Airbnb. The dealership also had several other slow chargers, but who was going to be waiting for 8 hours at the dealership to charge fully?
In an effort to reduce our low-battery-charge anxiety, we stopped by the dealership to charge every time we left our Airbnb. Almost every time we got there, there was a line of EV's waiting for a charge. Also, the charging station was placed in the corner of a narrow parking strip. This meant that not only was there a line of EV's waiting in line to charge, but an unorganized one that made it unclear who was to charge their car next.
Once there's more than two drivers waiting in line, it started getting really chaotic. Two things that really bother me become apparent in this scenario. One, I hate wasting time waiting around. And two, I loathe crowds or crowded areas. This was the case 90% of the time.
I'd also like to mention that we used the Volta App to find and use free charging stations (mostly slow chargers from what we saw) in Maui. This was quite useful if we were to go to a destination where we would park our car for at least several hours. The app lets you know in real time whether the chargers were occupied, which saved you from driving to a charger that may already be occupied.
Final Thoughts
It is without a doubt that driving an electric vehicle can help reduce the reliance on fossil fuels meanwhile saving you some dough on fuel .However, there is a point at which convenience and effort converge. It then starts becoming inconvenient enough for people to stop putting forth the effort to move from gas-guzzling cars to all electric.
In my opinion, the poor implementation of the energy infrastructure is the culprit. The push for electric cars to be out on the road far exceeds the capacity of not the electric infrastructure itself, but the power delivery of the infrastructure in the form of providing adequate fast chargers for public use. To add to that, inconvenience can be found in the lack of mileage on a single charge for most of the publicly available electric vehicles.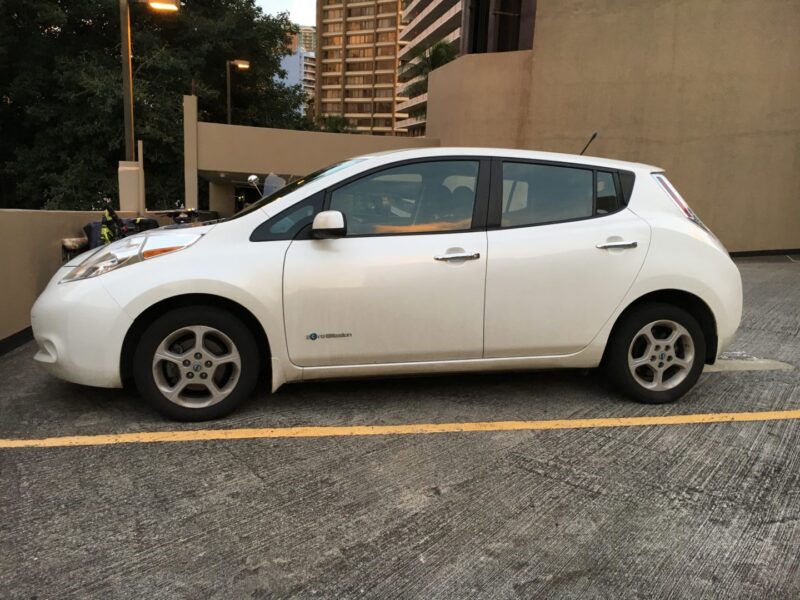 After driving the Nissan Leaf in Maui, I got a taste of the difficulty with owning one. Don't get me wrong, I love the idea of contributing to a more sustainable future for our world. However, getting rid of my current ride that fits all of my needs just to buy a new one that doesn't, isn't going to get us there. Oh and by the way, we kept on thinking about how much fuel we saved on the entire trip by getting free charging at that Nissan Dealership. But when we calculated it all up, it would have costed us one full tank of gas to cover the same amount of miles. All that heartache and time spent charging the entire week in Maui just to get a free tank of gas. Worth it? I think not.