Meguiar's Hybrid Ceramic Quik Clay Kit: Amazon / Ebay / Walmart
Using a clay bar has been the traditional way of mechanically decontaminating a car's paint, but for some time now there have been some other alternatives such as using a clay mitt or a clay pad. Meguiar's sent me this product, the Hybrid Ceramic Quik Clay Kit, which I tried out and would like to share my thoughts. This kit includes Meguiar's Hybrid Ceramic Detailer, as well as a synthetic clay pad and a microfiber towel.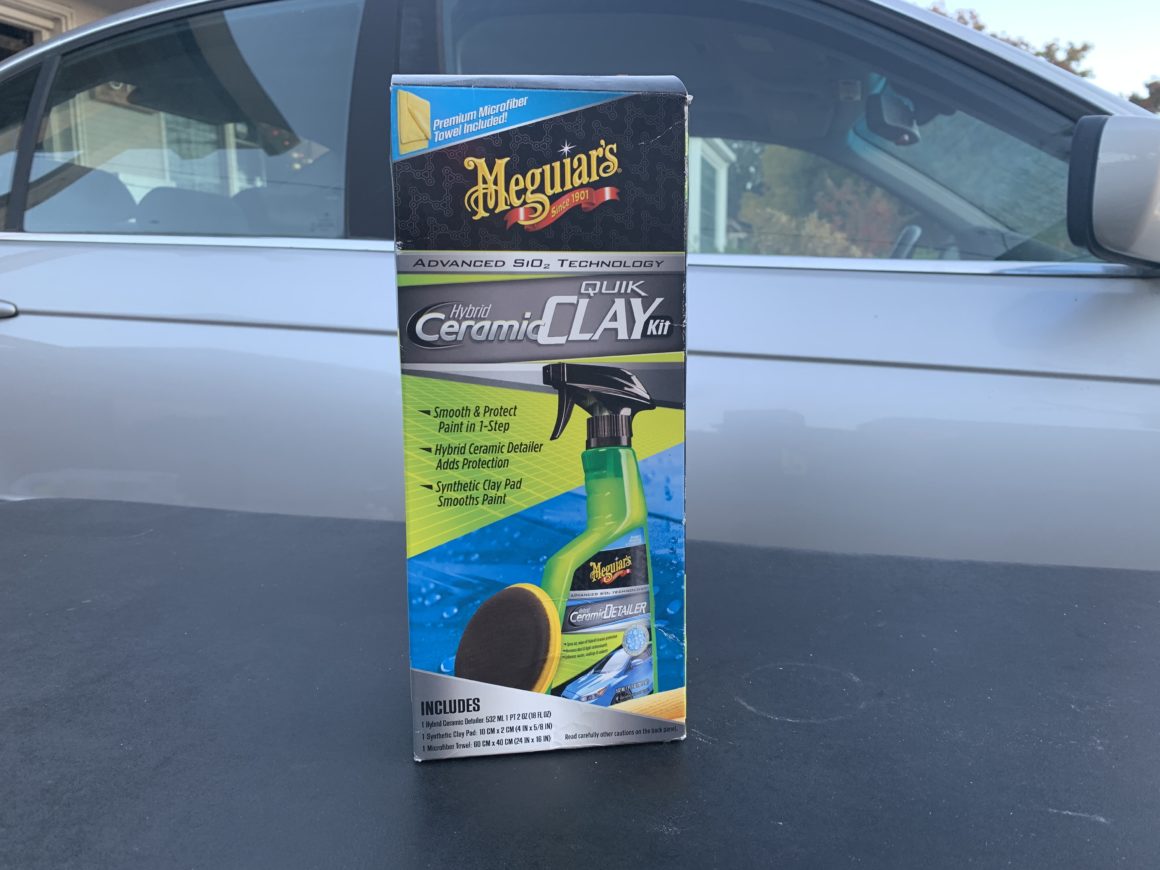 I'm usually weary of products that combine different products into one (e.g. 2-in-1 products), but I was interested to see how Meguiar's combines the clay step and the protect step with their new hybrid ceramic detailer. You could say I was skeptical as this product was combining a step that would involve removing contaminants from the paint, with another step adding a layer of protection.
But let's get to using it and seeing how it works. I went through the recommended step of first thoroughly washing the vehicle. I washed the car with a two bucket wash, and then thoroughly rinsed it off. Since we need to apply a clay lubricant while we are using the clay pad, there is no need to dry off the vehicle at this point.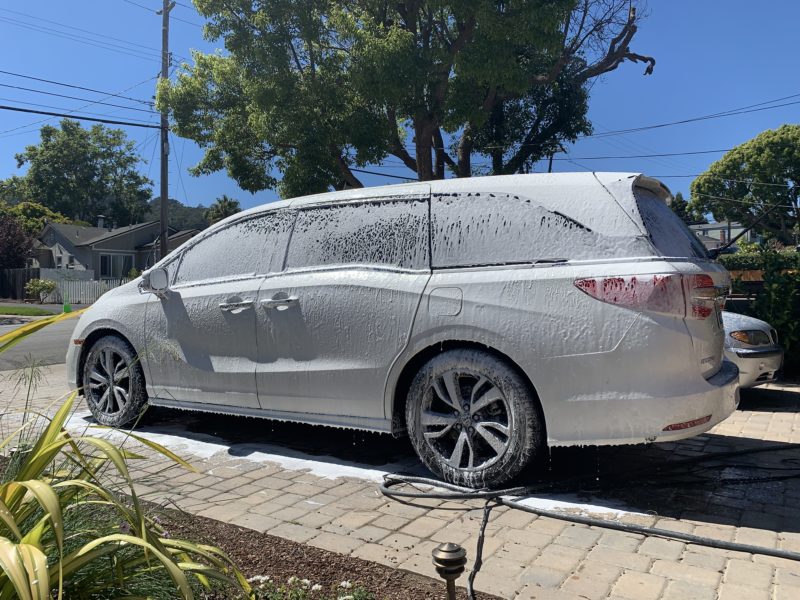 Meguiar's offers its Hybrid Ceramic Detailer as a standalone product, an SiO2 (Silicone Dioxide) spray detailer, which is typically used by spraying onto your car's paint and then wiping/buffing away with a microfiber towel. However, it is also included in this kit which is to be used with also included clay pad.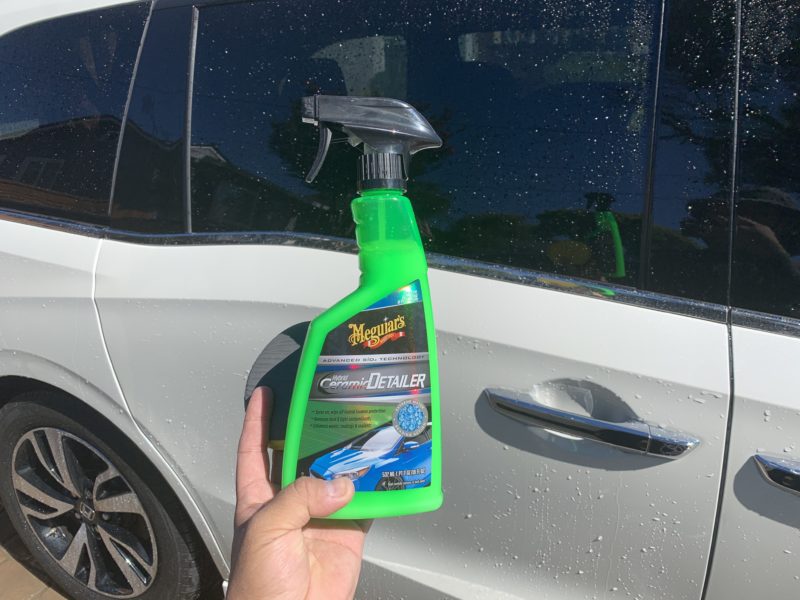 To use, simply spray on the Hybrid Ceramic Detailer just like you would with a clay lubricant. Then using the clay pad, glide the pad back and forth over the sprayed surface until it is smooth. I found the pad to be a nice size for claying with and it has a nice grip so you don't feel like you're going to drop it any minute (kind of like how you feel when you're using a clay bar.)
The major advantage of a synthetic clay pad over your traditional clay bar is that even if you do drop the clay pad on the ground, you can simply rinse it off and continue claying the car. On the contrary, if you happen to drop a clay bar on the ground, you need to throw the clay bar away unless you want to rub the dirt and rocks picked up by the clay bar, back onto the car. With one synthetic clay pad, I was able to clay the entire vehicle, even with an accidental drop.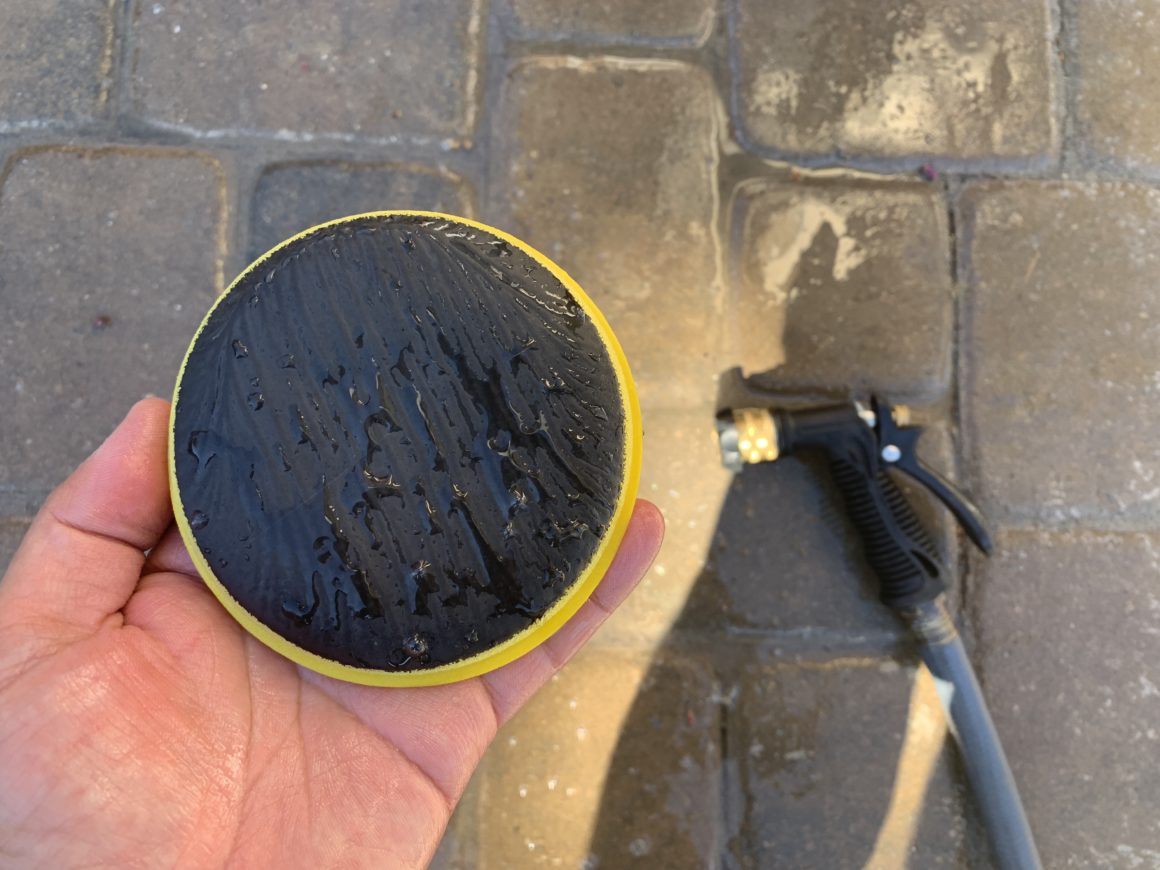 I didn't feel that the Hybrid Ceramic Detailer worked particularly well as a clay lubricant. It simply doesn't feel as good as a lubricant as a dedicated lubricant, a regular quick detailer, or diluted No Rinse solution.
In my opinion, it seems like Meguiar's wanted to market a clay pad kit, while riding on the hybrid ceramic trend. If you've ever used Meguiar's Original Quik Detailer, it's actually a really good clay lubricant. So the fact that they didn't include the original product with the clay pad makes me believe they were trying to find another product to hype up their Hybrid Ceramic line.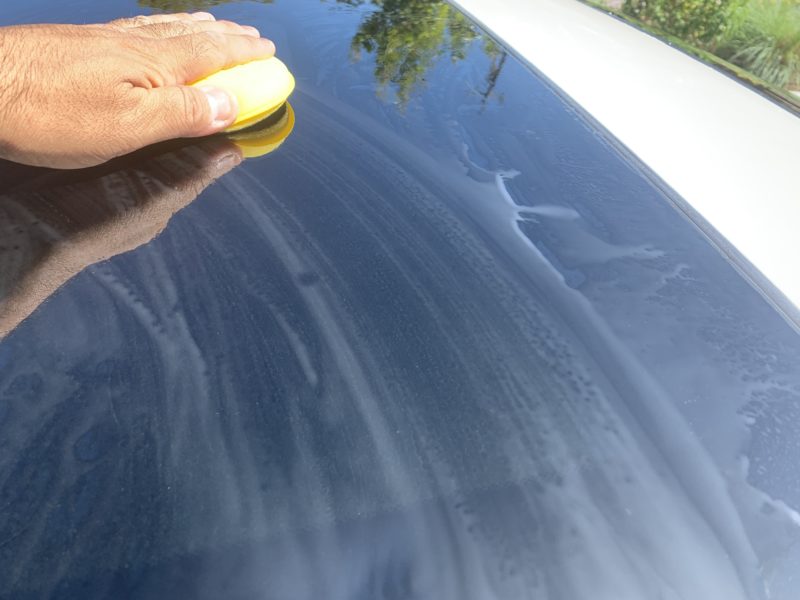 As you can see above, the Hybrid Ceramic Detailer is milky in texture and appearance and it doesn't glide well with the clay pad. Although these two products may be decent products as separate products, I really don't think they work well together.
That isn't to say that the Hybrid Ceramic Detailer doesn't work– it does. If you use it the follow through this process of claying the entire vehicle and then wiping it all away with the included microfiber towel, you'll get some semi-decent hydrophobic results (see below photo.) The water beading isn't spectacular, but you can tell it is producing some hydrophobic behavior on the paint.
Alternatively, if you're spraying on the quick detailer and wiping it off with a microfiber towel (just as you would with a spray wax), you might get slightly better hydrophobic results.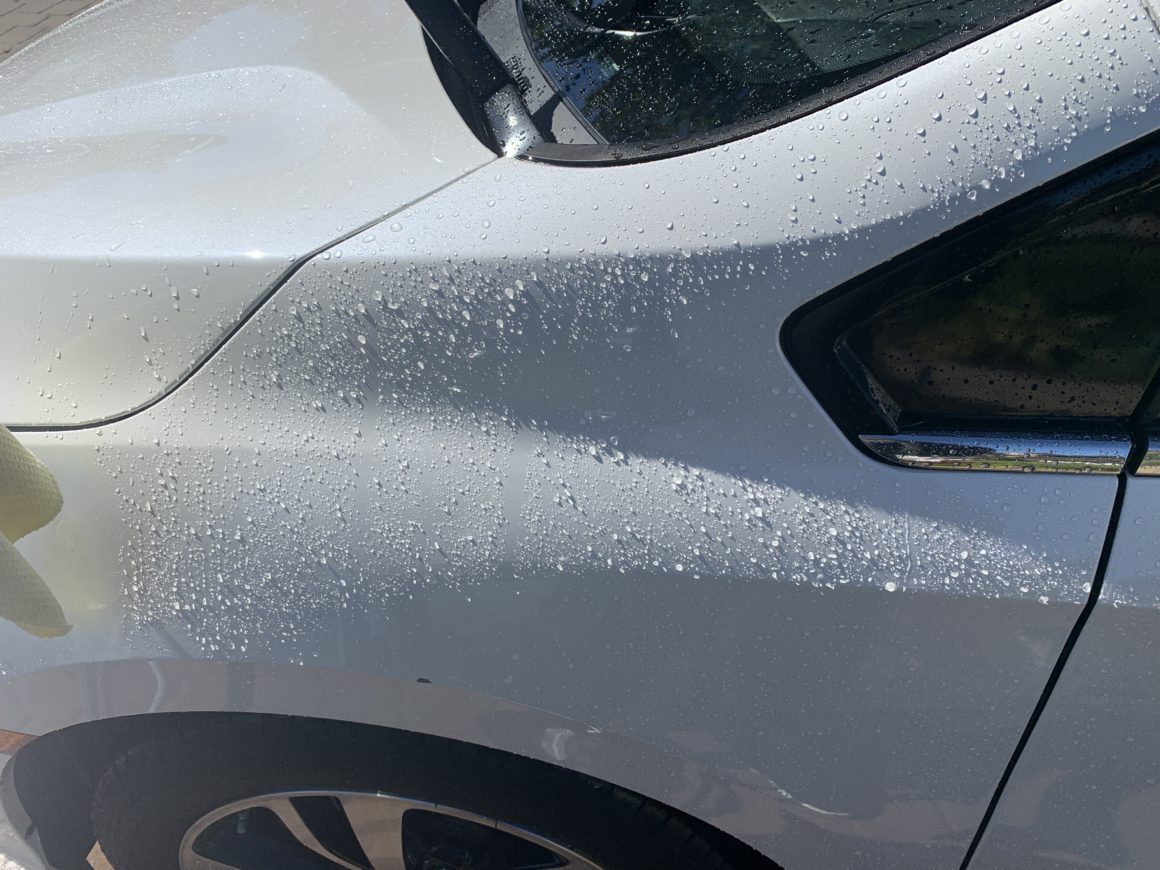 If you look at the whole Meguiar's Hybrid Ceramic Quik Clay Kit, I see some good products in a kit that don't work well in conjunction with one another. However on their own, they work pretty decent. In my opinion, the clay pad is probably the best part of this kit. If you're looking for a clay lubricant, go with Meguiar's original Quik Detailer or another clay lubricant. And if you need better protection for your paint, you can try Meguiar's Hybrid Ceramic Liquid Wax which is applied by hand instead of sprayed-on, and works much better than the one included in this kit.
Meguiar's Hybrid Ceramic Quik Clay Kit: Amazon / Ebay / Walmart