Owner: Alex Lui (Instagram | Email)
Vehicle: 2004 Mazdaspeed Miata
Location: California, U.S.A.
---
I met up with Alex Lui, the owner of this pristine 2004 Mazdaspeed Miata one Sunday morning. Over some coffee, I learned that Alex had just graduated from San Jose State University with a degree in Aerospace Engineering. He just started a new job and is making a transition from his knowledge in Aerospace Engineering over to Civil Engineering.
Alex always had an interests in cars since he was a kid, but it wasn't until he moved to the United States that this interest turned into a passion. Alex was born in Hong Kong and moved to the States when he was 16. He has lived in the San Francisco Bay Area since. His older cousin exposed him to toy cars and even racing games such as the early Need for Speed series, which got Alex more engrossed in cars.
Alex used to own a Mazdaspeed3, which he used as both his daily driver and his weekend car. Over some time, it became apparent that using his car for both purposes didn't seem to be suitable. Alex believed that a performance vehicle like this one would not be suitable for the comfort needed as a daily driver. Maintenance costs can easily add up as well for high performance cars versus the more economic option. Alex's other concern was that if anything ever happened to his car during his more dynamic drives, he would be out of a daily driver.
He eventually sold the Mazdaspeed3 and purchased a Mazda3 as his daily commuter. Initially, Alex had his sights set on an NB Miata. However after a month of searching, he stumbled upon a Craigslist ad for a 2004 Mazdaspeed Miata that had an incredibly low 23,000 miles on the clock. The owner was an older gentleman from Marin County who was selling the car because he was having back issues. Alex simply couldn't pass up on this well cared for vehicle and purchased the roadster as his weekend car.
Alex and I set off in his Mazdaspeed Miata and immediately, I can see Alex's love of driving. As soon as the roads clear up, he becomes focused and starts taking on the corners. You can really see how well-balanced the NB Miata is on these curvy roads.
This would be what you'd call perfect convertible weather. Rolling down Highway 1, there were a plethora of cars, motorcycles, and bikes out on the road sucking up all this California sunshine.
Alex seemed to really know the roads in and out of Four Corners (intersection of Highways 84 and 35). He normally drives these roads on the weekends with his friends.
Of course, we hit up the obligatory stop: Alice's Restaurant in Woodside.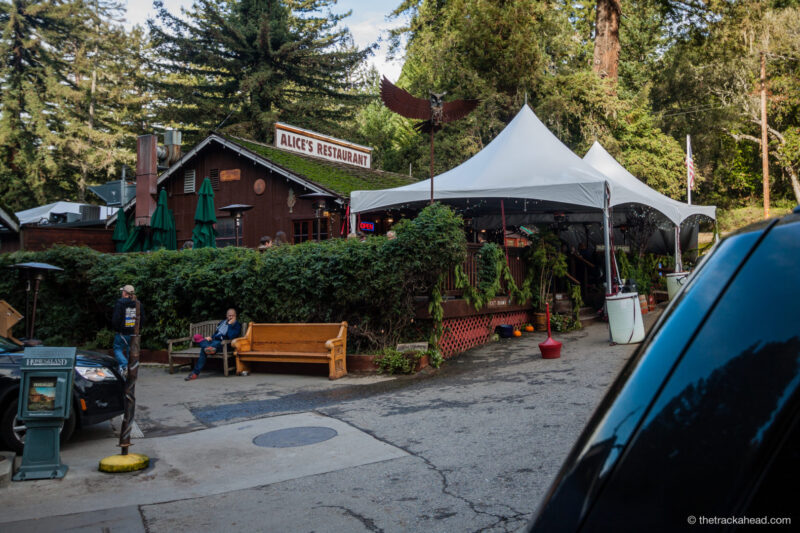 One of the other stops we made was at San Gregorio's Store. As soon as we pulled up, an identical Mazdaspeed Miata pulled up. Immediately I saw Alex gravitate towards the owner of his Miata's twin and owner.
The two owners started chatting it up about their cars and about the driving roads around the area. The two probably talked for at least a good 30 minutes. Not having much to contribute to this Miata-related conversation, I took this opportunity to take some more photos.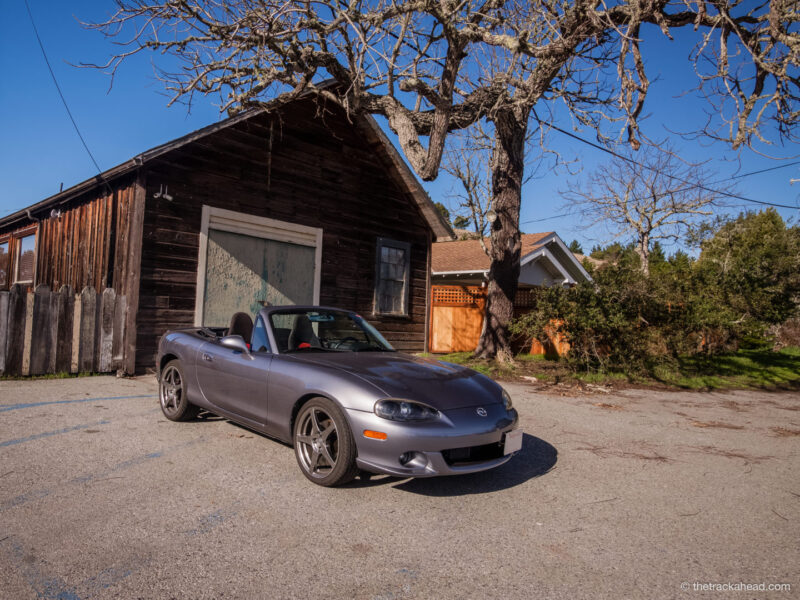 It's apparent that Alex is the kind of guy that can easily strike up a conversation with you because you have a shared interest. In fact, he shared with me that a good friend of his that he normally goes driving with, is someone he randomly met at a parking lot. Apparently Alex gave him a thumbs up for his nice Subaru WRX STI and they began chatting about cars. He not only loves and cares for his own car, but can appreciate others' rides as well.
Alex's Mazdaspeed Miata being a lowly 23k miles, looks almost brand new. Alex hasn't done too many mods on the car, and in my opinion is exactly how a low-mileage vehicle like this should be treated.
Alex takes care of general maintenance by himself. He does regular oil changes and has replaced the transmission fluid. Obviously with a lightly-used car like this, not much maintenance has been required.
The only modifications that Alex has done on his Miata is replace the shift knob with a Jass Performance Type R Shift Knob, change out the stock head unit with a JVC unit for its bluetooth capabilities, and a muffler delete so he can better hear the exhaust. He also recently replaced the tires with new Yokohama S Drive Summer tires as he was worried about driving around on the Miata's OEM tires. They were the same original tires that came from the factory nearly 15 years ago!
In the future, Alex has plans to replace the stock 17″ alloy wheels with some smaller Enkei RPF1 wheels. Not only will this reduce the Miata's unsprung weight, but it will also give him more tire options to choose from.
A roll bar may also be in the works. Although a roll bar is required for HPDE's (High Performance Driving Events), Alex's intention is not to track his car. A roll bar will provide rollover protection and provide chassis stiffness, which is his ultimate goal with this potential future upgrade.
Ultimately, Alex's goal is to keep driving his Mazdaspeed Miata on weekends and keeping the miles low. He wants to do some mods that will give him better performance on the street, yet still give him the option to take the car to the track if he ever desires to do so.
Given that the Mazdaspeed Miata was only in production from 2004-2005, we already know that this car is rare. But pair that with the fact that the car is in pristine condition with astonishingly low mileage, and Alex has a future collectible on his hands.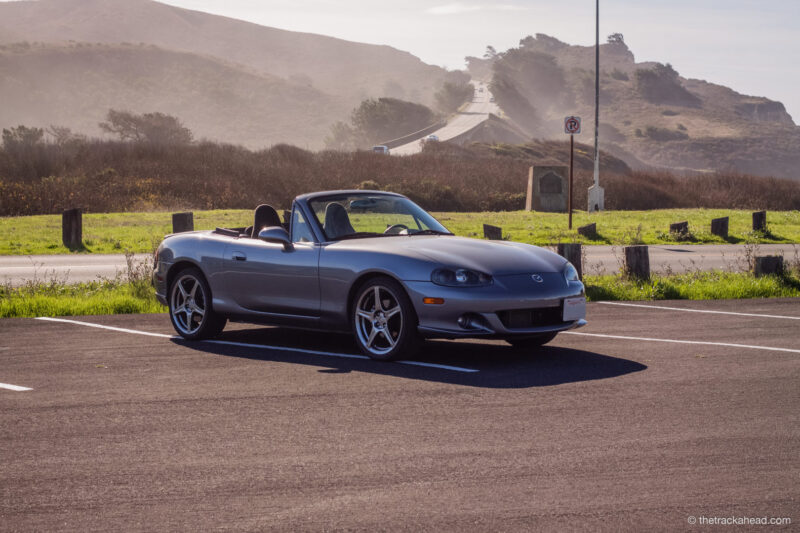 ---

Owner: Alex Lui (Instagram | Email)
Vehicle: 2004 Mazdaspeed Miata
Location: California, U.S.A.