BRIDJIT Expandable Curb Ramp: Amazon / Ebay / Walmart
For as long as I can remember, I've only seen curbs of one type: the barrier curb. This is the type of curb that is completely vertical. It wasn't until I moved in my recent home that I encountered a different type of curb that looked much different called a rolled curb.
The rolled curb has a flatter slant versus the 90-degree angle of the barrier curb. With barrier curbs, driveways are distinct because they are made to be flat, allowing vehicles to drive in and out more easily. With rolled curbs, the flatter slant of the curb is the same whether you are looking at the sidewalk or at the driveway.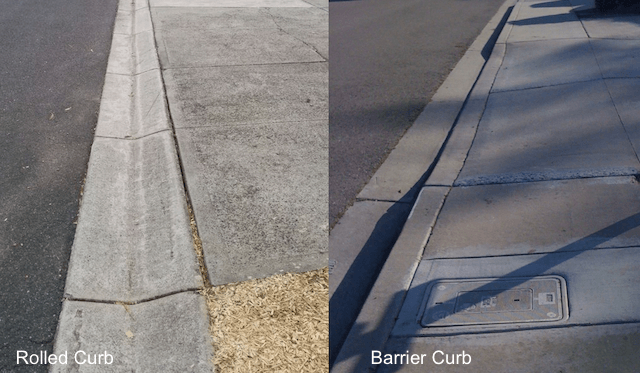 If you have a rolled curb, driving in and out of your driveway may be a challenge especially if you don't have a vehicle with higher clearance such as an SUV or truck. This can lead to constantly bumping, scratching, and even breaking of your car's bumper and/or skid plates every time you use your driveway.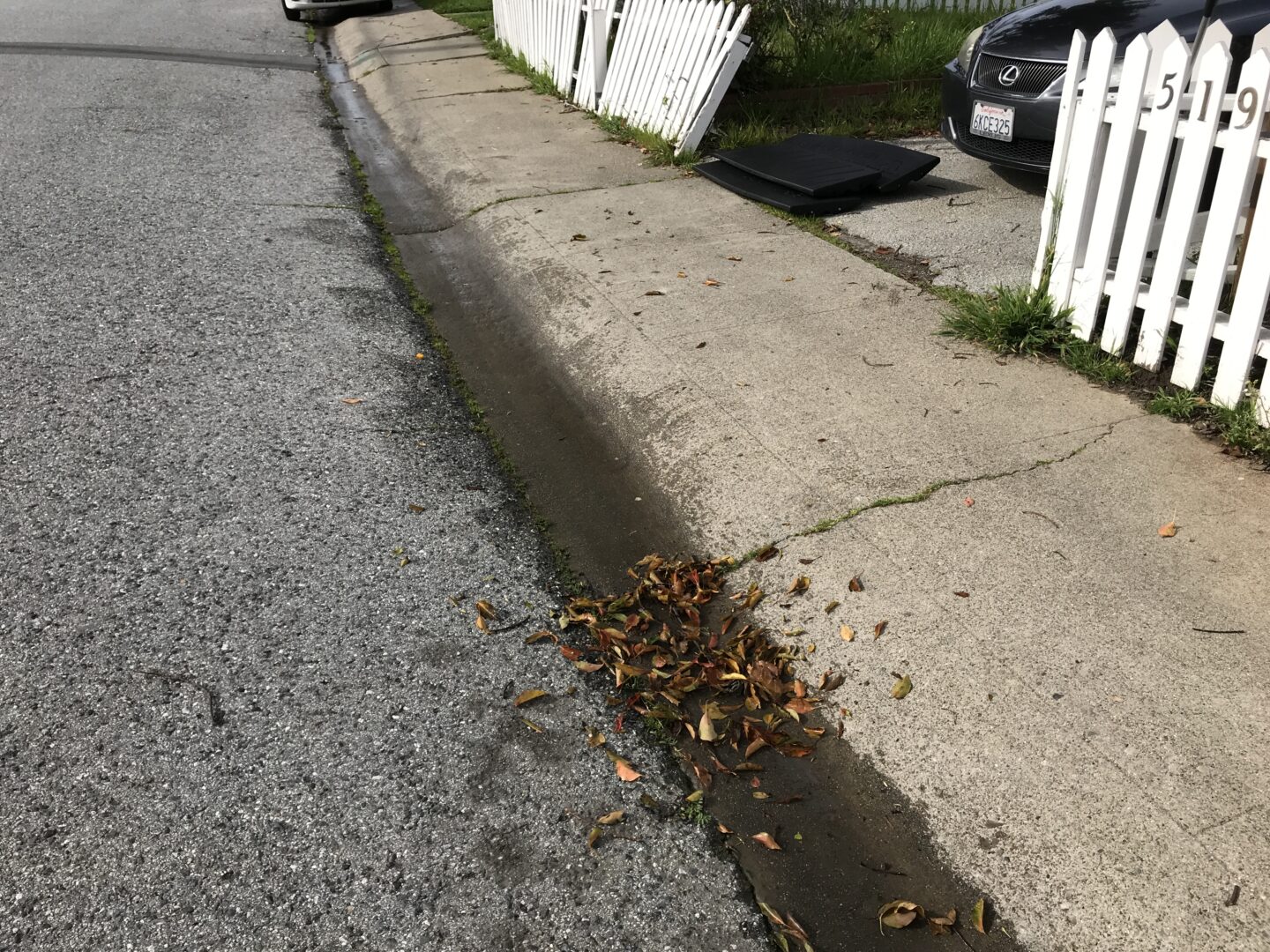 The solution to this is to add a ramp that eases the transition between the rolled portion of the curb and the opposite incoming angle of the street. There's a number of options out there on the market, and they all provide a solution to the same issue. One of the most popular ones I've found is called the BRIDJIT Expandable Curb Ramp.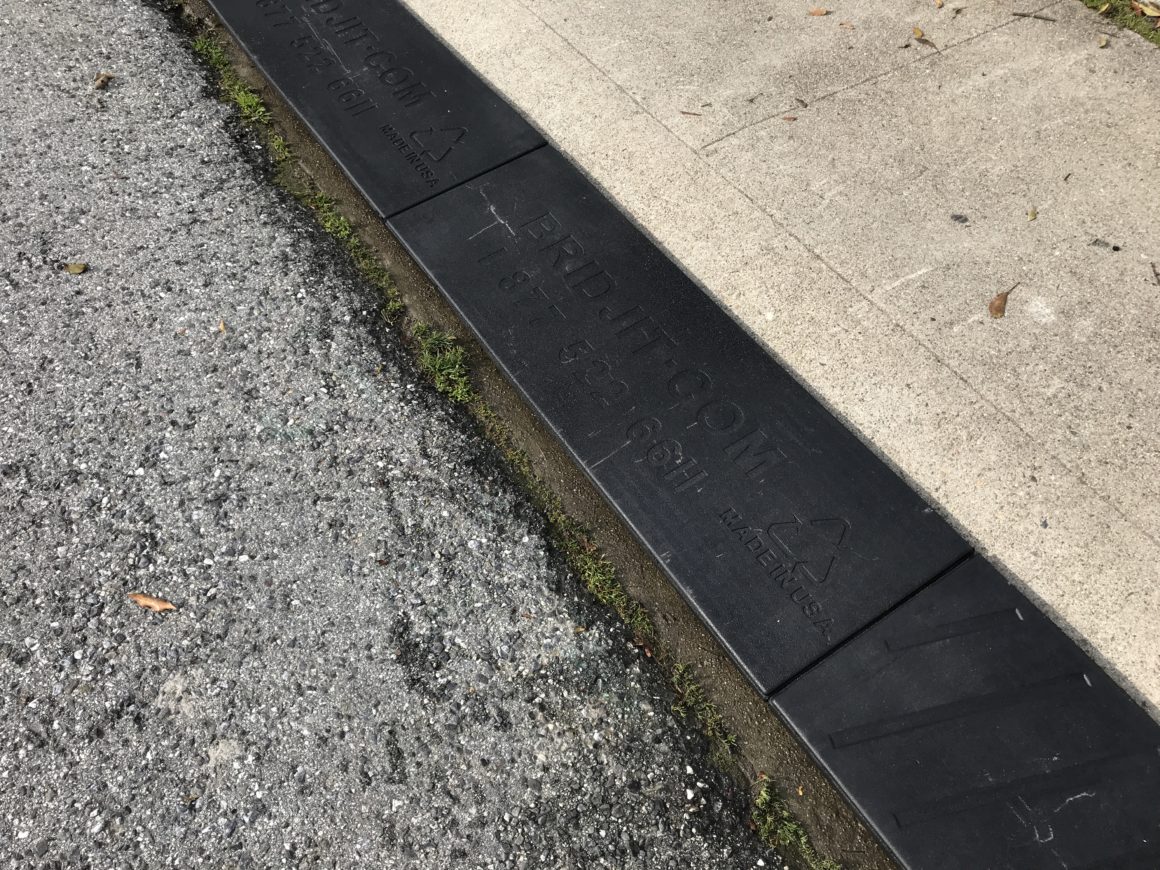 The BRIDJIT Expandable Curb Ramp is a curb ramp system that is made up of recycled rubber tires. They come in separate sections that can be connected in tandem with 1/2″ galvanized bolts and nuts. Each section weighs 50 lbs and measures approximately 4 feet long. Therefore, if you need a longer curb ramp, you can add-on more sections as needed.
I've used my BRIDJIT Curb Ramp for 5+ years now and it works very well. The quality is very good, it has held up over time, and it does exactly what it promises to do which is to keep your car from scraping or bumping into the rolled curb. There are also some added features that I like, which include the channel drain that allows surface runoff to pass underneath the ramp. I also like that it is extremely heavy, as it helps to deter theft.
If you want to read more on the details and specifications of the BRIDJIT Curb Ramp, you can find it on their product info page. Also, not all rolled curbs are created the same way. You should consult BRIDJIT's product page to ensure that it will fit the rolled curb that you will be driving over. Keep in mind that you can find different configurations online depending on what total length you need.
Where to find BRIDJIT Expandable Curb Ramps
Amazon
3-Piece Set (for 12′ driveways) / 1-Piece Center Add-On (additional 4′ section)
Walmart
3-Piece (for 12′ driveway) / 4-Piece (for 16′ driveway) / 5-Piece (for 20′ driveway)
Ebay
3-Piece (for 12′ driveway) / 4-Piece (for 16′ driveway) / 5-Piece (for 20′ driveway)
How to Install BRIDJIT Expandable Curb Ramps
Installing the BRIDJIT Expandable Curb Ramps is pretty simple; it involves tying the ramps together using the included galvanized bolts and nuts. There is some difficulty due to how heavy these ramps are and how precise the fit is. The first thing to do when you receive your curb ramps in its packaging is to flip it over on the back side.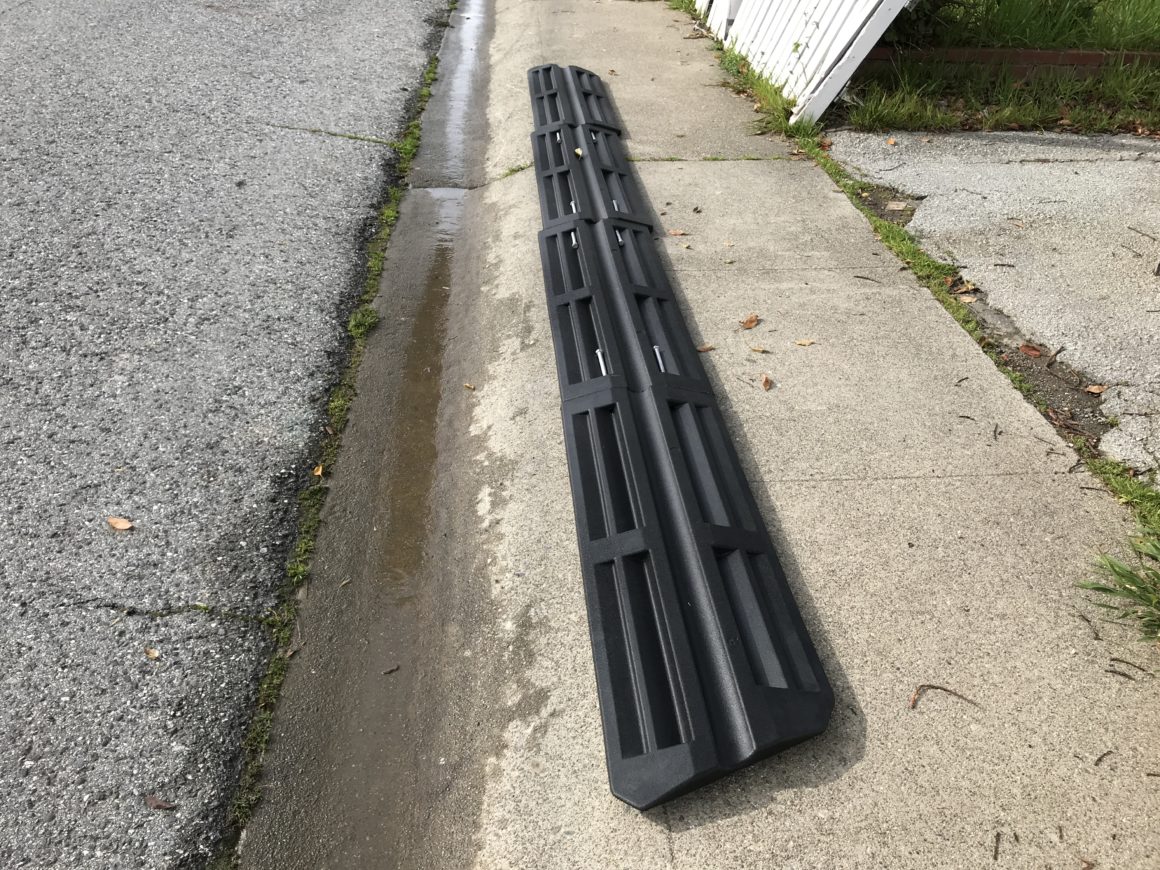 The bolts were already inserted on my curb ramps. The bolts are supposed to be inserted all the way through into the adjacent curb ramp section and then a nut screwed on to secure it in place. Because of the weight of the ramps, I had to place a piece of lumber underneath in order to get the holes to line up properly.
I had to use a hammer to knock the bolt through and on the other end, I had to use a flat head screwdriver to pry up the end of the bolt so that I could insert the nut.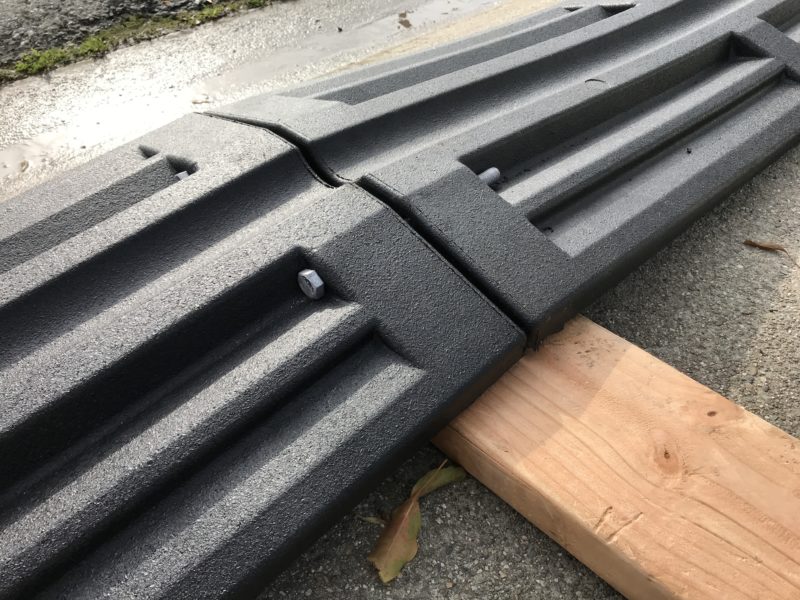 Once all the sections are attached, you flip the entire thing over and it can be dragged to the location you want it. The whole combined curb ramp can be left in place without any need to secure it in place, although I have noticed that it does tend to drift a couple of feet every few months.
Another nice feature of the BRIDJIT Curb Ramp is the integrated channel underneath. It allows drain water to pass underneath without having to flow around or over the curb ramp.
After using the BRIDJIT Expandable Curb Ramp for over five years, I have very little complaints. It always allows our lower/standard clearance vehicles to enter and exit our driveway without scraping the curb. The curb ramps still looks good and doesn't fade much from the many years of use. Finally, it is low maintenance as it can be placed at the curb and gravity alone takes care of keeping the curb ramp in place.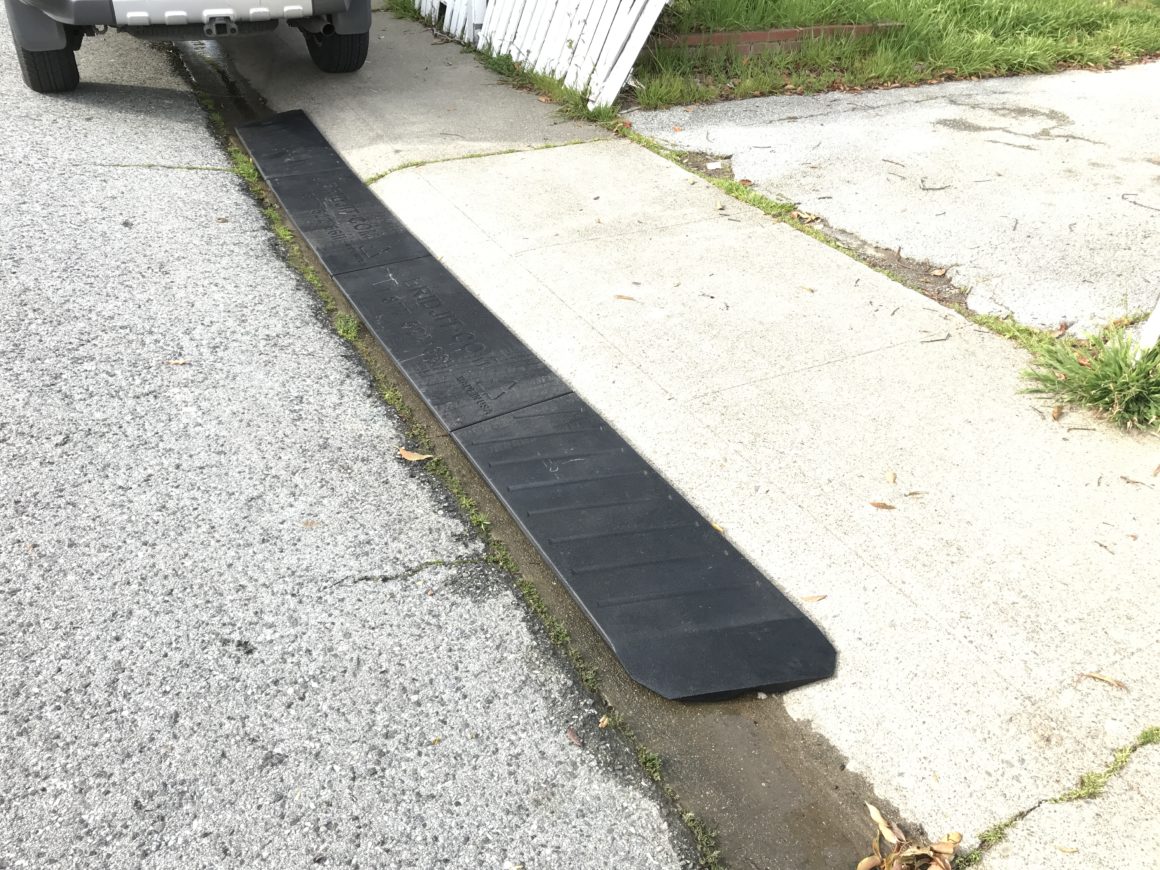 If you had to ask if there are any complaints that I had, it would be that you still have to clean out the leaves and debris that accumulate at the upstream side of your ramps. This is probably not a downside that is exclusive to this particular curb ramp, as I think you will always have to maintain and clean a curb ramp such as this one from time-to-time.
If you are in need of a curb ramp due to having a rolled curb, I highly recommend the BRIDJIT Expandable Curb Ramp. You should check the BRIDJIT product info page to ensure that the curb ramps will fit your particular rolled curb dimensions. You will also need to order the length needed for your particular driveway. My driveway is about 16′ wide, and I ordered a 4-section set that matched the driveway width.