TOPDON JS2000 Jump Starter: Amazon / Walmart
I've been a big proponent of keeping a portable jump starter in your car at all times. It's so much easier to jump start your car by yourself versus having to rely on a Good Samaritan to help you jump start your car with theirs— and that is if you have a set of jumper cables with you when the situation arises.
Portable jump starters are truly portable these days and you have a ton of options to choose from. When "portable" jump starters first entered the market, they were heavy behemoths; so basically they weren't that portable. These days, they're small enough that they fit in your hand.
I received this JumpSurge JS2000 Jump Starter from TOPDON to test out and I wanted to give you my review on this product. TOPDON is a company who sells a variety of automotive gadgets like scan tools and battery testers. From the TOPDON products I've used before, I've been pretty impressed with the quality and the capabilities that they offer.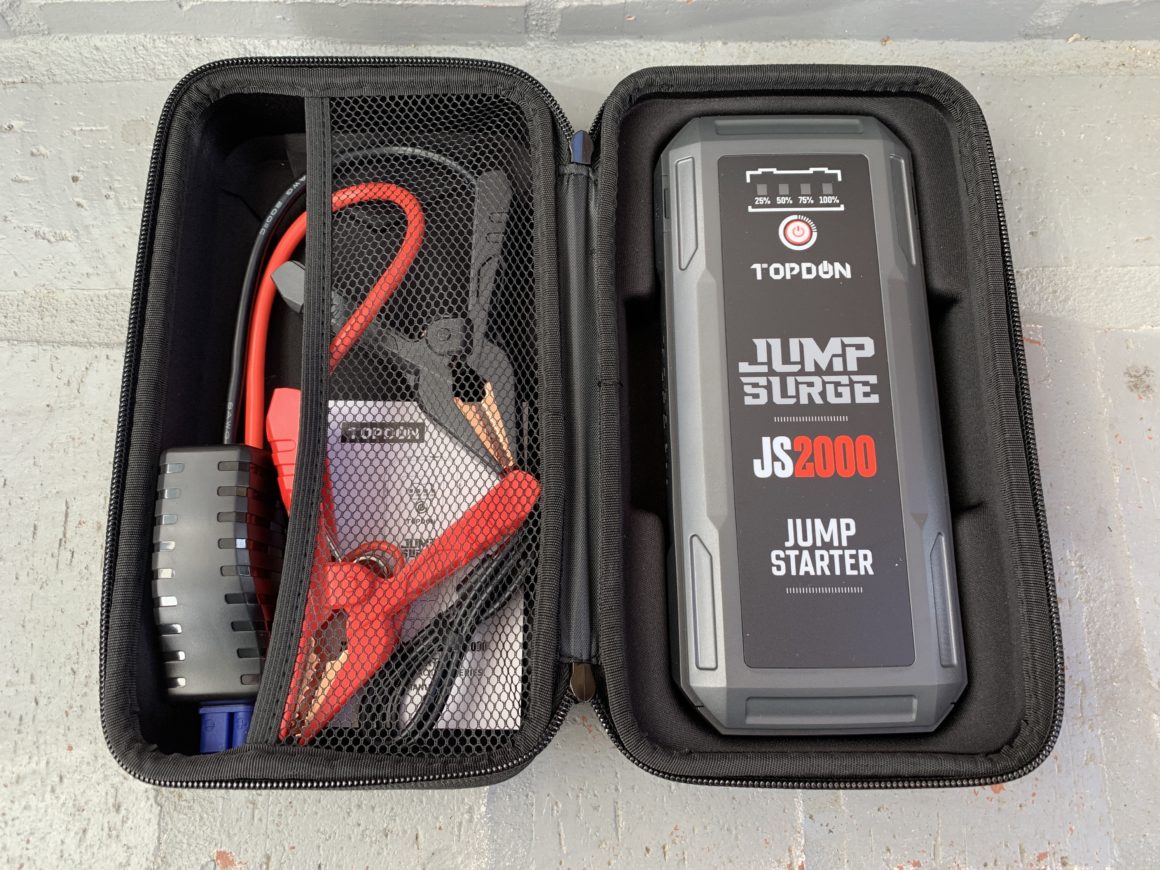 The TOPDON JS2000 Jump Starter is a very capable power unit with 2000-amps of peak current, which can power up to 8.0L gas engines and 6.0L diesel engines. The jump starter also acts as a power bank offering 16,000 mAH of battery output for charging your electronic devices.
Although the JS2000 may come already partially charged, you should still charge it up to 100% when you get it. It comes with a USB-C cable, but does not include the power adapter. With the jump starter fully charged, you can store it inside of its protective case (provided with charger) and keep it ready in your vehicle for the next time you're stranded with a dead battery.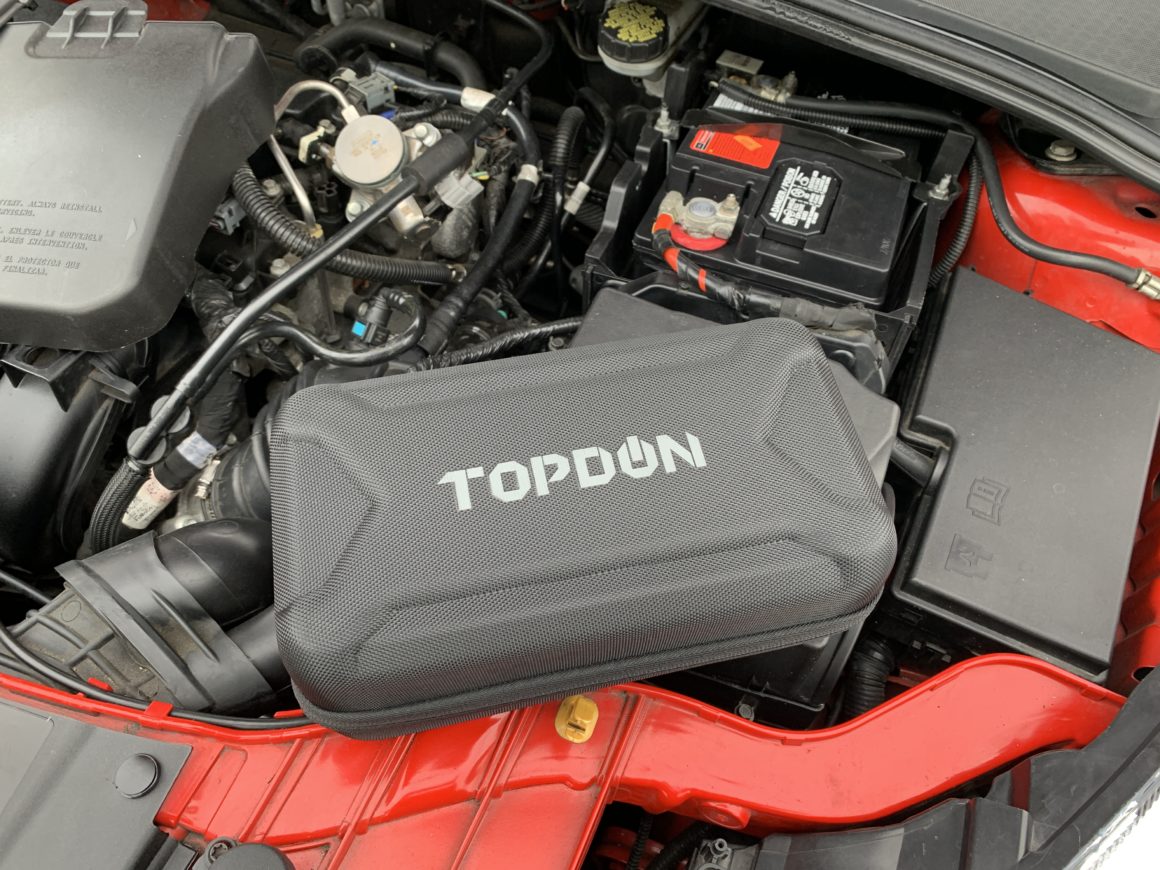 When you're ready to use the unit, it's very easy to do so. You power up the unit and it will immediately show you how much power is left on the jump starter.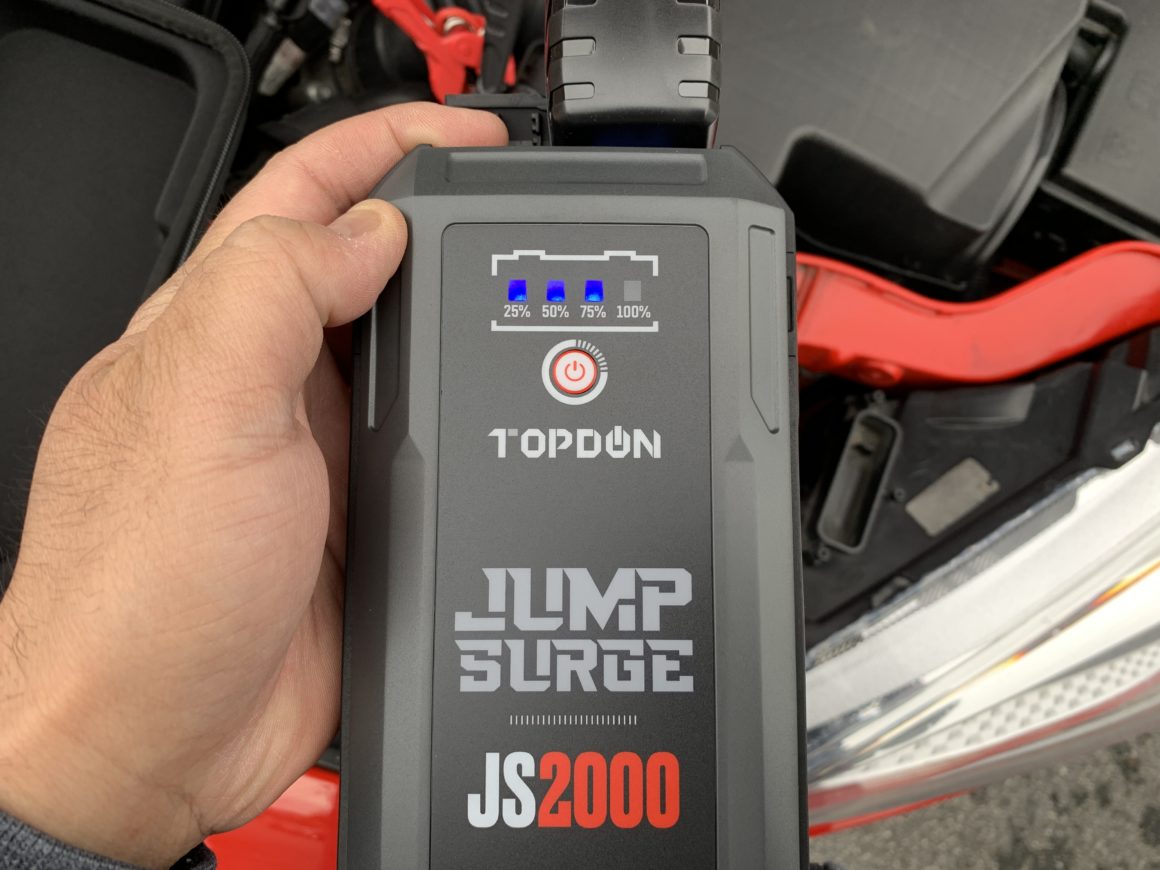 There's the jump starter cable that attaches to your jump starter unit through the connector below. Once it is plugged in and you connect your red cable to the positive (+) terminal, then your black cable to the negative (-) terminal, the green light on the connector should light up indicating that you hooked up the jumper cables correctly. If you for some reason reversed it, the reverse light would illuminate red.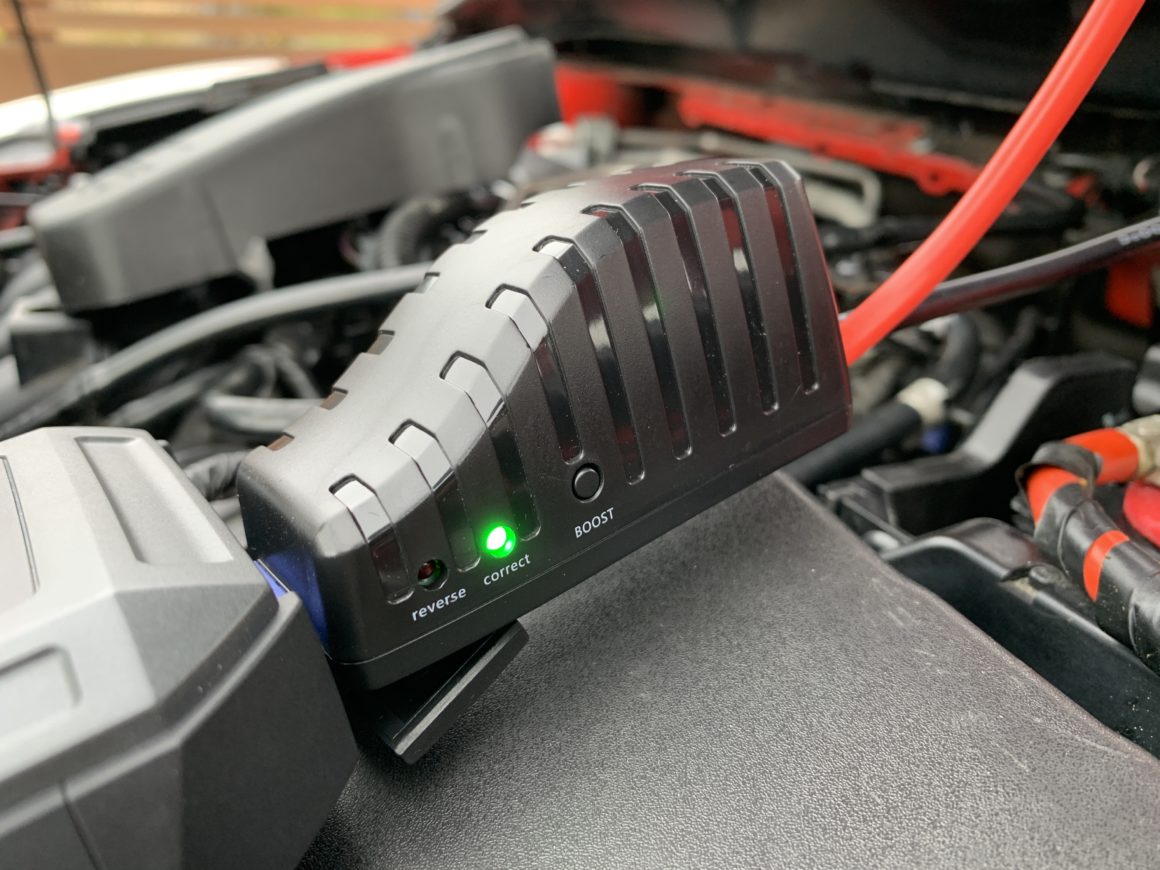 Also, if your car battery is really dead (voltage is too low for a normal jump start), then you can press the "boost" button and it will provide even more starting power for your vehicle. TOPDON claims that using the boost button can start your vehicle even with 0% charge on your car battery.
Under this weatherproof flap is a port for the jump start cables to plug into and a couple of USB ports (regular USB port and a quick charge 3.0 port.)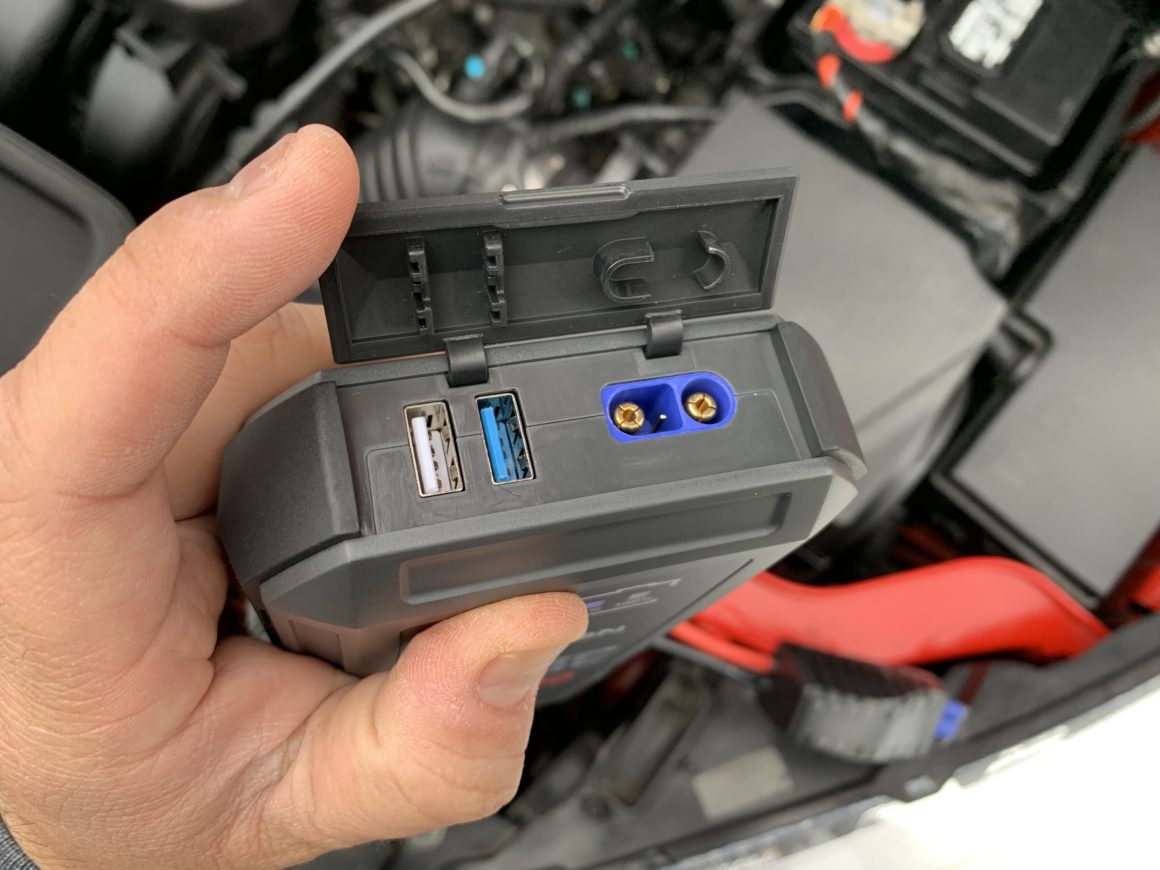 There's even a 300 lumens LED flashlight/strobe light in the case of an emergency. It seems very useful if you're on the side of the road at night and you either need a flashlight or need to set the strobe to warn other drivers.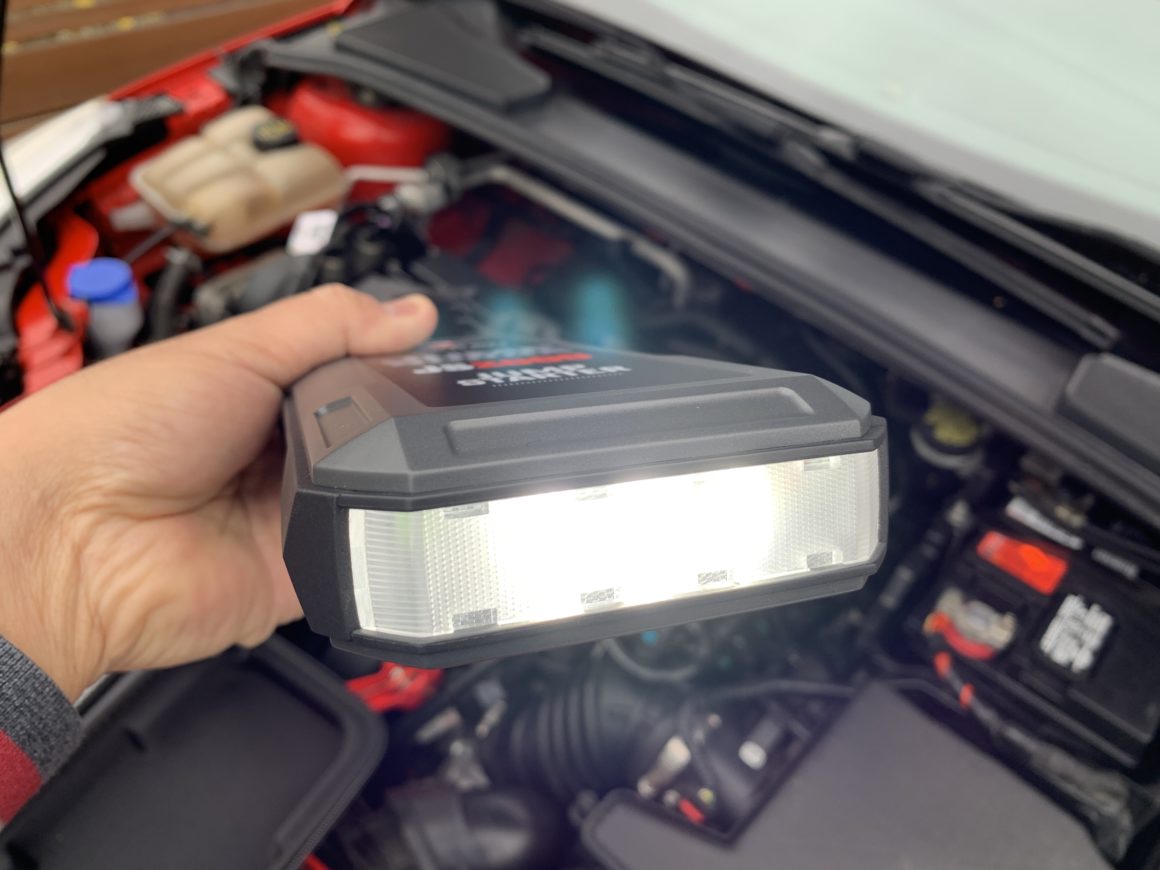 The jump starter cables are a nice length, but I don't like how the clamps have such a wide handle. It does make it a bit harder to use when you're trying to get into a tight spot.
Overall, the TOPDON JS2000 Jump Starter is a nice jump starter that costs just under $100 at the time of this writing. I think that it's a must for everyone to have one of these in your car in case of a dead battery or an emergency. And especially with this unit being the portable size that it is, it's so useful to have them on-hand should the need arise. I mean, can you even imagine waiting on the side of the road with a set of jumper cables anymore?