Adam's Iron Remover: Amazon / Ebay
If you haven't used an iron remover before, it is something you might want to consider to prolong the life of your car's paint. Iron removers come in a liquid form that easily applied and removed. It is as simple as spraying on the car, letting it sit for a few minutes, and then spraying it off.
I've used Adam's Iron Remover for almost a year now and have been pleased with the results I've had. I've used it on a number of vehicles ranging from a vehicle that has never had a chemical decontamination for more than a decade to a brand new vehicle. It does what its supposed to, which is to assist with removing ferrous (metallic) contaminants on your car's paint.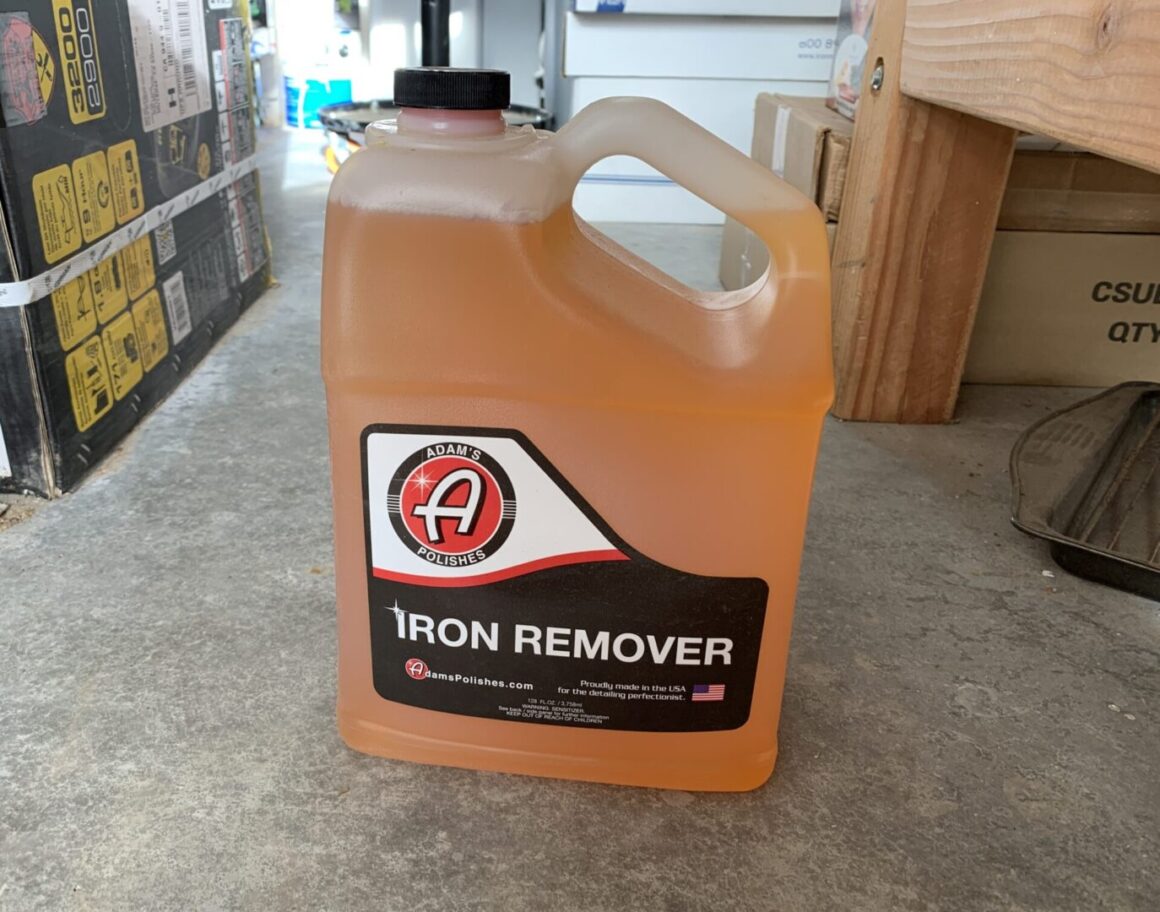 I purchased a full gallon of Adam's Iron Remover as you can go through this product quite quickly if you plan to use it on multiple vehicles. This product helps to accelerate the oxidation process of ferrous (iron) material so that it can be loosened from the car's clear coat and rinsed away. The chemical reaction of the main ingredient, ammonium mercaptoacetate (also known as thioglycolic acid) produces a purple 'bleeding' effect as shown below.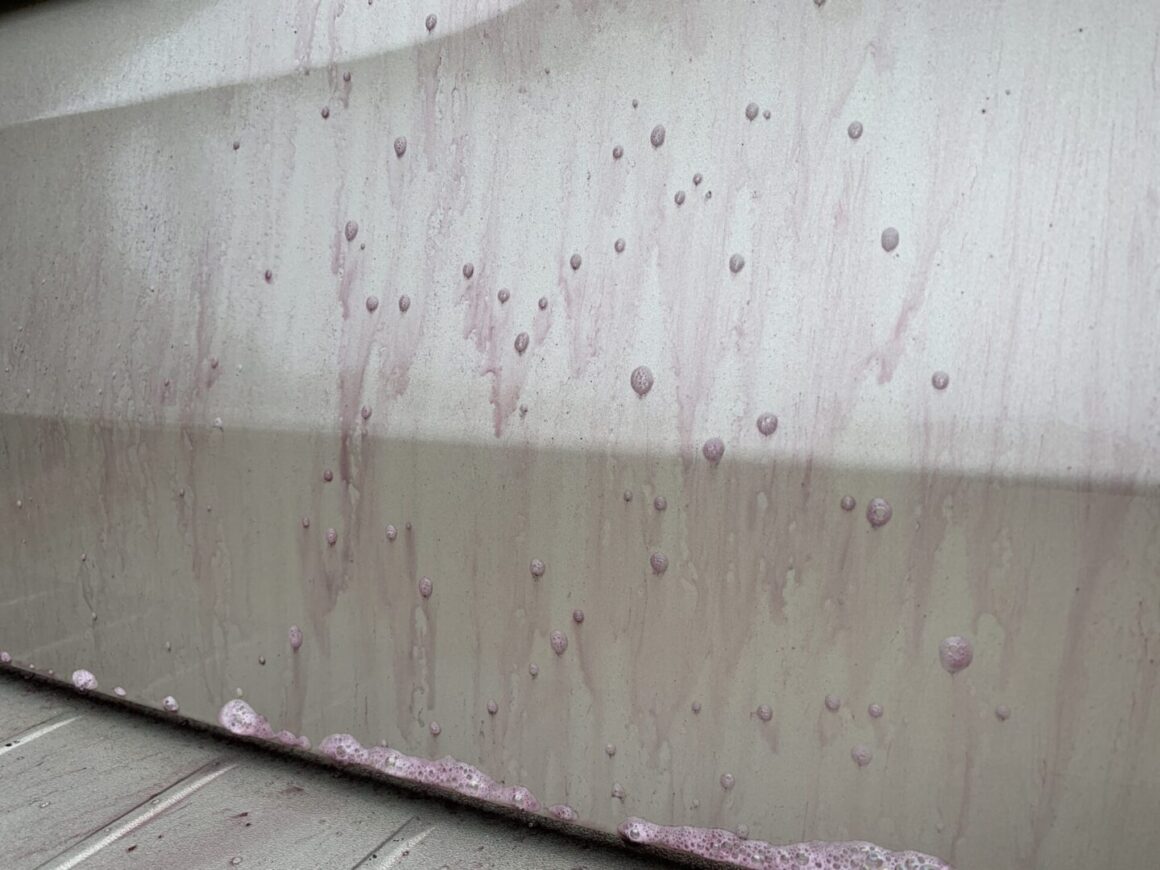 The first thing you will notice with this product (as well as practically any other iron remover product) is that it smells very, very bad. The smell comes from the main ingredient, thioglycolic acid, which is what you might smell if you've been in a hair salon; this is the same chemical that is used to straighten hair. So be aware that this chemical literally just stinks.
Another thing to be wary of iron removers in general is that it is an eye & skin irritant and is hazardous if ingested. For the times I used this product without a mask on, I would have a runny nose by the time I was done spraying it over the car. So wear proper protection when using this product; try to wear a respirator, gloves, and clothing that covers your skin.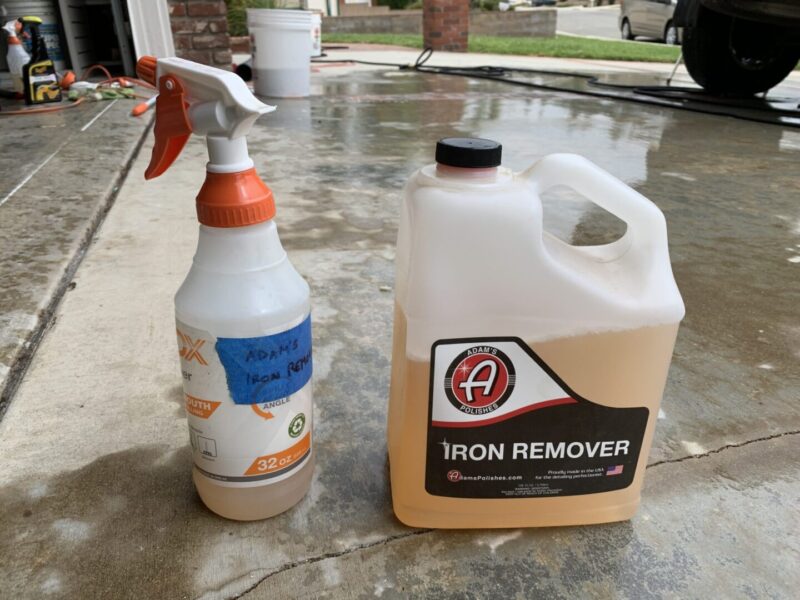 There are a couple ways of spraying iron remover on your vehicle. Obviously the easiest way is to pour the iron remover into a spray bottle and spray away. If you use this product once in a blue moon, this method is adequate. You might be tired squeezing the bottle trigger when you're finished with one car, but it's doable.
If you use this product more often and especially if you're a detailer, you should invest in a pump sprayer. I use a pump sprayer with iron removers now as it saves your grip and is much easier to apply all over a vehicle.
Adam's Iron Remover works effectively at removing iron particles from a car's paint. Spray the product on the vehicle, let it sit a few minutes, and then simply spray off with water. If you apply too much product, it does take more effort and takes longer to rinse off with water.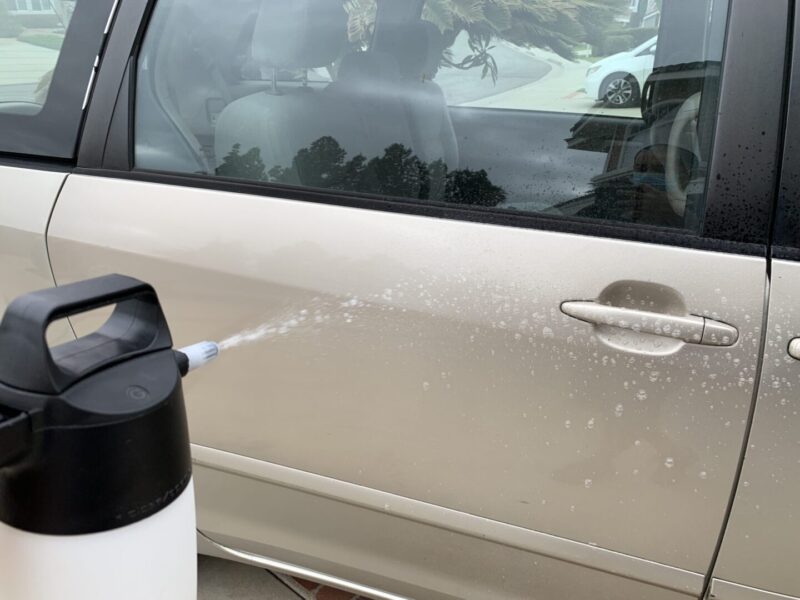 Adam's Iron Remover removes iron particles well, providing a visual indication of the chemical reaction taking place. Basically, it does everything and acts like it is supposed to. Iron removers generally are a bit costly and Adam's Iron Remover is slightly cheaper than most on the market. Overall, I'm happy with the product and have no complaints.
Adams Iron Remover