The 5th generation Honda Odyssey has three rows of seating and thus, three sets of floor mats. When we purchased our 2019 Honda Odyssey, I thought that the OEM carpeted mats already looked quite nice. I would have loved to keep these floor mats in our car, but I know it's hard to keep clean. It's so much easier to clean rubber mats compared to carpeted mats, so I decided it was best to change out the OEM carpeted floor mats.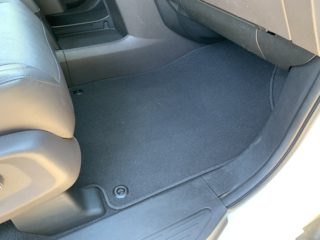 In addition to the fact that it's easier to clean rubber floor mats over carpeted ones, there were a couple more reasons I chose to change them out. One, we have kids and they just make so much of a mess. Because of this, the frequency that I'd need to clean the car would increase. Occasionally I can simply take the rubber mats out and dust them quickly instead of getting the vacuum out. Second, it's much quicker to clean rubber floor mats than carpeted floor mats.
It's not impossible to clean carpeted floor mats, as you could either do a simple vacuum, or get a deeper clean by using a carpet cleaner. But, there is a higher chance of something getting stuck in the fabric and not ever wanting to come out. With rubber mats, you simply take it out, and dust/brush it off. For stains and other hard-to-remove contaminants, you could scrub it using an all-purpose cleaner and a brush, and then rinse it off with a hose.
Which All-Weather Floor Mats Should I Go With?
Essentially you have two main all-weather floor mats you can go with: OEM Honda All-Weather Floor Mats or Aftermarket ones. The OEM ones are obviously a custom fit for the 5th Gen Honda Odyssey, but the aftermarket ones may be custom-fit or universal.
In my opinion, you should always go with custom-fit floor mats, which are the majority of the ones available on the market; these normally go for $100 or more. The universal fit ones may cost less than $100, but they just won't fit that well and won't offer as good as protection as the custom ones. So I believe it's a must to go with custom-fit all-weather floor mats. Looking at all the custom-fit options when deciding amongst the OEM and aftermarket mats, you will not be short of options.
OEM Honda All-Weather Floor Mats
Why go OEM? Well, typically with OEM you will get a usually perfect fit. It also usually includes some branding that looks stock (e.g. in this case, the words 'Odyssey' will be displayed on the mats.) Sometimes getting aftermarket products with their own personal branding can make your car look a bit tacky or cheap. If you go with OEM all-weather floor mats, you'll end up with a beautiful-looking (and usually a great quality) product that will fit perfectly in your vehicle.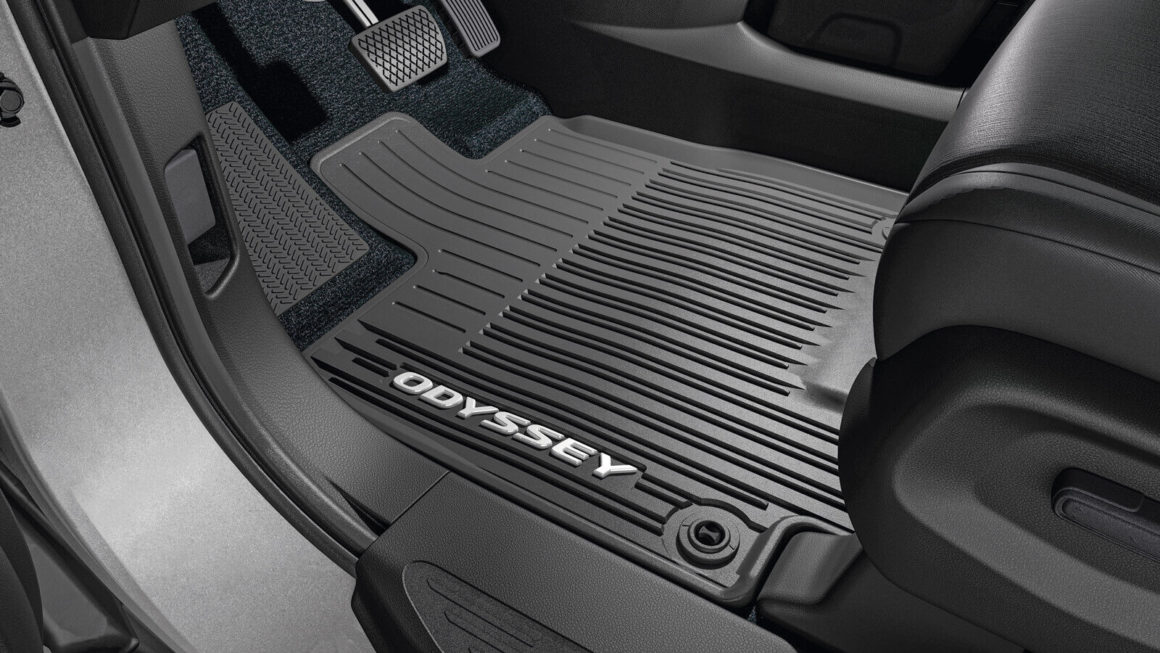 There are a couple downsides though to using OEM all-weather floor mats however. The first one is that the price is usually a bit higher than the aftermarket options. For example, looking online at this time, I found that these range between $170 to $270 depending on who you purchase from. Comparatively, aftermarket ones range from $100 to $150.
The second downside is that OEM all-weather floor mats on the 5th generation Honda Odyssey provide slightly less protection than the aftermarket ones. This lack of protection mainly pertains mainly to the front floor mats that are located within the footwells, but also to the other rows as well.
On the the Odyclub Honda Odyssey forums, member ArmyCa posted some useful comparison photos of the MaxLiner aftermarket floor mats compared to the OEM floor mats. As you can see below, the aftermarket ones offer more protection than the OEM ones. As for the second and third row floor mats, they seem to offer slightly more protection since there is a larger lip around the edges compared to the OEM ones.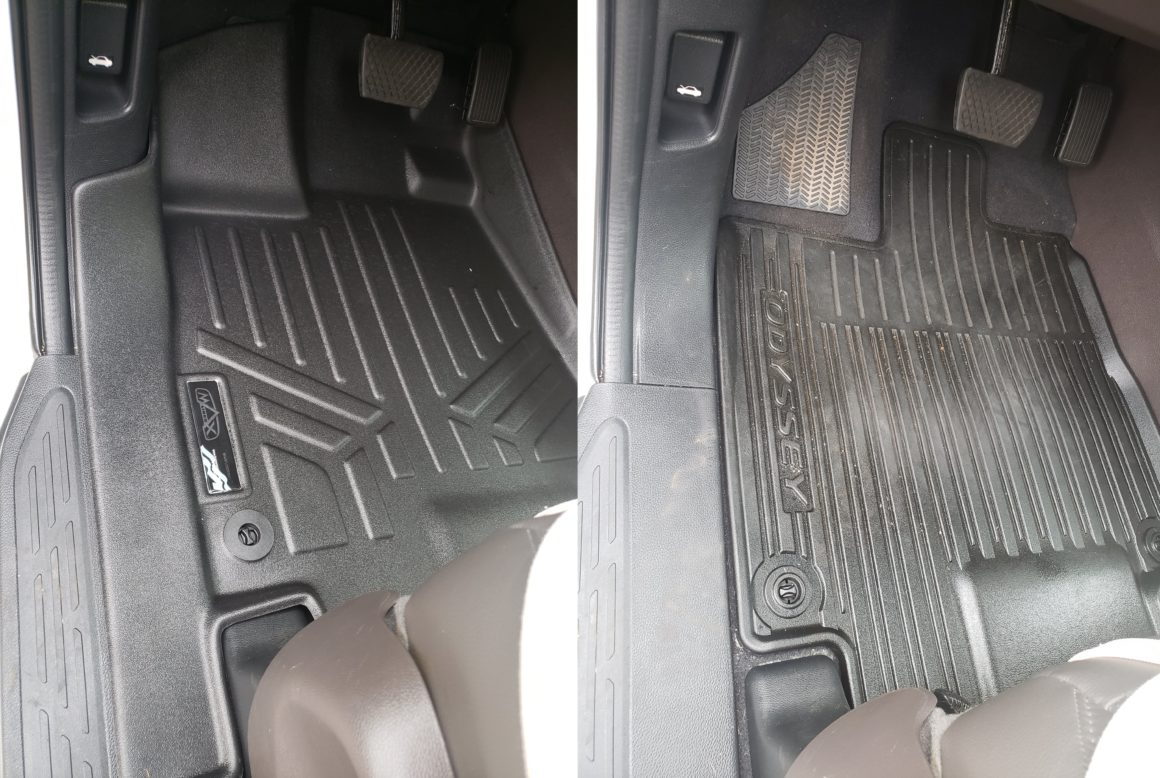 That's not to say the OEM Honda Odyssey rubber floor mats won't do a good job, they will still protect the floors and be easy to clean. In fact, I used to have the OEM all-weather floor mats on my Toyota 4Runner (flat-style mats with less protection on the front mats.) I used them for 8 years, for which they held up well and adequately protected the carpet underneath. I will say that there was one time I had a bottle of bleach sitting on the floor mat and it leaked. Because the lip on the edge of the mat was so small, it spilled out a bit out onto the carpeting, leaving bleach stains behind. If I had a larger lip like the aftermarket ones have, it may have contained the chemical.
Overall, I think OEM is a great option still mainly because it maintains the original look of the car, but also because you know you'll be getting a quality product from Honda. Just know that you will be getting slightly less protection than the aftermarket options.
As for procuring the OEM floor mats, you basically have three choices: order through your local dealership (and pick up there), order through a dealership online (and pay for shipping cost, so try finding one reasonably priced and located nearby to save on shipping), or check other sellers like Ebay, Craigslist, Facebook Marketplace, etc. I personally like buying OEM parts/accessories on Ebay because I can usually find a good deal on both new and used parts there. You can also try finding a used set locally that could be a fraction of the price of new ones as they could be used, yet still offer plenty of life in them.
Search for 2018-2023 Honda Odyssey OEM All-Weather Floor Mats on Ebay
Aftermarket All-Weather Floor Mats
When it comes to aftermarket all-weather floor mats for the 5th generation Honda Odyssey (years 2018-2023), you'll have a number of options to choose from. Just make sure to steer clear from universal fit mats as there's so many affordable custom-fit options out there, so I don't believe it's worth it to save some money for universal floor mats with lousy fit. You can go with some of the major brands or some of the lesser-known brands, but I've compiled the reviews I've read on the most common options and offer what I've researched below.
Weathertech
Weathertech is probably the most popular and reputable brand name in all-weather rubber floor mats for cars. They are also quite pricey at around twice the price of your typical aftermarket floor mat set that is listed here. Typically, Weathertech's will offer the best quality and protection for your vehicle, however the 5th generation Honda Odyssey has plenty of formidable competitors.
The Weathertech all-weather floor mats have a common complaint about the mats curling up around the edges. On the contrary, there are also excellent reviews on it as well, so it seems that if you get the Weathertech's, there is a possibility of you experiencing the edge-curling issue. Aside from this issue, these will likely be one of the better fit and quality that you can buy if you go aftermarket.
Furthermore, the Weathertechs offer some custom colors like Cocoa, Grey, and Tan in addition to the standard Black color. I typically always go with black, but for those who might want floor mats in another color, Weathertech has these options available to you.
WeatherTech Custom Fit FloorLiner for Honda Odyssey – 1st, 2nd, & 3rd Row (Black)
Husky Liners
Husky Liners is a popular car accessory brand that offers two lines of custom-fit floor mats for the 5th generation Odyssey. There is the X-act Contour Series and the Weatherbeater Series, both of which are custom-fit liners. The only difference between them is that the X-Act Contour Series have a more soft and rubbery material, while the Weatherbeater Series is a more firm, yet still pliable material.
It's slightly more cumbersome to buy the Husky Liners floor mats because they sell them individually (i.e. front row, second row, third row) rather than selling it as a set like other manufacturers do. Therefore, you'll need to buy them individually in order to have a full set. The nice thing about getting the Husky's is that the Weatherbeater Series has a matching cargo liner, which is not typically included in an all-weather floor mat set that you'd get from another manufacturer.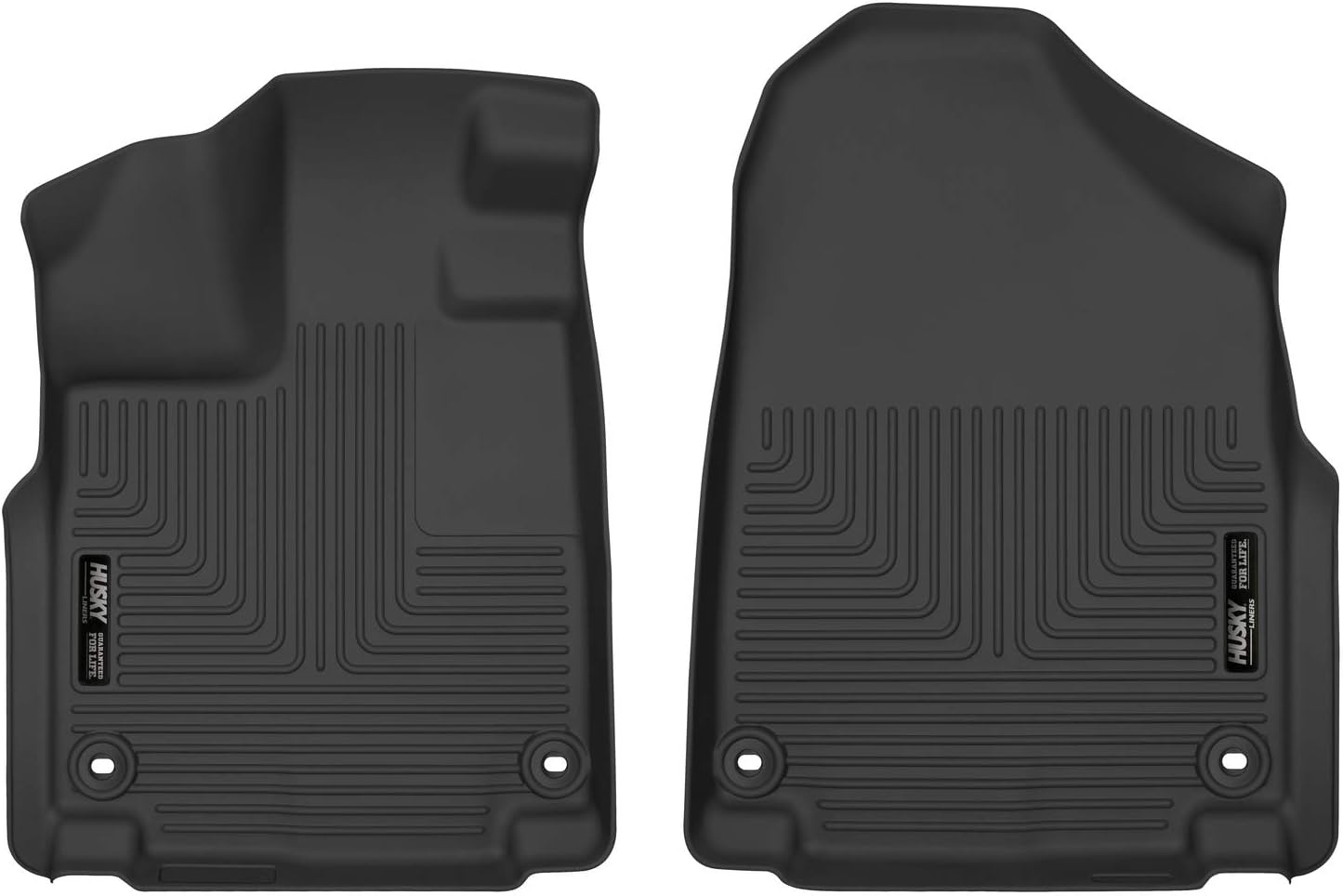 Besides the minor inconvenience of having to order these floor mats individually, the total cost of a set for the main three rows will cost you about $300. This is basically 2-3 times the price of a similarly spec'd aftermarket set.
Husky Liners – Weatherbeater Series
Front Floor Liners – Black | 18801 | Fits 2018-2022 Honda Odyssey 2 Pcs
2nd Seat Floor Liner – Black | 19901 | Fits 2018-2022 Honda Odyssey 1 Pc
3rd Seat Floor Liner – Black | 19911 | Fits 2018-2022 Honda Odyssey 1 Pc
Cargo Liner – Black | 44061 | Fits 2011-2022 Honda Odyssey 1 Pc
Husky Liners – X-Act Contour Series
Front Floor Liners – Black | 52971 | Fits 2018-2022 Honda Odyssey 2 Pcs
2nd Seat Floor Liner – Black | 52981 | Fits 2018-2022 Honda Odyssey 1 Pc
3rd Seat Floor Liner – Black | 52991 | Fits 2018-2022 Honda Odyssey 1 Pc
Maxliner/Smartliner
Maxliner floor mats are the same as Smartliner floor mats. In fact, when I purchased mine, I ordered a set of Maxliner floor mats and ended up with Smartliner floor mats instead. Basically the only difference is the logo, which have a similar type of sticker applied (with either Smartliner or Maxliner brand) to the front floor mats. So it seems that Smartliner and Maxliner are the same manufacturer/seller.
I personally ended up going with these all-weather mats because they get rave reviews and they look great. One of the reasons I chose these aftermarket ones over other ones is because having floor mats with the Smartliner/Maxliner brand is in my opinion, a bit more elegant-looking than having floor mats with some strange looking name (there's one on Amazon called Kiwi Master!) Basically for me, it all came down to me rather having a normal looking and sounding name displayed on the floor mat rather than a weird one.
Anyway, if you want to know more about this brand, you can find more photos and my install of the Smartliner/Maxliner mats further down on this page. Also keep in mind that this brand also offers a cargo liner as well, so you can either purchase the more common floor mat set for the 3 rows only, or you can opt for the entire kit (3 rows and a cargo liner.)
MAXLINER Floor Mats, Compatible with 2018-2023 Honda Odyssey – All Models
MAXLINER Floor Mats with Cargo Liner, Compatible with 2018-2022 Honda Odyssey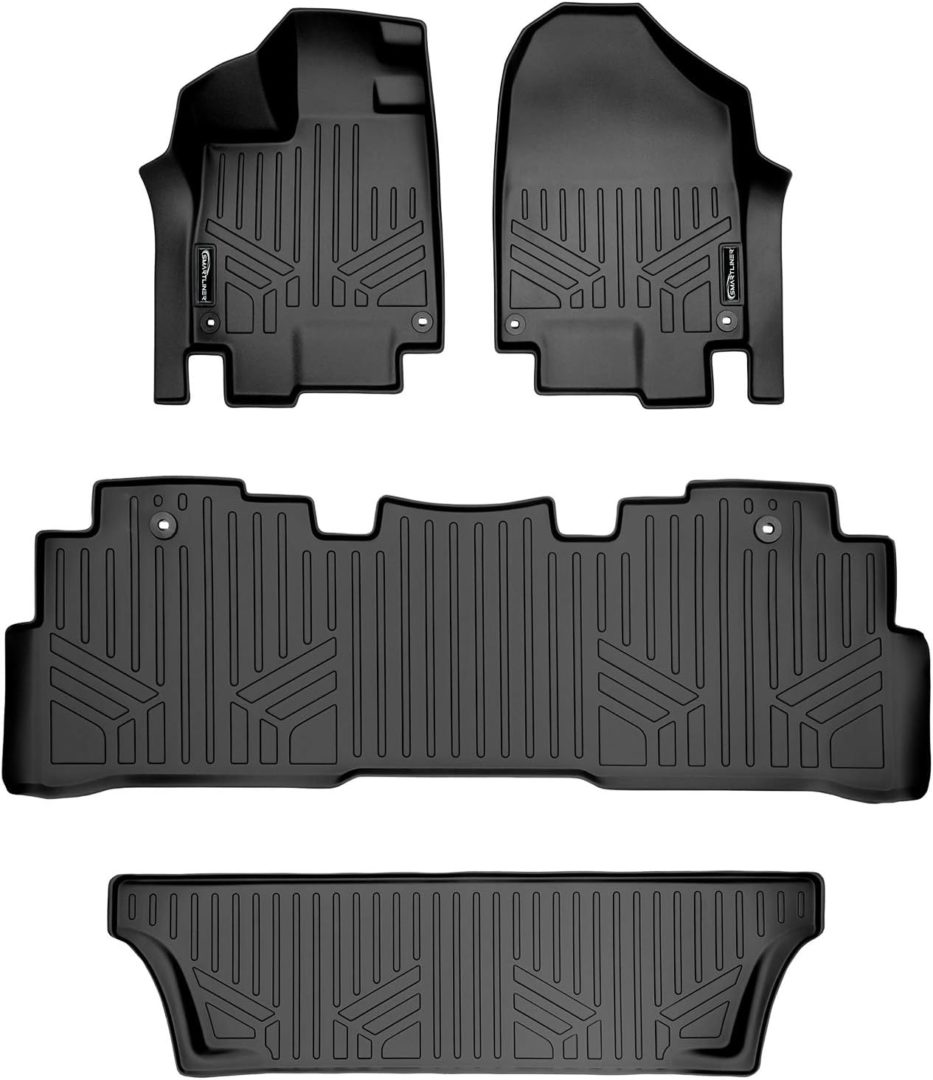 Oedro
These seem to get rave reviews both on Amazon and 5th Gen Honda Odyssey forums/Facebook Groups. They are known to have great fit, although there are some occasional accounts of bad fitment. I personally like the simple tread pattern, as well as the nice clean look of the logo. A lot of Honda Odyssey owners compare the Smartliners/Maxliners with the Oedro as they are both similar in look and price.
OEDRO Floor Mats (2018-2023 Honda Odyssey)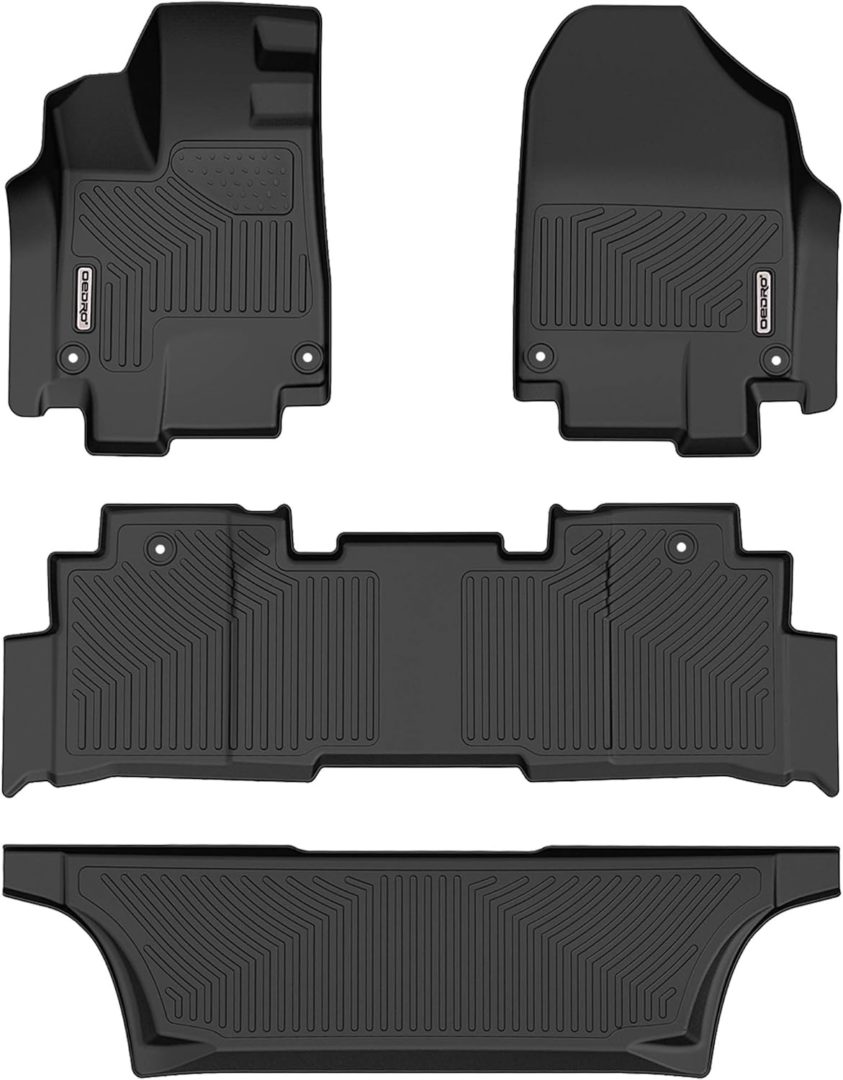 YitaMotor
These mats are one of the cheapest in price out of the aftermarket options here costing just over $100 on Amazon at the time of this writing. They appear to offer good protection just like the other aftermarket options. I don't like the design of the texture as it looks too busy for me. The logo for Yitamotor also looks cheap to me. There doesn't seem to be a whole lot of first-hand accounts on the use of this product besides the Amazon reviews, which are very good. So if you're looking for the most economical custom-fit aftermarket mats, this may be the one for you.
YITAMOTOR Floor Mats (2018-2023 Honda Odyssey)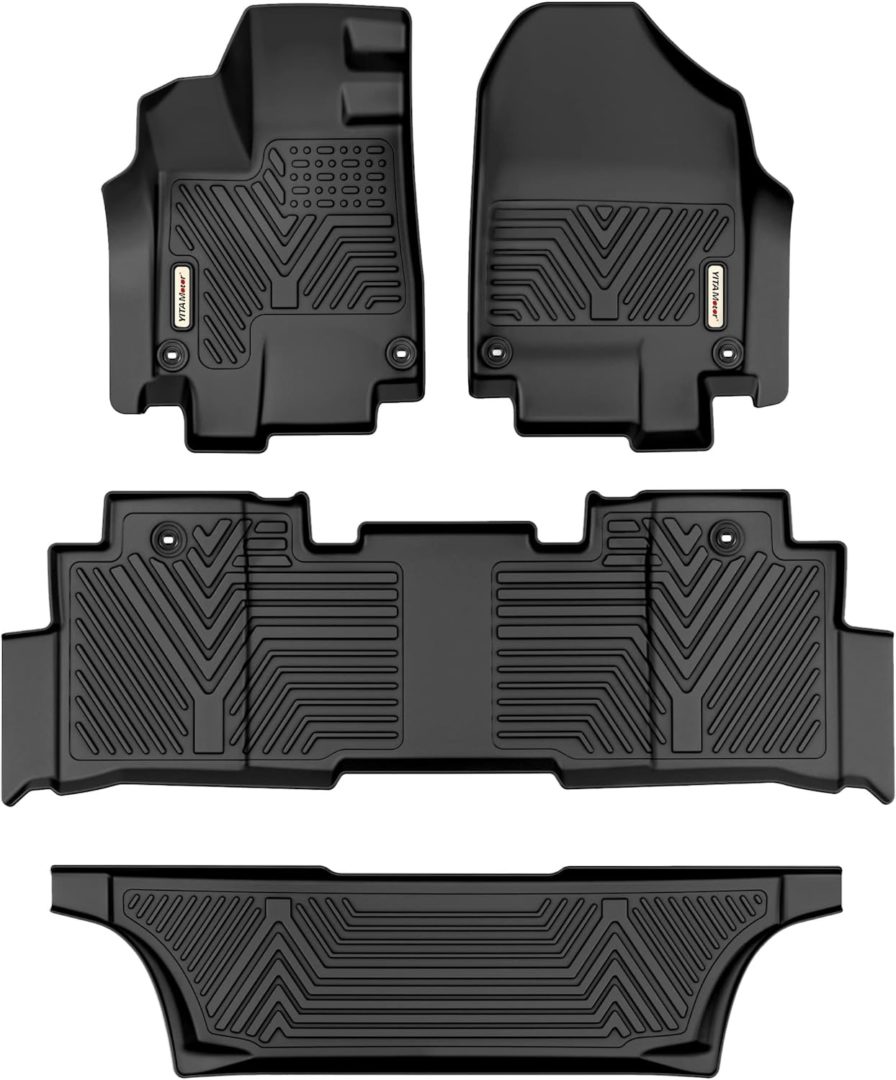 Lasfit
This is another set of aftermarket floor mats for the Odyssey that has good reviews on Amazon, although they aren't as popular as the Oedro or Smartliner/Maxliner ones. To me, these floor mats have too much branding (on the first two row floor mats compared to others that have them only on the front.) I also am not a fan of the tread lines on the mat. And finally the name is yet another one of those odd-sounding names to me. In spite of my complaints about the design, they do seem to offer adequate protection for the floor for a decent price.
LASFIT Floor Mats Fit for Honda Odyssey 2018-2023 All Weather Car Liners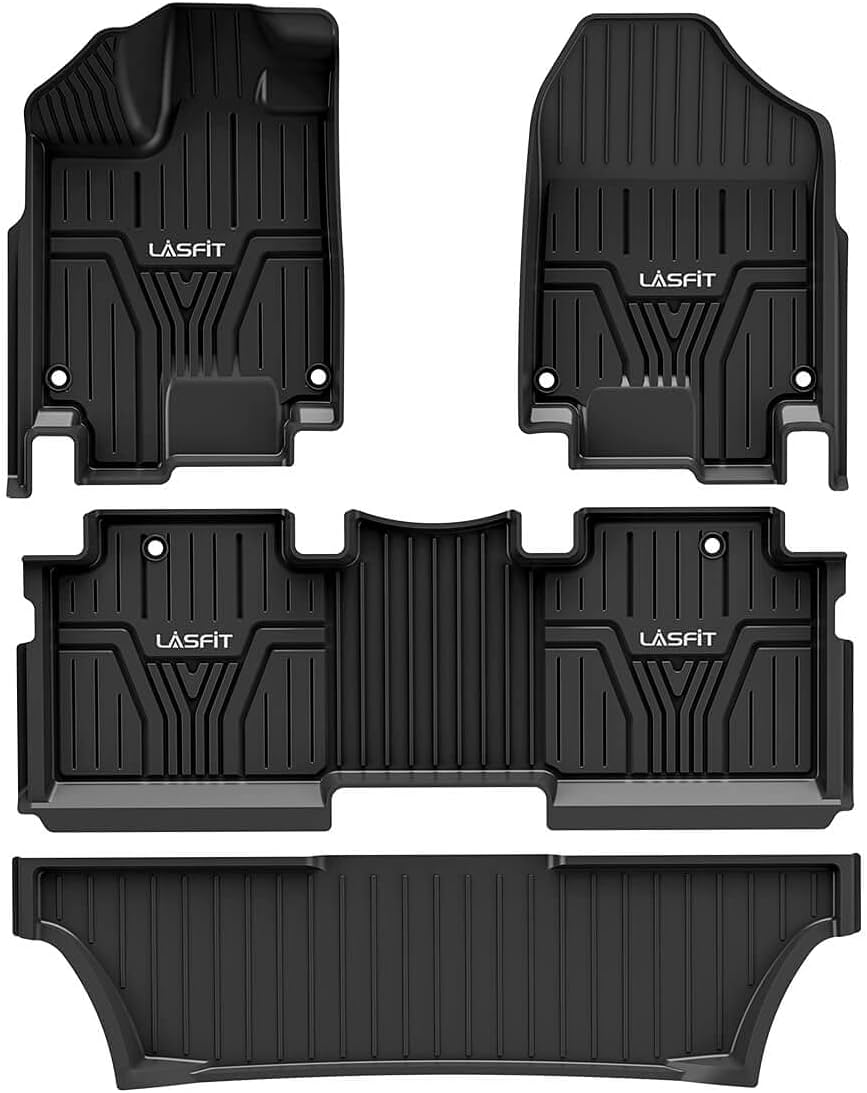 My Opinion on Buying All-Weather Floor Mats
OEM, Weathertech, and Husky Liner floor mats cost somewhere in the $200-$300 range and will generally offer you the best quality and fitment. However, even if they are in the upper price range, it doesn't necessarily mean that they are the best.
Ultimately, all-weather floor mats are basically just rubber floor mats that protect the carpeting underneath. In my opinion, they all practically do a great job at protecting the carpet. So for the important things I look for, it all boils down to looking great and having a good custom fit.
I don't want to buy the cheapest floor mats available, yet I also don't want to spend twice the price just because it's a name-brand product. In the end, I was left deciding between the Oedro and the Smarliner/Maxliner all-weather floor mats. Although these two options were practically identical in cost, look, and had excellent reviews, I ended up choosing the Maxliner/Smartliner floor mats simply because I liked the look of the logo on the front floor mats better.
What I Ended Up Choosing: Maxliner/Smartliner
I ordered a set of the Maxliner/Smartliner all-weather floor mats for my 2019 Honda Odyssey and it comes packaged as pictured below. As I mentioned previously, Maxliner and Smartliner are the same brand/manufacturer. On the Amazon listing I ordered from, it is listed as Maxliner, but I received Smartliner-branded mats. Interestingly, there is a listing for the Smartliner mats and a separate listing for the Maxliner ones, so I imagine that no matter which one you order, you should expect to get either logo on your floor mats.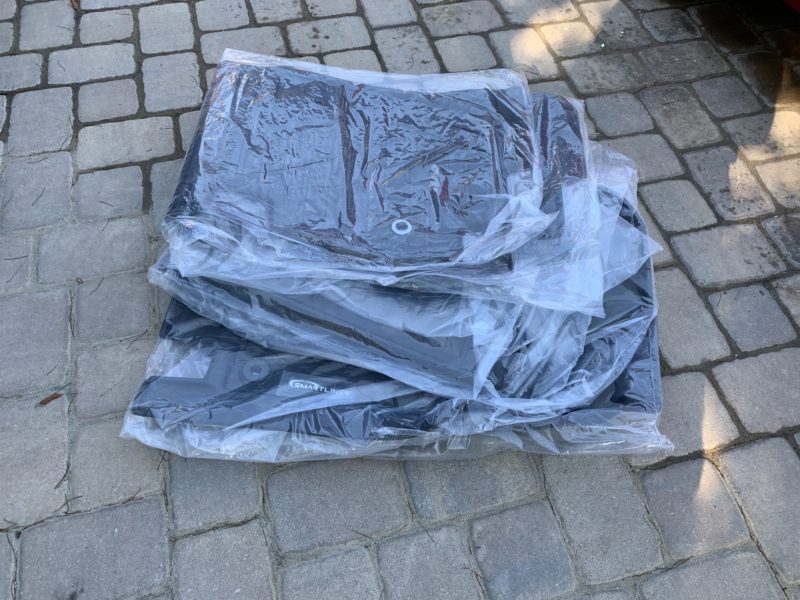 The second and third row floor mats are folded in half in order to fit in the box, but once you receive them they are easily unfolded for installation.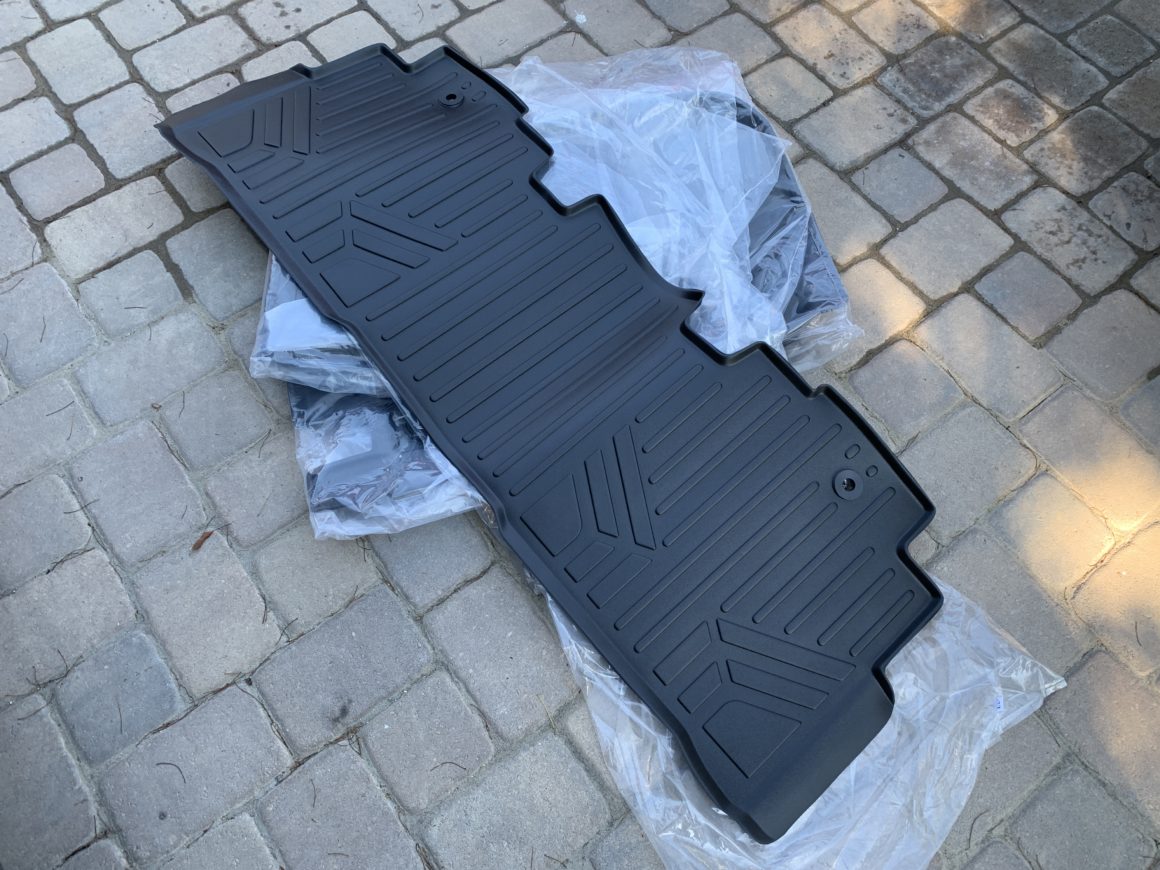 The logo has a nice gloss look to it and the material is firm and not rubbery. My only complaint would be that the second and third row mats are thin and feel flimsy.
The first and second rows have a really good fit, partly due to the fact that they clip into the existing car's floor. The mat for the third row doesn't fit as well due to a few reasons: it doesn't clip into the vehicle's floor like the other rows do, it is thin and light, and the texture is smooth so there is no friction between the mat and the carpet floor. Because of these reasons, the third row mat slides around a bit and doesn't have as tight a fit as I would like.
Overall, these mats serve their purpose and I felt comfortable spending the $150 for them rather than shelling out twice that amount for the more well-known brands. I have no complaints about the Smartliner/Maxliner floor mats with the exception of the third row mat, which should be redesigned to have a snugger fit.