When you make purchases through links on this site, The Track Ahead may earn an affiliate commission. Also, these posts are based off my own experiences. I am not responsible for any action you take as a result of reading this. Learn More
---
I picked a brand new 2020 Ford F-150 recently and have been incredibly happy with it so far. Since I'll be using the truck like a truck is intended to be used, I knew that I needed to take care of protecting the bed of the truck before I did any sort of hauling.
If you read in my previous post, you'll know that I almost picked up another almost identical F-150 with a spray-in liner already installed from the factory. What I learned later is that the factory spray-in bed liner is actually done by a third party: Ground Effects Ltd. The spray-in liner provided by Ground Effects is, to my knowledge not as robust as one done by Line-X, but it does still look quite good. In fact, I prefer the look of the "factory" spray-in bed liner as it has a very uniform appearance to the texture. Line-X sometimes looks a bit more rough in texture, however they are supposed to be more durable.
The other thing that is a downside to the "factory" bed liner is that it doesn't quite cover far enough over the sides of the bed and tailgate. When the tailgate is down, you'll see that there is a bit of exposure to damage because the spray-in bed liner doesn't run down that far over the edge and onto the sides.
If you are deciding on what type of bed liner you might want to go with, I wrote a guide to choosing a bed liner that might help you with your decision. My F-150 came with a bare bed; no factory spray-in liner from the factory. Because the truck is brand new and I know how much the truck costed, I figured I'd go with the best spray-in bed liner that I know of: a Line-X spray-in bed liner.
Choosing a Line-X Shop
As I mentioned earlier, my truck did not come with a factory bed liner. So, I called up the local Line-X shops in my area and scheduled an appointment. There were three that were relatively nearby: the closest one had terrible reviews on Yelp, and the other two with good reviews were about an hour away.
I left out the closest shop and called the other two. One shop I called asked me about my truck and what I would be using it for. He then proceeded to answer one question after another from me. His exact words after me apologizing for asking so many questions: "ask me all the questions you want." That, I like to hear. He then provided me with the two options they offer, the Line-X Standard and the Line-X Premium. The standard is the base line spray-in bed liner, and the Premium is the same as the Standard, but with an additional coating for UV protection.
I then called another shop and the owner there asked me what I'd used the truck for. As soon as I started answering, he cut me off and told me that I needed the Standard; no need for the Premium… without asking me how I prefer the look of the bed to be after many years of sun exposure. I knew right away that I'd prefer going with the first shop I called.
So I ended up working with Eric at Line-X of San Jose. I made an appointment and planned to clean up the truck a bit so they wouldn't have to worry about anything else other than spraying the liner.
Preparation for a Spray-in Bed Liner
The day before my appointment, I did a quick light wash of the entire truck. I did this to ensure that whoever is spraying in the bed liner, wouldn't have to worry about additional dirt or debris in the bed of the truck. Furthermore, cleaning of the truck as a whole would prevent any issues with the taping off process. Eric from Line-X of San Jose told me that if I were going to wash the truck, make sure not to do it the day of as any residual moisture might cause issues with the spraying process.
The day before, I got out my Meguiar's Gold Class Car Wash and used the two-bucket method to completely wash the truck. I took especially careful attention to the bed of the truck, making sure to clean it out completely of both dirt and debris. Of course, I followed up with drying it all off completely with a drying microfiber cloth.
Product used:
Meguiar's Gold Class Car Wash
Car Wash Buckets
Grit Guards
Relentless Drive Microfiber Mitt (2-Pack)
Meguiar's Drying Microfiber Towel
If you want to reference my post on washing the exterior of a car, you can see this post. After I finished washed the truck, I let it sit overnight. The next day, the truck was completely dry and ready for the bed liner to be sprayed in.
Why I Chose a Spray-in Bed Liner
Ultimately, I went with a spray-in bed liner because of several main reasons:
I use my truck for a lot of hauling from landscape materials to taking bulk items to the dump. The bed needs a lot of protection from impacts both spread out (from a variety of materials) and concentrated (jabbing/scraping with a shovel).
The truck I got is a brand new truck, so I've gone along the thinking of pulling out all the stops with cost. If I need to weigh cost versus protection, I'm going to go with protection. Therefore, cost is not going to be a limiting factor unless the cost is astronomical or provides little benefit.
Finally, I need long-lasting protection that hopefully looks great in the long run.
After determining my wants and needs above, I decided I wanted the best-possible looking bed liner with good long-lasting protection. Furthermore, it needs to protect against all kinds of impact as I use the truck bed for a lot of hauling as well as dumping. I decided on a spray-in bed liner with a bed mat as this would best suit my needs.
This combination of a spray-in bed liner and a bed mat combines the great look of a spray-in bed liner with the added protection against concentrated impact loads of a rubber bed mat. Since the spray-in liner is adhered completely to the truck bed's clear coat, it is fully protected against potential corrosion. The main downside might be the slightly more difficult cleaning process with the added step of removing and re-installing the bed mat when cleaning.
If you own a truck and expect the bed to get a lot of use, you've probably thought about how you'd want to protect the bed of your truck. You might have just bought a new truck and want to protect the paint surface of your bed, or you have an existing bed liner that is worn, or you just simply want a new bed liner. There's several options out there and it's important to understand what the pros and cons of these options are, and choosing the best one that fits your needs and your budget. If you still need help deciding on what bed liner is best for you, see this guide.
Day of the Appointment
I had an AM appointment, so I showed up at 9am and dropped the truc koff. Eric, the owner of the Line-X shop, showed me their work truck that was sprayed in. He explained to me what they would do, asked me if I wanted bed bolts in or out when they sprayed, told me that they would remove the access panel to the tailgate before spraying, and also asked if I wanted anything else like removing the tie-down brackets before spraying. He also answered every question I had before they started prepping the truck for spraying.
The entire spray-in bed liner process took about 3 hours and this included prep, spray of the bed liner, and the UV protection coat afterwards. The bed liner was dry to the touch when it was completed. Eric recommended that I let it fully cure for a day or so before any heavy use. Again, Eric patiently answered my final questions before driving off with my new bed liner. I totally recommend Line-X of San Jose for all your Line-X needs. Eric put my worries and concerns to rest as he carefully explained everything along the way.
Before and After Line-X Spray-in Bed Liner
Here are some before and after shots of the Line-X spray-in bed liner. These were taken right before the spray-in and right after.
Final Words on the Spray-in Bed Liner
After you get your spray-in liner done, make sure to inspect it very carefully. Because of the spray-in process, it is entirely possible for overspray and/or material getting onto your vehicle's paint. I checked the entire truck's body and found a few spots where there were bits of spray bed liner material that made its way onto the paint. I believe it to be some of the cover materials that may have rubbed onto the truck's paint.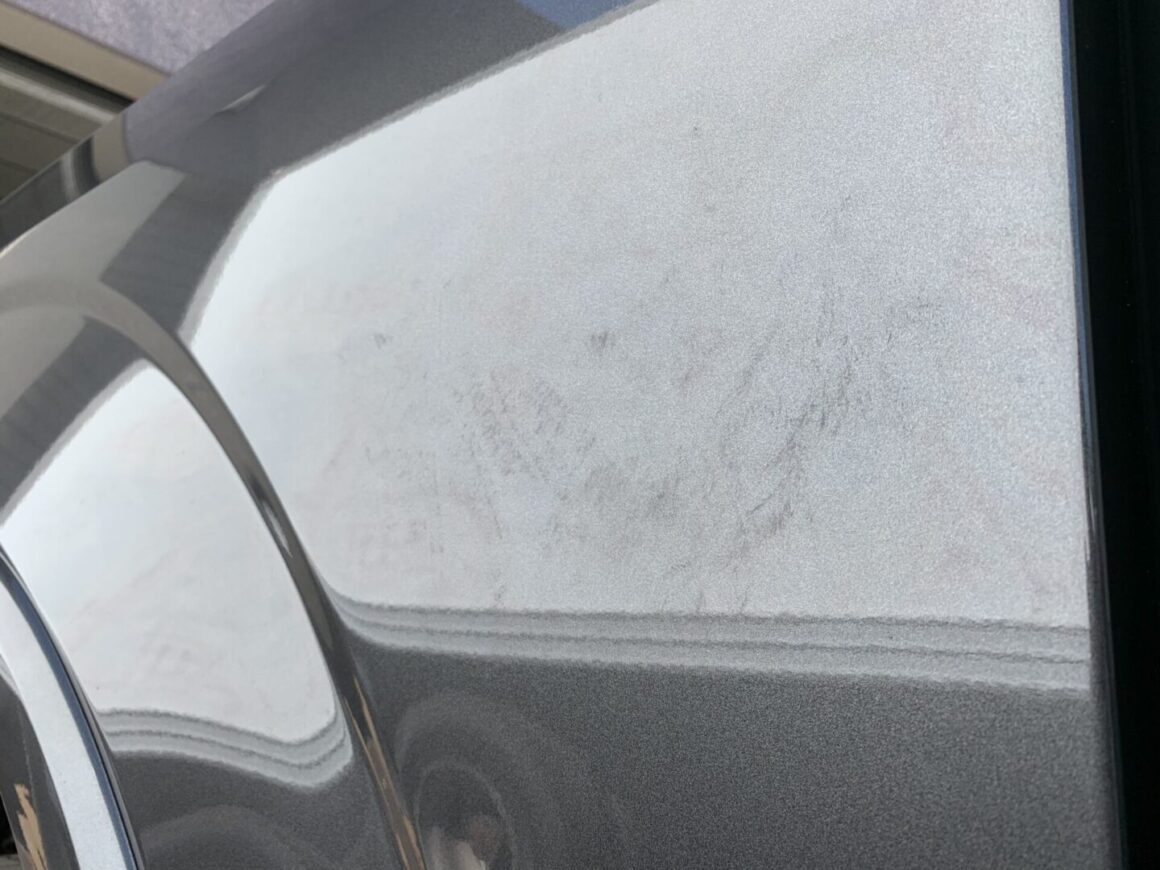 Because I was still at the shop, I informed the tech who did my truck and he came around with a spray bottle of rubbing alcohol, spraying the affected spots and wiping it away. I'm not exactly sure how easy it may come off if I hadn't noticed it until I got home, or maybe days/weeks later. However, when he wiped it with rubbing alcohol, it came off very easily. This is stuff that just happens, which is not a big deal. Just make sure you inspect to catch these things before you drive your vehicle away from the shop.
The Line-X spray-in bed liner came out great. It looks incredibly durable and displays a beautiful shine. Knowing that I have the UV protection paired with the fact that I don't plan on using a Tonneau cover, I know that the glossy shine will still be there for many years to come. I know that spray-in bed liners aren't very good at protecting from gouging, so I plan to add a bed mat on top of it as well. Overall, the whole spray-in process at the Line-X shop was very pain-free and the outcome is a bed liner that has extremely good protection while looking amazing too.