When you make purchases through links on this site, The Track Ahead may earn an affiliate commission. Also, these posts are based off my own experiences. I am not responsible for any action you take as a result of reading this. Learn More
---
Detailing the Lexus IS350
It has been several years since my wife's Lexus IS350 was properly cleaned, so a detail was certainly in order for this 11 year old vehicle. The car was garaged for the first half of its life and outside for the second half. Although the exterior is in really good shape, it still looks weathered due to its age and to its exposure to the outdoors.
I've been wanting to do a detail to this car, but because I had only about 4 hours, I settled on doing a smaller detail instead. I did everything by hand rather than with a random orbital polisher to keep things simple. Combining the fact that the car's exterior is still in good condition and the time constraint that I have, I think that the detail I chose was more than sufficient:
rinse, foam cannon, scrub, wash off – removes initial dirt and grime
clay bar – cleans off harder-to-remove grit embedded in the clear coat
glaze polish – fills in imperfections and brings out the shine
insulator wax – locks in and protects the work done so far
Rain-X – applies water repellent to windows and windshield
wheel and tire cleaner – gives a nice shine to the wheels and to the tire sidewalls
Rinse, Foam Cannon, Scrub, Wash Off
The exterior condition was not bad at all to begin with. We can already tell that the detail required would be relatively minor, but it's important to get the car cleaned first to see what dealing with.
Purchase on Amazon.com: Torq EQP321 Cannon Snow Foamer
This is the Torq Cannon Snow Foamer. It allows you to spray soap foam evenly and in the consistency ideal for penetrating the dirt and grime on your car. It will also require a pressure washer and soap in order to perform a wash with this Torq Cannon Snow Foamer.
Purchase on Amazon.com: Chemical Guys Honeydew Snow Foam – 1 Gal
I love the smell of this soap made by Chemical Guys. It's a honeydew scented snow foam, which is used with the Snow Foamer.
And finally, you'll need some sort of pressure washer to attach the foam cannon to. I personally have a Sun Joe SPX3000 electric pressure washer, which works wonderfully. If you keep an eye on these Sun Joe pressure washers, they regularly go on sale on Amazon.
Purchase on Amazon.com: Sun Joe SPX3000 Electric Pressure Washer
In my experience, I've found that the bottle only needs to be filled about half-way with soap to handle a regular-sized coupe or sedan, and perhaps 3/4 of the bottle when doing the same for an SUV or truck. The bottle screws into the Torq cannon and in-turn hooks up to the pressure washer. The nozzle on the cannon can be adjusted to spray in a horizontal or vertical direction very easily. With everything hooked up, I turned on the pressure washer and began spraying the car.
The great thing about using snow foam over normal car wash soap is that it stays on the car longer instead of dripping right off. This gives you more time to scrub the car's exterior without having to dip a rag into a bucket every time. If you're feeling particularly lazy: spraying snow foam, letting it sit, and then rinsing it off will be an easy and quick car wash job.
Clay Bar
Using a clay bar takes your car wash game to the next level after a simple wash. A clay bar removes little bits of debris in your clear coat such as grains of metal, tree sap, airborne environmental deposits and even paint over-spray.
This is one of the best known clay bar kits out there and one that I've used many times.
Purchase on Amazon.com: Mothers 07240 California Gold Clay Bar System
The clay bar is simply hydrated (with either the included "instant detailer" in the clay bar kit) or with soapy water. The clay bar is then run across the car's paint (and even windows) to pull away those small deposits. After the surface gets dirty, the clay bar can be molded to expose a fresh new surface to continue use with.
After running your finger across the surface of the paint before using a clay bar, it'll feel relatively rough. After using a clay bar, it should feel like the surface of glass. This is what the car looked like after the clay bar:
Glaze Polish
At this point, I needed to see if additional steps would need to be taken with the detail. The paint doesn't look too bad, but you can still see a decent amount of "orange peel" on the surface. As I've said before, the car was in pretty good condition and therefore I chose not to go with any compounds for paint correction. I decided to go with a glaze polish that would help bring out the shine instead. The product I used for this purpose is Meguiar's Professional Show Car Glaze #7.
Purchase on Amazon.com: Meguiar's M7 Mirror Glaze – 16 oz.
The glaze polish helped a bit with the look of the car's paint. I admit I probably could have gotten much better results with a strong polish or mild cutting compound, but I chose to stick with a glaze compound due to the time constraint I had. Next time, I'd go a bit further with perhaps a Meguiar's M205 polish prior to the glaze polish.
Insulator Wax
You can use any wax you'd like, but the one that I swear by is Collinite 845 insulator wax. It is normally used for marine use, so you know it is strong enough to hold up to some serious wear-and-tear. Collinite 845 is safe to use on cars, but it should not be used on rubber, black trim, vinyl, glass, or non-painted plastic. I've used this product for years now and it works wonders. The wax lasts months at a time and water wicks off like you applied Rain-X. The wax also repels dust and dirt that normally would stick to the paint's surface.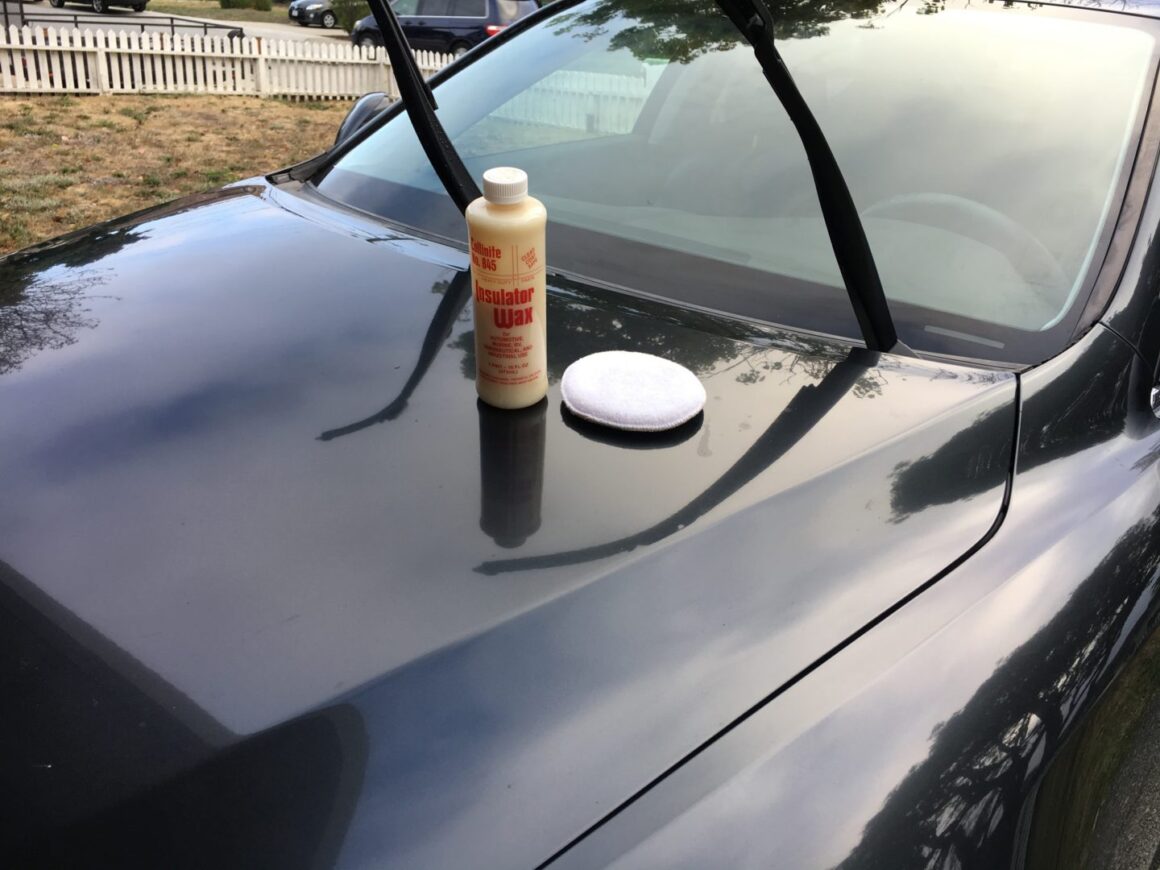 Purchase on Amazon.com: Collinite Liquid Insulator Wax 845, 16 Fl Oz
When using this product, shake the bottle up well as the contents tends to cake up at the opening of the bottle over time. When the product comes out of the bottle, it should be fairly viscous and runny; not like a normal more solid type of wax. The product is applied with a foam pad and removed with a microfiber towel– very easy to do by hand, but better results will be obtained by using a random orbital polisher.
Rain-X
Everyone knows what Rain-X is by now and how it acts as a hydrophobic product when applied to windows and windshields. When used properly (apply, let dry, and buff off), it repels water off window surfaces very effectively.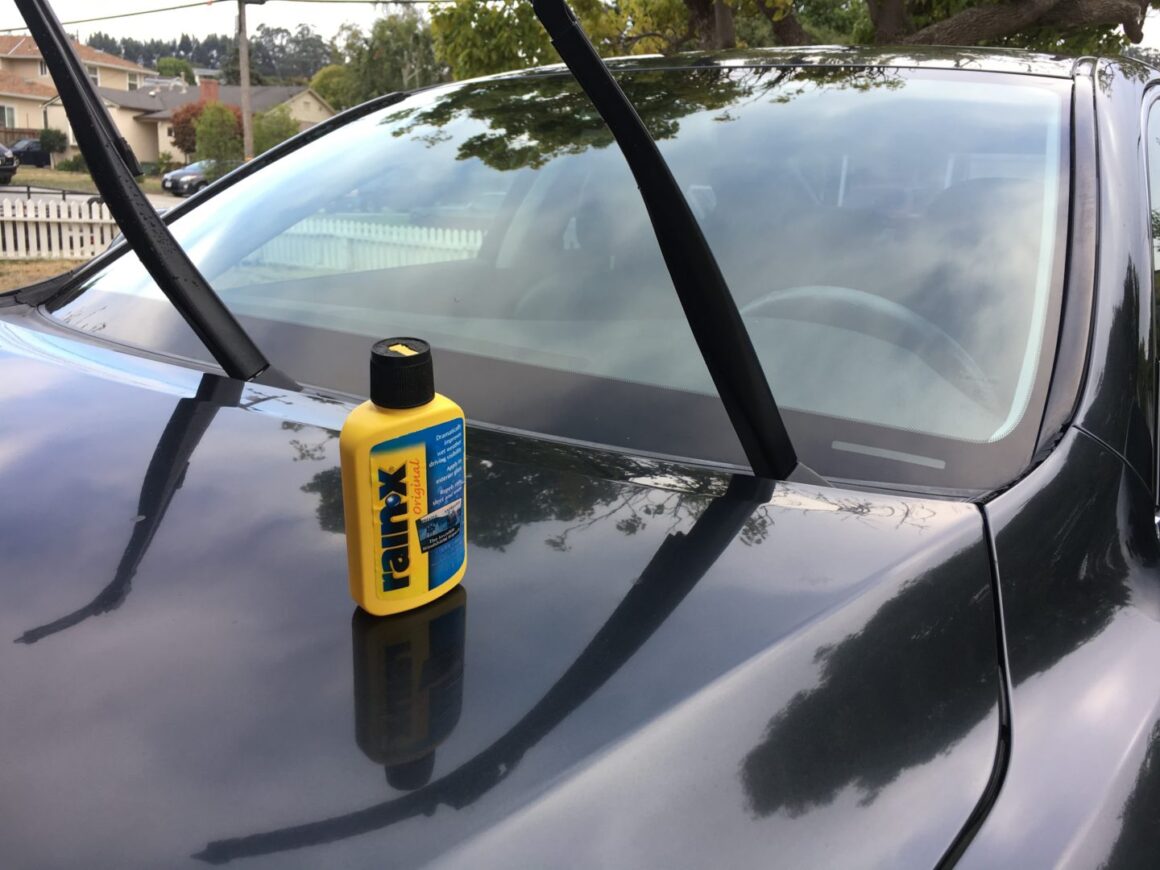 Purchase on Amazon.com: Rain-X 800002243 Glass Treatment- 7 fl oz.
Wheel and Tire Cleaner
And finally, the wheels and tires need some love too. I'm a fan of easy detailing products that don't involve a ton of elbow grease. Wheel cleaners are quite powerful and will start removing grime as soon as it is sprayed on the wheel. However, you still need to scrub the wheels to truly get the caked-on dirt, grease, and brake dust off. After scrubbing and rinsing off the wheels, use a tire dressing to spray the tire sidewall. Tire dressing is normally sprayed on and left there with no need to wash off, so save this for last.
Purchase on Amazon.com: Mothers 06024 Polished Aluminum Wheel Cleaner – 24 oz.
Purchase on Amazon.com: Black Magic Tire Wet Foam, 18 oz.
End Result
In all, the detail took me about 4 hours to complete. Normally, I do a detail like this only once a year due to my schedule. And every 2-3 weeks, I like to use the pressure washer and foam cannon to spray on and wash off in order to keep my cars clean. This Lexus was seriously overdue for a detail and so when I was finished, I could see a big difference.