When you make purchases through links on this site, The Track Ahead may earn an affiliate commission. Also, these posts are based off my own experiences. I am not responsible for any action you take as a result of reading this. Learn More
---
HID (high intensity discharge) headlights can produce much better light output over traditional halogen headlights. My 2003 Toyota 4Runner originally came with halogen headlights, but I retrofitted projectors and installed a universal HID lighting kit. The HID projector retrofit kit that I installed uses amp-style wiring for the HID bulbs, so my setup looks like what the below diagram shows.
At different times, I've had issues with my HID headlights not working. With some troubleshooting, I located issues my HID bulb, ballast, and relay. When I was shopping for replacement parts, I found cheaper alternatives on Amazon compared to the more expensive and more well-known brands. Normally, I'd be wary of such brands as they usually tend to be of lower quality and can potentially cause more headaches down the road.
The reason why I considered off-brand HID products off Amazon is two-fold. One, I have used an ACME HID lighting kit (which is considered a budget kit) on my projector retrofit for about four years and it has worked flawlessly for that time. When one of my HID bulbs finally went out, I replaced it with a Morimoto HID bulb (a reputable brand name) and it burned out a few months later. This may not be the norm, but in my personal experience a better-known brand won't necessarily outlast the lesser-known brand.
And two, I don't like the idea of not having extra headlight parts with me. If for some reason my relays, wiring harness, ballasts, or bulbs go out while I'm on the road especially at night, then I'd be stuck with no lighting. With halogen lights, I'll usually keep some extra bulbs in the glove compartment, but with HID's, the problem could be more than just a bulb. With that said, HID parts can be costly especially if you're buying extra parts to keep on-hand. Therefore, I wanted to try some of the budget lighting options. Here is my experience with some popular budget 35W universal HID lighting from Amazon so far.
HID Bulbs
Xtremevision AC HID Xenon Bulbs – H1 4300K / 5000K / 6000K / 8000K / 10000K
At the time of this writing, the Xtremevision HID bulbs on Amazon cost $15, so that is $7.50 per bulb. Obviously with it being at such a low price point, it's easy to buy extras to keep in your vehicle should your existing bulbs burn out.
The bulbs are packaged decently to protect it during shipping. Upon initial install, I noticed that the 4300K bulbs that I bought lit up greenish in color, although the color should be a "daylight" color. Probably after a day, I noticed that the color eventually appeared more yellow-ish white, which is what the daylight color should be. Besides that, the HID bulbs have worked fine for the past few months over a couple thousand miles of use.
The quality of the wiring doesn't look too bad and similar to what I saw with my ACME H1 bulbs that I previously got at The Retrofit Source. These bulbs have wiring and amp connections, compared to others that have socket connections.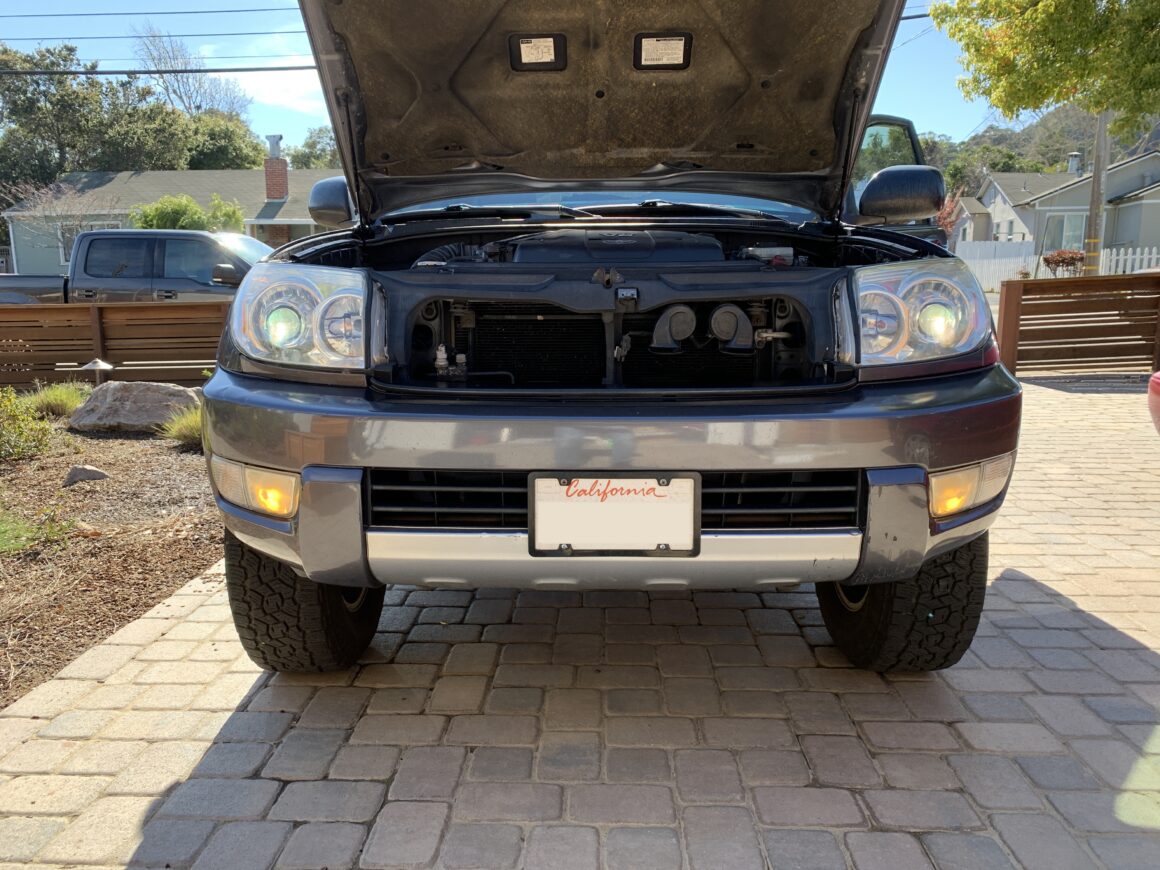 Ballasts
Xenon HID Ballast 35W DC 12V Universal Replacement for H1 H3 H4 H7 H11 H13 9005 9006 9007 5202 880, Pack of 2
I bought these 35W ballasts on Amazon for $18 for the pair. The quality of these appear to be pretty good and the connections look secure. The strain relief on the wiring to the ballasts and ignitor looks pretty beefy.
The downside to these aftermarket ignitors is that there is no mount for the ballasts. Mounting the ballasts will prevent them from getting tossed around in the engine bay causing potential damage to these parts. The holes that are available on the aftermarket ballasts are so tiny that it is unlikely to find a small enough bolt to fit through for mounting to the frame.
Compare that to the ACME Speedy Start ballasts below that includes a mount. You may either leave the aftermarket ballasts freely sitting in the engine bay or perhaps you can find a way to tape, zip-tie, or Velcro to secure it in place. Securing the ballasts in the engine bay will prolong the life of these products.
Wiring Harness
Innovited Universal relay wiring harness for all HID H1, H3, H4, H7, H8, H9, H10, H11, H13, 9004, 9005, 9006, 9007, 5202, 880, 884
The Innovited wiring harness costs $11 on Amazon as of this writing, so it is very cheap. The wiring includes a wire loom to protect the wiring and it has heat shrink wrap around the connection to the relay. Overall, the quality looks pretty decent. The relay looks like it has the ability to be mounted, but there is no actual mounting bracket so you'll either have to have it free-floating or mount it via tape, zip-tie, or Velcro.
This specific wiring harness is connected to only one relay. Contrast this with other dual-relay setups where each side's ballast and bulb are powered by an individual relay. The good thing with a dual-relay setup is that if one relay fails, then you only have one headlight go out. With a single-relay setup, if your relay fails, then both your headlights will go out at once. If this is a concern, then you can simply carry extra relays with you as this part costs so little.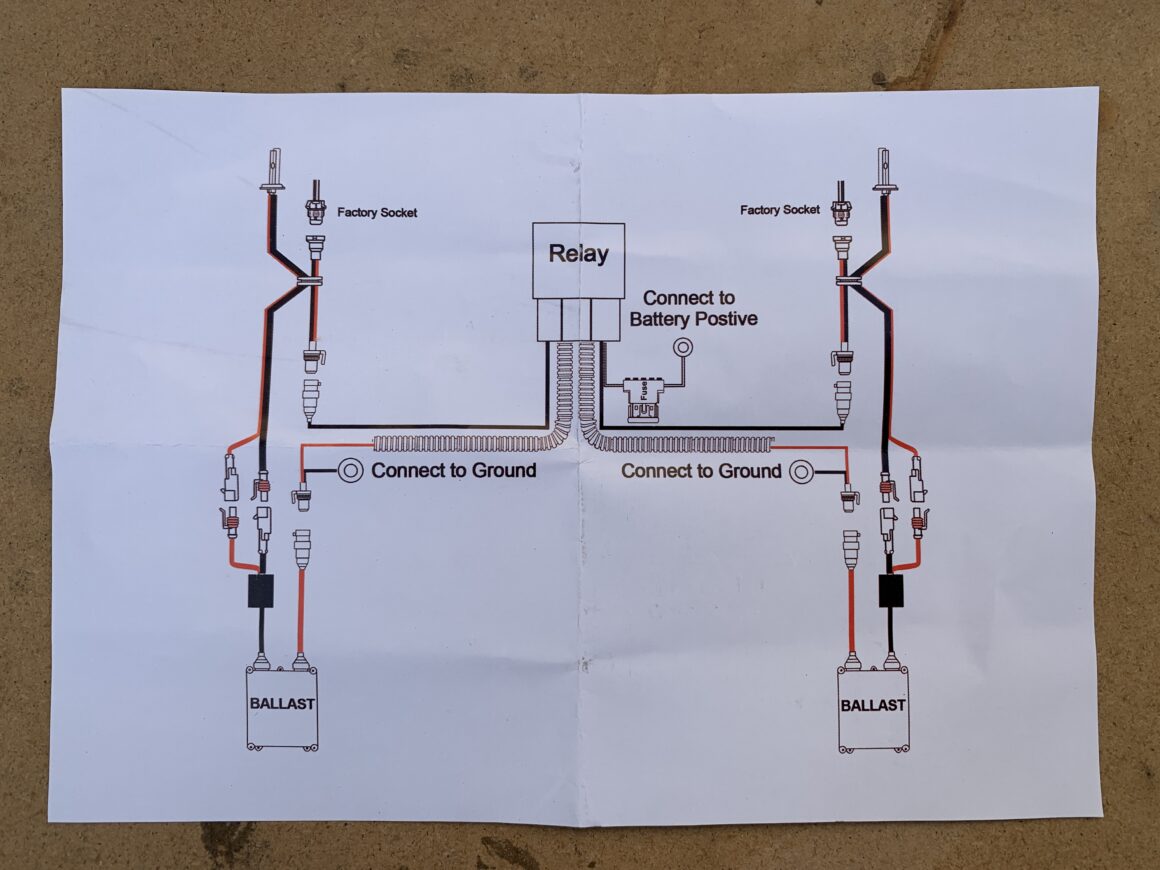 If you prefer a dual-relay setup with your HID system, you can go with a Morimoto one which is not too pricey. I don't see too many budget wiring harnesses online that utilize a dual-relay setup.
Morimoto HD Relay Wire Harness Plug & Play for HID fits 9005 9006 9012 H10 H9
Relays
EHDIS Car Relay 4 Pin 12v 40amp Spst Model No.: JD2912-1H-12VDC 40A 14VDC, Auto Switches & Starters,Pack of 2
When I was faced with relay issues on my HID's, I initially thought I had to swap out the entire wiring harness with relays which would cost at least $40. Instead, I decided to try out these pair of aftermarket relays for $10 off Amazon. As simple as it was replacing the relays on my vehicle, it resolved my intermittent lights issue. The relays take slightly more effort to push into the connector when installing them, but it does fit and they have been working for months now without issues.
Just like some of the other budget aftermarket HID parts, there isn't a well-thought out mounting system on these. So, if you don't have an existing mounting bracket, then these will either free-float or you can secure it in another fashion. By comparison, if you go with the Morimoto wiring harness with relays (as listed earlier), then the relays have a mounting bracket that can be secured to your vehicle.
Bundled Set of Bulbs and Ballasts + Wiring Harness and Relay
Innovited H1 HID Xenon Bulb x 1 pair bundle with 35W AC Digital Slim Ballast 3000K / 4300K / 5000K / 6000K / 8000K
Innovited Universal relay wiring harness for all HID H1, H3, H4, H7, H8, H9, H10, H11, H13, 9004, 9005, 9006, 9007, 5202, 880, 884
If you want to simplify the purchasing of a bunch of different parts, you can opt for this Innovited kit, which includes the ballasts and bulbs. You'll still need to get the wiring harness/relays, but at least this kit comes in an easy to store box. I keep one of these in my car along with a spare wiring harness/relay just in case I get stranded on the road with no working lights.
Overall Thoughts on Budget 35W Universal HID Lighting from Amazon
I'm always intrigued by finding budget products that work as well as name-brand products, yet cost only a fraction of the price. Although these "cheaper" brands usually get a bad rap, they do seem to get better in quality over time.
I don't think lower cost products are necessarily any worse than pricier ones. From my experience choosing an ACME HID Projector Retrofit Kit (which is a budget kit compared to the other more well-known brand names) was a great choice. Compared to my original halogen headlights, they already provided me with an immense amount of light output and they worked well for me for about four years.
Since I had to replace some of these components, I wanted to take it a step further and see how these even more budget aftermarket HID parts fared. I can't say for certain if these budget components are very good or have great longevity, but so far using them over the past months have been more than sufficient. Aside from things like the absence of mounts to allow them to be secured to the vehicle, operationally, they have worked well.